Andrew English, former editor of Fast Lane magazine, gets reacquainted with his 1992 cover star Minky, a very special Aston Martin, which might just have saved the company.
Minky? Are you sure? Despite its J402 MNK registration, we most certainly did not call this brutish 6.3-litre Aston Martin prototype Minky back in the summer of 1992 when I helped test it for Fast Lane magazine.
"I don't remember it being called that, either," says Paul Spires, now president of Aston Martin Works, back then one of the project's test drivers, which with some justification is credited with saving the company.
How much is your car to insure? Find out in four easy steps.
Get a quote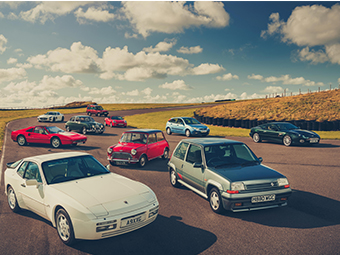 What I vividly recall is this big car bellowing its rage at the world on the mile straight at General Motor's proving ground at Millbrook, in Bedfordshire, where in acceleration tests it sat down on its tail with smoke curling off those massive 285/45/18 Goodyear Eagles and the headlamps pointing at the stratosphere as the tyre and road speed slowly synchronised and caught, and this big car slipped its anchor like a highly animated ocean liner. A small audience of hardened testers and Millbrook staff gathered to watch Mark Hales, Fast Lane's talented associate editor and professional race driver grimly launching the big Aston off the line time and time again. Recovered from my dusty loft, the hieroglyphics in my yellowing notebook record some of the day's figures including a fuel consumption which had dipped well down into single figures, but scrawled in the margin is the following telling comment: "holy s**t, if I hadn't been here for work, I'd have paid good money to see this…".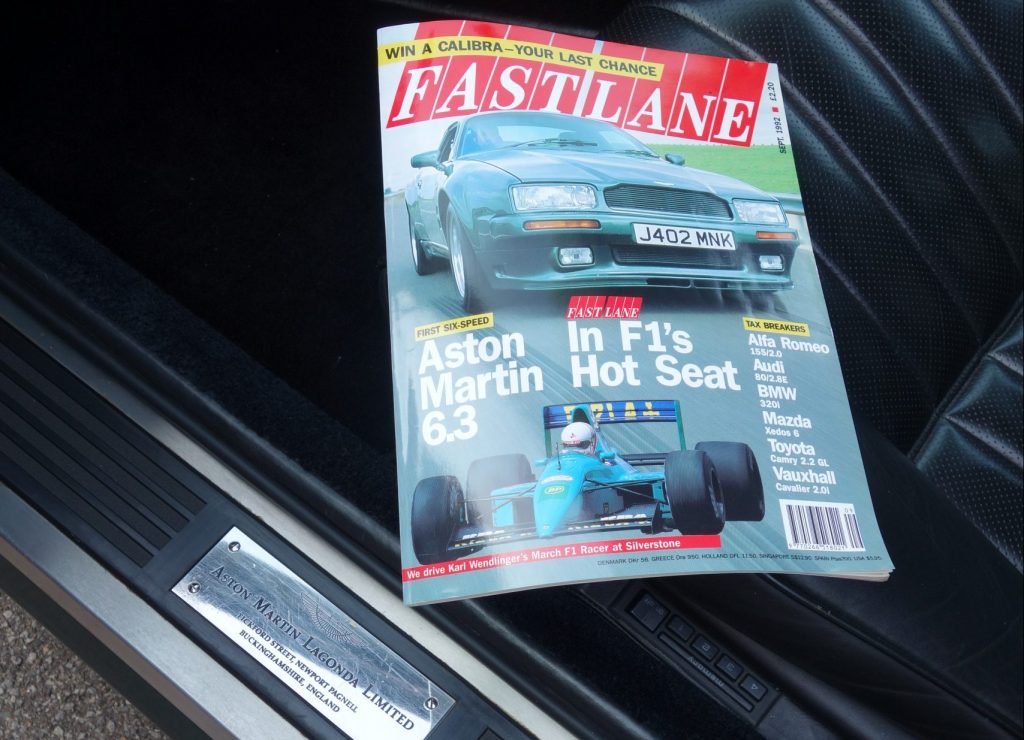 Steve Waddingham, Aston Martin historian has already warmed the drivetrain by the time I arrive at Newport Pagnell to get reacquainted. I lie underneath to check the condition and remove the body-protecting blocks of wood which have inadvertently glued themselves to the sticky under seal. Celebrating its 30th birthday, the old charger is in notably good condition, the only light traces of age being a few stone chips around the lower rear sills and a bit of waviness in the dash top underneath the windscreen. But coachwork gleams, the brightwork is exactly that and the interior is clean as a pin, with creaking leather just like new.
Massive uncatalysed exhausts lend their muscular off-beat thunder to the Aston Works courtyard in Newport Pagnell. All 2,043kg of it and 4.75 metres of length on hand-built OZ wheels; still as intimidating? Oh yes, with its bored-and-stroked engine pushing out a claimed 465bhp and 460lb ft of torque, I should cocoa.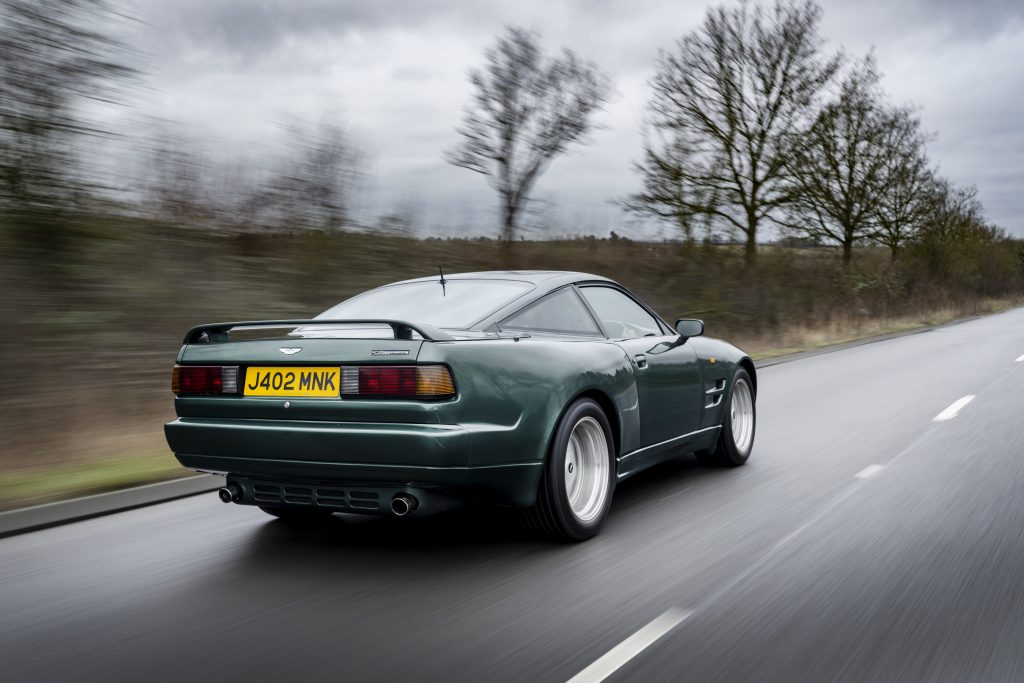 Back then we might not have been able to see what an important role this car would play in Aston Martin's future, but we darn well knew it was something special, which is why I put in on the cover of Fast Lane Issue 102 in September 1992. Apart from anything else it arrived at Millbrook in a trailer, which was unusual; most often we drove there and (assuming the car survived its brutal tests) back to the office in Sutton in Surrey. Then the presence of David Eales, the project's designer, manager and chief test driver signalled another level of portent. He spent the day with us and I remember he and Hales hugger mugger over tea in Millbrook's canteen emerging at frequent intervals to try some new aspect of the monster parked outside.
Thirty years ago, Arrested Development were singing People Everyday, but in Newport Pagnell Aston Martin was arresting its development prospects with the 1988 launch of the unlamented Virage. I interviewed John Heffernan, the Virage's co designer about this car and he was unapologetic but opened my eyes to just what hurdles lay in the path of his and fellow designer Ken Greenley's efforts. These included the fact it was the first new Aston Martin design for many years; there was resentment at Newport Pagnell against outsiders; there were conflicts between the ergonomics, aerodynamics and design departments; there was unregulated access to the Computer Aided Design (CAD) files; oh, and budgets were tiny. At a time when Audi was spending 6,000 hours in a wind tunnel, Heffernan and Greenley got just one day at the unit in Southampton University. The engineers without reference to the designers, simply added six inches to the height of the rear of the Virage to get the downforce they wanted and the tilt-up headlamps that had been specified were ditched for cost reasons in favour of Audi 200 units.
And while with 330bhp it wasn't exactly slow, "it didn't really perform," said Heffernan. "Gauntlett said to me: 'you've done your job well, John, but I'm afraid we should've got more performance out of it."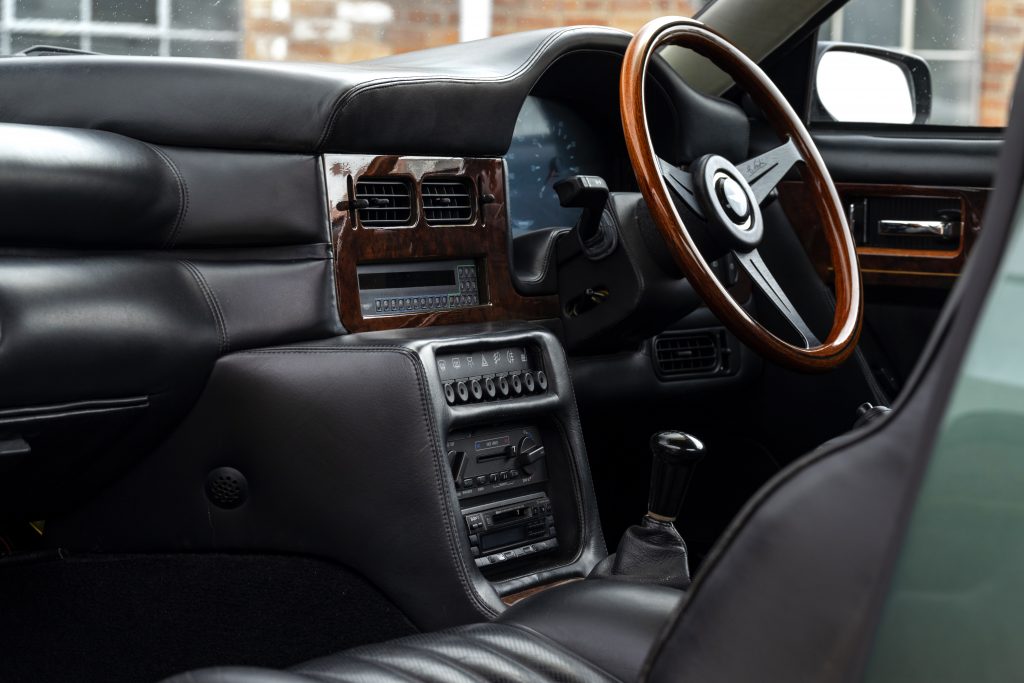 It was the more powerful and purposeful Vantage model that Heffernan thinks most closely represents his and Greenley's vision for the Aston, but this was some years away from its 1993 launch and there was no little debate about whether the grand old GT maker would make it that far. Steve Waddingham, Aston Martin historian gives me some scary figures for Aston production at the time, in 1988 it produced 193 cars, 1989 208 cars, 1990 201 cars, 1991 168 cars and in 1992 just – wait for it – 46. The company wasn't just on the ropes, its trainer was reaching for the towel.
"I remember driving a Virage when I was at HWM [the Walton on Thames Aston dealers and specialists]," says Spires. "I got back and Richard Zethrin asked me what I thought. I said it doesn't go, it doesn't stop and it doesn't go round corners, we need to do something about this."
He wasn't alone, and Richard Stewart Williams in Cobham and Works Service at Newport Pagnell were putting their heads together to improve the soft, slow and spongy Virage. "Everybody was working together," says Spires, "to keep the lights on at Aston Martin."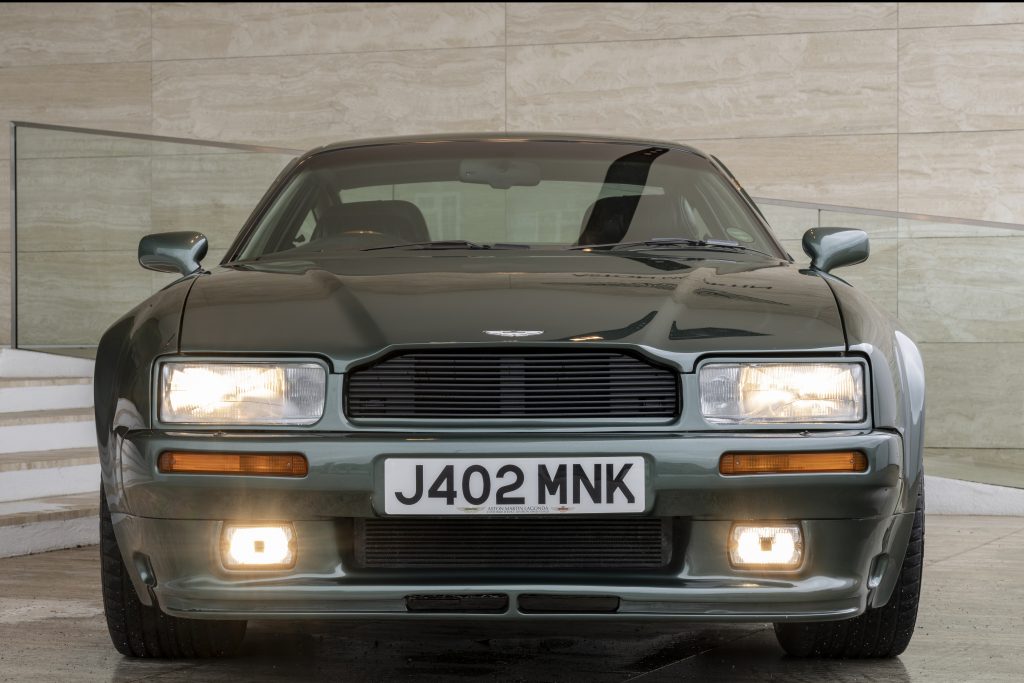 Eales and his team put in the hard yards in the evening and at weekends. Gauntlett wasn't a huge fan, but incoming chief Walter Hayes was. Ford had purchased 75 per cent of Aston Martin in 1987, with the intention that Gauntlett would stay in the top job for another couple of years (he stepped down in 1991). By this time Virages were being heavily discounted, but even that couldn't make up for the way they lost value. At the time of the Fast Lane test, list price on a Virage was £131,500, but you could pick up really good second-hand examples for less than £60,000. It meant after buying a used example the entire cost of the total rebuild into a wide bodied 6.3-litre, with all the handling upgrades, could be had for less than the price of a new Virage.
The total cost of the upgrades was about £60,000, for which Works service would increase the engine's output by about 40 per cent, fit a new six-speed ZF transmission from the Chevrolet Corvette/Lotus Carlton, stiffen and modify the suspension, fit much larger brakes (with 10-inch front rotors and AP Group C racing calipers these were the largest ever fitted to any road car), bigger OZ wheels and tyres and sheath those bigger boots in hand-crafted custom wheel arches and fit those multi-wing seats with inflatable cushions under the main surfaces. Oh, and they'd also repaint the car to just about any colour chosen by customers.
As Hales noted at the time: "quite how all this fits with the factory's engineering department appears to be a slightly touchy subject…" Though he did also note that "what you get for the money is visually stunning."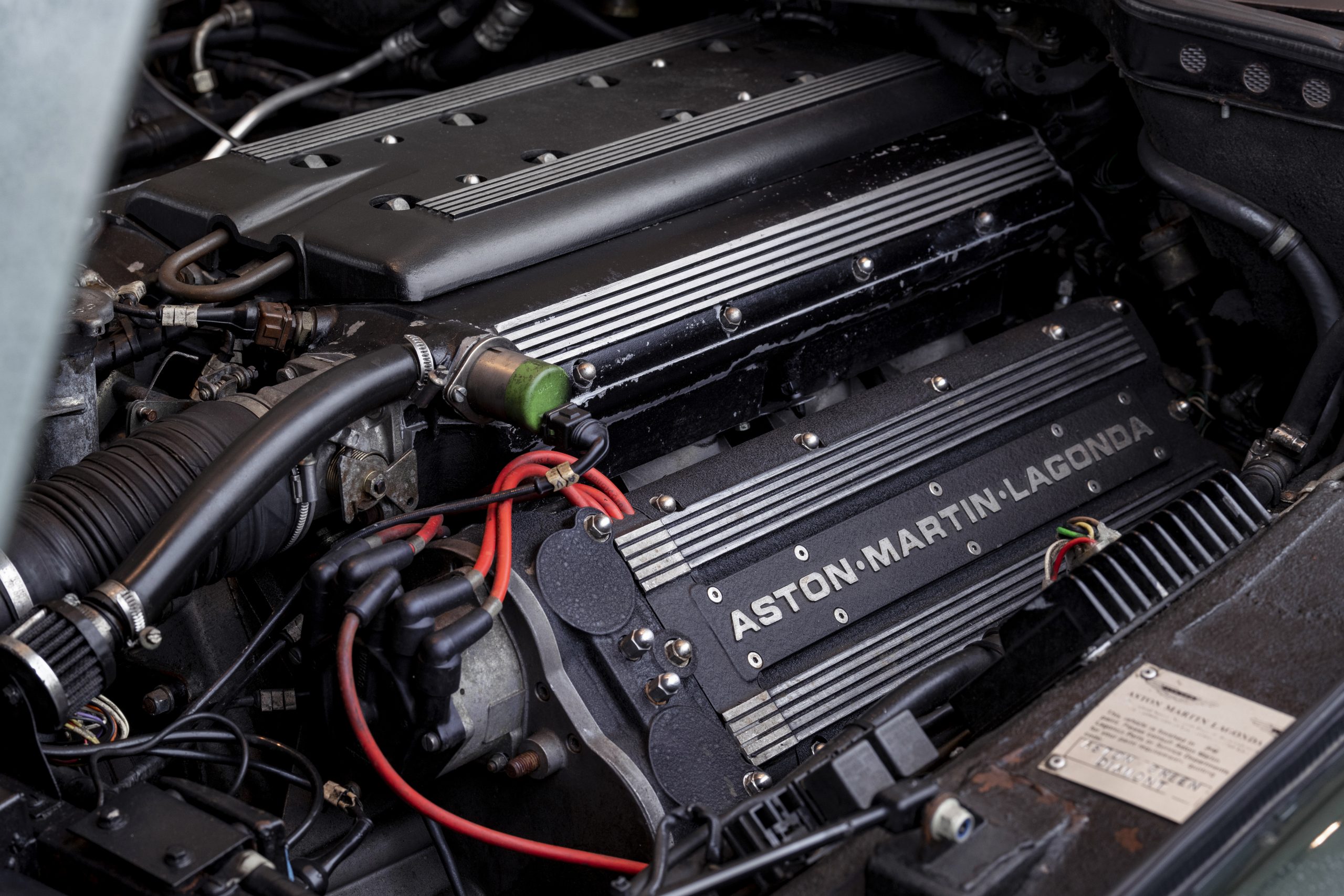 The engine was bored to accept oversize Cosworth pistons, which connected to the long-stroke steel crankshaft with Carillo rods. The cylinder heads were reworked by Tickford, with Callaway-developed camshafts for the four-valve heads, Weber remapped the ignition and engine management and the result revved smoothly from its tick over at 1,000rpm to the red line at 6,500rpm. Peak power was developed at 5,750rpm and 400lb ft of torque was available from 2,200rpm with the 470lb ft peak occurring at 4,250rpm.
The performance hike was also 'stunning'. We couldn't max it on the bowl at Millbrook but the 174mph claimed top speed was in sharp contrast to the 155mph claim for the standard Virage. That's not all. With the standard car's figures in brackets, 0-60mph was reduced to 5.3sec (6.5sec), 0-100mph took 12.7sec (15.8sec), and 50 – 70mph in fourth gear was 4.3sec (5.9sec). This was the demonstrator/works prototype and it wasn't the easiest car to get performance figures from. The soft drivetrain mountings twisted under the torque onslaught and when changing from first to second, the reverse torque pushed the gear lever gate around so you needed some dexterity to performance test it, which fortunately Mark Hales had in abundance.
It's poignant to take to the wheel after so long. Sitting in those remarkable overstuffed seats, best described as racing armchairs, they are still supporting and cosseting in equal measure. The wooden Nardi wheel is sited slightly too far away for comfort with only a small rake adjustment available and the pedal box is too small for big feet in shoes with a welt. Vauxhall switchgear abounds though the instrument binnacle with seven instruments behind a Perspex screen appears quite modern.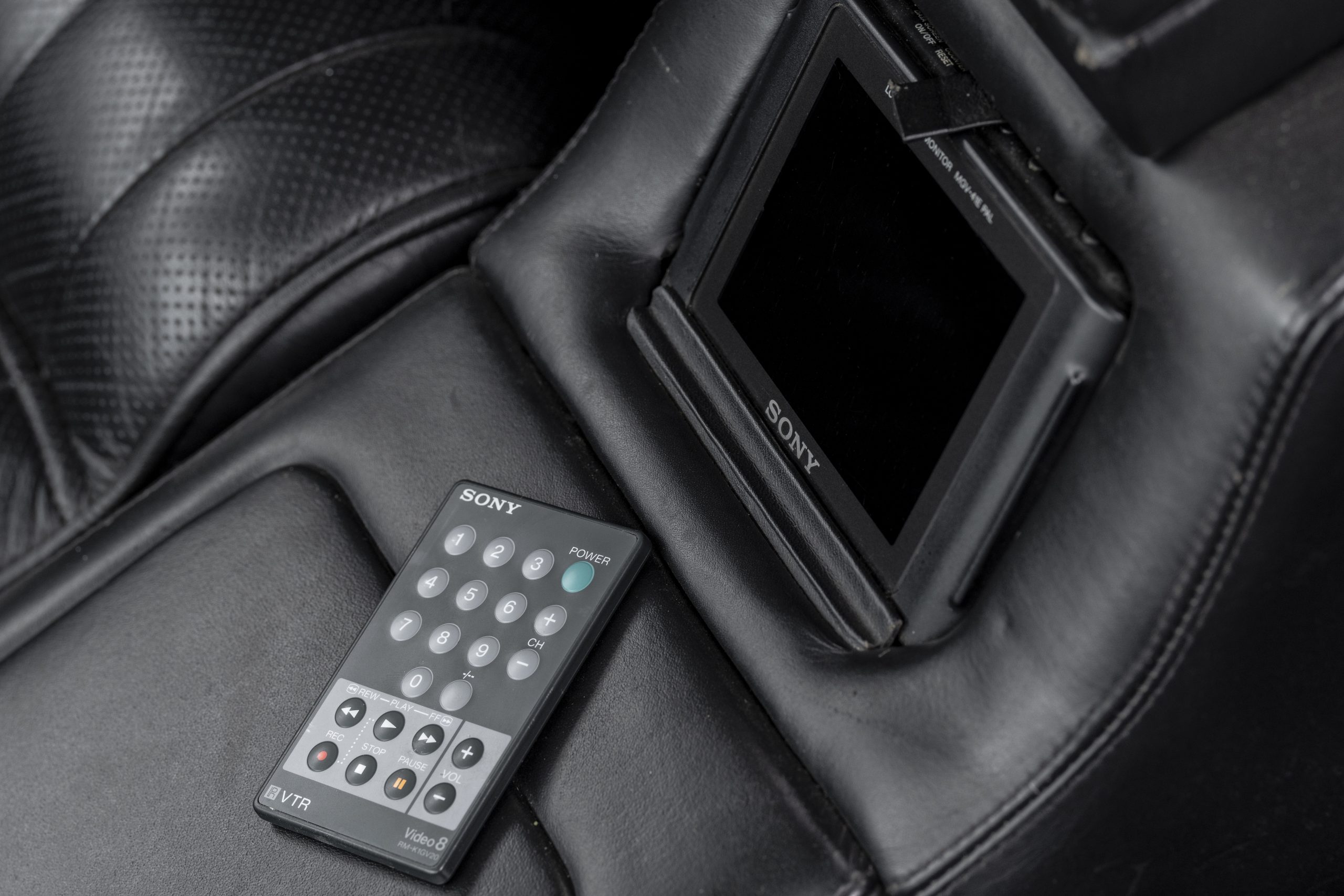 Period pieces include a car telephone on a curly flex in the centre console and a trip computer of such mind-boggling complexity, it looks like something James Bond would be sent off to recover from Smersh back in the Sixties.
One big change on this surviving test car is the replacement of the six-speed ZF gearbox for a five-speed Getrag unit with a dog-leg first gear. No one seems to know when or why this happened, but the engine looks and feels like the same unit which rent the air at Millbrook all those years ago.
This is one of the first Astons with a conventional handbrake release, which along with unfamiliar gear positions and gate springing, makes starting off a bit embarrassing. Mind you Newport Pagnell residents will have seen a fair few supercars staggering out into the High Street in their time, so take it all in their stride.
As soon as you are underway you don't need to bother first gear and so the change is effectively an H-pattern four speed which was the point of this racing inspired, dogleg layout. You should be able to trickle through town in third at idle speeds, but this engine is a bit of street racer, with what seem like fairly wild cam profiles and there's a fair bit of shunt at low speed so it's best left in second.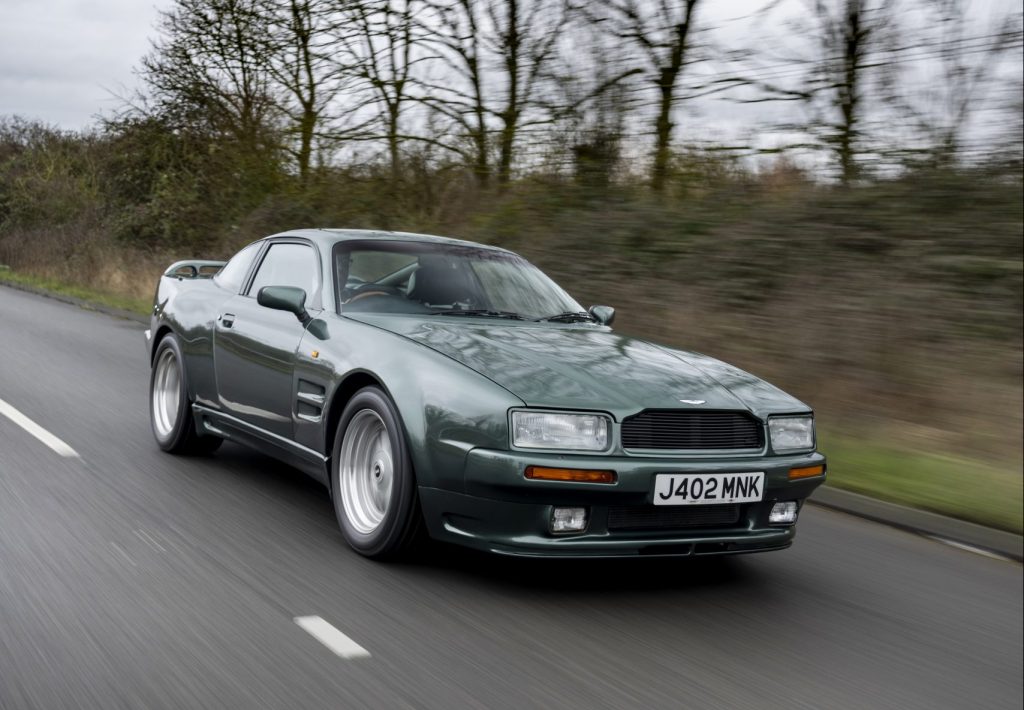 Out on the Northampton road, though, the old car sniffs the air like a war horse and the engine has a warbling, woofling voice. You barely need more than a couple of the five gears, though it's really only pouring on the power from about 2,500rpm. This is a car built by enthusiasts for enthusiasts and the way it reacts to the winding A road undulating North from where it was built is old fashioned but quite up to the minute, too. Despite its two-tonne weight, the big 45 per cent profile Goodyears ride through bumps fairly well, though mid-corner pot holes will cause a bit of a hop, a skip and a thump. What feels quite ponderous at first is in fact a pretty strong and tight car, with terrific steering thanks partially to the rose joints at the front and on the De Dion A frame at the rear, and the Adwest power steering which is still one of the finest systems ever fitted to a road car. You can push it through the turns and even if the rear Goodyears start to slide on the exit, it's a benign thing and easing the throttle doesn't bring on any scary handling traits, it just tightens the nose into the corner. Interestingly you couldn't have the engine modifications without the suspension mods back in the day and I can see why; all that power in a standard Virage doesn't bear thinking about.
There is some body roll through the turns but the Koni dampers seem to handle this better than they do the front-to-rear pitching, which means that if you use the enormous stopping potential of those AP calipers there's the distinct impression you've accidently stepped into the Thunderbirds Mole. In deference to the car's age, I didn't try a standing start, but even if you floor the throttle from 20mph the rear sits down and the bonnet rises. As Spires notes, "you can knock out a racing rose joint in just a few thousand miles and 30 years won't have been kind to some of the suspension modifications."
In less than an hour I drained the quarter-filled tank, though the touring range of about 325 miles on full tanks would not be unacceptable even if the price of filling the 25-gallon fuel tank would be.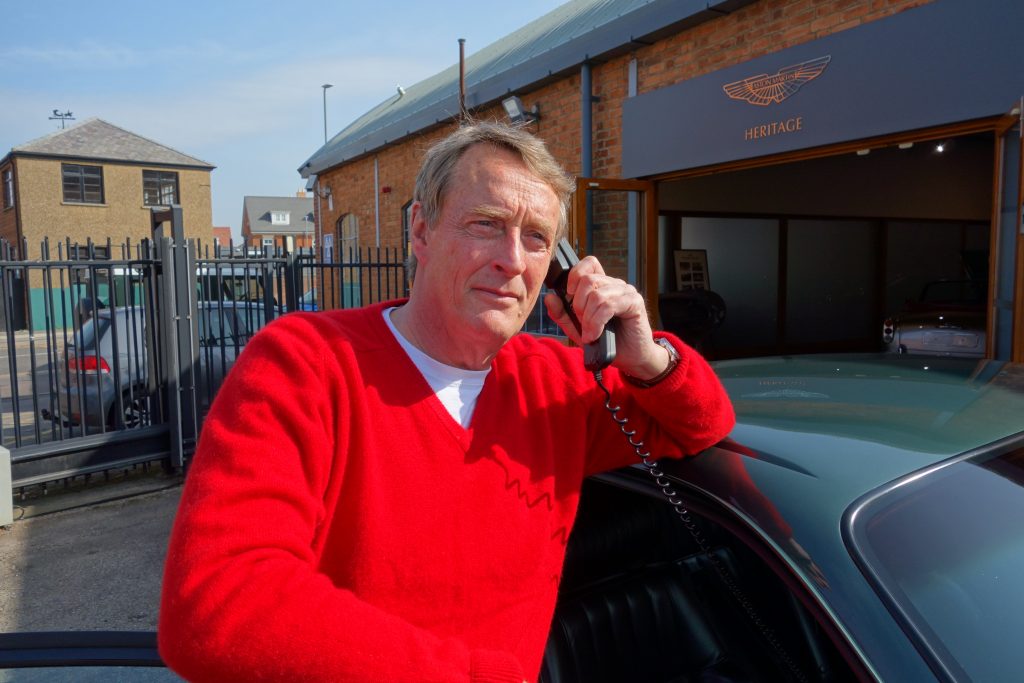 Waddingham says that firm numbers are hard to find, but he reckons Works Service converted about 60 cars in total although that includes the cars that just had the cosmetics done. "Between 1992 and 1993 I was forever picking kits for the 6.3 conversions," he recalls – he worked in the parts department at the time. Spires also notes that very few standard bodied Virages were sold after the 6.3 conversion became widely known about. So Minky and her sisters kept the lights on and got Aston through a tough spot and into the Ford years with the Vantage and the DB7.
As Hales concluded: "this conversion has simply produced the car the Virage should have been in the first place, perhaps with a slightly less peaky engine…"
Thirty years on and with the benefit of hindsight, I'd not change a thing. What a lovely old machine and though I didn't know her name at the time, it's been such a treat to meet up again with Minky.
Read more
Future classic: Aston Martin V12 Vantage
Now pay attention, 007: The mystery of the missing Aston Martin DB5 from Goldfinger could be solved
In praise of a great British underdog – the Reliant Robin