The Lagonda was Aston Martin's white elephant. Yet without this over-complicated and over-priced super sedan there would have been no Virage coupe – the car that arguably saved Aston Martin in the 1990s.
The Virage shared plenty with the Lagonda, as demonstrated by this development mule, which even wore a cut-down version of the wedgy William Towns' bodywork. With two fewer doors and a 12-inch reduction in length the car was clothed in an assortment of pre- and post-facelift Lagonda panels. Under the hood sat a 5.3-litre V8 and a five-speed manual ZF transmission.
How much is your car to insure? Find out in four easy steps.
Get a quote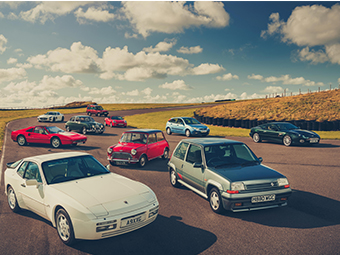 The prototype underwent many thousands of miles of road testing and received a host of upgrades during its service life, including De Dion rear suspension and a four-valves-per-cylinder version of the V8.
After the production specification Virage made its debut in 1989 the test mule, known as Development Project 2034, was retired, but an enthusiastic Aston Martin collector seized the opportunity to get hold of something truly unique. DP 2034 was stripped back and rebuilt using Virage production components, including a brand-new engine. It was painted in pearlescent Pacific Blue and trimmed to the finest Lagonda specification, including a drinks cabinet. The Lagonda's notoriously sketchy digital instruments wee replaced with analog items.
"This is a magnificent machine which rides well at low speed but which handles faultlessly when driven fast… it has that thoroughbred feel which inspires faith and confidence… It's that good: a full-blooded, pure-bred delight and that's that," wrote Tony Dron in Thoroughbred & Classic Cars magazine after driving the car.
This exceptional piece of Aston Martin history sold for £287,500 at Bonhams Goodwood Auction—almost three times what a #1 concours condition Lagonda would be worth.