Four bolts. That's all you need to undo to convert a vintage Porsche 911 from gas to electric power with a new drop-in conversion kit from Oxford-based specialists Electrogenic.
Well, that might be a slight oversimplification. You won't actually be able to do this yourself, since the kits will only be provided to garages that have been approved and trained by Electrogenic.
How much is your car to insure? Find out in four easy steps.
Get a quote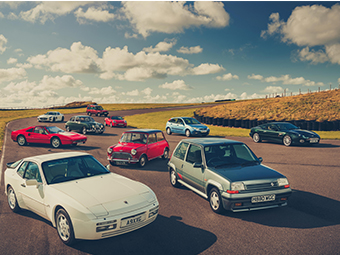 The complete kit comprises an OEM-standard electric motor, reduction gearbox plus front and rear battery-boxes, and Electrogenic's own control systems, together with all the cabling required. It's a 15-man-day job to fit into a G-series (1973–89) or 964-era (1989–94) 911. That time estimate includes dropping out the original oily parts, and it assumes no additional upgrades are required.
A ballpark cost for the conversion is £75,000, plus the original car – so this is not a cheap exercise and certainly would never offset running costs of a flat-fix. However, like most vintage vehicles converted to modern running gear, each Electrogenic restomod will most likely be tailored to its owner's taste, with price fluctuating accordingly.
Customisation options extend to the EV powertrain itself, as Electrogenic is offering a choice of two water-cooled motors: a 160-kW (216bhp) unit or a 240-kW (322bhp) version. A 9.6:1 reduction gearbox sends power where you'd expect it to go – to the rear wheels – and the entire setup sits on a replacement subframe that simply bolts into place where the original components would go. That straightforward install, incidentally, makes Electrogenic's conversion completely reversible.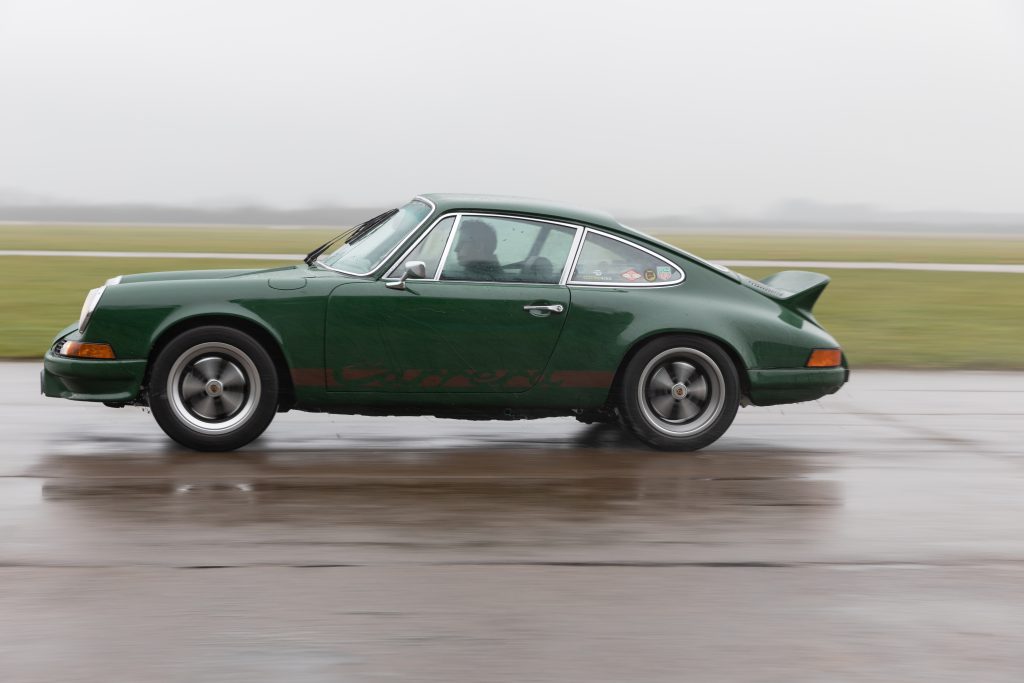 A total of 62 kWh of batteries are positioned in the rear and under the front boot to provide a range of nearly 200 miles. The system accepts 50kW fast charging via a Combined Charging System connector, which allows for the Combo 1 port favoured by North America and the Combo 2 that's standard in Europe and Asia. The weight penalty for the swap is around 120kilos (260 pounds), with a little more over the front axle than a normal 911 would have.
Dive deeper into the EV options list and you'll find various modes for energy recuperation under braking, and eco, sport, or traffic profiles for the powertrain. Want one-pedal driving? You got it.
The car's clocks are repurposed to show EV-related functions: Fuel becomes state of charge, for example, and where the gear lever once sat there's a simple, rotary drive-selector.
When I visit Electrogenic's workshop, I just miss one of the chief mechanics from Xerbera in Dallas, Texas, who's spent three weeks overseas learning how to install Electrogenic's electronics. (Xerbera specialises in re-engineering Land Rover Defenders.) Meanwhile, inquiries continue to flood in from Germany, Australia, and New Zealand, plus Europe and the Far East.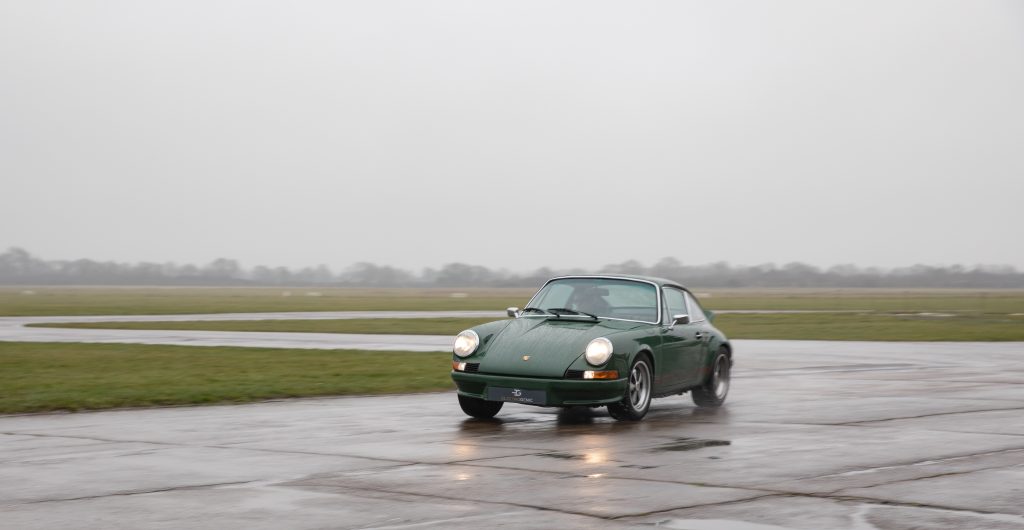 After building its business with bespoke classic EV conversions, ranging from Morris Minors to VW Campers, massive Daimlers and even DeLoreans, Electrogenic was facing a growing demand that it simply couldn't satisfy. Resources were poured into developing conversion kits, steered by the converted models that were proving most popular. Alongside the 911, the firm now offers conversion packs for the Land Rover Defender and Jaguar E-Type, with several more in the pipeline.
"Since we incorporated in March six years ago, my guess is about half of that [time] was always purely in R&D," says cofounder Steve Drummond. "We've been continuing to do R&D like crazy since then and we're now at a level of sophistication where we can reliably create systems that other people can install. We know they're going to work first time without the installer needing the depth of expertise in the detail in order to make them work."
The proof is in the driving and, as fortune would have it there's a rather lovely Irish Green over tan 1983 G-series waiting for me. It's the first customer car to be completed.
The car is tastefully backdated by the owner, and in keeping with that vision, carries the milder, 160kW (216bhp) powertrain in its simplest form. Given the wide range of driving modes available, the owner opted for just one, to keep the driving experience as pure as possible.
Aside from some tweaks to the torsion bars, the 911's chassis is standard. There's no traction control or ABS braking. This is very much a classic that's been converted and therefore a totally different animal than the carbon-fibre-bodied, adaptive-damper-equipped Everrati 911.
After several reminders that this is a customer's car, due to be handed over in a couple of days, I venture out onto the short test circuit at Bicester Heritage. It's formed from part of the runway and perimeter tracks of a former Royal Airforce Base and its concrete surface is usually pretty grippy. Today, the rain is torrential and the temperature barely above freezing. Given the reputation of early 911s in the wet, this could be… interesting.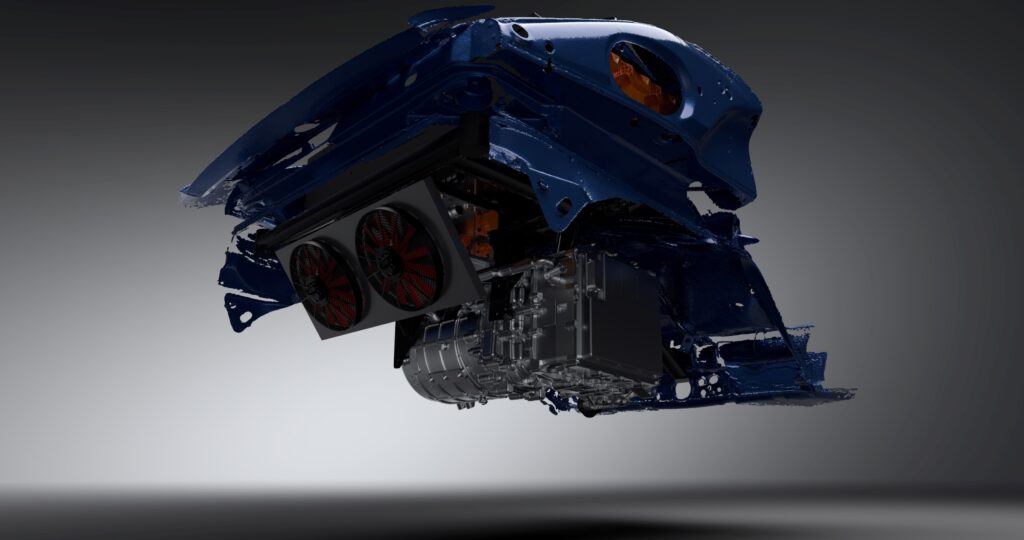 Indeed it is, but not quite in the manner I expect. On paper the car's 218-hp doesn't sound like that much, but it's complemented by 310 Nm (220lb-ft) of torque, the delivery of which is absolutely instantaneous. There's a little work to do on the calibration of the CANBUS-driven speedometer, so I can't say for sure how fast I'm actually going, but the 911 feels a lot more rapid than it ought to. The more powerful motor has been clocked at 0-60 mph in under four seconds, but I'd peg this at not much more than five.
The standard brakes need a fairly hefty stand-on to slow the car; the regenerative effect seems quite minimal, and, on standard suspension, there's a fair amount of body movement in every direction. Pitch, roll, yaw? Yep, that's all boxes ticked.
The unassisted steering is heavy, loads up further in the bends, and then unloads quite dramatically when I apply all the power on corner exit. This car doesn't have a limited-slip diff, and, as it lights up a one-tire fire, the steering self-centres sharply. An over-correction could send the car the other way, but I do sense that the extra weight of batteries up front makes this less likely to happen than it would be in the gas-powered version.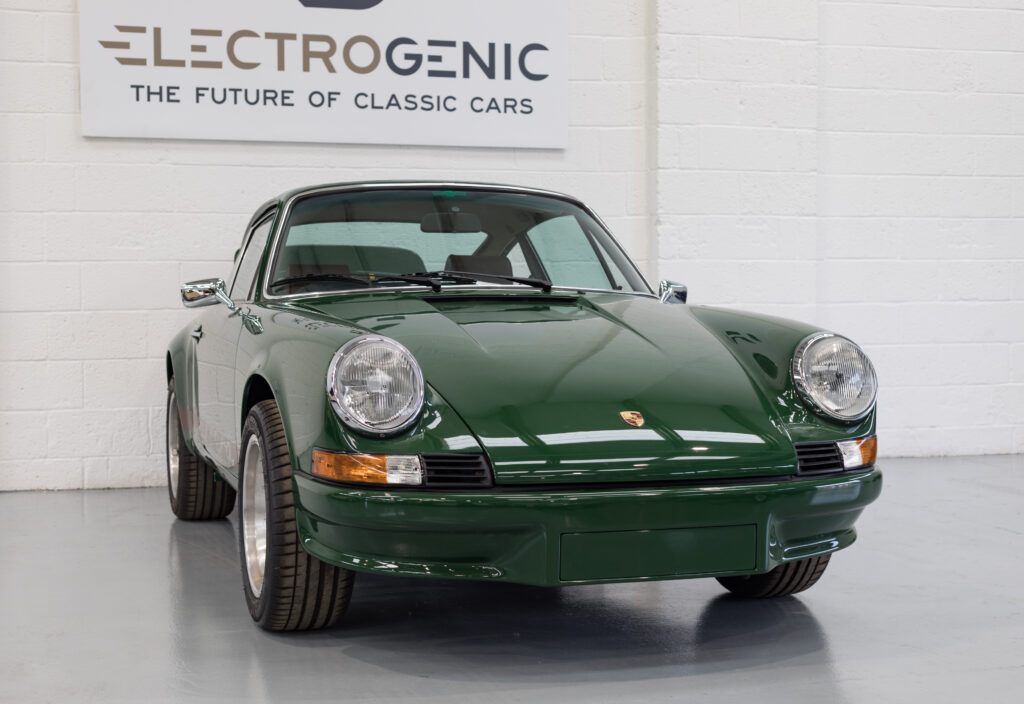 Slightly reduced pendulum-effect aside, much of the character of the original 911 remains. Of course, the driving experience is a little less involving without a manual transmission, and lacking in the aural and olfactory entertainment of a car fuelled and lubricated by big oil, but a lot is left.
That will never be enough for those for whom petrol is the life-blood of driving. But for lovers of the classic car aesthetic who don't want to dirty their hands or the air that they pass through, usable and entertaining conversions such as this are starting to make a lot more sense.
And I, for one, can understand that. I run a Lotus Esprit S3 and bought it because I adore the wedge-tastic styling, enjoy the feeling of squeezing into its snug cockpit and marvel at the way the thing tackles corners, but I'll be the first to admit that the Lotus-designed four-cylinder engine is nothing special and, living in London, the ease of driving an electrically converted car would have a certain appeal.
It's a divisive issue. But I suspect that those who choose to make the switch from petrol stations to charging stations will have few regrets.
Read more
Charging around: Electric Mini Recharged driven
Everrati Series IIA review: Meddling with a national treasure turns out to be no bad thing
What nobody tells you when you buy an electric car