Here's a thought. If you were to design your perfect Healey, what would you give it? More power? Of course! Proper gearbox? Harsh, but yes, probably. Better brakes? Goes without saying. More legroom? Absolutely! Restyled bodywork? Hmm, maybe.
Well that's basically the thought process Caton went through to arrive at this, its first model. And it did all of the above, including a restyle, building what's effectively a brand new car. Up to thirty-five of them will be offered, at more than £400,000 each. There's only one so far, and this is it, the development car, looking remarkably good under sunny UK skies.
And so, let's dispense with the small talk and get on with it. Push the starter button to prime the fuel pump then, with foot on the brake, another push and four big cylinders thrum into life. The exhaust, which exits pretty much directly below my ear, immediately sounds wonderfully throaty.There's a two-hour odyssey of fast A-roads, busy Cotswolds towns and bumpy back lanes ahead. Let's go!
How much is your car to insure? Find out in four easy steps.
Get a quote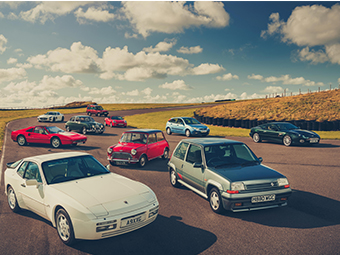 The Caton name is derived from the name of the family that owns the Envisage Group, a Coventry automotive engineering tour-de-force that you're unlikely to have heard of unless you're involved in car manufacturing. It covers coachbuilding, design, interior trim development, engineering… you name it. That includes numerous recent continuation car projects by the way.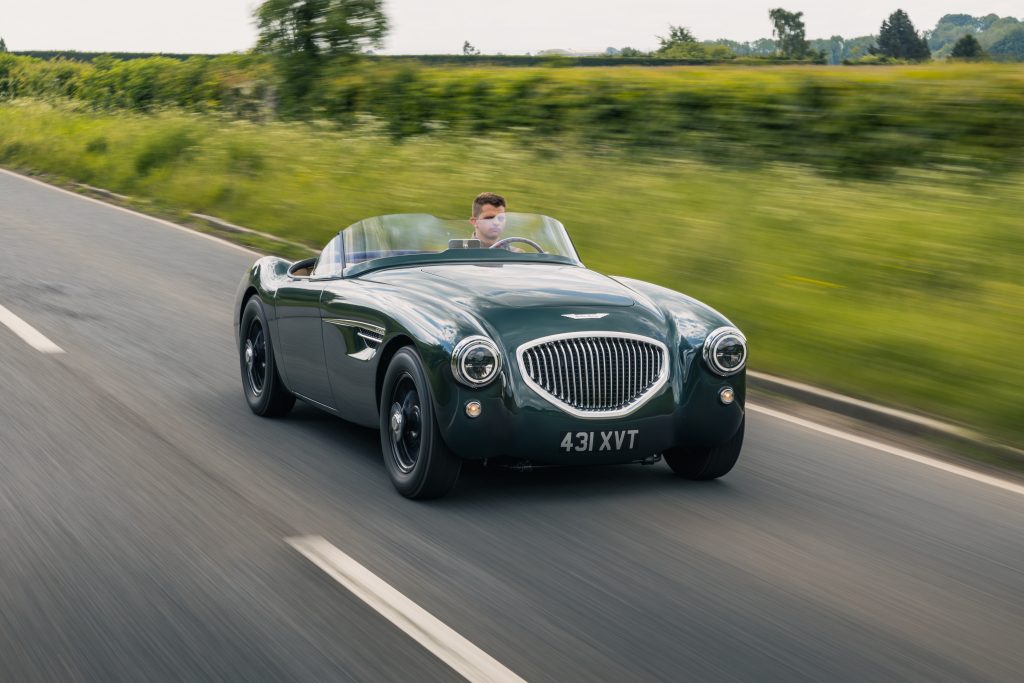 The Caton brand was born out of this and the early Healey 100 was chosen as its first subject because it represents the classic British sports car – and let's face it, it would be daft to start with an E-type when there are so many sublime modified examples around. Even Jaguar Classic offers in-house upgrades and restorations.
Caton's Healey runs on mostly original running gear, save for a Tremec five-speed gearbox, but the bodywork has been lightly reworked to rid it of the seams and awkward fits that came of small budgets and low volume pressing tools when the Healey was created in the 1950s. It's just one of the ways technology has made such changes possible.
So the seams along the front and rear panels have gone, the rear wings subtly reprofiled, the external boot hinges banished, the front grille completely remade and various other neat touches applied. If you don't know Healeys well, you wouldn't notice the difference but when you see this out on the open road there's a fluidity to the lines that even the ever-pretty original 100S doesn't have.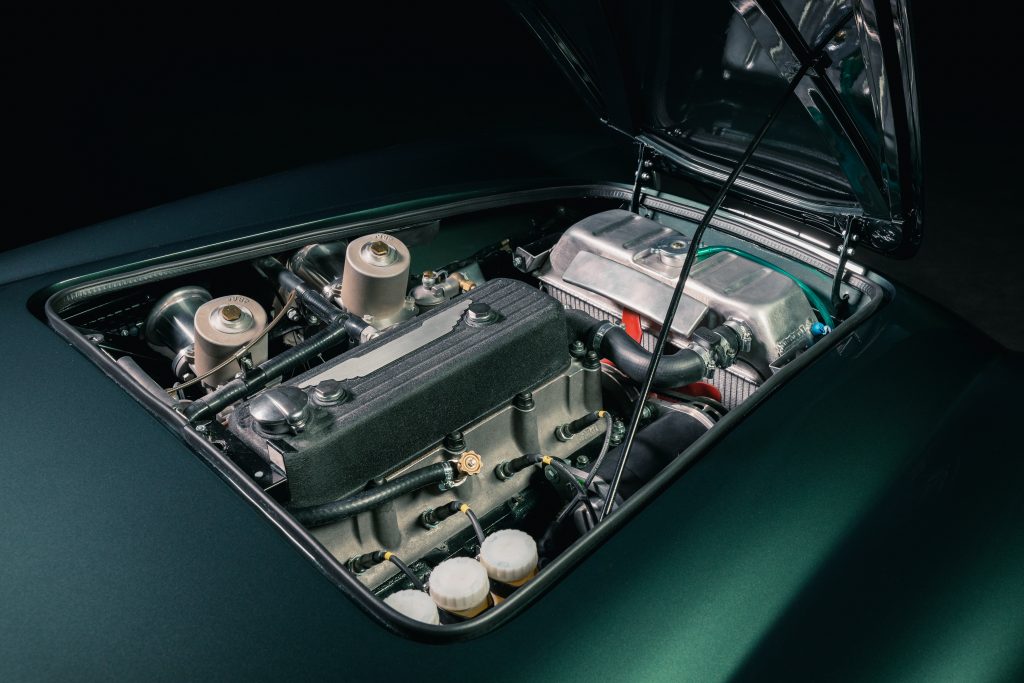 It doesn't take long on the road to work out that the engine is sublime – that big BMC-derived Healey four-pot, originally 2660cc, now bored out to 2954cc, lightened and with a steel crank and high-compression pistons and a hot camshaft, is sweeter than any long-stroke four-cylinder of such large capacity has a right to be. If it wasn't for the occasional whiff of unburnt fuel at idle you'd assume it was running on modern throttle bodies and mapped ignition – but no, it's on larger-than-standard twin SU H8 carburettors and conventional points and distributor. Remarkable.
From the woofling idle it pulls cleanly right through but really starts to sing above 3000rpm, the point at which a slightly annoying buzzing through the floor that starts just above 2500rpm smooths itself out. Later my guess that the vibration is from the exhaust is confirmed; it's currently solidly mounted to the chassis and will soon be tried with a rubber mount. This is the prototype after all, and this drive is a small part of early shakedown testing.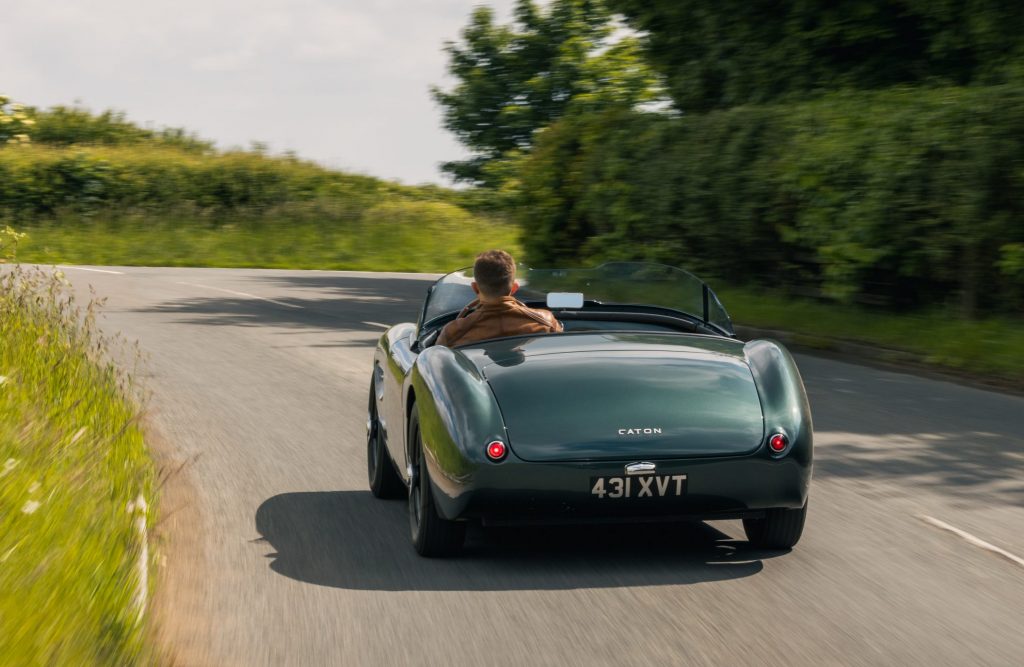 Although the original four cylinder engines of the first Healeys are basic in the extreme, they also far sweeter than you'd expect. The Caton's engine is a step on from that, though, and is happy revving to 5500rpm even though peak torque is developed at 2900rpm. With 185bhp instead of the original's 90bhp (the 100S was 132bhp), and lightened to weigh 920kg, it doesn't hang around either.
What lets the original down is the gearbox: the initial batch of Healey 100s were fitted with four-speed gearboxes from the Austin A90 with the super-low first gear blanked off and overdrive on third and fourth, on a side-exit shifter that blighted the 100 with an unsportingly long gearlever. Later cars were a conventional four-speed, again with overdrive, but still not an ideal choice.
The Caton addresses that head-on with its Tremec five-speeder tucked beneath the transmission tunnel. Funny thing is that the gearing is so high and the engine so flexible that it barely needed fifth gear on the A-roads, except on a long stretch of fast dual carriageway. On a motorway though it will be a godsend, taking the revs right down to just above 2000rpm at 70mph. The gearshift could be tweaked to feel a bit more direct, more classically mechanical, which apparently is already being looked at.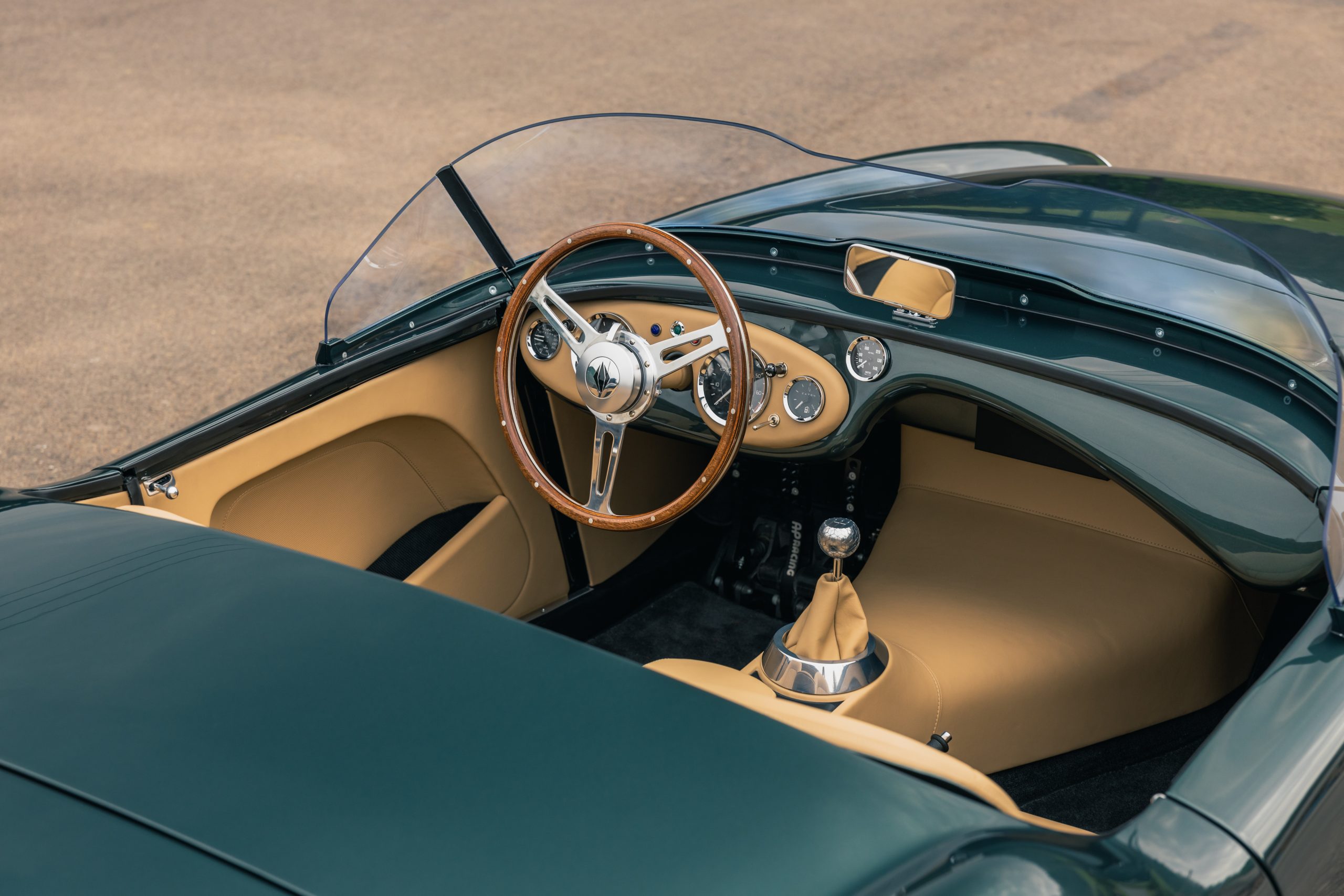 What's clear is that the ratios are perfect, though with all that torque it's not like the engine is too fussy about which gear it's in. All the same, leaving it in third through sweeping bends and fast blasts along the straights keeps the engine at its best, as the air rushes past you in the neat little cockpit.
That beautifully formed low glass screen doesn't look like it should work, but I'm 6ft and generally prefer a coupé to a convertible, yet the Caton never felt uncomfortably blowy even a high speeds. There's no weather protection other than the screen though – customers will be able to order a tonneau or perhaps take the bespoke nature of the Caton a step further with a modern take on the classic Works hardtop.
That's jumping the gun though, let's stick to this number one car for now. The further I drive, the more the new touches are appreciated. The ride, for example, is excellent for a sports car of this era: there's nothing clever about the suspension, it's just been honed and tweaked with uprated springs and dampers by the clever guys at JME Healey, whose experience Caton has sensibly called upon for help developing the new car.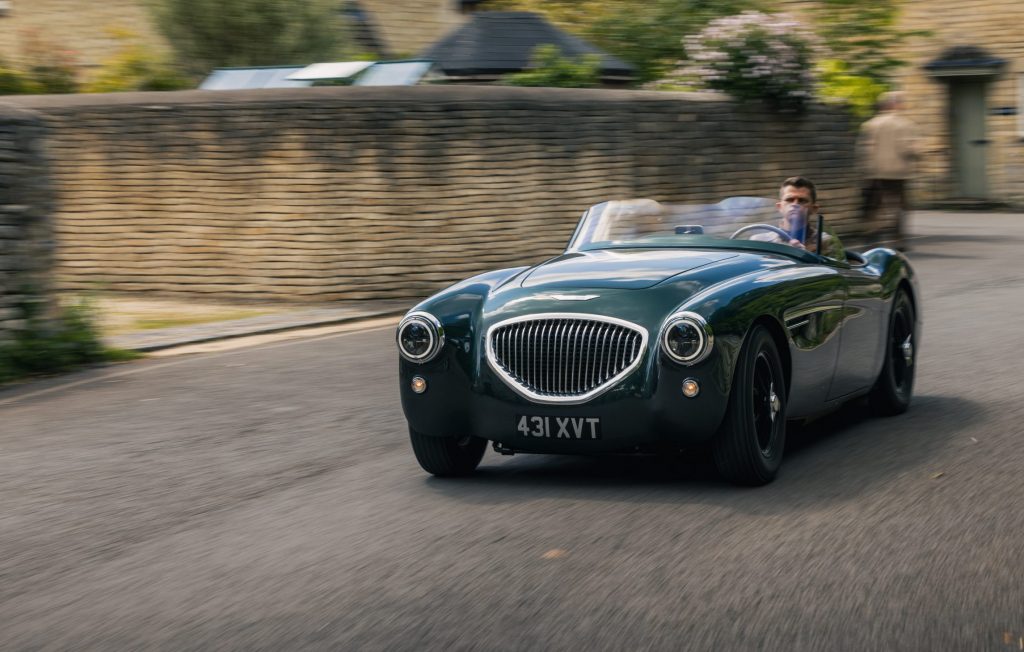 Same goes for the brakes. No tricks, just straightforward, straight-line, wheel-locking stopping power, with the feel aided by the modern, custom pedal box that gives a much-appreciated improvement to the action of all three pedals. If there's a weak link it's the steering, with it's slight vagueness around the straight ahead position that no amount of tweaking can disguise. Blame it on the steering box, which could in theory be swapped for a more modern rack but not without significant engineering – and the risk that a little of the character is removed. Instead, you take up the slack a little rather than applying too much lock, because past the play there's a responsive steering action to be found, and it's all too easy to think that the steering wheel isn't having enough effect and turning in unnecessarily hard.
There's never a time when the Caton doesn't feel like a true Healey. Sure, the interior, with its Bridge of Weir leather, its cosseting seats and its generous legroom makes for a big change, but it just feels like a Healey always should have.
Does it justify the price? This is effectively a brand new car, built to personal specifications and extremely low numbers – just 35 are planned, so it doesn't take long for the numbers to stack up. If you're paying such serious bucks for a bespoke car, you're able to choose the colour you want, the interior you want, the headlights you want (not everyone appreciates the current LED projector units) and even the mechanical set-up you want.
If you're likely to spend time in town then maybe consider mapped ignition, perhaps injection too, but bear in mind that those masters of updated, useable classics at Eagle E-types stick with carburettors on their considerably more expensive creations. Sometimes, original is best. Especially when combined with comfy seats, a five-speed gearbox and a stunning drive…
Read more
Cyan P1800 review: It doesn't get much better than this
Fallen star: Driving The Saint Marcos 1600
Driving the Kingsley KR Series, a restomod Range Rover