Restomods, recreations or whatever term you care to use have been gathering pace within the car community, and giving most of us something to daydream about. Now you'd best set aside more minutes of your working day (come on… admit it) because into the scene comes a World Touring Car Championship-winning racing team with its sights set on offering a restomod car that brings a quality of thinking and level of detail that, well, bears the hallmarks of a world-class motor racing team.
Somewhere beneath this gorgeous machine is a 1964 Volvo P1800. (Okay, technically it's an 1800S.) What remains intact? Not much. Just the steel in the door pillars and the bonnet release are carried over. Nearly everything else has been replaced and re-engineered with parts far superior to the original's Volvo Amazon-derived mechanicals and steel. Even the body and dashboard are new.
How much is your car to insure? Find out in four easy steps.
Get a quote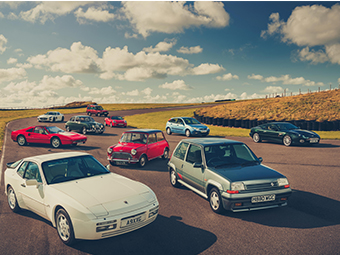 Sacrilegious to some, perhaps, but it's also why this reimagined P1800 is so sensational to drive. Almost 40,000 of the original coupes were produced, and Cyan is happy with even the most tired starting point, such as a cheap, basket-case P1800.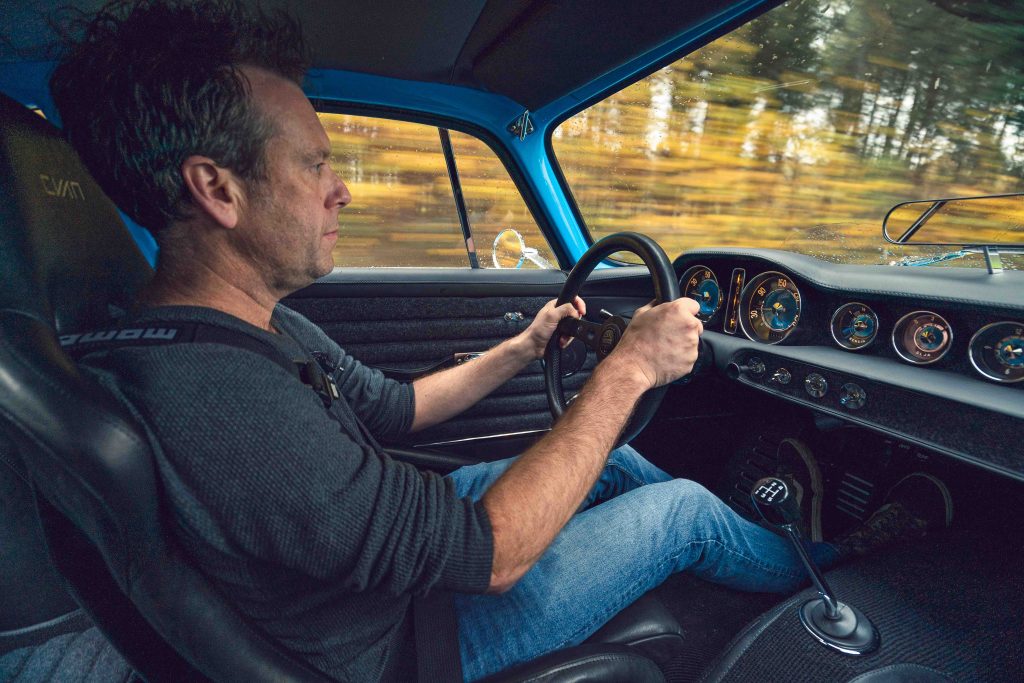 However, just because the donor car could be worn-out and affordable doesn't mean the P1800 Cyan will be. At a very strong £370,000 ($500,000), this Volvo swims in 911 2.7 RS-infested waters and requires 12-15 months to complete. To date, Cyan says it has taken two orders – before anyone like me has had a chance to tell the world whether it's any good to drive.
Those customers will get a new bodyshell (mostly in carbon-fibre), double wishbones all round (replacing the live axle at the rear) and a World Touring Car-derived engine instead of the circa 100bhp original four. It gives a Volvo that weighs just 990kg a 414bhp kick and – what's Swedish for 'ironic'? – doesn't have stability control or ABS, and would rather help you drift down lanes than offer driver-assistant systems to prevent you drifting out of them.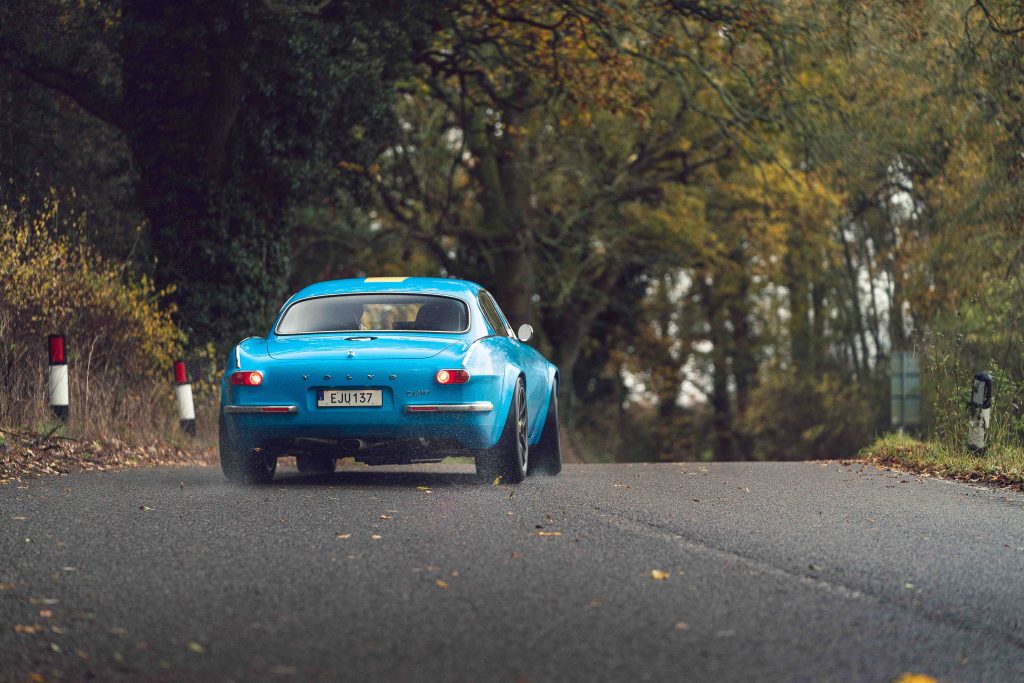 So far, so obvious. A racing team's interpretation of a Volvo P1800 was always going to be exciting and analogue. More surprising is that this is no stripped out bone-shaker. The doors open and clack shut with an unexpectedly substantial feel given the feathery kerbweight, fit and finish is superb, and despite a resolutely racy flavour, the interior embraces a classic GT feel – leather bucket seats are deeply padded and long-distance comfortable, a titanium rollcage is wrapped in leather, and there's some lovely wool-like textiles and chunky carpets that epitomise Scandi cool.
Even the engine has noise suppression to damp the vibration and harshness normally synonymous with bolting a race engine straight in a road car. And what's this? There's a delicacy to the clutch, manual gear shift and steering at low speeds that means popping out to buy some milk could be a literal endeavour, not just a euphemistic excuse for a hedonistic drive.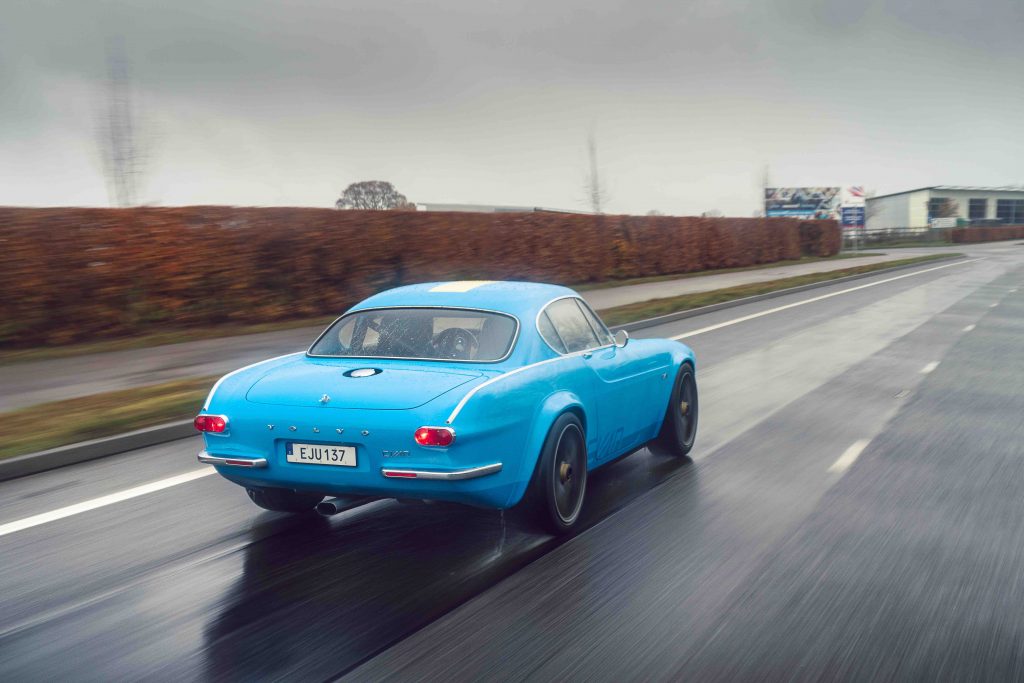 The real magic is saved for how Cyan makes such potentially thuggish performance and an extrovert chassis so exploitable and enjoyable on the road. You feel it in the way this car rides with finesse to the way power builds like a pot of boiling water and how its tyres progressively relinquish their hold on even the cold, sodden UK asphalt we drove the car on.
Cyan's history with both race and high-performance road cars is surely key. The Swedes started racing TWR Volvos in the 1990s in their domestic touring car championship, progressed to racing Volvos in the World Touring Car championship, and along the way began developing performance road cars officially sold by Volvo, where things like compliance and refinement mattered more.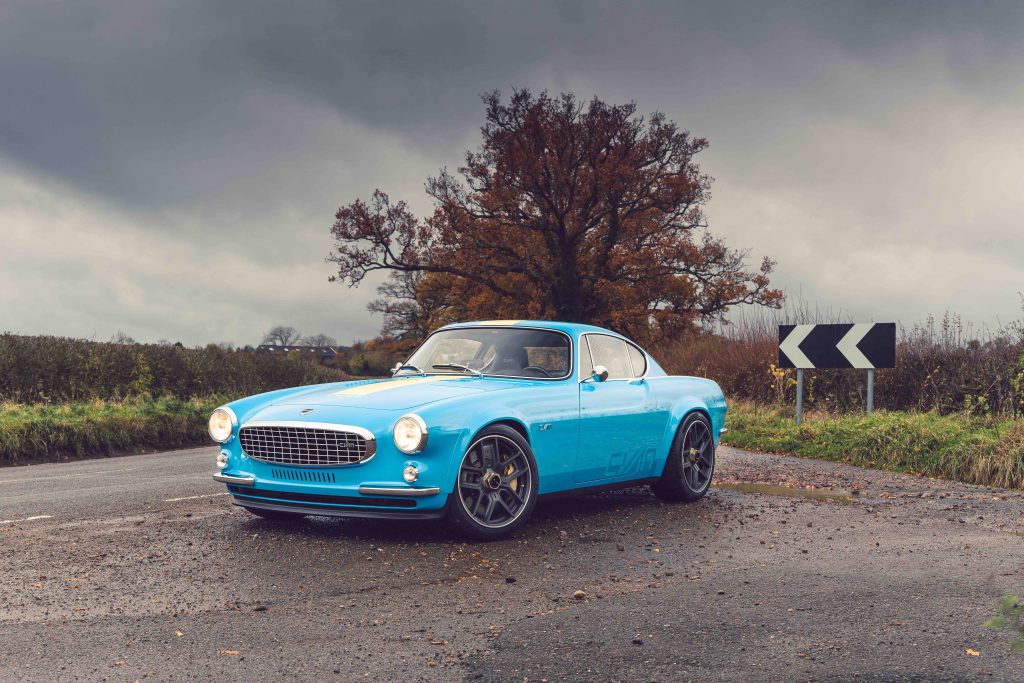 Volvo bought Polestar in 2015 (it's now its premium electrified brand), which is when the team reverted to its original name Cyan Racing. And when WTCC rules changed to the lower-maintenance TCR regulations, the quadruple champions found themselves with less to do and wondering how they might conceive a Singer/Alfaholics classic with a WTCC Volvo twist. The P1800 seemed obvious, despite Cyan never having raced one.
'[It gave] us inspiration to create what could have been if we as a race team had been there during the sixties, racing the P1800, and got to design a road version of our race car,' explains Christian Dahl, Cyan Racing boss.
Dahl makes it sound simple yet it was anything but. Hans Baath, General Manager of Cars, recalls Cyan engineers testing the torsional rigidity of an original P1800, and discovering it didn't have any. It's why there's new structural bracing along the sills and under-body triangulation, plus the carbon-fibre body is bonded to the steel, further boosting structural integrity.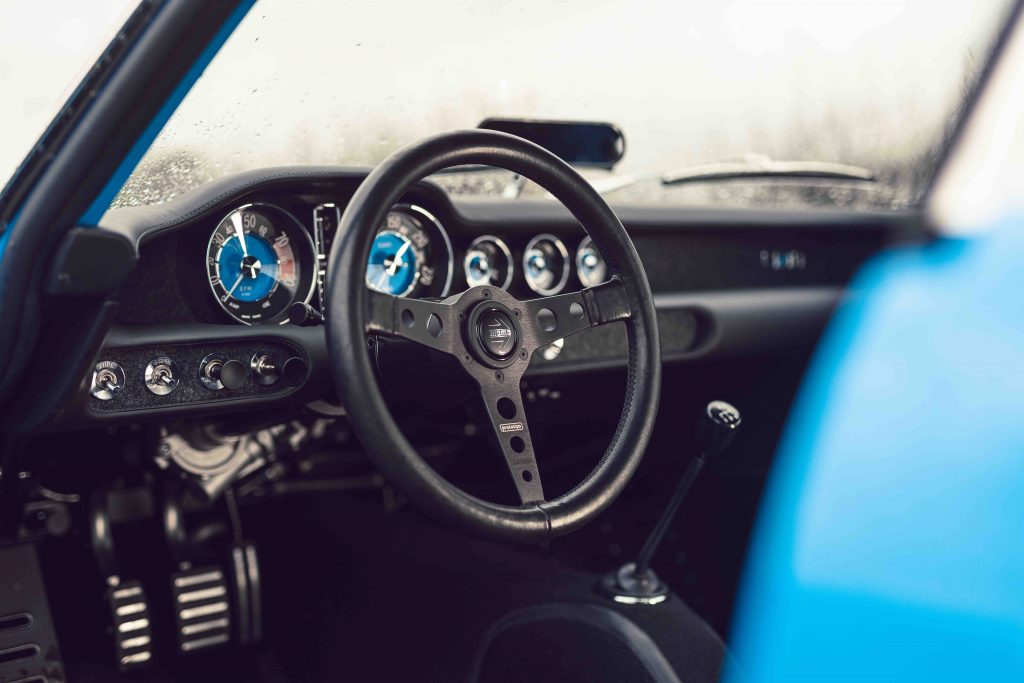 All metalwork is new beyond the front and rear bulkheads, and accommodates the new double wishbones all-round, so rather than being constrained by existing pick-up points, the suspension was moved to Mohammed. Hence the front and rear 18-inch forged alloys are further forwards, pushed out on a wider track, with the suspension infinitely adjustable: compression, rebound, caster, camber, toe and, at the front axle, for bump steer too.
It's all packaged in a body that Ola Granlund, Cyan Racing's designer, reinterpreted from the original Ghia design, by Swede Pelle Petterson. Most notable is the shorter rear end with less upright fins, but all the glass is actually new because the glasshouse is subtly different. Some 15cm shorter, 5cm wider and 8cm lower overall, the updated design is like a P1800 morphing towards a Jaguar XJC – sleeker, more planted, more sporting and above all achingly beautiful.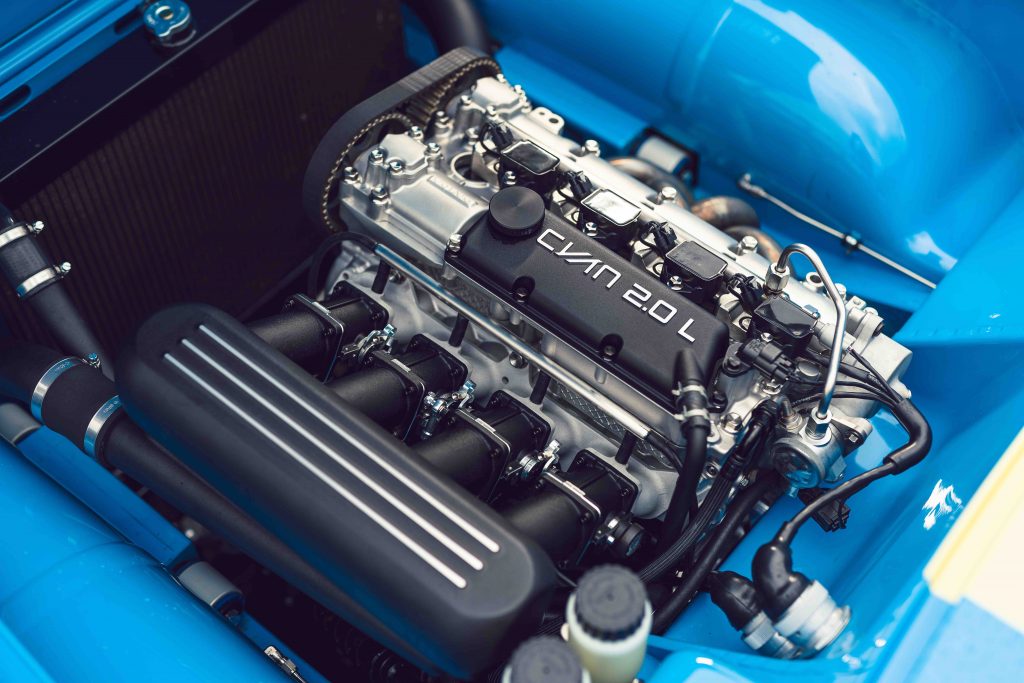 The Volvo 2000cc four-cylinder turbocharged engine is basically – if not literally – a lift from Cyan's 2017 WTCC-winning Volvo S60, which raced at 1600cc. The installation is so neat it appears naturally aspirated before you spy the turbo tucked low down, and it's connected to a five-speed Hollinger gearbox, carbon-fibre propshaft and a Wavetrac torque-biasing rear differential.
There's a certain gruffness along with the whooshes and sucks you'd expect of a turbo engine running 2.7 bar, but there's character and excitement too, and it's expertly remapped to be useable on the road. Peak power of 414bhp doesn't arrive until 7000rpm (the rev limit is way up at 7700rpm), but more importantly the surprisingly modest 335lb ft only arrives at 6000rpm. Driver have come to expect more oomph at much lower revs from a turbo, so you know from the numbers this will be different. But different good…?
The nuanced delivery is immediately reassuring on cold, soaking wet roads close to Cyan's temporary Silverstone base, because while there's still sufficient torque to be perky at low revs, power builds progressively rather than hitting the rear tyres like a wave pounding the shore, and there's ultra-precise throttle response – the Borg Warner turbocharger has ceramic ball bearings, and it spools up with barely any inertia at all. Your right foot is absolutely calling the shots.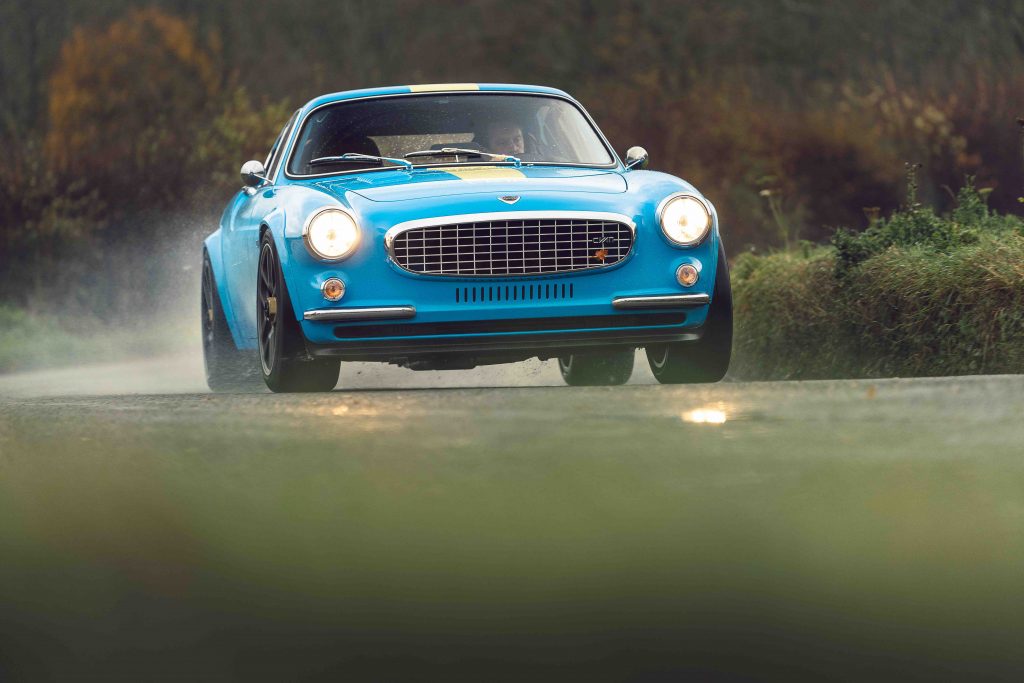 First gear is down and left on a dog-leg like an E30 M3 and it's quite a long (if very likeable) throw, but it slots with a clean little click like two snooker balls kissing, and the ratio's quite tall. The result is a bit like mechanical traction control, because you can really ease on to the pedal and feel the power rising gradually. When finally the rear tyres do slip (P Zeros in a Mercedes compound), the rear steps out so progressively that you just bang the lever forward for second and use all the power again, confident that if the rear tyres continue to slip then, well, you'll deal with it.
When you really trust what's beneath you and use all the performance, there's a screaming rush past 7000rpm that fizzes with energy and feels quite unlike any other turbo four I've driven.
The chassis is developed to be similarly progressive to the power. It tracks straight and true and soaks up bumps no matter how tricky or cambered the surface or how much standing water on the road, and immediately it feels approachable, from its body control to the measured rate of steering response to how it feels so laser-guided and unflappable. Four-piston AP brakes top it off with a firm, feelsome pedal and crushing stopping power that somehow still struggles to lock the front wheels in foul conditions. That said, an ABS comfort blanket might be nice for those elk/reindeer/moose emergencies.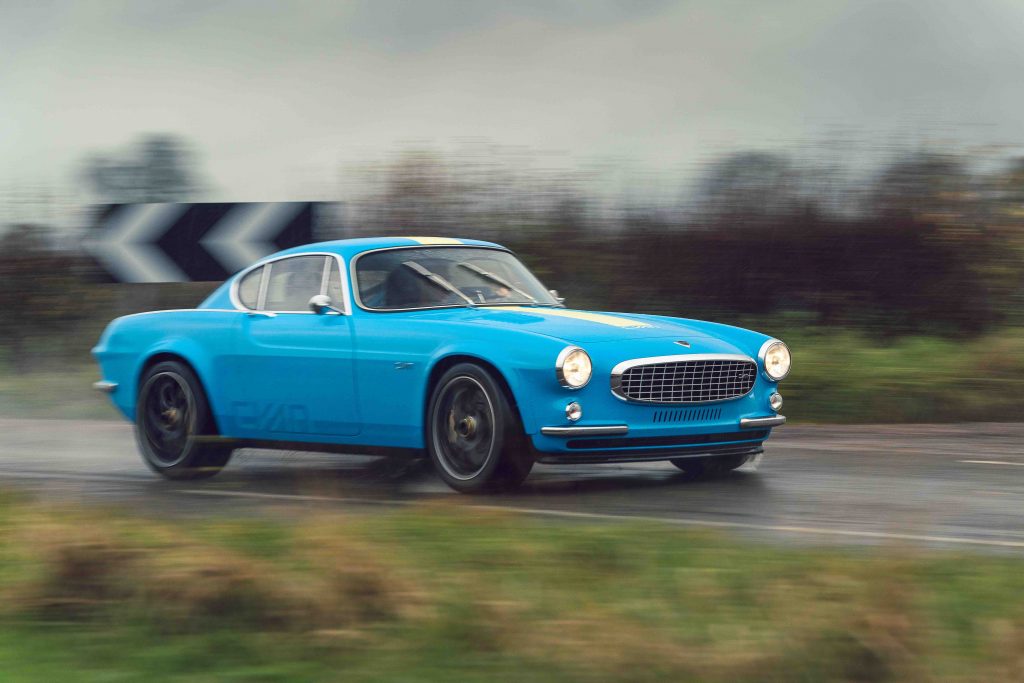 We're not driving quite the finished specification, as the electric steering is a default calibration from the aftermarket supplier and Cyan preferred not to send us out with the one it's experimenting with. The truth is the steering's very good, nice and precise and with a lightness that helps make it wieldy if without feeling vague and disconnected, but it doesn't self-centre. This didn't materially spoil a road drive, but I wondered if it might if you were chucking it about on circuit – or better on a frozen lake with studded tyres – and more aggressively exploiting its flamboyant handling. Hopefully the final calibration addresses that.
Even as things stand , there's a fusion of excitement and predictability in this specification that breeds real confidence, to the extent that edging past the limit is a lesson in how to dial both communication and sublime balance into a chassis; it's just so deliciously throttle-steerable. In fact, it's when this car starts to slide that you truly appreciate just how beautifully set-up and thought out this entire vehicle is. Turns out it was all overseen by no less a hand than Thed Bjork, the man who drove Cyan's 2017-winning Volvo S60 WTCC car.
The P1800 always was an unusual Volvo, but this one is borderline contradictory: it prioritises performance above passive safety, appeals to your heart over the head, and probably costs more than a nice Scandivanian farmstead.
It won't make sense to a lot of people, not least Volvo buyers, but Cyan Racing's twist on the P1800 happens to not only be my favourite Volvo, but one of my favourite cars full stop.
2021 Volvo P1800 Cyan specifications
Price: £370,000 (approx.)
Engine: Inline 4-cylinder, 2000cc, turbo petrol
Power: 414bhp @ 7000rpm
Torque: 335lb ft @ 6000rpm
Gearbox: Five-speed manual, rear-wheel drive
Kerbweight: 990kg
Performance: No data available
Read more
60 years ago, Volvo's 1800ES started a thing
Little red devil: MST Mk2 Escort review
Is this electric Porsche 911 by Everrati a sinner or saviour?