A clowder of cats. A prickle of porcupines. A crash of rhinos. A rhumba of rattlesnakes. I couldn't help but instinctively run through some of my favourites as I walked into the fabulous Kiklo Spaces in Hampshire, because I knew that I now needed a collective noun for a group of McLaren F1s.
It's not often you see a single F1 let alone several, but to celebrate 30 years since the launch of the iconic three-seater, Kiklo Spaces and Classic Driver came together to gather as many as possible under one roof. The result was a dozen of the total 106 ever made sitting side by side. So what should the collective noun be? A bark of McLaren F1s? A centrality of McLaren F1s? A Murray of McLaren F1s?
How much is your car to insure? Find out in four easy steps.
Get a quote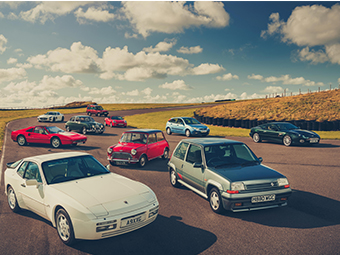 Or perhaps it should be an individuality of McLaren F1s. Because the extraordinary thing is that each one in any group can be enjoyed on its own merits. It's not a case, as it would be with many cars, of seen one, seen 'em all. And no matter how much you know about this most famous of supercars, there always seems to be more to learn. It must be the most well documented model of any car produced, yet somehow that makes it (to me at least) even more fascinating.
Despite having been lucky enough to drive three F1s, I certainly learnt a few more stories while looking round this particular… diligence of McLaren F1s? So, I thought I'd share a few snippets for fellow F1 fans to geek out on.
I realise that because F1s are now so stratospherically expensive there is, for some, almost a fatigue around them. The reverence in which many people hold them, makes others roll their eyes. They seem irrelevant. However, I remain unashamedly a fan of the F1. Having grown up mesmerised by it I don't think I will ever shake my fascination with it. And so, for me, things like the stories unearthed at this 30-year gathering all add to the tapestry of the F1's detail-rich archive, somehow enhancing its already mythical status. A mythology of McLaren F1s?
The mobile billboard
For example, at the top of the table, parked head-on as you walked into the beautifully lit, monochrome garage was chassis 012: The McLaren F1 equivalent of a Foxtons Mini. It is a silver F1 but it also sports decals promoting the watch maker Tag Heuer. They are tastefully done (having been removed, they were in fact expertly and exactingly reapplied by DK Engineering when it passed through their hands) but there is just something very curious about a McLaren F1 being used as a mobile promotional tool. It gets even stranger, however. The original owner was the head of Tag Heuer in Japan… and apparently didn't have a driving licence.
Spot the steering wheel boss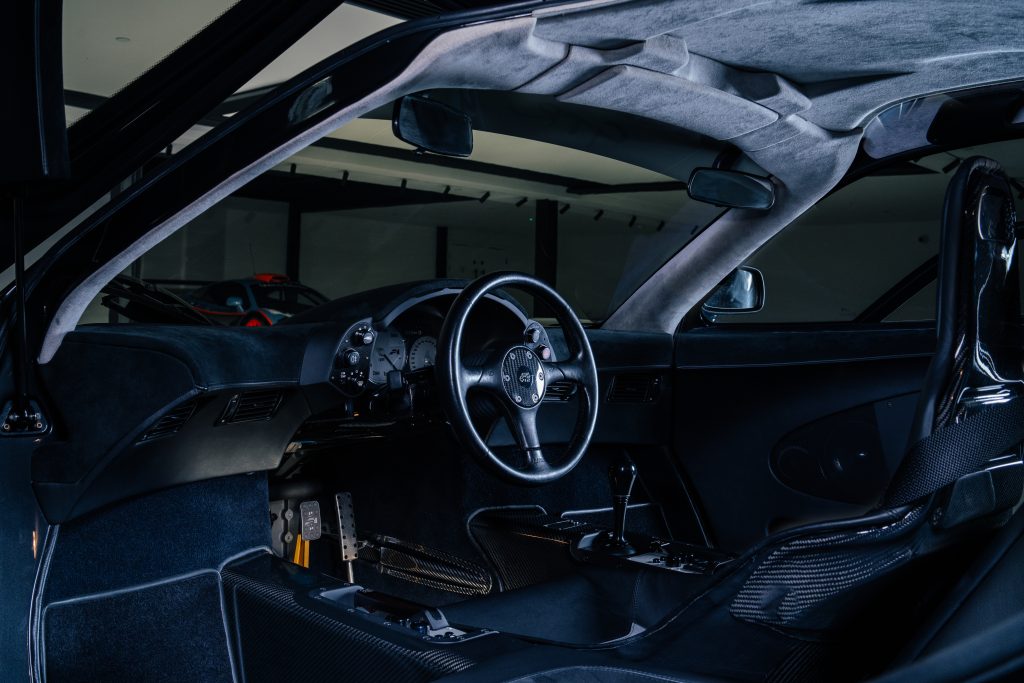 This car also shared something in common with another (slightly lighter, Magnesium) silver F1 parked to its left, with both cars having unusual steering wheel bosses. A small Tag Heuer shield adorns chassis 012, while chassis 064 has a red boss instead of the usual carbon fibre one on its three-spoke. Having written that down, I'm now quite tempted to delete this whole paragraph because as words on a screen a different colour steering wheel boss suddenly feels like the nerdiest of banal facts that will probably induce yawns (mock or real) in at least half of you reading. Then again, people gladly obsess over details like the length of individual letters on the faces of Rolex Submariners, so I'll risk the open-mouthed displays of tiredness and leave it in for a subeditor (no Rolex pun intended) to remove later.
Two-tone finish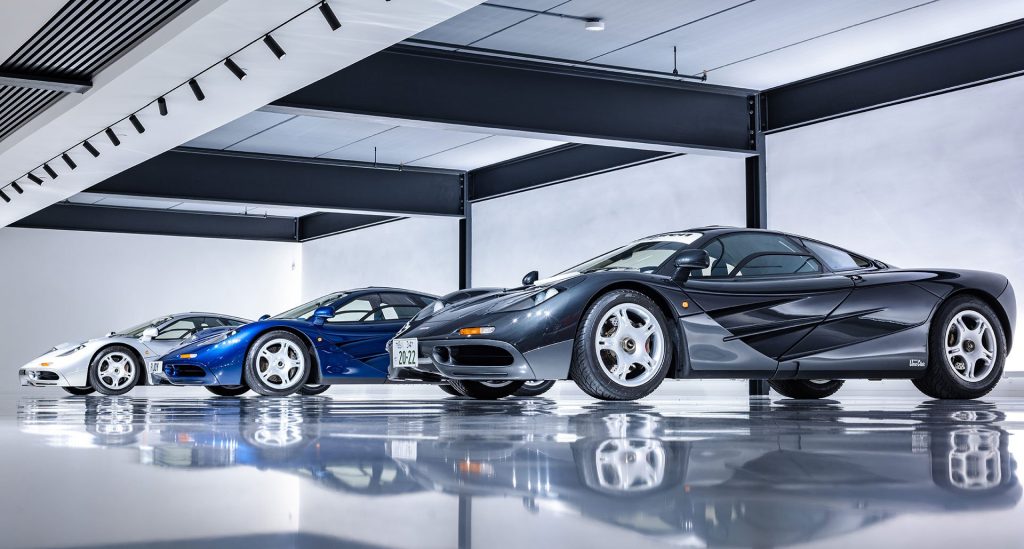 Another curious F1 livery on display was the only two-tone road car. It's quite subtle, but the top half is black while the bottom section is grey. The reason for 043's bi-colour livery is that it was built for the owner of Ueno Clinic – a plastic surgery business in Japan, that specialised in, cough, treatments for gentlemen – that you may remember sponsored the GTR (chassis 01R) which won Le Mans in 1995. The story goes that he would have received the race car if it hadn't won, but when it crossed the line first it was always destined to remain with McLaren. To soften the blow he was apparently given a favourable discount on a road car, which he then had painted to ape the race winner.
Seeing double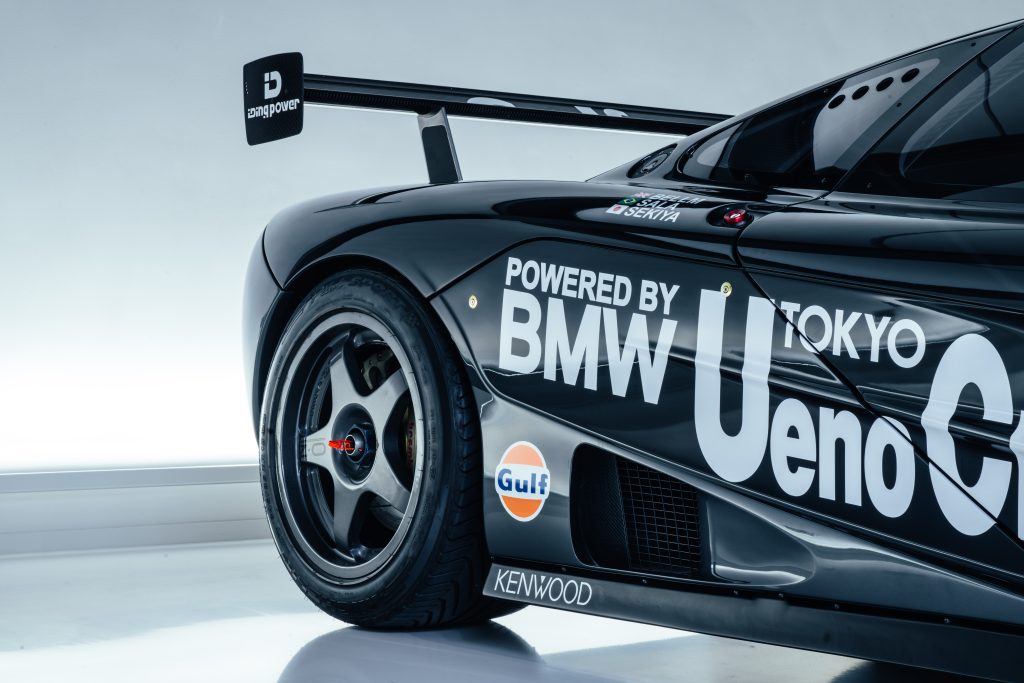 A Ueno Clinic liveried race car was also on display at Kiklo Spaces, but not the Le Mans winner. Instead it was chassis 02R, which finished fourth in France wearing Gulf colours and was driven by Ray Bellm (who we'll come back to in a bit), Mark Blundell and Sandro Sala. It was re-liveried for the Suzuka 1000km later that year as Japanese company Ueno Clinic wanted to continue its involvement in its home territory and chassis 01R had been retired from competition. At the time it was just a wrap over the original Gulf livery, but the bodywork it now sports is a properly painted version, with a spare Gulf-liveried body also retained.
"You're fired!"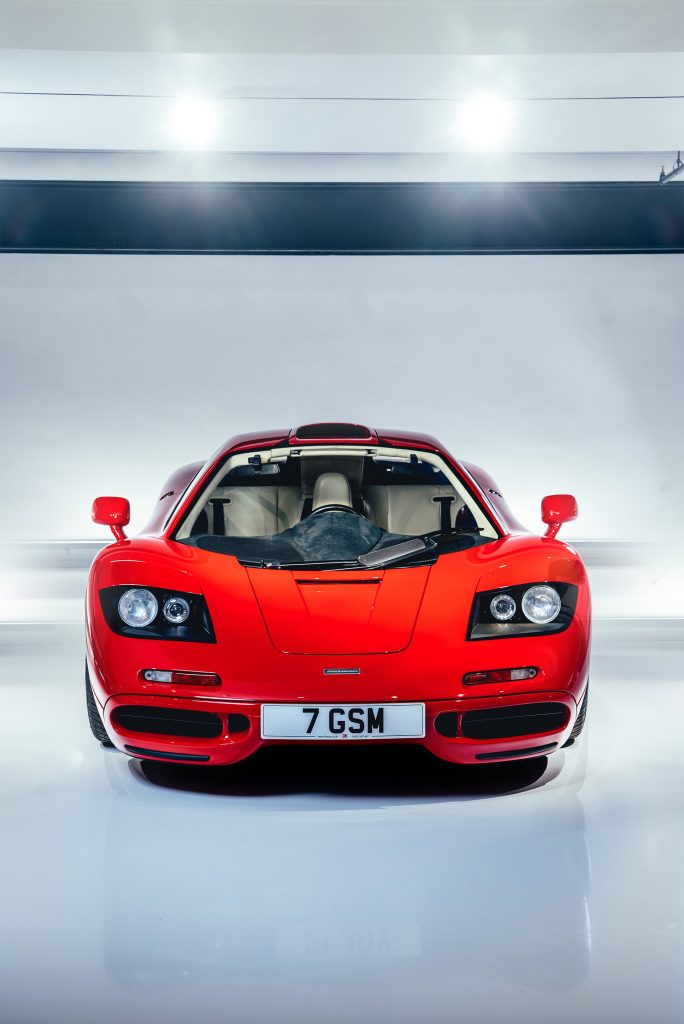 Somewhere there is a picture of me crouching down to look inside chassis 01R at the Goodwood Festival of Speed in 1995, the week after its victory. The still-grimy race car was surrounded by other F1s, one of which was chassis 028, which was also on display at Kiklo Spaces. This vibrant red car with a cream interior was originally built for Michael Andretti as a sweetener for the fact that he had been ousted from his Formula One seat halfway through the 1993 season (to make way for Mika Häkkinen) with 18 months still left on his contract. As F1s weren't road legal in the US at the time, the car remained in the UK. Rather than pay for more insurance and storage on a car that he wasn't using, Andretti reportedly sold it after just a year.
In 1993, Andretti's MP4/8 race car was of course decked out in the famous red and white Marlboro livery so associated with McLaren. Curiously it was a livery that was only used on one F1 GTR and only for two races. Kiklo Spaces had the nose of that car on display as well as an unusually large rear wing from the same car – a wing that Adrian Newey was apparently perplexed by the aerodynamic properties of when he saw it!
Penril on-board modem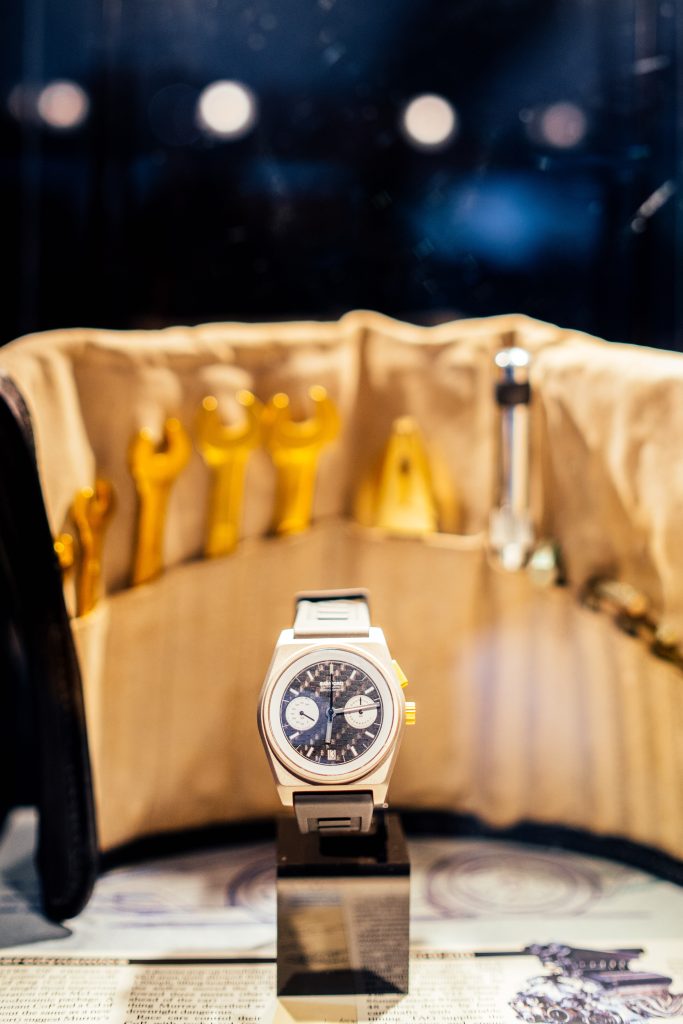 Other curiosities on display included a Penril Datacomm Networks DX192 M. This grey, rectangular, rather brittle looking plastic box is the modem that was supplied with each car, famously allowing problems to be diagnosed remotely. It's a real throwback, which instantly conjures up a sound as distinctive, albeit not as enjoyable, as an F1's V12. It's somehow strange to see something so obviously old-fashioned associated with the F1, because the car itself and things like the beautiful Facom toolset have remained almost timeless in their aesthetics.
Matching luggage sets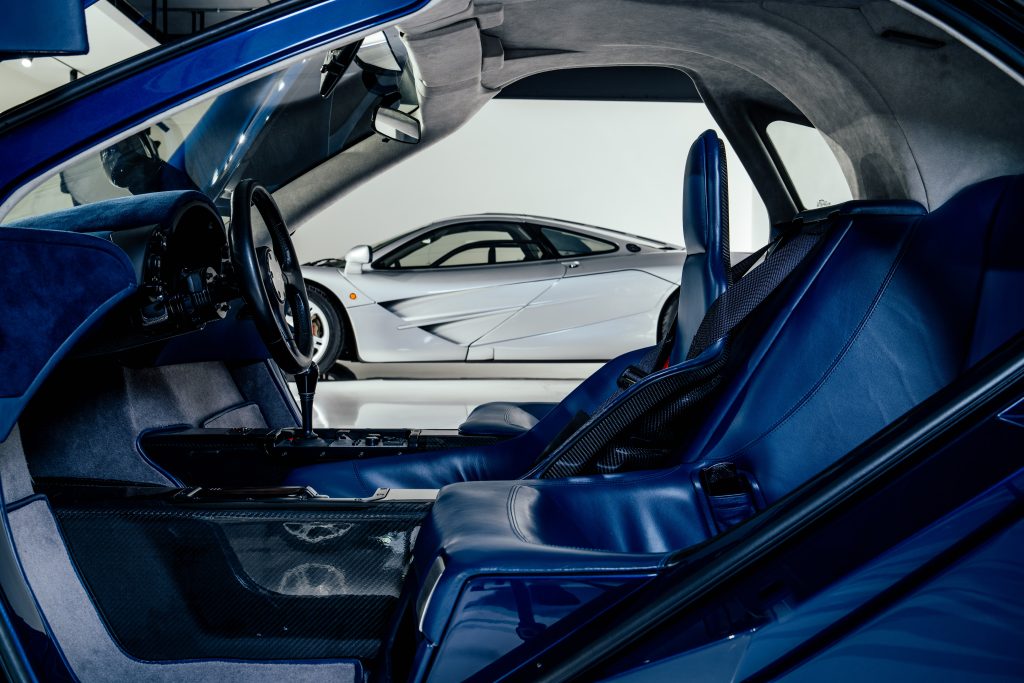 Even the luggage looks relatively modern. Each set was apparently tailored to match, with the leather under the handles trimmed in the same colour as the contrasting panels in the driver's seat of each car. One thing not on display was the golf bag that could be ordered with the car although there was a story about a prospective owner who came to view the F1. There was a slight language barrier but he said that he owned golf clubs, so he was assured that he would be able to carry his clubs in the car with him. Whereupon he clarified – he owned some golf clubs, as in the bits of land with greens and fairways and clubhouses.
Letter of apology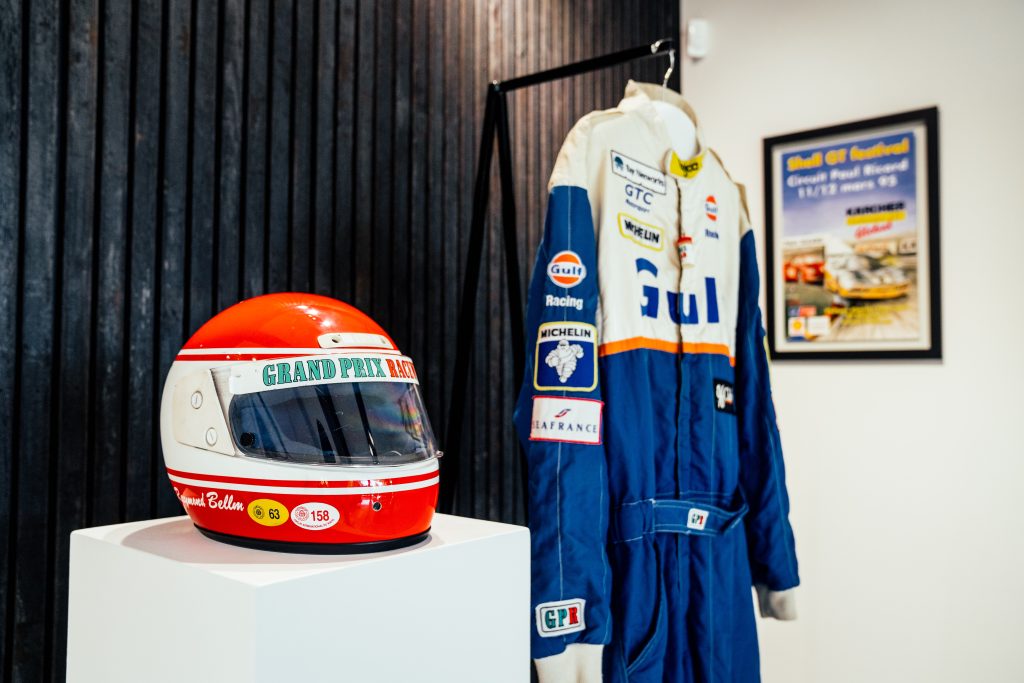 I said I would come back to Ray Bellm, instigator of the GTR programme and driver of chassis 02R. He made some fairly fruity comments after chassis 01R won Le Mans, suggesting that McLaren had gone against an agreement and had supported the Ueno Clinic car unfairly. Ron Dennis (a friend of Bellm's) was not happy and issued an invitation to come to Woking.
The story goes that when Bellm stepped into Dennis's office, there were two letters on the desk. Ron informed Ray that one of them needed to be signed. Either the one starting legal proceedings against him for defamation or Bellm could sign the apology letter rescinding his comments which would then be sent to the press. He chose to sign the latter and there is a copy under glass in Kiklo Spaces. Short of declaring Ron an earth-bound deity it couldn't be much more grovelling in its tone and it feels like a wonderful piece of history.
Read more
Freeze Frame: The 240mph McLaren
Cleaning the 24K gold foil in a McLaren F1 supercar | Beyond the Details
Browse the latest values of the McLaren F1 | Hagerty Price Guide