As dreams go, the thought of owning a McLaren F1 is one of the more fanciful wanderings of the mind. The three-seat supercar cost £540,00 when introduced in 1992; today it's worth around £16 million. All is not lost, however, because now you have the chance to buy an original tool kit from the era-defining supercar.
When handed to customers, each of the 64 road-going examples of the F1 came with the tool kit, as well as a fitted luggage set, a tool chest, mechanics gloves, detailing gloves and a car cover.
How much is your car to insure? Find out in four easy steps.
Get a quote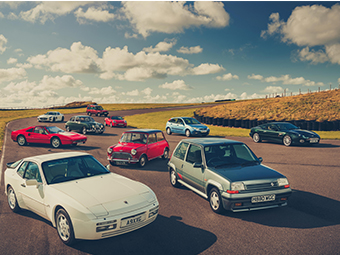 The tool kit was manufactured for McLaren by Facom, a French tool company which set its product designers the challenge of creating a light but robust set of tools that would be in keeping with McLaren and Gordon Murray's obsession of keeping weight to a minimum – an obsession that saw the 6.1-litre, V12, three-seat supercar achieve a kerb weight of 1138kg.
To that end, Facom crafted the tools from titanium and finished the spanners in a titanium nitride coasting to achieve the gold-look finish. The only exception to Facom's efforts were the pliers, fashioned from steel. The 16-piece set includes Allen keys and screwdriver heads, and is wrapped in a leather roll-pouch.
According to auctioneers RM Sotheby's, this particular tool kit bears the evidence of fire scorching, after the F1 it was fitted to experienced a rather heated moment. Which, in many ways, makes it all the more appealing; any prospective owner would have a great tale to tell fellow petrolheads as they unraveled it for show.
Few hope to ever have to use their car's tool kit but even so we would find it hard to imagine the owner of a McLaren F1 getting on their hands and knees and tackling maintenance tasks with the original set of Facom spanners. Rather, we'd imagine a phone call to McLaren or Lanzante, the F1 specialists that originally raced the car to Le Mans victory in 1995, would see things taken care of.
However, just because it appears to be similar to the sort of tool kit found in some everyday cars and more common sports cars doesn't mean it is cheap.
The lot – offered without reserve during RM Sotheby's Open Roads event, which opens tomorrow – has an estimate of £7000 to £10,000. And it would surely only take two F1 owners looking to add spares to their collection to see that price accelerate nearly as smartly as the F1 itself.