Back in 2008 after five long years in development, Toyota's iQ tiny car was the next big thing. And it's perhaps worth reminding ourselves that back then, there were 600 million cars on the planet, now there are 1.42 billion. The global population was 6.7 billion, where these days it's within a spit of 8 billion. If you think we're going to solve this unchecked growth by swapping petrol engines for batteries, forgoing hamburgers and living in a sort of Green Party authorised suburban gulag, you might want to take a reality check.
I test cars for a living, but battery cars simply don't cut it in my highly dynamic racket where you can receive three change-of-plan instructions in a single day. Moreover, who's paying me for the two to three hours a day spent sitting in deserted fast-food car park waiting to charge or charging the drive battery? No one, that's who.
How much is your car to insure? Find out in four easy steps.
Get a quote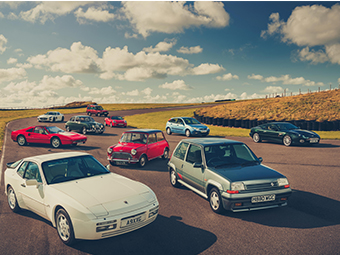 Which is why I've elected to buy a cheap, economical, and reliable car, with just a frisson of interest. Cheap, since with its 67bhp/72lb ft 998cc engine and manual five speed transmission, vehicle tax is free for my iQ and comprehensive insurance is £120. Economical to a point, and although the NEDC figures are 65.7mpg (on the Combined cycle), it's unlikely to return that, but if you nurse it, it'll give a solid 55mpg. Reliable, well it's a Toyota for Pete's sake.
And frisson of interest because 14 years ago, the iQ was one of the most absurdly over-engineered small cars on the planet, designed to slot into the sort of bijou, city-runabout market that had previously been filled with cars such as Ford Ka, the Smart car, the new BMW Mini, Mitsubishi's I and Fiat's new Cinquecento.
Flush from Toyota's 2003 New Small Car Research Project, which looked at how much smaller a small car could be made while staying safe and carrying (just) four people, the iQ was only 2,985mm long and 860kg in weight.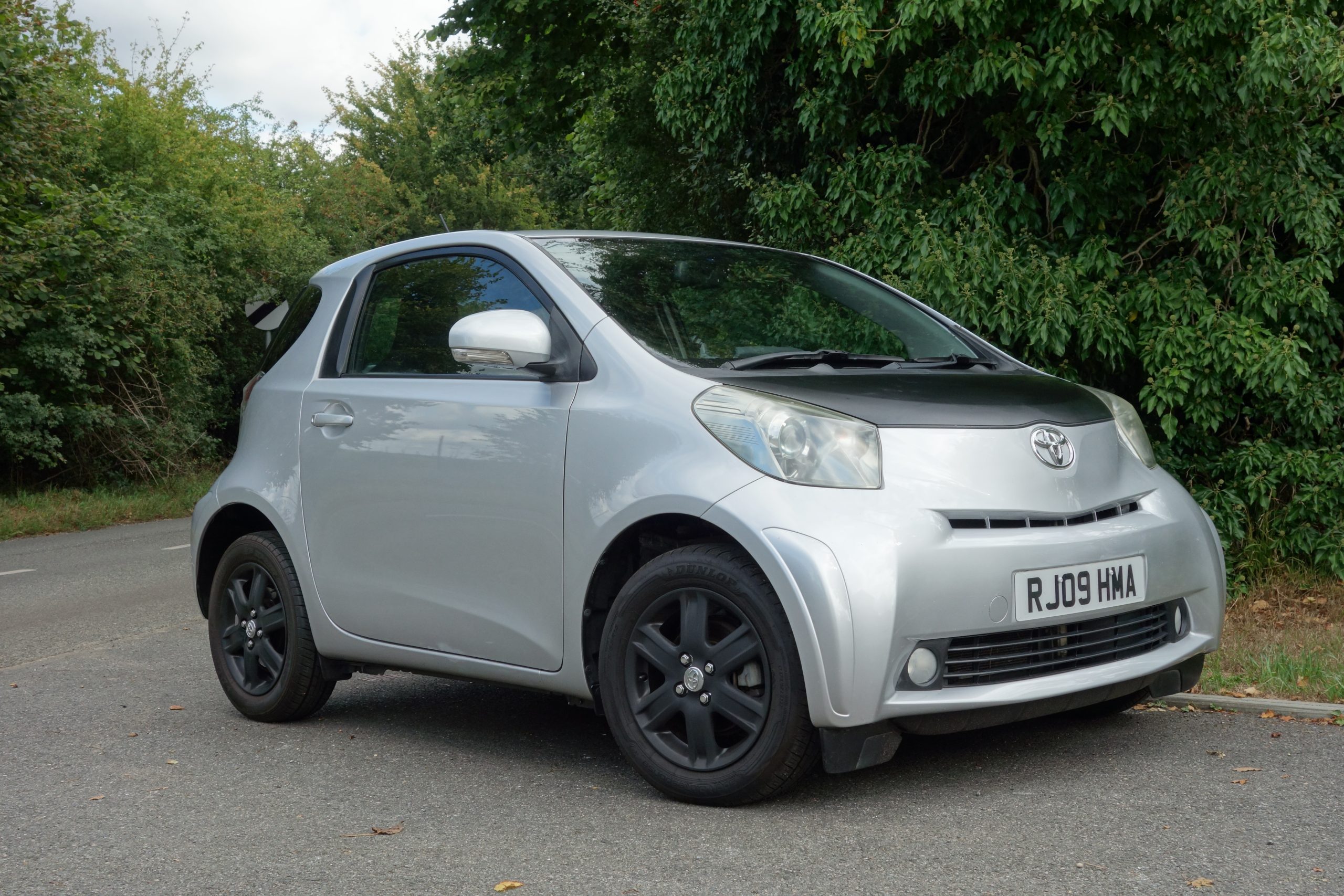 This was heartland Japanese tech; repackaged and miniaturised. Those launch cars were also unassailably black or an extraordinary white, shimmering like a force field with that beguiling Japanese style we first saw in that Toyota 2000GT from You Only Live Twice in 1966. We'll come back to that paint…
The iQ was exiguous to the point of not being there at all. You could drive this car in the pub and no one would notice, it was as small and loveable as a hat, and as tough as an Arai helmet on wheels.
But it's only when you start to buy one that you discover the truth about these cars. That white paint option sheds like a fleece at shearing time; at one time Toyota gave out free resprays and folk were buying up pearlescent white examples and dropping them off at the Toyota dealership for a respray – it doesn't do this anymore… There's also some weird air feed off the exhaust which blocks eventually and needs expensive clearing. And there's also a strange thing with the door rubber tops, which sort-of fold in on themselves, which is a known fault.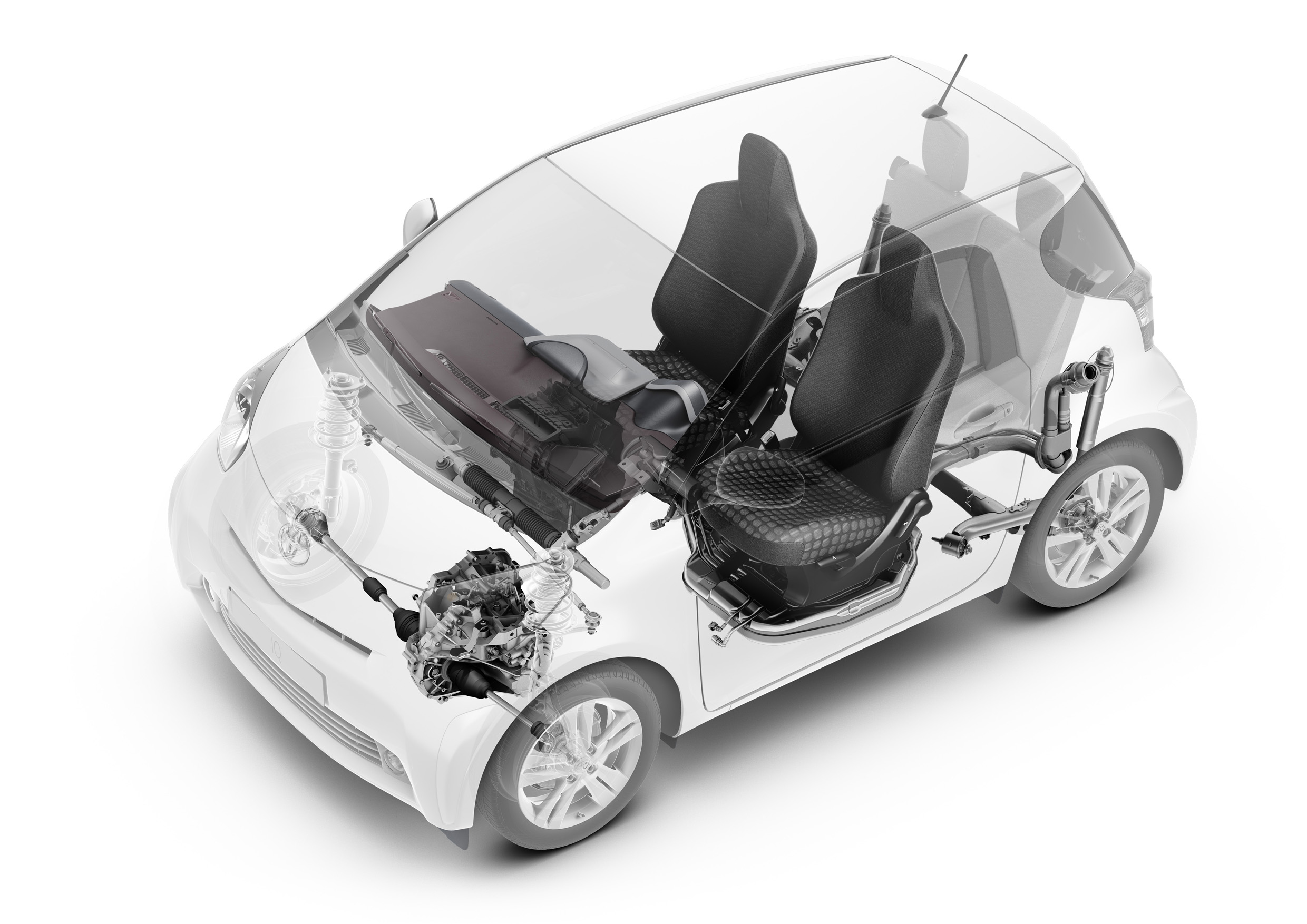 And another thing is, while it was short and light with a brilliantly small turning circle, the iQ wasn't exactly thin. While its width of 1,680mm was narrow compared to the sort of gargantuan SUVs we are served up nowadays, the iQ looks a bit like a normal car that's been backed into a wall. But it still effervesces with innovation. The fuel tank is a 4.7-inch slab of hydrocarbon storage under the floor, the tiny air conditioning/heater unit has a thinner and more aerodynamically correct fan to reduce the racket that only a titchy heater can make. This allows the dashboard to be asymmetric, which in turns allows the front passenger seat to move well forward and allow enough space for a rear passenger's legs. I'm six foot tall and I could sit behind myself. The seat behind the driver's seat is reserved for very stylish stuff or accessory children – small size only. The boot is smaller than the fuel tank.
To keep your tandem passengers safe, the airbag has a different shape and there's also an extra bag in the seat squab to ensure the front-seat passenger stays in place. Glovebox? Who needs them, the iQ had an optional canvas bag, which poppered to the dash and was such a stylish accessory they now fetch £150 on eBay. I'm working on an alternative.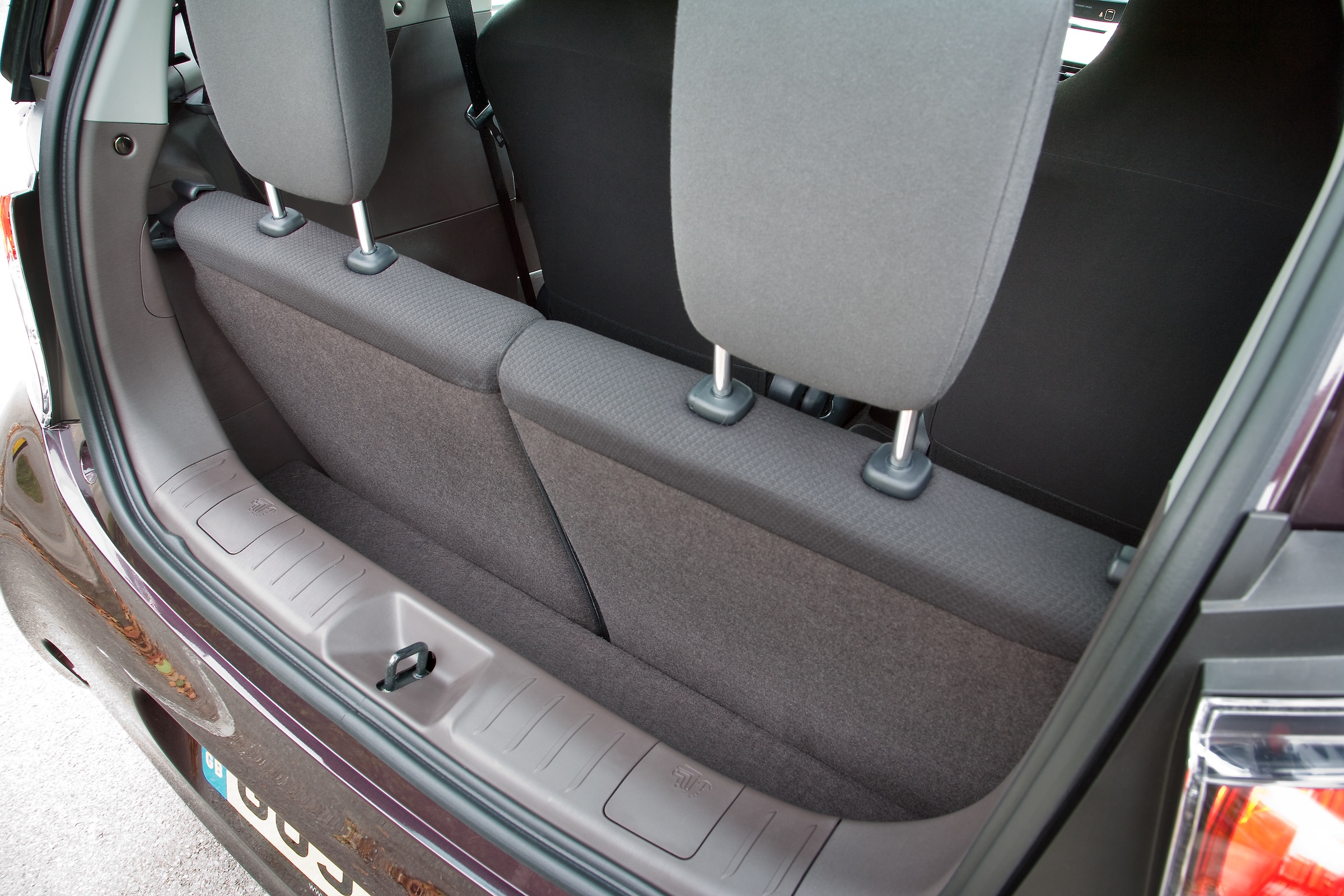 I haven't been far in it yet, but far enough to know it's not exactly a scintillating drive. You have to conserve momentum like a miser, flowing the little car like a rolling cotton reel across a wooden floor, using racing lines to avoid tyre scrub and try to keep well clear of the brake pedal. Fortunately, the previous owner has helped to solve the performance issue a bit by painting the bonnet satin black, which as we all know, makes it a rally car.
It's fun, in a way that driving a Citroën 2CV is fun, but overtaking isn't for the faint hearted. I've jet washed the underbody, cleaned up and sealed the headlamp Plexiglass with an Armor All Headlamp Restoration Kit and 'moved in' with a stack of Bluenote CDs, demisting wipes, water bottle, little umbrella and lucky shells – so what do you carry in your cars?
"Small cars are big right now," said my brother when I told him about the little Toyota on our drive. I think he might just have a point.
Read more
Tiny Happy People: Driving a titchy classic kei car is big fun
Your Classics: Bentley-beating luxury with Warren Christie's Toyota Century
25 years of the Toyota Prius: Has one of the greenest cars on the road mets its end?