Fifty years on, the Range Rover enjoys a unique position in the world of classic cars. A 4×4 which isn't utilitarian, a design classic that was never really styled, and one of very few truly classless classics – at home on the estate, whether that means Blackbird Leys or Blenheim Palace. And the formula which has captivated people for five decades still charms today. It doesn't matter if you're a brickie or a bank manager, the Range Rover makes a compelling case for itself as a classic to show and shine, or to use every day.
The idea was first considered as early as the Land Rover itself – but to hit the right note took time. The eventual result looked little like contemporary Rover cars, and the Road Rover development name had been replaced with the now familiar epithet. A 100" chassis with coil springs and the Rover V8 was clothed in a body originally designed to suit testing, and one which served its market well for well over two decades. An ideal everyday family classic, or something suitable for those who live in the countryside to use all year round, the Range Rover has no shortage of appreciative fans and, significantly for first-time owners, the knowledge is out there to keep an RR in tip-top form.
How much is your car to insure? Find out in four easy steps.
Get a quote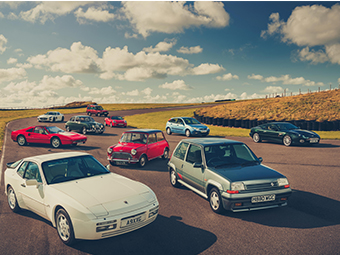 And the Range Rover market, in its fiftieth year, displays strong interest. Values have increased almost tenfold over the last decade, and with no sign of the market slowing there still could be time to invest – or simply buy it and enjoy living with one of the most ground-breaking models Britain has contributed to the classic car scene.
What's it like to drive?
It's probably not surprising that the Range Rover's not the best choice if you want to crest the Avon Rise and clip the apex through Quarry. It's got the aerodynamics of a breeze block and a high centre of gravity. But while it's really not at home on the circuit, that's just about all it can't do.
While not fast, a Range Rover V8 is surprisingly sprightly for a car of its size, though that's limited by the body control. Set off from a set of lights and the prow rises, tail sinking in a manner akin to that of a Silver Shadow. It's a special feeling, helped by the sensation of sitting high, looking over other cars rather than through them. It's high sided, but deals with crosswinds relatively well.
See the Range Rover as a comfortable and pleasant thing to pilot without trying to tax it in the bends, and it will remain a rewarding car to drive. Better still, it has genuine go-anywhere ability which is only surpassed by the Land Rover which came before.
Point it at a green lane, and if anything it will become an even more fulfilling experience. Alternatively, it's just the car for navigating lakeside slipways, tackling wet fields at a music festival or seeking out a remote beach for a day amongst sand dunes and breakers.
The fuel consumption of the V8 is the stuff of legend, but don't let that deter you. After all, you won't be travelling tens of thousands of miles, and as Hagerty proved, it's possible to get respectable fuel economy from the Range Rover if you adapt your driving technique.
How much does a classic Range Rover cost?
Ten years ago, you could have had your pick of the Range Rover market for under around £10,000. Today though, things are changing. There's a definite hierarchy – the Velar prototypes are by far the most valuable, followed by two doors and then four doors. The older the two door, the more valuable as a rule – you can view the Hagerty Price Guide, here – though the later EFi and LSE four doors are worth more than the carburettor models.
The very best Velars now can command up to £85,100, while usable projects can be had from £30,000. Two door cars range from £14,000 to £38,750, while four doors in equivalent condition range from £11,400 to £29,350. Restoration projects can be had from around a third of the lower estimates above, though these will be cars which will need a lot of work and money to make them into nice examples.
How much does a Range Rover cost to service?
A basic service at home isn't expensive, a service kit from Bearmach including filters and plugs can be had for £45 at the time of writing while seven litres of 20w50 will leave some spare for topping up. Range Rovers aren't especially fussy about the brand of oil, though we'd advise the best brand you can find, and to change it every 6000 miles or 12 months.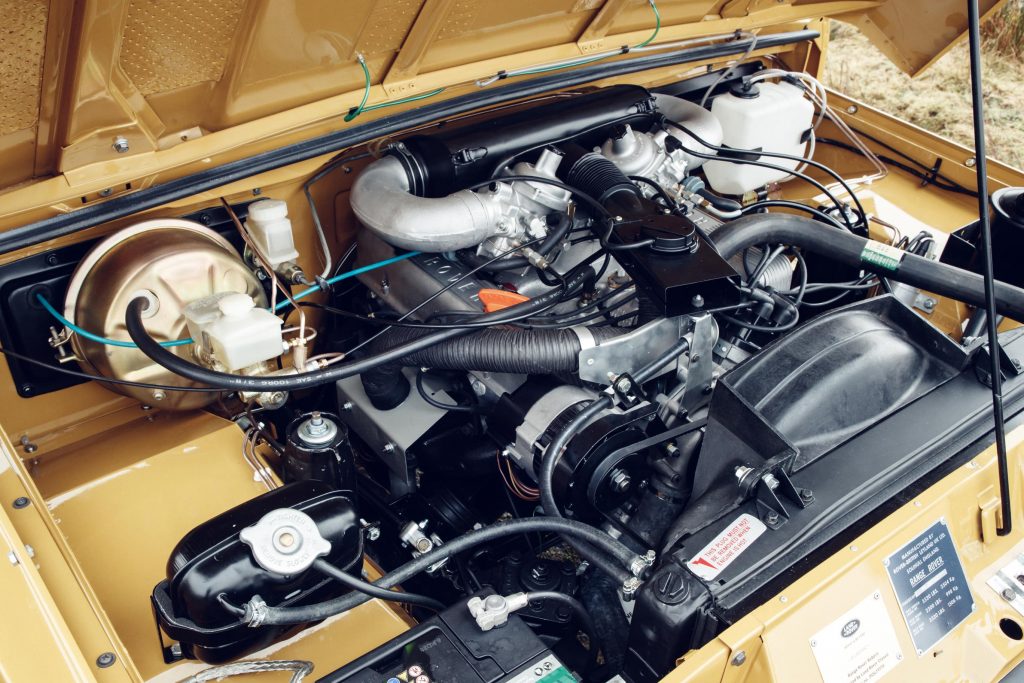 Phil George, of Range Rover specialist Paul Light Land Rovers, advises that most specialists will charge in the region of £200-250+VAT for a service, though it depends on what actually needs to be done. In wider terms, labour rates from specialists can vary, but typically expect to pay around £75/hr at the time of writing.
It's possible to spend in excess of £20,000 on a thorough renovation with a specialist, let alone a bare shell restoration. With this in mind we'd advise you buy the best you can afford.
What goes wrong and what should you look for?
Hagerty's own Ian Arthur is something of a Range Rover expert, and we asked him what to look out for. "While the panels are aluminium, the frame is steel, and so is the chassis. Both of these can rust, and even nice looking Range Rovers can hide rust underneath," explains Arthur.
Arthur suggests prospective purchasers check the body mounts, rear crossmember, inner rear wheelarches, inner front wings and the length of both sills, while after 1989 boot floors became a little suspect too. Cars built before 1983 were primarily bolted together, making an easier repair possible – though the sides of the frame are still prone to rot and welded in. The aluminium panelwork is wholly unstressed, so don't worry about damage here.
On later cars with electric seats, the ECU which controls them can suffer damage if the battery leaks. This prevents the movement of the seat or mirrors – an MoT failure now. Cars with air suspension can be troublesome – Phil George of Paul Light Land Rover tells us the system is similar to that of the later P38a but not the same, and few bits are directly common. Coil springs are more reliable, but less suited to towing.
As with all cars, check the mechanicals. Range Rovers are hardy, but it's worth checking the V8s for bottom end knocks and timing chain rattles, and making sure that the 200TDi and 300TDi diesels have had timing belts within the last five years
Trim can be hard to get, particularly for cars built before 1986. Palomino beige door cards are scarce, but if the vinyl is good the backing boards can be replaced. Externally, bumpers seem to be harder to get the older the car is – pre 1978 bumpers with steel end caps are the trickiest, while 1978-86 rubber caps and post 1986 plastic caps are easier. Early 4dr rear doors have slightly different shaping at the arch, and can be tricky – while pre and post 1986 doors aren't interchangeable as the hinges are sited differently. Good dashboards are getting tricky as many were drilled for additional equipment, but the worst they usually suffer is UV damage which can be rectified.
Finally, Range Rovers don't like LPG according to Phil George. "If it has a conversion, we'd prefer to remove it or not to work on the car. They can affect several aspects of engine health, and many haven't been fitted expertly. It will devalue a good car."
Read more
Buying Guide: Range Rover (1994 – 2002)
Driving the Kingsley KR Series, a restomod Range Rover
How the Range Rover went from farmhand to Fortune 500 ride