Classic vehicles have many attributes that put them above modern cars, but fuel efficiency is not usually one strength that immediately springs to mind, especially when the cars in question are a 1983 Range Rover In Vogue Auto with a 3528cc V8 and a 1982 Rover SD1 Auto with the straight six 2597cc PE166 engine. In fact, common sense says you'd be mad to take one of these fuel- guzzling classics on a long journey, wouldn't you?
Here at Hagerty, we pride ourselves in encouraging staff to use their classics as much as they can. Two such cars are regulars in the company car park: Dan's brown SD1 and Ian's blue four-door Range Rover. Both owners swear by their respective mounts, and both believed theirs could go further on one tank of fuel than the other. The SD1 was (on paper at least) more fuel efficient, but the Range Rover had a larger tank. Sensing a challenge was afoot, we decided to ask them to put their money where their mouth was.
How much is your car to insure? Find out in four easy steps.
Get a quote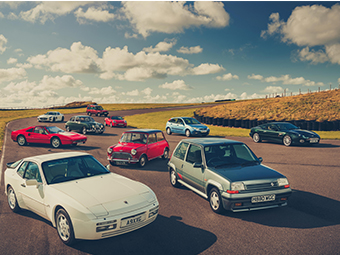 The rules were clear: one tank of fuel, odometers reset and drive as far as you can before your car stops. No motorways, and you each have a passenger. The winner is the one who drives the furthest.
With the rules set, the two teams left our Towcester office early on a cold but mercifully dry November morning. Dan, at the helm of the SD1 was heading west and Ian driving the Range Rover, north.
Dan explained where he and his co-pilot (his father) were heading. "We chose Land's End as it seemed a logical choice: once you've reached there you can go no further and it's iconic."
Meanwhile Ian, partnered with Hagerty colleague Ste, had a different idea. "We had numerous weird and wonderful ideas for a finally destination. These ranged from driving up and down the A14, to trying to cross Wales using only green lanes, however we settled on Scotland. We were looking for a memorable photo and the Scottish border was the only one which could guarantee this."
Updates were posted on our social media channels, and soon many of our followers were as fascinated as us to see which of the two great cars would emerge victorious. Could either reach their destination? The consensus was not very optimistic!
An early in-car video from the SD1 suggested that Dan's fuel level was dropping rapidly, but by lunchtime things were balancing out: the Range Rover had reached Scotch Corner (a total of 195 miles) on roughly half a tank, whereby in the same time the SD1 had travelled only 142 miles to Greinton in Somerset but had a healthy ¾ of a tank left. Ian explained how the Range Rover travelled so far so quickly: "The Range Rover has a number of disadvantages, permanent 4WD, 500KG heavier than the Rover, poor aerodynamics and a three-speed box. Forward planning ensured we only physically stopped three times from the start to the Scottish border – pulling away uses lots of fuel in a Range Rover! We quickly joined the A1 and found a suitable articulated truck to draft, allowing me to lift off the throttle and squeeze more miles from each gallon that poured through the twin SU carbs. It also reduced the wind noise, which was just lovely!"
Both teams kept themselves busy chatting about cars, and Ian and Ste even answered questions posed on Facebook in a live video.
As Dan said, "We spoke about many, many things, a lot of it car related. Even family memories were brought up in terms of 'that was in the Princess HLS wasn't it? ' or 'why did you buy the Renault 14 again?' The route also generated lots of conversation and comments as the roads we were on were typically smaller A/B roads and interesting."
By 4pm, we received word that Ian and Ste had reached Scotland, a superb achievement considering the Range Rover, once Ian's grandfather's car, had only completed 200 miles since being put back on the road this summer. They kept going, and at 8.23pm we were astonished to be told that the big V8 engine had finally spluttered to a halt after 388 miles.
However, down in the West Country one particular brown Rover was still on the go.
"We got to Land's End on the Atlantic Highway, turned around, and ended up driving back," said Dan. "Once we realised we'd beaten the target set by the Rangie we stopped on fumes (although still going, not run out) at 392 miles in a layby off the A30 at around 9.30pm. We then drove around trying to find a hotel, finally finding one at 11.30pm, before driving back to Towcester the next day."
In the cold light of day, both teams had a chance to review their epic drives.
"It is amazing how many miles you can squeeze out of each gallon when changing your driving style," said Ian. "I never thought the Range Rover would achieve 300 miles let alone 388. It is 34 years old, we were driving for 18 hours in total and covered 595 miles and I would do it all again tomorrow! A brilliant Classic."
Dan was also extremely impressed by his car. "I was surprised at how much restraint I had on the gas pedal! It took a lot of very gentle driving. The SD1 didn't miss a beat, although that was not much of a surprise. It was extremely comfortable: after 15 hours behind the wheel I had zero aches and pains. But the biggest surprise of all was our mileage – we achieved a little over 30mpg by our calculations, which was well over everyone's guesses and better than road tests of the day for an auto. We were also surprised at the interest people we met on the way showed in the challenge, following it on social media."
So, we've proved that even the most 'thirsty' classics can be a practical, comfortable and economic form of transport even over long distances, but we'll leave the last word to Dan: "I don't think a modern car would've been any more comfortable, or as engaging to drive." We couldn't have said it better ourselves.