Hidden away amid the office blocks and Georgian townhouses of the City of London, the Honorable Artillery Company's gardens played host to the first sizeable British car event since the coronavirus pandemic began. The London Concours 2020 had been postponed from June until August, when official restrictions eased. Circulating the manicured lawn and immaculately presented cars and bikes, you could sense the relief amongst those present: the community we treasure is, little by little, regrouping and returning to some semblance of normality.
100 pristine competing and display cars as diverse as 1950s hot rods, 1980s Group B rally cars and the latest hypercars gathered on the five-acre lawns, as did a crowd that splashed on hand sanitiser as they entered and passed around elbow bumps with old acquaintances.
How much is your car to insure? Find out in four easy steps.
Get a quote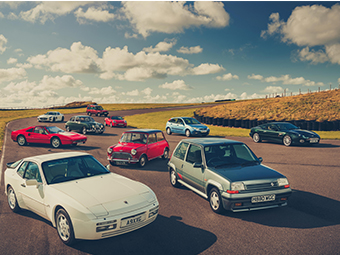 Visitors faced a full-scale deluge on the first day and a mini heatwave on the second, sunshine then sparkling off shrinking puddles and freshly repolished chromework – all normal enough for an outdoor car event held late in a British summer. But the mood combined a less familiar sense of deep relief to finally be getting out there again, with a cautiousness to not stroll into one another's personal space.
Each year at the London Concours, highlights of a prominent enthusiast's car collection are showcased. This time around it was the turn of Ian Callum CBE, the former head of design for Jaguar and Aston Martin. His six chosen cars made for a highly eclectic grouping: a restomod Jaguar XJC, 1990s 'pre-BMW' Mini, Aston Martin Vanquish S, Triumph TR6, 993-generation Porsche 911, and a 1932 Ford Model B hot rod.
"Regardless of the weather or viruses, if you like old cars, that travels well," said Callum, speaking with Hagerty at the end of the first day's event. "That's what I love about the car business – you get such passion displayed. And what a venue this is, right in the heart of the city – not huge, but with space to be careful. There is such a feeling of relaxation here. Car people need to be in amongst each other, even if to create debate and discussion. It's important to bounce ideas off one another in person."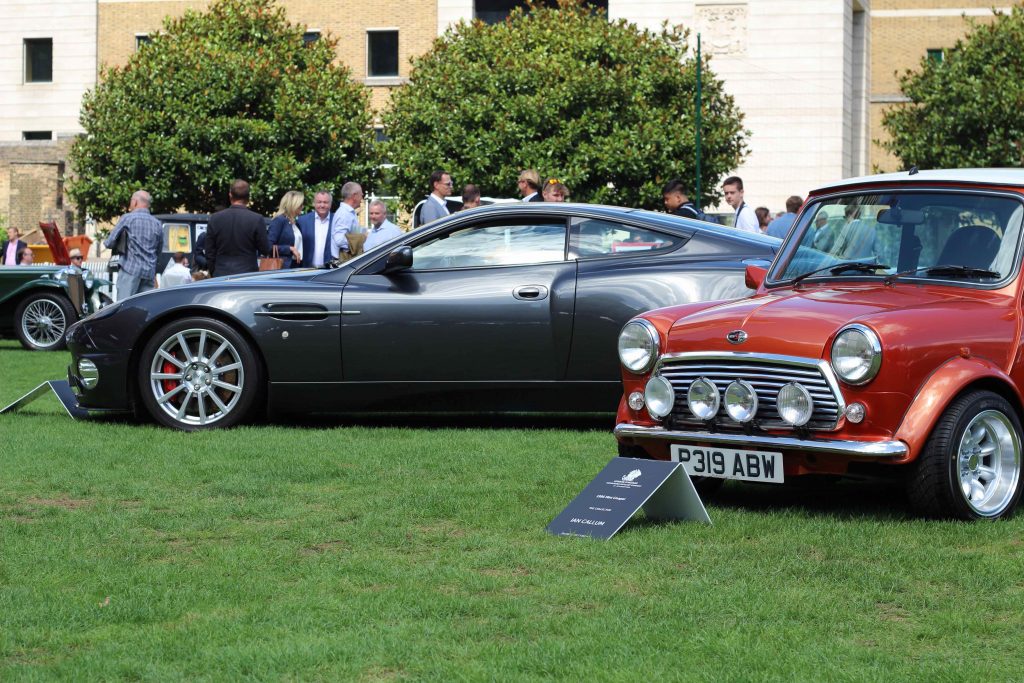 So which car from Callum's collection caused most of a stir? "Funnily enough, the Mini. People can so easily identify with it. I've had it for 25 years, almost since it was new. I've tricked it up, and while purists might suggest that it would handle better on smaller wheels, for me it's important that it looks the part."
Yet while visitors had come to take in Callum's collection of classic and modern-classic cars, he couldn't resist taking in the sights – with one car in particular catching his attention: "The one I would give my eyeteeth for is the Facel Vega HK500. It's the most un-French looking French car imaginable, with this great big Chrysler V8."
The 1961 Facel Vega Callum referred to belongs to Tom Reah, who was looking a little shocked that his car had just won the 'Lost Marques' class of the concours competition. "I thought it would be fun to enter, but I didn't even expect the car to be accepted. My wife and I have had to isolate through much of this crisis and at most we've been taking the car out for short drives near our home in the New Forest. It's such a fantastic grand tourer, it would actually cruise at 100mph all day long. It's extremely comfortable, as well as beautiful. Stirling Moss had one to drive between grand prix held across Continental Europe, rather than fly.
"This is the first time in months that we've properly been out – eating out included. This event has made us feel comfortable, and the other owners with cars taking part have been chatty and unpretentious. We're expecting to join some small local car shows over the next few months, but we're so sad the Goodwood Revival wasn't able to run this year. We'll just have to look forward to next year."
Hannah Cullen was catching up with a group of friends all wearing 1950s-inspired outfits and completing the scene at the Vintage Hot Rod Association's feature display. This celebrated the hot-rodding style of the '50s, typified by the scarlet 1947 Ford Deluxe Coupe with a blown Flathead V8 that Cullen stood alongside, which belonged to her partner Leeroy's father. "We have a 1958 Ford F100 pickup and get to quite a few car shows each year," she said. "But this year has been so strange. Everything has been cancelled. It's nice to finally see some familiar faces.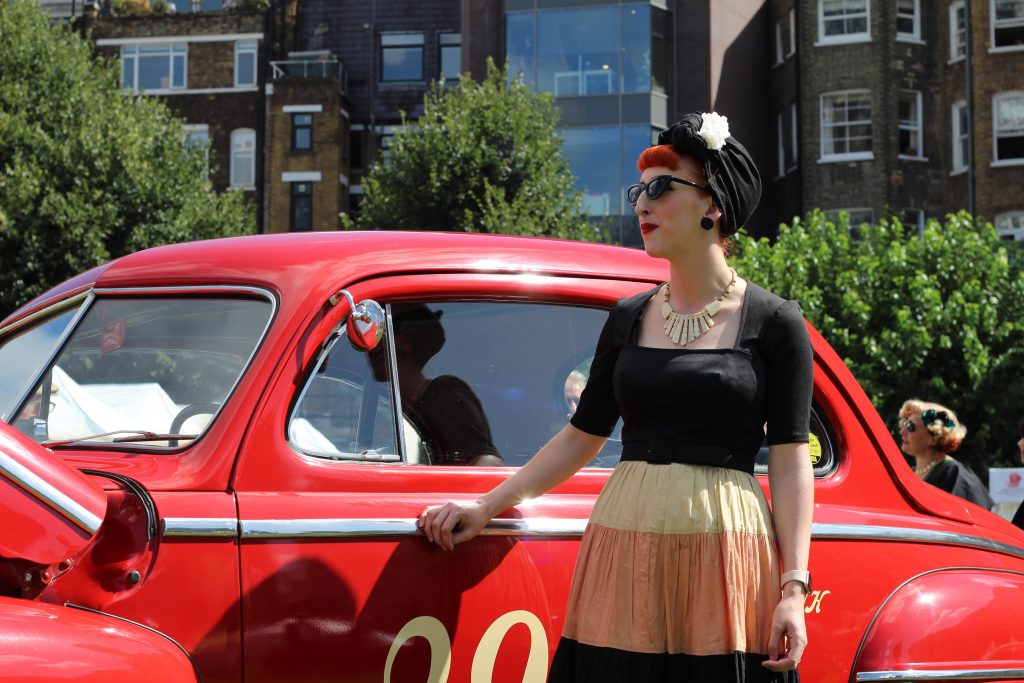 "Even just taking the truck out for a brief drive in recent months has felt like an event in itself – and the empty roads were a benefit. We're now making up for lost time. Our truck and the '47 Ford are heading to a hill climb next weekend at Prescott."
Family time also featured in Mitchell Crane's motivation for attending: "It's a great excuse for a day out with my dad, Dean. We share a passion for cars. This is the first car event we've been to for a long while and it's so refreshing to be here. It all feels well spaced apart – even though plenty of people have arrived since the sun came out."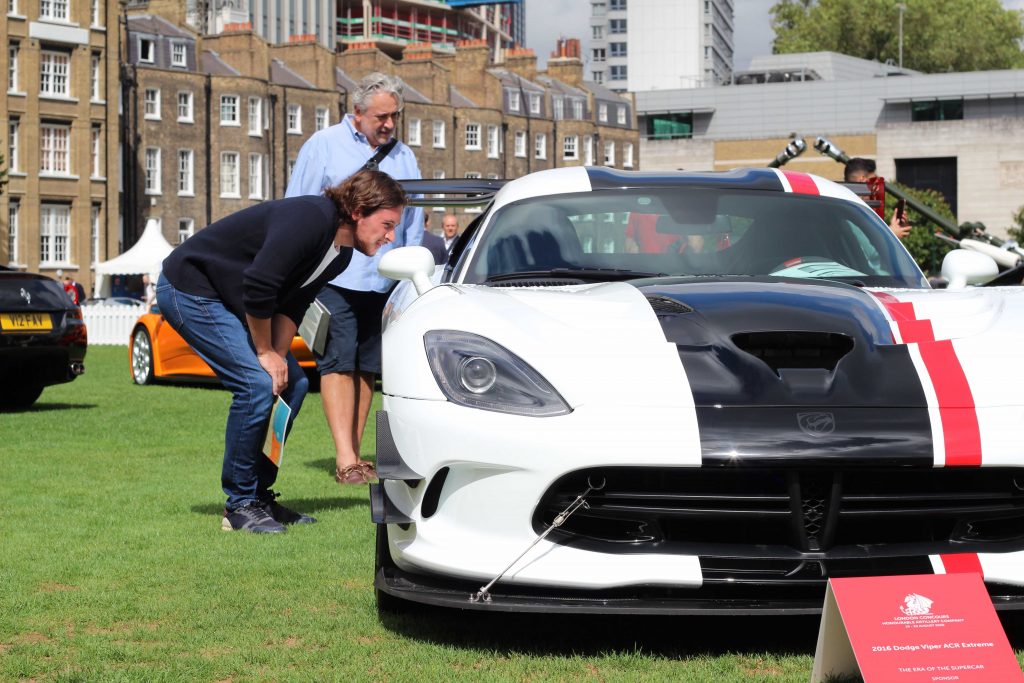 None of the cars were roped off and so Mitchell was able to take a close up look at a 2016 Dodge Viper ACR Extreme, part of 'The Era of the Supercar' class that also numbered the likes of a 2018 Ford GT, 2001 Lamborghini Diablo VT 6.0 and 1991 Ferrari Testarossa. "The Viper has side-exit exhausts and an 8.4-litre engine. It's a crazy car, one of the last of its kind – electric is pushing through now."
For Jayesh Patel, the epicentre of his enthusiasm lies around cars of the 1970s and '80s. "I love this Lancia 037 in Martini colours, it reminds me of following rallying as a teenager," he said. He was checking out a 1984 Evo2 example once driven by the late Henri Toivonen, displayed alongside a selection of three other 037s and a Stratos in the 'Lancia Legends' class.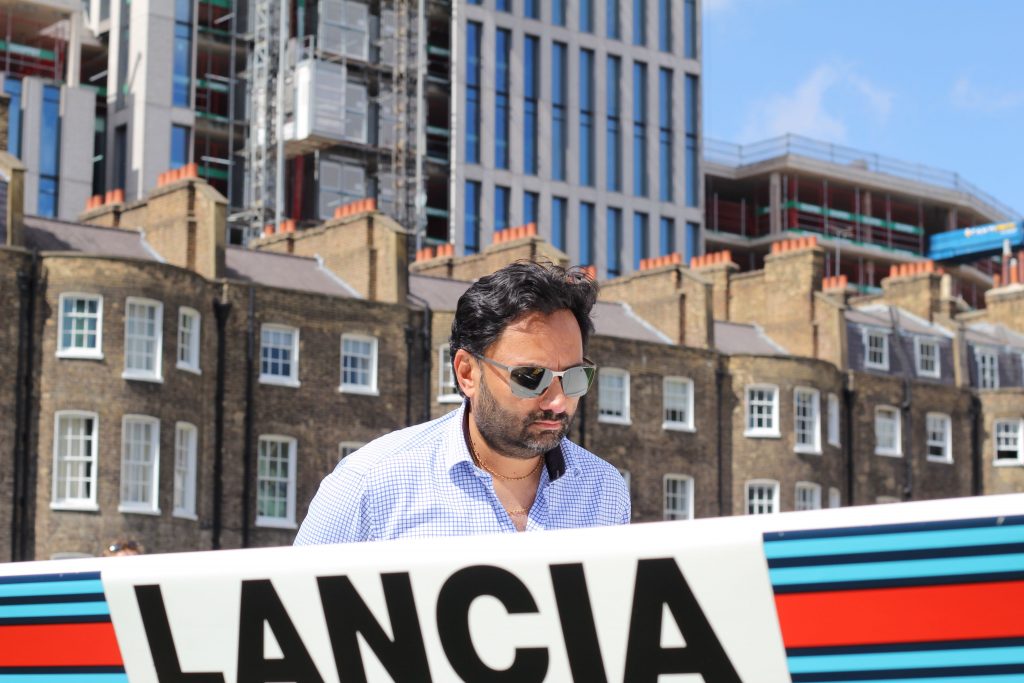 In recent times Patel has taken the chance to rationalise his extensive car collection, one well known to followers of his as @classiccardiaries on Instagram: "I bought lots of cars and wanted to use all of them, but realised they were scattered all over the place. Then came Spring and lockdown, and a friend said to me that this would be a terrible time to sell any of them. I considered several options but in the end settled on trying online auctions through Collecting Cars – I've bought several cars through them in the past. They advised me on the current market and that they'd recently been gaining quite a following. Overall I've been pleased with the experience. You can set a reserve, it's low commitment, and while not every car I've tried with them has sold, I have moved on a Lancia Integrale Evo II, Porsche 911 Carrera 3.2, Renault 5 Turbo II and Audi Quattro rally car – that last one is about to be picked up for shipment to the USA. I think this way of selling will only continue to grow, even when the crisis is over."
Patel shared a photo that he'd taken moments before, apparently of an über-'80s Lamborghini Countach in white. "I appreciate the car, but that's not why I took this. Look at the people all around that Countach. I was just so happy to see people gathering again to appreciate classic cars. For me, this photo represents another step towards normality."
Some friends of his wandered over, and a question followed that no doubt was repeated across other socially-distanced groups nearby: "When did I last see you? It surely couldn't have been here this time last year, could it?"
As enthusiasts we're united in liking to mingle, in the sharing of banter and our knowledge – whatever our backgrounds, or our tastes in cars. The London Concours 2020 let its entrants and visitors progress from unfamiliar to familiar territory at such an unsettling time, and set an encouraging benchmark for the way onwards for the UK's classic car movement.
We can be heroes: meet the classic bikers riding to the rescue during the pandemic