(Editor's Note: We consulted "The Triumph Experience" TR6 and TR250 forum for members' thoughts on the topic, and their comments are included in this story.)
The Triumph TR6 is a car that I can't stop returning to. I've owned five of them plus a TR 250 (the U.S. version of the TR5 with carburettors instead of petrol injection). They're simple, well-supported with parts and rather masculine cars that offer much of the experience of a big Healey at a fraction of the cost.
How much is your car to insure? Find out in four easy steps.
Get a quote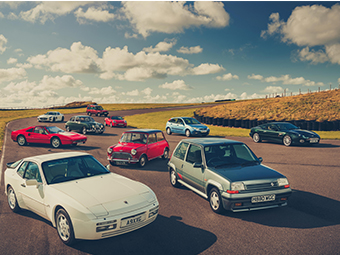 There are a few pitfalls, however, particularly in the UK where rot-free examples are few and far between.
TR6s will rust almost anywhere. On the front wings behind the headlamps and the rear wings around the tips; by the indicator lamps as well as in the traditional spots like sills, main floors and boot floors. But nothing is as disturbing as a rotten chassis. Suspension mounting points are particularly scary. The TR4A-TR6 chassis was nowhere near as stout as the TR2-4 chassis. Look closely at the rear trailing arm mounting points, a prime spot for an instant and costly MoT failure. Replacement chassis are available, but do you really want to go there?
Scott R. from N.J., U.S., agrees: "…Frame rust is a major concern with the TR6. The frame is made of 16-gauge sheet metal stampings, spot welded together, and tends to trap moisture along the inner side of the frame rails, where mud and other debris are known to accumulate. This can cause moisture retention, and, coupled with aged and cracked undercoating, serve to rust out the rails at the inside corners. Rot at the cruciform panels where the inner frame rails come nearly together, as well as the outriggers for the rear swing arms, are a major concern, as they require some very specialized repairs. Additionally, a prospective buyer should look closely at the forward differential mountings — they are prone to breakage, which can lead to quite an upset vehicle should the differential mounts fail under heavy acceleration. Both repairs can be accomplished by anyone with some welding skills, but the knowledge beforehand could be the difference between paying top dollar and getting a reasonable price for a car needing more TLC."
I'm always surprised at how few UK enthusiasts look to the U.S. for a TR6. America got the majority of the production and dry state cars are truly a thing to behold. And America continues to be the low-cost supplier, with sound but tatty cars still common for £3,000 or less. Even with the expense of shipping and RHD conversion, it seems a far better bet than starting with a rotten car.
The other downside is that you would have to live with 104 horsepower and dual Zenith-Stromberg Carbs instead of the Lucas petrol injection that the home market cars got. This can be a good or bad thing. The Lucas mechanical PI system is somewhat complex and takes a specialist to fettle, but at least numerous vendors have stepped in and offered solutions to the most problematic aspects of the system — like the pump — and few things are sweeter than a 2.5-litre Triumph six running on its original PI system. Just make sure the one you buy has a system that has been properly looked after.
Rear suspension is another sore spot for TR6s. The IRS system was a bit of a compromise, offering limited travel and a rather bouncy ride. Axel shafts can be problematic and announce themselves with a clunk on take-off. Fortunately, they're not terribly difficult or expensive to remedy. Engines are good for about 100,000 miles before they get terminally tired. Noisy thrust washers, low oil pressure, smoke and general malaise are the signs that a rebuilt is in order. Again, parts are neither problematic nor expensive, and rebuilding services abound.
Mike L., of Alberta, Canada, would add electrical to the list. "Simple test: Reach under the dash and grab a handful of wiring. If it sounds like you just grabbed a handful of cornflakes, that's a bad thing. Try the light and wipers. If the right turn signal comes on when you turn on the wipers, you're rewiring. That's not an overwhelming job, but it can drive you nuts."
Interiors were always vinyl from new and are easy to replace, especially on the later style seats. Dash boards, door cards and other trim items are all available as well in most if not all of the original factory colours. Wheels are also easy. Most TR6s came with steel wheels that generally just need a sandblasting and refinishing to look good. 72 spoke wires were available on the early cars and the best course of action for bent or non-true wires is replacement. Minilites look brilliant on the TR6 and many cars seem to sport these.
And let's not forget the ease of ownership, as Eddie F. from Kansas, U.S., points out: "…The body-on-frame is easy to work on and can be completely disassembled with common tools, unlike MG, FIAT, and Porsche. And best of all, parts are plentiful and inexpensive!!!!"