The combination of elegant European design and big, brawny, American V8 engines is one that is guaranteed to raise the pulse levels amongst car enthusiasts and have them browsing online classifieds.
For decades, sticking to this simple formula has allowed minor car makers to turn out major hits. Hits, that is, that need qualifying; we're not measuring in terms of commercial success. Rather, we simply care how darn lovely the cars are to look at and, of course, drive.
How much is your car to insure? Find out in four easy steps.
Get a quote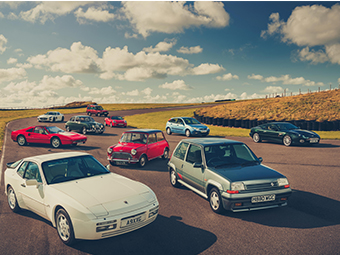 Companies including AC, Bizzarini, Facel Vega, Iso, Jensen and Monteverdi plied a trade in working up their own chassis and body and dropping in a crate-spec American V8s, typically sourced from Chrysler, Ford or General Motors, which would be easy to maintain and, for the thrill seekers, equally easy to tune and upgrade.
Behind the scenes were some of the most charismatic and enterprising mavericks from the car industry. America had Carroll Shelby, Italy counted Giotto Bizzarrini among its ranks, Jean Daninos flew the flag for France and in the UK we had Alan and Richard Jensen. In the US, it fell to Burt Sugarman, a Hollywood hot shot, to create something that would be spectacularly out of the ordinary.
Without them, the landscape would have been awfully different, and all the more boring for it. So take a moment to appreciate six of the best classic European sports cars to be powered by American V8 engines. And let us know in the comments section, below, which one does it for you.
AC 428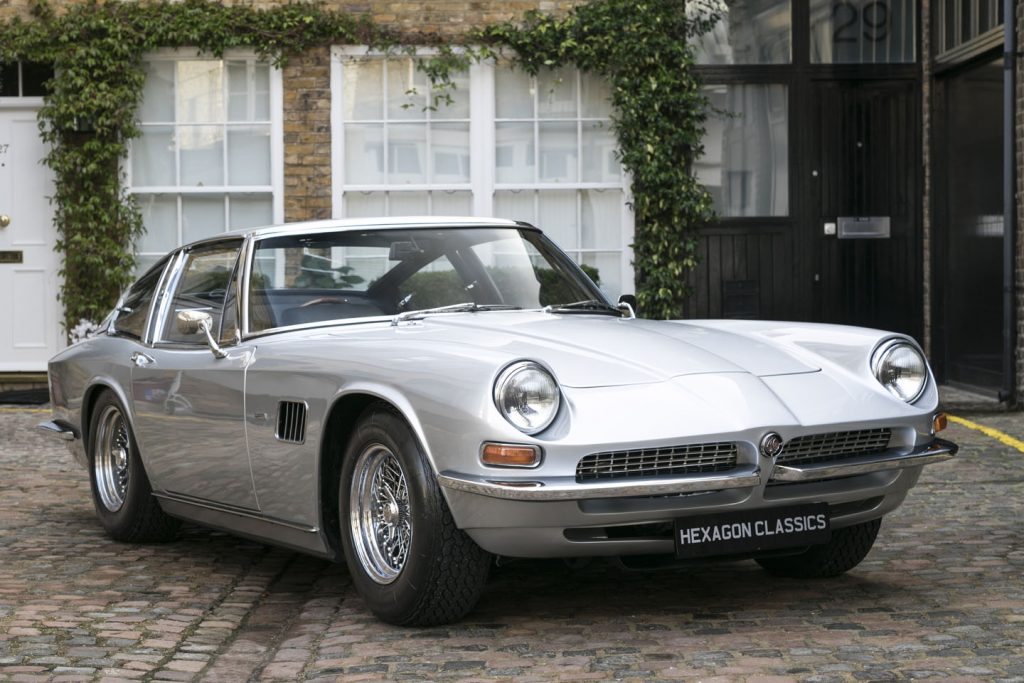 Introduced: 1966
In 1965, if you found yourself and your Ferrari 275 GTB at a set of traffic lights, alongside an AC 428, it would have been unwise to engage in a race when the lights turned green. The British fastback had power to spare and, despite being no lightweight, could acquit itself remarkably well in any drag race.
Built around an extended Cobra chassis, early models featured the fierce 427 Ford V8, but this was soon superseded by a slightly larger displacement motor, from Ford's Galaxy. With 345bhp at 4,600rpm, it outgunned a Ferrari 275 GTS by 70bhp.
But this was a GT at heart, built for touring. And before customers took delivery, cars had already been on a continental tour of their own. The attractive body was the work of Italian coachbuilder Pietro Frua, and cars were shipped from England to Italy, for the steel body to be fitted, and back again for final assembly.
Despite contemporary reviews praising its roadholding and brakes, the plentiful performance and attractive styling, few drivers bought AC's 428. Just 29 fastbacks were made, over nine years of manufacturing.
See the history of the AC 428 and Hagerty Price Guide here
Bizzarrini 5300 GT Strada
Introduced: 1964
The Italian who gave his name to the Bizzarini was hot property in the early part of his career. Giotto Bizzarrini was an engineer who made a name for himself at Alfa Romeo, so much so he was poached by Ferrari and went on to develop cars such as the 250 GTO. But by 1961 Bizzarrini and a number of other high-profile figures at Ferrari had had enough of the way Enzo Ferrari was running the show.
Bizzarrini went on to work with Renzo Rivolta, a wealthy Milanese industrialist who wanted to build a GT car under his own Iso badge. Soon their thinking no longer aligned, and ultimately, the 5300 GT Strada is the car that Bizzarrini created.
Impressively low, its aluminium bodywork was down to the artistry of Bertone, and remains to this day a highpoint for the styling house, and designer Giorgetto Giugiaro, who had a hand in the car's creation. Beneath was a sumptuously appointed, 2+2 cabin and under the bonnet rocked a 5.3-litre V8 from Chevrolet, which mustered 365bhp.
Just 133 were built, and collectors today include the likes of Guy Berryman, the bassist from Coldplay and one of the founders of The Roadrat magazine.
Jensen Interceptor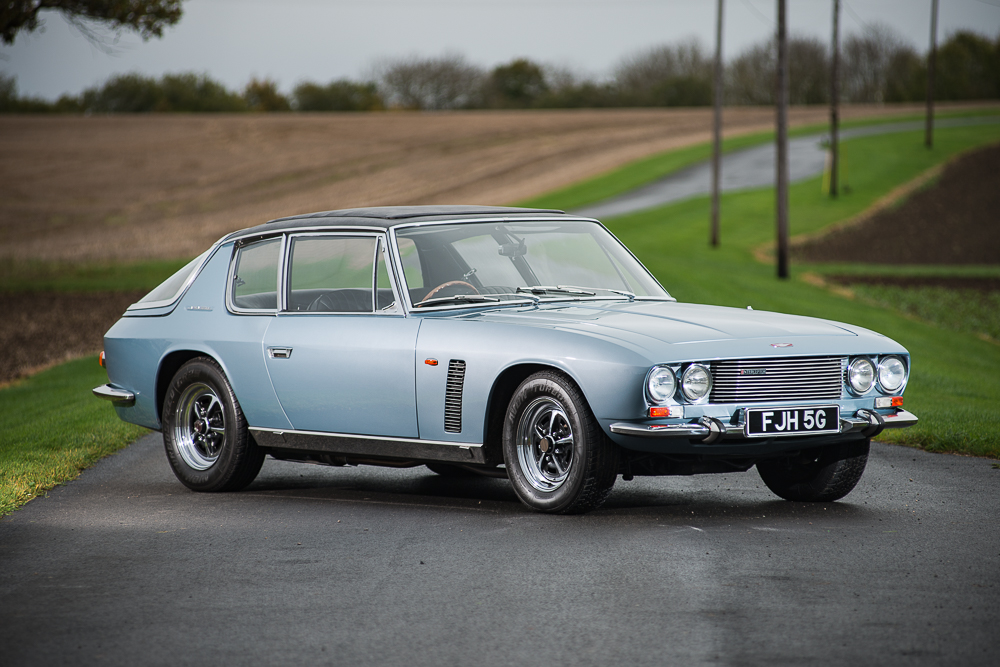 Introduced: 1966
Few cars are as distinct as the Interceptor. Styled by Carrozzeria Touring of Milan – which also made the Aston Martin DB5 – it is exudes confidence, a trick that must have been devilishly difficult to execute given the car's generous proportions as a four-seat grand tourer. And it perhaps partly explains why the Interceptor was picked up for use in The Saint; it looked good on camera.
Brothers Alan and Richard Jensen counted on the Interceptor to pick up from where the fading CV8 left off. It was powered by a Chrysler-sourced 6.3-litre V8, initially, which grew to a 7.2-litre lump by 1971. Either was enough to turn passengers' stomachs giddy – especially children sat in the modest back seats.
The car's other claim to fame was that from 1967, Jensen introduced the FF version. The Ferguson Formula featured four-wheel drive, something Audi often forgets when it talks up the 1980 Quattro as being the first four-wheel drive sports car. Still relatively attainable, the Sixties GT is the sort of classic car that should make you friends wherever you go.
See the history of the Jensen Interceptor and Hagerty Price Guide here
Facel Vega FVS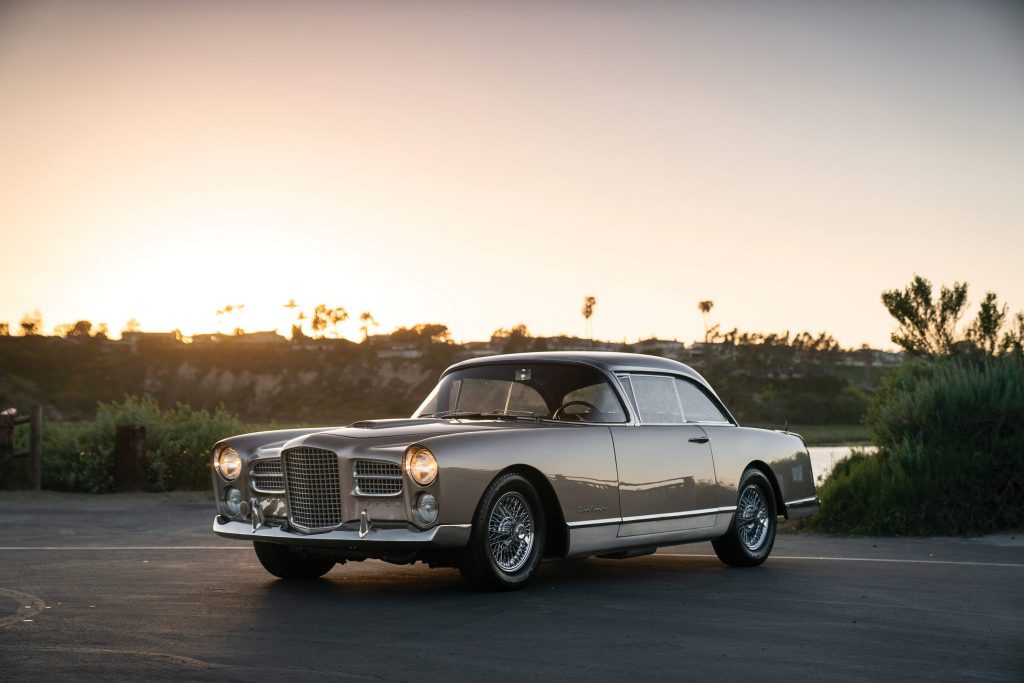 Introduced: 1956
There are shades of the original Chevrolet Corvette (C1) to the basic proportions of the FVS. That blunt nose, long bonnet, panoramic wrap-around windscreen and sweeping tail have something in common with America's best-known sports car, and under the bonnet was a Chrysler engine but the car was the product of France.
Facel had started in business by building bodies for other car makers, including Ford, Delahaye and Panhard, before going it alone in 1954. For the FVS version, in '56, the V8 Chrysler had grown to 5.4-litres and developed in the region of 335bhp, sufficient to keep ahead of les paysans in their Deux Chevaux.
Arguably, though, its stand-out feature was the interior. Simply presented to be free from distractions, with even the Jaeger speedometer almost hidden from view, it was beautifully appointed and just the job for taking yourself and the family from the Paris town house to your villa on the shores of the Côte d'Azur.
Ghia 450 SS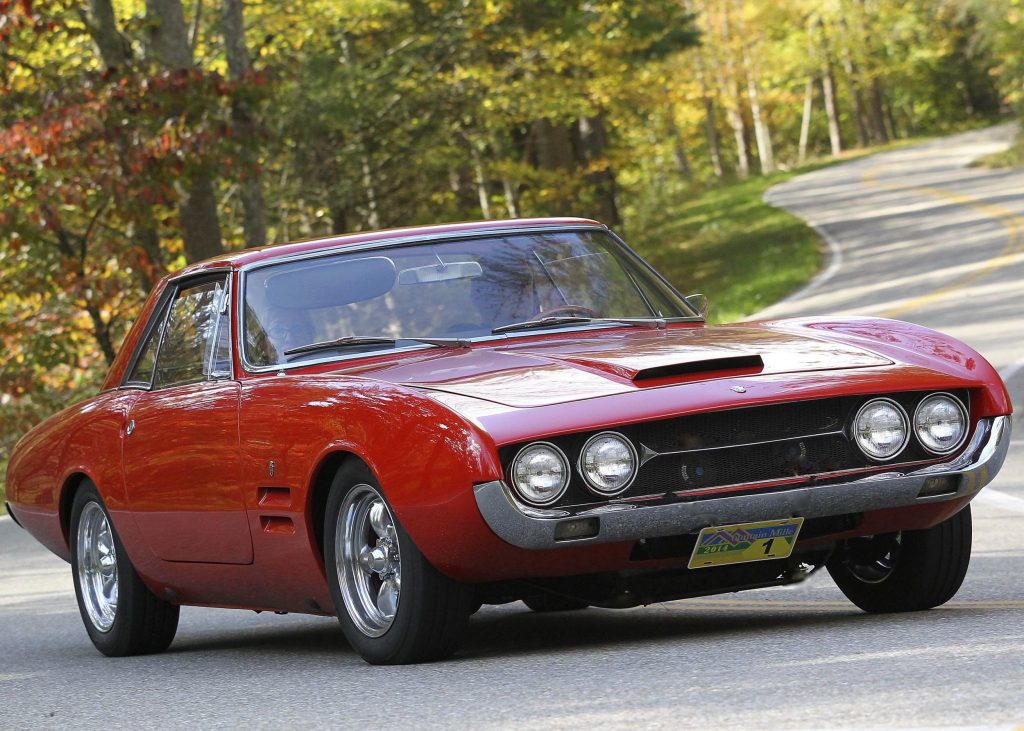 Introduced: 1966
The Ghia 450 SS is the result of a drag racer turned Hollywood producer having the ear of corrozzeria Ghia, and persuading the company that a Detroit drivetrain clothed in Italian couture would get the attention of California's jet set.
In the end, Ghia and producer Burt Sugarman, who established the Beverley Hills Ghia dealership for the project, sold just 57 cars. Still, it was fun while it lasted. The 235bhp, V8 motor was shared with the Plymouth Barracuda, and attached to a Barracuda subframe that in turn fitted to the ladder frame and semi-monocoque steel body.
The rumble was distinctly muscle car but anyone that turned to get a look at whatever was approaching was treated to something that screamed Italia and had a passing resemblance to the Fiat Coupe. The rare roadster is rumoured to have been a toe-in-the-water exercise for Chrysler, which was contemplating a low volume production run. But it was not to be. The car was twice the price of a Corvette, making it on a par with a contemporary Ferrari.
Discover the complete story of the Ghia and Burt Sugarman
Monteverdi Hai 450 SS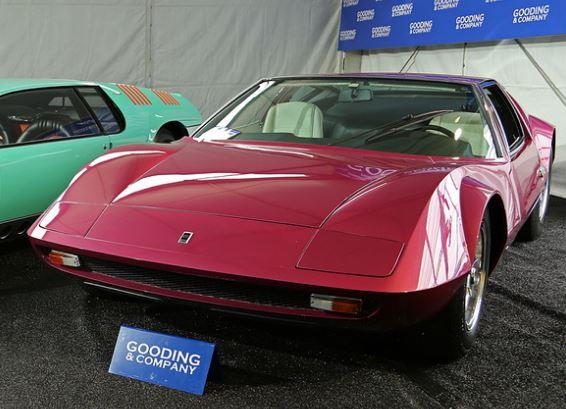 Introduced: 1970
Peter Monteverdi wasn't one for sitting around and wondering what he'd like to do with his life. By the tender age of 21, he was the first Swiss Ferrari owner and concessionaire, a position he held for 12 years until he had enough of Enzo Ferrari.
Recounting the tale to Classic & Sports Car, Monteverdi said, "Enzo insisted I buy 100 cars at a time and pay for them in advance. I wasn't prepared to do that so he said he'd find another importer. I didn't think it was fair but he did it anyway so I decided to build my own car."
The design of the Hai is said to have been borrowed from plans for the replacement for the Alpine A110, which was being drawn up by Trevor Fiore at Fissore. It's clear to see, especially around the mid-section of the mid-engined machine. Behind the seats is a 7-litre Chrysler 'Hemi' V8 which was good for a thumping 450bhp and boasted 490Ib ft of torque. That lot, it's claimed, would have made it a 180mph supercar.
Monteverdi hoped to challenge the Italian supercar heavyweights. The problem was, the wealthy clientele that he needed to appeal to weren't smitten with the 'downmarket' Chrysler engine, powerful or not. By the end, just four were made.
These 10 classic cars were named after animals. Which wins the name game?