Welcome to Freeze Frame, our look back at moments from this week in automotive history.
4 October 2000 – Rover Mini production ends
As you'll already have read elsewhere, the modern, BMW-owned Mini hatchback is 20 years old in 2021. It's a sign of the love and appreciation out there for the Mini's rebirth that what was once a retro reimagining of an icon has now become something of a classic in its own right.
Here's some trivia for you then: Subtract 20 years from the final Issigonis-designed Mini leaving Longbridge on October 4, 2000, and you'd be in an era when you could still buy a brand-new Clubman 1275GT. Clubmans are quite sought-after today, particularly the sporty ones, but it felt old in the year 2000 in a way a 2001 Mini Cooper doesn't after its own twenty-year span. Such is progress.
How much is your car to insure? Find out in four easy steps.
Get a quote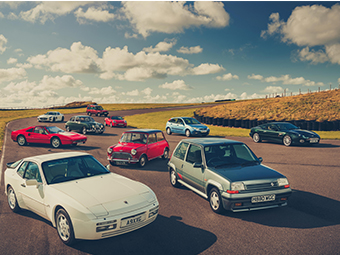 If there's another amusing link between Minis old and new, it's the way both brands promoted themselves with an almost cloying Englishness, seemingly pretending the Mini's Swinging Sixties heyday never really stopped.
Today it manifests itself as Union Jack-patterned tail lights and graphics options to make your roof look like a dancefloor from an Austin Powers movie. When that final Rover Mini rolled off the line in October 2000, it did so with '60s pop singer Lulu behind the wheel, and with Self-Preservation Society from 1969 flick The Italian Job playing in the background.
Both were closely associated with the Mini of course, albeit far closer to the car's conception than its end of production. Looking back it's all a bit twee, and perhaps an echo of that British habit of clinging to the past longer than is healthy.
Skim through a Rover Mini brochure from the last few years of its existence and you get a similar vibe, with pictures of slim-hipped models in miniskirts and Philippe Starck lemon-juicers a distraction from the belated arrival of basic safety features like airbags, and the comfort of (woo-hoo!) a two-speed heater fan.
But then, maybe that's what we love about the Mini. It was a joyful anachronism long before the year 2000, something to be celebrated despite its faults rather than dismissed because of them. It was a clever car that remained clever even when it was long in the tooth – little at the time, and indeed little today, is quite as fun to drive, and while dashboards, doorcards and thicker seats reduced its cabin space over the years, it remained a packaging marvel for the engine bay alone.
It made a statement about you as an owner too, but unlike the Citroën 2CV that had gone off sale just a decade earlier, that statement wasn't that you were a bit of a tight-arse. We love a 2CV, and owners do too of course, but it has never been – in a way the Mini was right until the end – a cool car. And we're pretty sure Lulu would agree.
Read more
Paul Smith strips a Mini (plus five cars he did earlier)
Buying guide: Mini R50 (2000-2008)
Buying Guide: Mini Cooper (1961-1971)