British fashion designer Paul Smith is best known for his sharply trimmed suits and striking stripes, but isn't beyond dabbling in the automotive world either, and his latest project is the MINI STRIP, a minimalist take on the popular retro-styled hatchback.
The Mini Strip (you won't mind if we ditch the capitals, right?) has been created with an emphasis on "simplicity, transparency and sustainability", taking the basic design back to its essence and removing much of the clutter that has permeated cars for decades.
How much is your car to insure? Find out in four easy steps.
Get a quote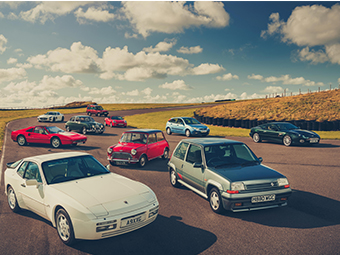 Naturally, with a background in fashion rather than vehicles, some of Smith's touches might be considered a little unusual – but several seem quite appealing if your ideal car is less complex than most modern vehicles.
The most obvious changes have been inside, where notably, the Mini's usual trim elements have all but disappeared. There's no carpet or conventional door cards, and most of the original car's slightly twee retro detailing has been binned in favour of a more elemental approach. The dash is the same shape, for instance, but where the production car gets a central screen (irritatingly, a rectangular element inside a circular frame), Smith's approach has been to simply add a holster for a smartphone.
There's minimal plastic and no leather, the interior instead a mix of knitted fabric on the seats, recycled rubber floor mats, recycled cork for the dash and door tops, and the steering wheel has been wrapped in handlebar tape – Smith being a keen cyclist. There's mesh over the centre section of the steering wheel (with its aluminium spokes), and the same material covers the doors.
Outside, the bodywork was left largely unpainted, with just a thin film protecting the steel panels from corrosion. Plastic panels are largely formed from recycled materials, screws are left visible, and the transparent roof panel is recycled Perspex.
While not explicitly Paul Smith's intentions, there's more than a hint here of the minimalism of the original Mini 850 of 1959 – though as befits a car from the modern era, the Mini Strip is of course electrically-powered, rather than based on a combustion model. But we'd not complain too much if some of the car's simplicity makes it onto production models in the future.
Earning his stripes: Five cars from the Paul Smith archives
The automotive industry loves a good collaboration, and Smith has made a name for himself jazzing up production models for a quick PR boost. While the Mini Strip goes further than any previous effort, the designer has happily lent his hand to several other icons over the past few decades.
Paul Smith Mini art car
Smith's first automotive collaboration saw him go to town on a Rover Mini in 1997. The car was painted top to tail in 84 of the designer's signature stripes, and even if you've not seen the Mini itself (just two were officially built, though several replicas have appeared since), it became a popular fixture on Paul Smith merchandise for a time.
Rover Mini Paul Smith
While Rover might have struggled to sell stripy Minis, it still got its money's worth from the Smith collaboration when it released the Mini Paul Smith edition in 1998. Painted in an exclusive shade, Paul Smith Blue, the Mini got unique details such as gold badges front and rear, black Minilite alloy wheels, and numerous hidden lime green touches – designed to evoke the bright lining on the designer's suits.
Paul Smith Jaguar X-Type
Needing an image boost for its BMW 3-series rival, Jaguar turned to Paul Smith in 2001, jazzing up the X-type with a series of longitudinal stripes. Not quite as extreme as that first Mini perhaps, but a bold effort to try and ensnare the younger audience Jaguar was seeking at the height of the "Cool Britannia" movement. The original was sold at auction for £41,000, and occasionally appears on the market for rather less.
Porsche 911 2-litre Cup
If you're a fan of classic motorsport, you might have heard of the 2-litre Cup, a series for race-prepared versions of the early 2-litre Porsche 911s. The cars, riding on their steel wheels, are already effortlessly cool, but Sports Purpose founder James Turner commissioned Smith to put his mark on the car. Once again the theme is stripes, but this time just eight bands front to back – inside the car as well as out.
Paul Smith Defender
Before the outgoing Defender left our world, Smith worked with Land Rover and its design chief Gerry McGovern to put a different spin on the usual countryside image. The result was akin to a subtler take on those old Volkswagen Harlequin models, with 27 muted shades (well, relatively – the dayglo yellow touches stand out a little more) applied to the car's numerous panels. The seats, naturally, were striped.
Read more
Buying guide: Mini R50 (2000-2008)
Hard Craft: Jake Yorath, graphic designer and illustrator
Driving the Kingsley KR Series, a restomod Range Rover