Whatever's in the water around Abingdon, it must have stopped people from driving, as yet another ultra low-miles MGB Limited Edition has come up for sale – this time in an online auction hosted by Car & Classic.
Back in February we wrote about a 48-mile MGB GT Limited Edition at specialist dealer RJH cars. That car, which was listed at £21,995, has since sold – but perhaps the buyer of that car has an eye on this roadster too, as it's showing just 77 miles on the odometer.
How much is your car to insure? Find out in four easy steps.
Get a quote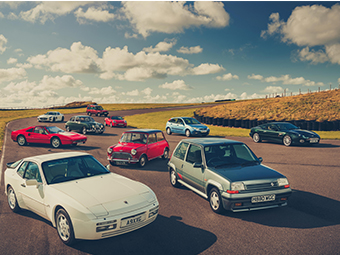 With five days left to go bidding is already up to £10,000. While rubber-bumper MGBs like this 1981 car aren't typically the most valuable (the Hagerty Price Guide puts a 1980 car in excellent condition at £12,100, compared to £19,200 for a 1962 model), this car's mileage and its status as one of only 480 Limited Edition roadsters built, alongside 520 GTs, do change things somewhat.
According to the listing, it seems this MGB LE was destined always to be a collector piece. The first owner ordered a pair of LEs from a garage in Wales and immediately put both in a dehumidified and heated garage. By the time they were sold on two years later, this car had covered less than 30 miles, and the four subsequent owners, including the vendor, have only added another 47 miles on top of that.
As you'd expect, lack of use and careful storage means that just like the GT earlier in the year, this LE is about as original as you can expect to find, its metallic bronze paintwork pristine and its vibrant orange seats remain un-sagged by decades of rumps.
The flip side to that is that the Uniroyal tyres are thought to be original; impressive, but in the unlikely event the next owner chooses to put proper miles on the car, replacement would be wise. The car apparently drives as it should, but at this mileage it'd also need careful running in before any kind of regular use.
In all likelihood though, it'll probably take pride of place in the garage of a serial MGB collector, alongside even rarer and more valuable cars than this. But with two sub-100 mile MGB LEs already offered for sale this year, how many more might be out there?
Read more
Buying Guide: MGB Roadster and GT (1962-1980)
MGF driven: A fresh look at MG's MX-5 rival
Cruise in style in the MG RV8 coupé that never was