What do the BMW E46 M3 Touring, Rover 75 Coupé and this MGB GT RV8 all have in common?
The answer is that as the average punter walking into a showroom in their respective eras, none of them actually existed – but through skunkworks projects or simply the vision of a custom car builder, visions like these have all been brought to live.
How much is your car to insure? Find out in four easy steps.
Get a quote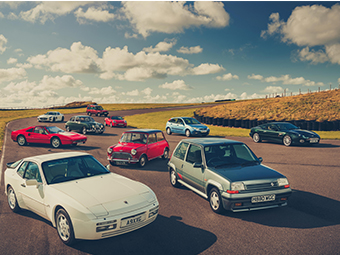 The M3 Touring was created by BMW itself as an out-of-hours project, and now resides in their collection. A Rover 75 Coupé, once shown as a concept by the car company but never produced, was put together by one enterprising enthusiast several years back by splicing together a 75 and the roof and doors from an E92 BMW 3-series coupe.
And the MGB GT RV8? You can bid on that on May 15, since it's coming up for auction with Historics Auctioneers at their Ascot Racecourse sale.
The company that first combined the genes of the pretty Pininfarina-styled MGB GT and the butch MG RV8 of the 1990s was Maidstone Sports Cars (MSC). MSC built its first RV8 GT that same decade and it was even featured on the Top Gear TV show, driven by Chris Goffey.
This one looks like a particularly convincing take on the same hard-topped RV8 theme. Based on a regular 1.8-litre MGB GT that had been stored unused for some years, the conversion took place over a period of five years, using a new Heritage body shell and a 3.5-litre Rover V8 engine, built to fast road specification and fitted with a five-speed manual gearbox.
It's in the correct Woodcote Green metallic paintwork too, though other than the rather striking roof to differentiate it from a factory RV8, those mesh-spoke alloy wheels also differentiate it from regular RV8s: they're convincingly similar in design to the originals, but larger in diameter.
The interior too has detail differences presumably suiting its original client, with a deeper shade to both the leather trim (as well as a two-tone colour scheme), darker wood panels, earlier switchgear than the original RV8's later 90s items, and an aftermarket steering wheel and gearknob.
RV8 aficionados would no doubt wish to make a few changes if they were going for absolute originality, but again, we're talking a car with a roof here, so it's easy to forgive a few minor differences.
The project proved costly, with invoices totalling more than £20,000 for parts alone and an estimate that building a similar car today would cost more than £40,000. That makes the £24,000-£32,000 estimate look, if not quite bargainous, at least fairly realistic. And let's face it, if you like the car but don't fancy paying that then you'll have to build one yourself…
Also read
11 sports cars powered by the Rover V8
Buying Guide: MGB Roadster and GT (1962-1980)
9 British cars that made it big at the Geneva 'show