Summer is now truly upon us, with sunshine filling the skies and car shows filling the calendar in the UK. On the auction front, July is set to be an especially busy month. Bonhams is conducting two sales (Goodwood Festival of Speed on the 9th and MPH on the 17th), H&H has an auction on the 9th, Historics has an auction on the 17th, and Silverstone has a sale from 31 July to 1 August. (But don't let that stop you from joining us at the Hagerty Festival of the Unexceptional, on 31 July! Ed.)
As usual in a busy month like this, there is a wide range of cars for every taste and budget, from old family saloons to seven-figure race cars. There really is something for everyone up for grabs, but here are 10 of the coolest classics for sale in Britain this month that we couldn't take our eyes off.
How much is your car to insure? Find out in four easy steps.
Get a quote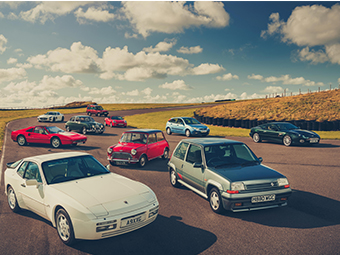 1964 Aston Martin DB5 Convertible
Estimate: £1,300,000 – £1,700,000
Info: Bonhams Goodwood Festival of Speed
July is going to be a big month for vintage Aston Martins at auction. At Bonhams' Goodwood sale alone there are three DB6s, two DB5s, a DB4 Series IV, and a DB Mark III to choose from. But the most valuable of them and indeed one of the most anticipated cars crossing the block is the ex-Peter Sellers, ex-Earl of Snowdon/Princess Margaret 1964 DB5 Convertible.
As an original and documented right-hand drive, ZF 5-speed car with fantastic Caribbean Pearl paint and as one of just 123 DB5 convertibles built, it would already be a showstopping car even without the ownership history, but the double whammy of A-list celebrity and royal family connections are icing on the cake.
Chassis DB5C/1512/R sold new to Peter Sellers, who starred in Stanley Kubrick's Dr. Strangelove as well as the second Pink Panther film – A Shot in the Dark – the same year. In the late 1960s, he sold it to the Earl of Snowdon, the photographer/filmmaker and husband of Princess Margaret. It reportedly had the very first car phone in Britain, but it doesn't appear to be included with the car today. The Earl enjoyed the car regularly and then gave it to his son, now the 2nd Earl of Snowdon, as a 25th birthday present. He then sold it on in 1999, and it has since been used in numerous tours and rallies.
1966 TVR 400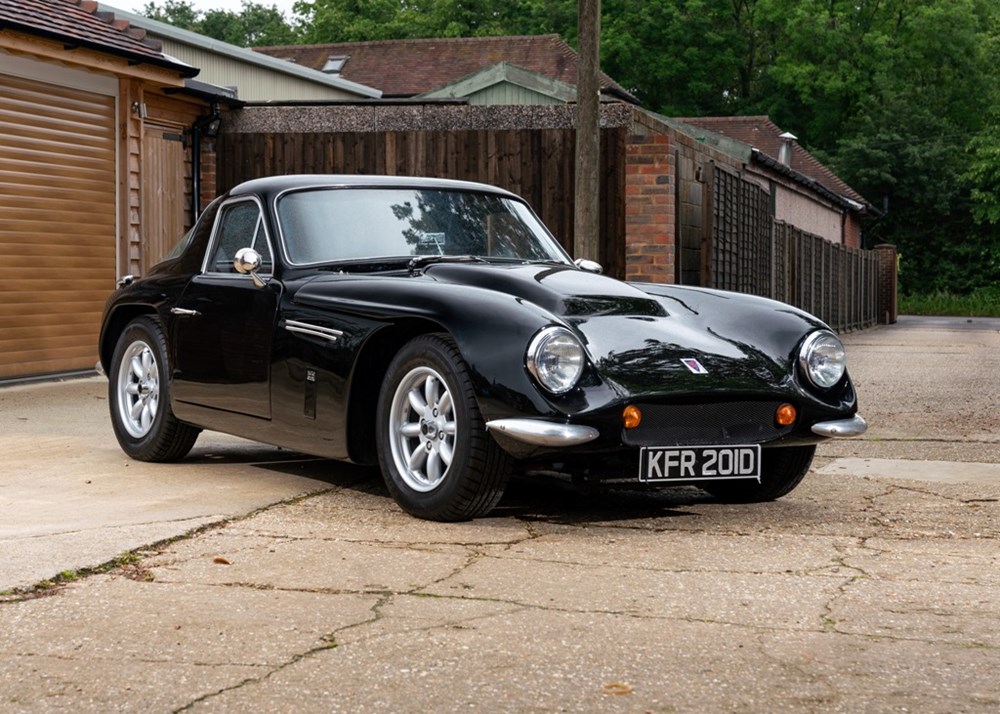 Estimate: £85,000 – £95,000
Info: Historics Auctioneers Windsorview Lakes
Jack Griffith may not be a household name like Carroll Shelby, but the Ford dealer from Long Island, New York applied the same formula of lightweight British sports car plus 289 Ford V8 equals serious speed. One of the quickest cars of the mid-1960s, in fact, but also one of the most hard to handle thanks to its very short wheelbase.
Griffith used a TVR Grantura as the basis for his Cobra-killer. The first series were called the Griffith 200, and after just 192 of those were built he introduced the enhanced Griffith 400 with improved suspension, heavier-duty differential, better cooling, and a more powerful Ford engine. After just 59 Griffith 400s and 10 steel-bodied Griffith 600s were built, the Griffith Motor Company was dissolved. Meanwhile, back in Blackpool, TVR had started building its own Ford V8-powered Tuscans.
This Griffith 400 was reportedly restored from 2008-11 and has been driven about 2500 miles since. Many Griffiths have been turned into vintage racers, so it's good to see one in road spec.
1968 Fiat Dino Spider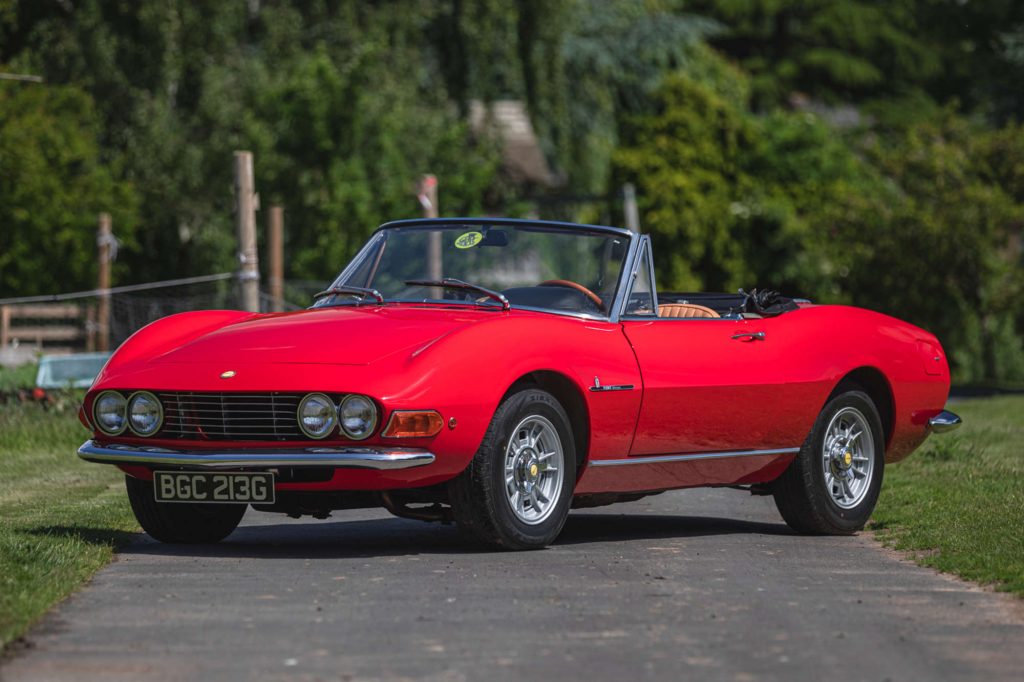 Estimate: N/A
Info: The Classic Sale at Silverstone
Ferrari didn't come under the corporate umbrella of Fiat until 1969 when Fiat bought a 50 per cent stake, but collaboration between the two Italian carmakers goes back a little further. Earlier in the 1960s Enzo Ferrari had his eye on Formula 2 racing, and the new V6 engine designed by his son Dino was a perfect fit. The rules, however, dictated that 500 cars needed to be built to homologate its engine for F2, and Ferrari just didn't have the capacity to build that many cars. Enter Fiat, which had plenty of mass-production capabilities and liked the idea of spicing up its model range with a Ferrari-powered road car.
The result was the Fiat Dino, available as either a wild-looking Spider styled by Pininfarina or a more conservative but still elegant coupé by Bertone. Earlier cars had a 2-litre version of the Dino V6 mated to a Ferrari 5-speed gearbox, and later ones had a 2.4-litre version. Fiat also assembled the early car, while Ferrari took over production in 1969.
This car is one of fewer than 1600 Fiat Dino Spiders built, and although it's an earlier 2-litre car, it had its engine bored out to full 2.4-litre 195bhp specs during a recent engine rebuilt.
1990 Lister Jaguar XJ-S Mk III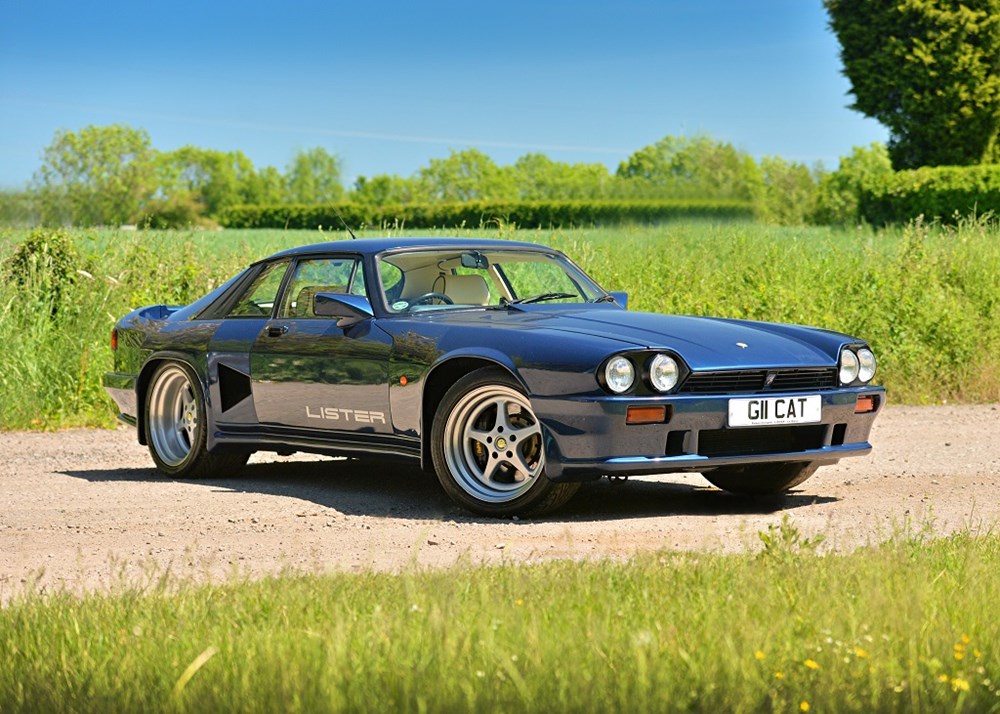 Estimate: £85,000 – £95,000
Info: Historics Auctioneers Windsorview Lakes
This isn't your aunt's XJ-S. It's one of 25 Mk III 7-litre coupes modified by the Jaguar wizards at Lister, transforming the comfortable cruiser that is a standard XJS into a 200mph supercar. Lister bored out the Jag's V12 to a full 7-litres and fitted four additional injectors and throttle bodies, larger valves, Cosworth connecting rods, and forged pistons for over 600bhp and 600lb ft of torque. A body kit, huge alloy wheels, suspension and brake upgrades, and Recaro leather seats completed the package.
According to Historics, this car was originally converted by Lister to 6.0-litre specs, then returned to Lister in March of 1992 to receive the full 7.0-litre "Le Mans" specification. That second conversion alone cost £77,000. If you fancy some wind in your hair, Historics is also offering a 7.0-litre Lister XJ-S cabriolet at the same sale.
1993 Porsche 964 Turbo S "Leichtbau"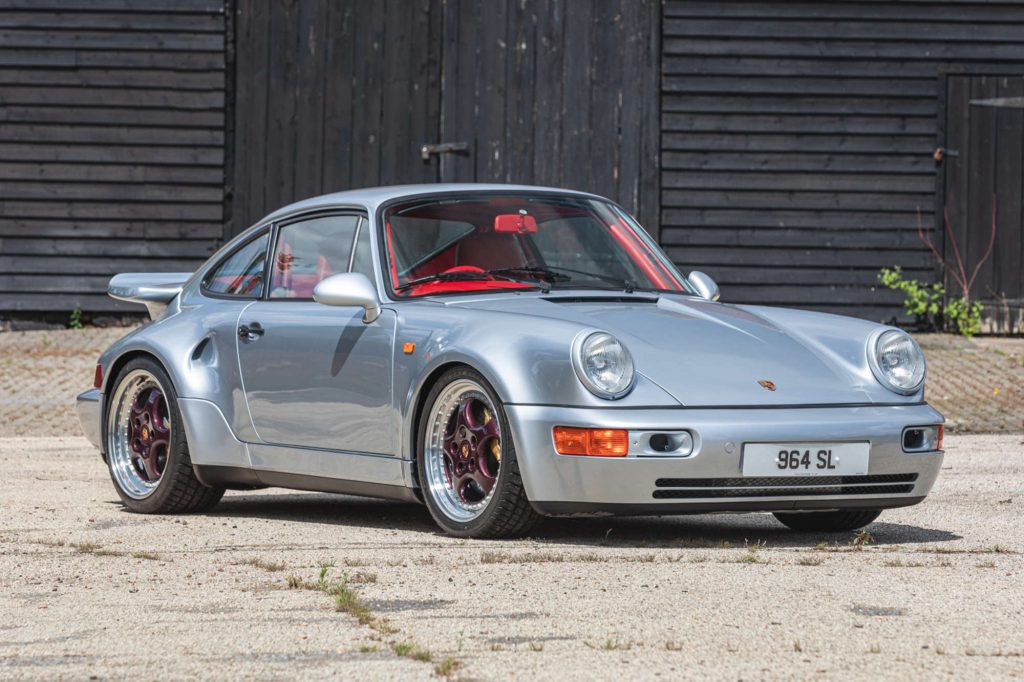 Estimate: N/A
Info: The Classic Sale at Silverstone 2021
Arguably the ultimate 964 and certainly one of the rarest 911s ever with just 86 built, the Turbo S Leichtbau ("Lightweight") was built by Porsche Exclusive and, as its name implies, put the standard Turbo S on a diet. Air conditioning, power steering, rear seats, radio, and sound-deadening materials were deleted. The glass was thinner, the doors were made of aluminium, and the engine cover was composite. The engine, meanwhile, received more power thanks a modified intake, hotter cam, and more boost from the turbo. All are ingredients for an exhilarating drive, but for whatever reason nobody has ever used this car. It is presented with just 45 miles on the odometer.
Reportedly one of just 11 delivered new in Britain, it is finished in Polar Silver with 18-inch Speedline wheels with purple wheel centres and gold calipers. It's a nice combination, but whoever ordered it new must have also really, really liked red. The whole interior, all of it, from floor to seats to seatbelts to even the gauges, is finished in Flamenco Red.
1958 Ferrari 250 GT Ellena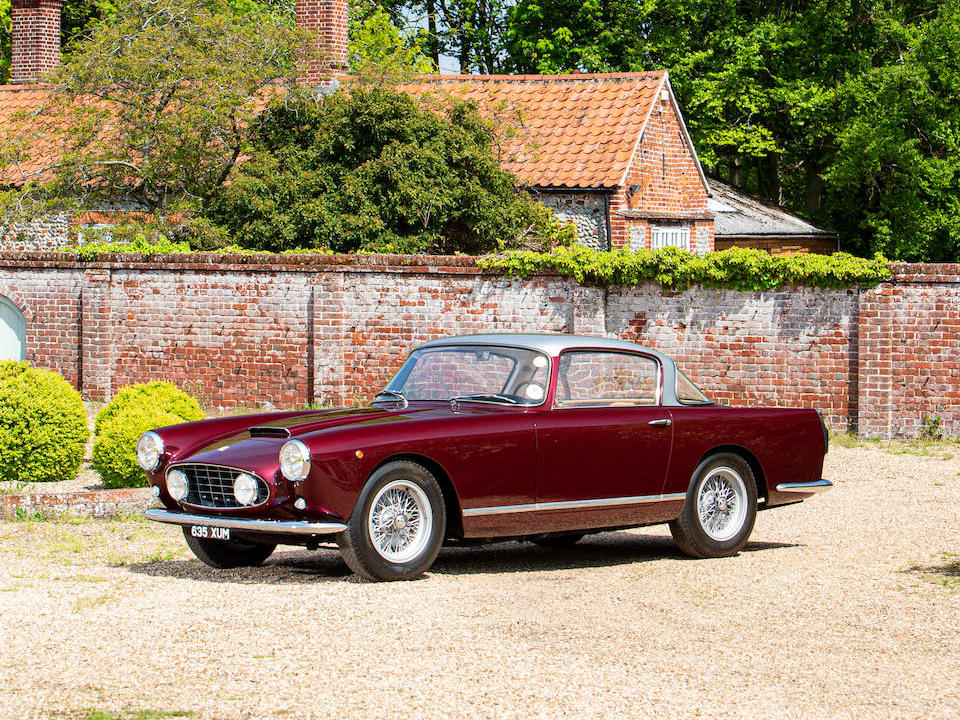 Estimate: £700,000 – £900,000
Info: Bonhams Goodwood Festival of Speed
The 250 Boano, later known as the 250 Ellena after coachbuilder Carrozzeria Boano changed its name, was one of the first comfortable and quiet Ferraris but still had potent performance thanks to its Colombo-designed 250-series V12. This car is one of just 50 examples of the 250 GT bodied by Carrozzeria Ellena. It sold new in Italy, then made its way to the US in the 1970s and had a replacement engine from a 250 GT Cabriolet installed. It sold for $141,000 at Bonhams Greenwich in 2005, but the Ferrari market has of course grown by leaps and bounds since then and the car has since been restored by DK Engineering, in Rickmansworth.
1994 Ford Escort RS Cosworth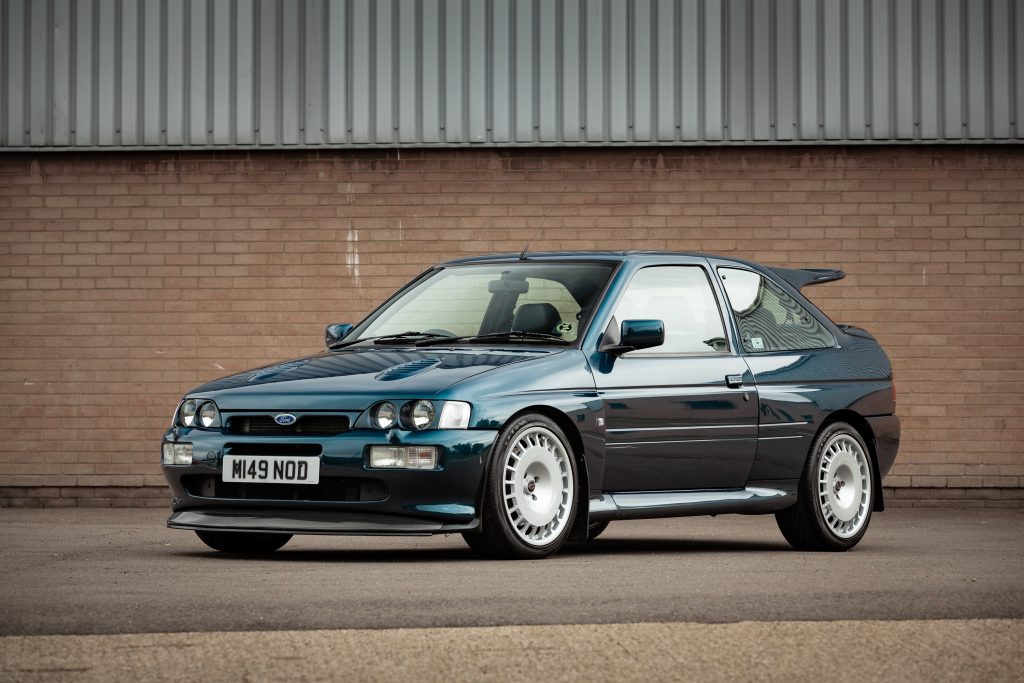 Estimate: £65,000 – £75,000
Info: H&H Auctioneers Pavilion Gardens Buxton
The Escort RS Cosworth hardly needs an introduction. The Group A rally homologation special with its massive rear spoiler, 2-litre Garrett turbocharged Cosworth YBT engine and all-wheel drive wasn't a title winner in the World Rally Championship, but it won a lot of rallies and for Ford fans it's one of the coolest cars this side of an RS200 or a GT40. Just 7145 were built from 1992-96, and this is a 37,000-mile example finished in Mallard Green and represented with lots of documentation and a fresh MOT. Escort Cosworths had something of a reputation as hooligans' cars and were notoriously easy to steal, so there aren't many around that are as clean as this appears.
1989 Aston Martin V8 Vantage Volante X-Pack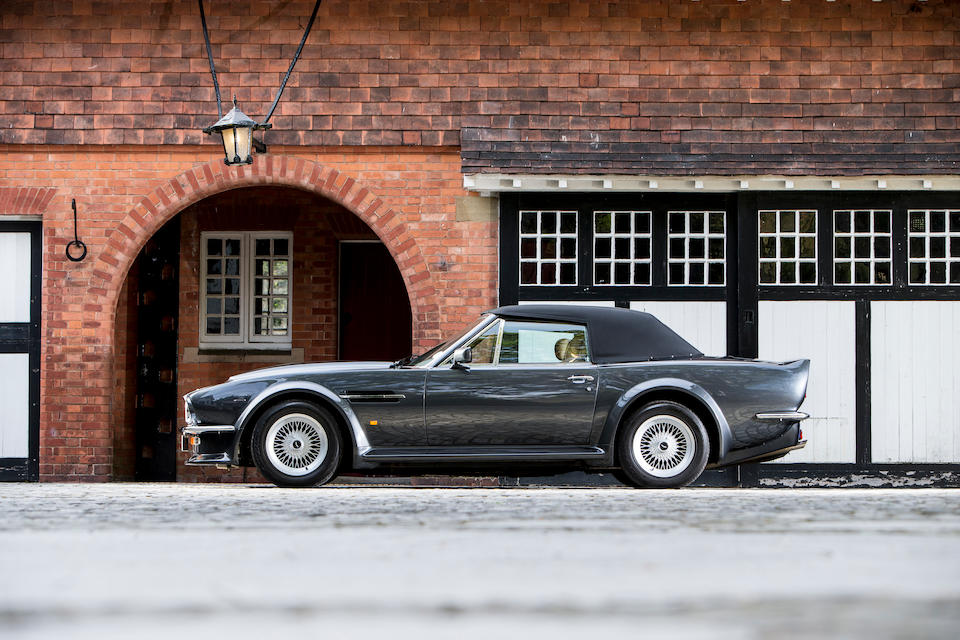 Estimate: £300,00 – £400,000
Info: Bonhams Goodwood Festival of Speed
Late Aston Martin V8 Vantages could boast the comfort of a Bentley, the looks of an American muscle car, and the speed of a supercar. There was even more speed on tap with the available "X-Pack" engine of over 400bhp. This final-year Vantage is an original X-Pack car, first finished in Suffolk Red for a buyer in Monaco. Later in 1989, it returned to the factory where it was converted from left- to right-hand drive and from automatic to manual. Subsequent owners had restoration work done, fitted a 7-litre engine, repainted it in Black Pearl, and re-trimmed the interior.
1990 De Tomaso Pantera GT5-S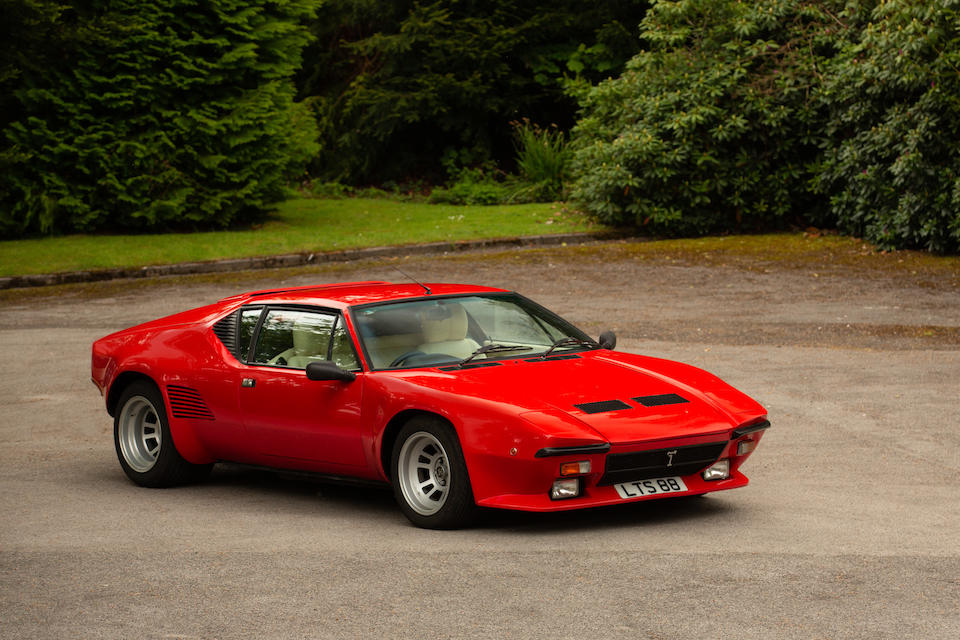 Estimate: £150,000 – £200,000
Info: Bonhams Goodwood Festival of Speed
The Pantera married an Italian chassis and Ghia styling with a robust 5.75-litre Ford V8, and an agreement between De Tomaso and Ford saw Panteras sharing the showroom floor with Lincolns and Mercurys during the early 1970s. Ford stopped importing the Pantera to the US in 1975 after bringing in about 5500 cars, but De Tomaso kept on building the Italo-American supercar in smaller numbers right up until 1992.
Panteras got consistent upgrades over the years and this is a GT5-S model, which features single piece steel wings rather than the bolted on fibreglass flares used previously. It is represented as a one-owner car with just 7367km (about 4600 miles), and as one of just 18 right-hand drive examples. If you prefer the look of the earlier cars, H&H is also selling a fully restored 1972 Pantera GTS this month
1990 Ferrari F40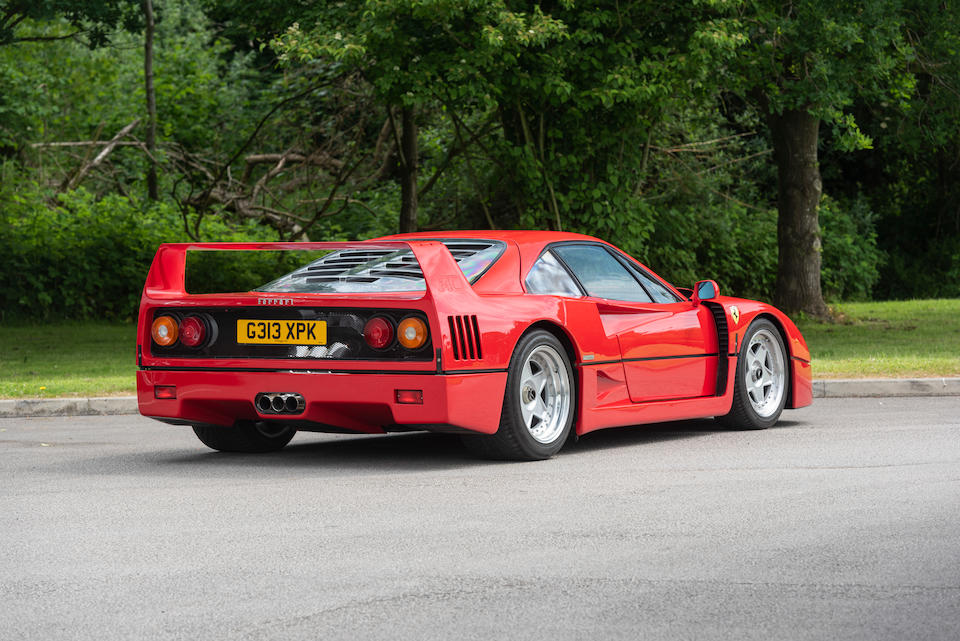 Estimate: £800,000 – £1,200,000
Info: Bonhams Goodwood Festival of Speed
Built to celebrate Ferrari's 40th anniversary, the F40 is to many the ultimate analogue supercar thanks to its combination of a bare-bones driving experience and old-school chassis design with modern composite body and twin-turbo power. It was also the last Ferrari that Enzo signed off on before he passed away in 1988. Despite a relatively large production run of 1315 cars, the F40 is one of the most valuable modern Ferraris.
This one is a non-catalytic converter model represented as one of just 78 F40s built for the UK market. It sold new to Sir Paul Vestey, who in turn sold it to the Earl of Mexborough in 1993. It has been consistently maintained, including a mechanical restoration and detailing in 2015, after which it has only been driven once until today.
Also read
The curious case of car-addicted Peter Sellers and a Mercedes 450 SLC
Princess Diana's humble Ford Escort sells for a royal sum
Market Watch: Blue-collar to blue-chip for Sierra RS500