This may be the last month of summer, but Britain's classic car scene is still a buzz of auction activity in September. Bonhams will conduct its annual sale during the Beaulieu Autojumble weekend on September 5 as well as its always wonderful Goodwood Revival sale on September 18 – previewed in detail in this story. H&H, meanwhile, will hold its Imperial War Museum Duxford sale on September 8 and Historics Auctioneers will have an auction at the Ascot Racecourse on September 25.
Rare models include a 1960 Bristol 406 by Zagato, late '71 Jensen FF MkII, an Essex version of the Lotus Esprit Turbo and a lightweight, aluminium edition of the 1977 Morgan Plus Eight Sports. As always, there are cars changing hands virtually via online auction platforms as well. With multiple live and online auctions on the calendar and everything from cheap modern classics to prewar machinery up for grabs it isn't easy to pick favourites, but here are 10 of the coolest classics for sale in Britain this month.
How much is your car to insure? Find out in four easy steps.
Get a quote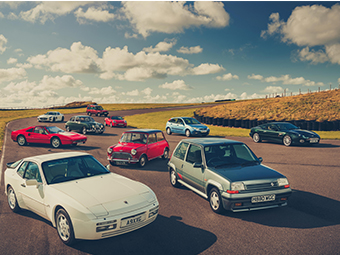 1960 Bristol 406 Zagato
Estimate: £140,000 – £180,000
Bristols have always been exclusive, expensive, hand-crafted cars and the 406 is no exception. The last Bristol to use the old BMW-derived pushrod straight-six before the company switched to Chrysler V8s, the 406 had a production run spanning four years but fewer than 200 were built in that time. Even more exclusive were the six special 406 models bodied by Carrozzeria Zagato. According to the original brochure, the car was '…for those who desire an even faster car than the standard type 406 saloon… The emphasis has been placed on providing extra speed without impairing reliability or flexibility and whilst still retaining reasonable rear seat accommodation.'
The 406 Zagato is nearly 270kg lighter than the standard car as well as 11 inches shorter and 4 inches lower. The engine was also tuned for more power. In typical Zagato fashion the styling is distinctive and memorable if a bit inelegant with its double bubble roof, stubby tail, and massive rear windscreen. The one offered by Bonhams this month is represented as the same car displayed at the 1960 Earls Court Motor Show. Bonhams also sold it at the Festival of Speed sale in 2014 for £169,500, while the Hagerty Price Guide indicates a value of £139,100 and £178,500 for Zagatos in excellent and concours condition respectively.
1971 Jensen FF MkII
Estimate: £90,000 – £120,000
Four-wheel drive is common today, but back in the 1960s there were no Audi quattros or Subaru Imprezas. Four-wheel drive was the stuff of off-roading and work vehicles, so Jensen was way ahead of its time in 1966 when it introduced a new grand tourer that had not only the FF (Ferguson Formula) four-wheel drive system but also Dunlop anti-lock brakes. Other than its drivetrain it was largely similar to the Interceptor, and that meant a Touring-designed body from Italy and a Chrysler V8 from America.
Advanced but expensive, the FF was a sales flop next to the simpler Interceptor, so only about 300 of them were built. The one offered by Bonhams is a final-year MkII model, restored 10 years ago with its matching numbers 383 cubic inch Chrysler engine. Bonhams calls it "the best Jensen FF we have ever seen." The Hagerty Price Guide shows an average value of £101,800 for an excellent condition 2 example, and £123,600 for a concours condition FF.
1981 Lotus Esprit Turbo Essex S3
Estimate: £105,000 – £150,000
The turbocharged version of the Esprit truly launched the Lotus wedge into supercar territory, with the 910 engine making 210bhp and 200 lbft of torque. Before the standard Esprit debuted, however, there was a special edition called the Essex Turbo Esprit. Named for Team Lotus's F1 sponsor Essex Petroleum, the car featured the oil company's signature colours of blue, red and chrome over scarlet leather seats. After a run of just 45 Essex cars, Lotus unleashed the standard Esprit Turbo to the public.
Up for grabs this month by The Market, an online auction platform recently acquired by Bonhams, this Essex is number 17 of the 45 Essex Esprits built. It boasts £40,000 in restoration work and paint that looks "far better than any Esprit of this period looked when it left the Norfolk factory." It also has the fantastic oh-so-eighties roof-mounted Panasonic stereo, a period ad for which called it "a car stereo system so advanced its design is over everybody's head."
1971 Iso Grifo 7.4-Litre Series II
Estimate: £200,000 – £250,000
One of the more memorable Italo-American hybrids to come out of the 1960s and 1970s, the Iso Grifo combined a Giotto Bizzarrini-designed chassis and Bertone body with Chevrolet small-block V-8s. Later Grifos were even more potent with a big-block 7-litre engine and there was even a 7.4-litre "Can Am" Chevrolet engine. The one offered by Bonhams this month is represented as one of just three right-hand drive big-block cars and it boasts just one owner from new. The only bad news (unless you fancy a project) is that it has been in dry storage since 1974. The Hagerty Price Guide shows Grifos of that year running to as much as £340,000 in concours condition – will someone take on this car and the challenge it presents? And if you're looking for a project that's a little more daunting and a little more Italian, there's a mostly disassembled 1982 Countach up for grabs at the Historics Ascot Racecourse sale this month.
1959 Peerless GT II
Estimate: £25,000 – £30,000
Built from 1957-60 in Slough as Peerless and then resurrected as Warwick from 1960-62, the Peerless combined Triumph TR running gear with a tubular space frame chassis under a fibreglass four-seater body. Although it was a quick, attractive and powerful car, the Peerless was considered too expensive to be competitive and only a little over 300 were made. This yellow car offered by H&H was restored in the 2010s.
1979 Porsche 930/RUF BTR
Estimate: £85,000 – £95,000
There are more people "reimaginging" (aka customising) old 911s than ever, RUF is one of the oldest Porsche tuners of them all, with the German manufacturer's first modified 930s dating back to the 1970s. The BTR (Gruppe B Turbo RUF) was the first RUF with a company-specific VIN, although many BTRs were customer cars converted to BTR specs. This early left-hand drive model offered by Historics Auctioneers this month started out as a standard 1979 930, then was upgraded to BTR specs in 1985 by the authorised RUF importer in Japan.
1969 Triumph TR5
Estimate: £75,000 – £80,000
The TR5 was something of a carryover model for Triumph, but that also makes it the best of both worlds for TR fans. It has the potent 2.5-litre fuel-injected straight-six from the upcoming TR6 but also the purer Giovanni Michelotti-penned styling of the TR4. And because Triumph only built the TR5 for a couple of years, it's quite rare. Less than 3000 in total were built, and less than half of those stayed in the UK.
The lovely Jasmine yellow TR5 offered by H&H is represented with a concours restoration and is "arguably the best example in existence." And with a £75,000 – £80,000 estimate, it better be, as the Hagerty Price Guide shows an average value of less than £50,000 for a '68 concours car.
2001 Bowler Wildcat
Estimate: £60,000 – £68,000
Land Rover isn't much known for racing and truth be told most of its 4x4s don't see any more rough and tumble than a gravel driveway, but there's an outfit called Bowler that has been modifying Defenders since 1985 and winning races with them. Bowler also sells high-performance parts for various Land Rover models, and has even designed its own in-house chassis. Bowler was acquired by Jaguar Land Rover in 2019 and is now part of Jaguar's Special Vehicle Operations division.
Bowler's model range has had some great names over the years, like Tomcat, Nemesis, Bulldog, and Wildcat. This Wildcat, chassis number 004, boasts a 5-litre Rover V8 tuned to 334bhp and took wins at the Baja de France, Baja Great Britain, and Scottish Rally. It was also shown at the 2005 Goodwood Festival of Speed, and was hammered not sold at a £69,000 high bid at the Silverstone Race Retro auction this March.
1977 Morgan Plus Eight Sports Lightweight
Estimate: £30,000 – £35,000 Sold for: £29,250
Any Morgan Plus Eight is a desirable car, combining Morgan's timeless looks with kick-in-the-back performance and a smile-inducing engine note from the compact Rover V8. This one offered by Bonhams is a little more special in that it is said to be the last of 19 special Lightweight models with all-aluminium bodywork. It is also represented as having been owned by John McLaren, brother of Bruce McLaren.
1927 Vauxhall 30-98 OE-Type Velox Tourer
Estimate: £200,000 – £250,000 Sold for: Unsold
One of Britain's great sporting automobiles of the 1910s and 1920s was the Vauxhall 30-98 – a worthy if lesser known competitor to the contemporary Bentleys. A later OE-Type model with overhead valves and hydraulic brakes as well as the standard tourer coachwork, this one boasts matching numbers and its original body. It was bought by the vendor in 1993 and soon restored.
Read more
McLaren F1 takes top sales crown at Monterey with record result
Jenson Button gives Porsche 911 Turbo X88 star power
2021 Goodwood Revival preview