In recent months, Hagerty has written a great deal about the rise in popularity of modern classics. 1980s and '90s cars are everywhere, breaking records in online sales, collecting big numbers on social media posts and drawing the attention of enthusiasts at shows. This made it all the more surprising when the Hagerty team crunched the numbers for the forthcoming Bonhams auction at the Goodwood Revival, and found that the average age of cars entered there was the oldest we've seen in over ten years.
This year, the Bonhams Goodwood Revival catalogue lists 84 vehicles, a little below the 91.6 average that we've seen since 2012 but in the same ballpark. The average year of manufacture however is 1956, seven years under the mean, and the first time we've seen a 1950s average since 2013. It's not a general trend, either: the average age of cars offered at the Bonhams Goodwood Festival of Speed sale have continued on a steady trajectory towards more modern cars. So, what's the story behind this sudden leap in older cars consigned to the Revival sale?
How much is your car to insure? Find out in four easy steps.
Get a quote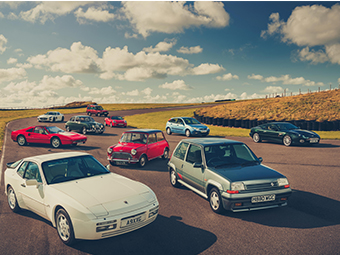 The nature of the Goodwood Revival itself could be a major factor. As a racing meeting, the Bonhams sale there has always attracted a good proportion of competition cars, and this year is no different. When you consider those with a racing history, competition prepared cars and replicas of those that raced in period, this year the catalogue includes 23 such cars, the same number as in the last sale here in 2019. But the average age of those competition cars is very different: in 2019 it was 1958, this year it is 1943.
This could be reflective of a number of changes that have taken place recently to make historic motorsport more attractive to enthusiasts. In the past, historic racing has been perceived by many to be a rather closed group and an expensive sport that attracts older competitors. Many organisations have actively tried to change that: our partners at the VSCC have relaxed entry requirements for cars to include some younger models, and Motorsport UK has initiated a programme to attract younger competitors.
Goodwood has also opened its racing up to different cars, for example splitting the ever-popular touring car-based Gerry Marshall trophy into two heats at the next Members' Meeting, a move that has given some drivers their first ever start at a Goodwood event.
There could also be the perception that, whatever happens to classics on the road, historic racing cars will continue to be used. As we hear more in the news about electrification, E10 fuels and low-emission zones, enthusiasts may be encouraged to move towards ownership of track cars. We're just taking our first steps down this road, but it could be that we're watching attitudes slowly change.
We could also, of course, just be seeing an anomaly. This year's Bonhams catalogue includes a group of largely pre-war cars owned by collector Stan West and a group of four 1929 Lagonda 2-Litre low-chassis tourers that were raced extensively together in period. Cars like this tend to encourage potential sellers to consign similar cars.
Whatever the reason, the catalogue includes some exceptional historic racing vehicles. The cover star is classic car collector and racer Valentine Lindsay's Jaguar D-Type, a chassis that was created by the factory in 1956 before being stripped out, possibly to rebuild another car. In the 1980s, the car was then built up, using many original parts including, it seems, the correct engine block and has since been further restored with original D-Type parts.
A regular sight at numerous events including outings at Goodwood, Silverstone, Spa and the Mille Miglia Retrospective, the car is an extremely eligible historic racing car. Also, with an estimate of £900,000 to £1.2M, it may be bought for a huge amount less than an 'all original' D-Type which in this condition the Hagerty Price Guide values at £4.34M ($6M).
Of the four 2-Litre Lagondas mentioned above, one is valued by Bonhams significantly more than the others with an estimate between £300,000 and £400,000. This, chassis 9413 ('PK9203') was the only car of the four to have reached the starting line at Le Mans, where it briefly led the 24-hour race in 1929 before retiring with a broken head gasket. It also ran in various other important races of the era, including the Brooklands Double Twelve, the BARC Twelve Hours and the Irish Grand Prix. Whether its additional provenance gives it the full £100,000 advantage over the other three cars remains to be seen, especially 'PK9204' that belonged to Robin Jackson, the ace engine tuner, but again this is a car eligible for numerous events should the new owner wish.
For those more interested in open-road events, Bonhams is offering a wonderful 1951 Renault 4CV Grand Luxe Saloon, estimated at a very reasonable £15,000 to £25,000. This quirky car is not only reported as being 'wonderfully sound' throughout, but also completed the Mille Miglia in 1989, finishing a very commendable 41st place. With recent entries into the Monte Pellegrino and Vernasca Silver Flag, this is a car that also presents the new owner with various interesting options.
Read more
Colin McRae's weekday wheels: Subaru Impreza Turbo heads to auction
Market watch: The tale of three MGs shows you're not just buying a car, you're buying a dream
2021 Goodwood Revival preview