Usually when an ex-McRae Subaru Impreza comes up for sale – not that it happens often – you'll have a pretty good idea of what it looks like: Dark blue (or perhaps World Rally Blue Mica), 555 graphics down the side, and gold wheels, with a chunky roll cage dominating the cabin.
The Subaru Impreza coming up for sale at Bonhams' Beaulieu auction however is a little different. It's red, for a start. There are no graphics either, and the five-spoke alloy wheels are not gold, but graphite grey.
How much is your car to insure? Find out in four easy steps.
Get a quote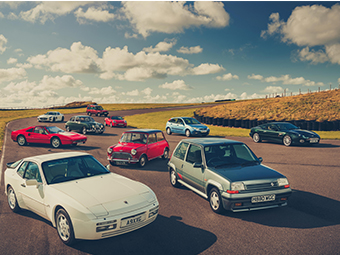 The reason is that this ex-McRae Impreza is a roadgoing "UK2000" model, and driven by both Colin McRae and the whole McRae clan. The car was owned by the family between 1996 and 1999. According to the vendor, both Alister and Jimmy McRae have confirmed that it was their family runaround for those three years, and all three rallying McRaes drove the car at the time.
With an estimate of £10,000-£12,000, you'll struggle to find a more affordable car with links to the McRae family, though that number is undoubtedly a little more than you might pay for one without such provenance.
While the car has been mechanically restored in the past too – including a complete engine rebuild – the bodywork does need some attention. Not from McRae-style interaction with the scenery either, you understand, just good old-fashioned corrosion, which can be seen breaking through the paint in a few places in the accompanying images. The seller gives the body 2/5 and the paintwork 3/5 on Bonhams' quality scale, with fours for everything else and full marks for both the engine and history file.
The UK2000 was a UK-market specific example of the familiar Subaru Impreza Turbo from the mid-1990s – the car which Subaru homologated in order to replace the Legacy as its Group A rallying weapon of choice.
Compared to later Imprezas the early Turbos look relatively tame these days, lacking the Recaro seats and Momo steering wheel that would arrive with later, more focused examples, but also driving with a more relaxed demeanour than close-geared Japanese models.
But they also fly under the radar in comparison to later specials like the P1, RB5 and hyper-valuable 22b, making them a great deal more affordable – yet still highly effective cross-country, particularly in poor weather. With its fresh engine rebuild this one would be perfect for those weekend blasts, but you'll probably never get bored of knowing who its first owners were, either.
Read more
Our classics: 1996 Subaru Impreza Turbo
Tiny Happy People: Driving a titchy classic kei car is big fun
A love letter to the JDM car scene