It's a couple of years since we named the Land Rover Discovery Series 1 as one of Britain's hottest collectable cars. Launched in 1989 to fill the sizeable gap between the Defender and the Range Rover, the 'Disco' offered the best of both worlds; the combination of peerless off-road prowess and competent on-road dynamics. It was an instant hit.
Although based on the Range Rover Classic, the Discovery was longer to allow for a larger boot and the option of an extra pair of fold-down seats. It debuted in the autumn of 1989 in three-door form and with the choice of 3.5-litre V8 petrol and 200 Tdi turbodiesel engines. A five-door version arrived in November 1990 with seven seats as standard.
How much is your car to insure? Find out in four easy steps.
Get a quote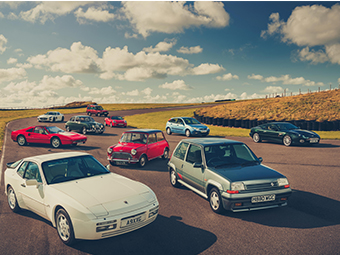 Sales continued until 1998, by which time the range had been bolstered by a short-lived 2.0-litre four-cylinder petrol engine, the V8 had gained fuel injection and the option of an automatic gearbox, and a facelift had increased the size of the headlights and ditched the Morris Marina door handles.
Terminal corrosion and hard use by unsympathetic owners has led to the early demise of many early cars, so it's rare that a G-reg comes to market. The Brightwells auction Discovery isn't a G-WAC – so-called because the original press cars were all registered GXXX WAC – but it is a three-door, which makes it highly desirable.
According to Brightwells, the car was subject to a recent body-off rebuild, while a quick look at the MOT history reveals it passed in September 2022 with no advisories. Its 3.5-litre V8 engine had covered around 143,000 miles since it rolled out of a Land Rover dealer in December 1989.
In 2020, we said: "Values of classic Range Rovers in both two- and four-door configurations have rocketed over the past five years, and we believe it's about time the Series I Land Rover Discovery followed suit. Until recently, even the best could be bought for a few thousand, but in recent months, exceptional examples have achieved much more: in June, CCA sold one for £12,320. Our 'Excellent' guide price stands at £9,800 but is likely to be revised upwards soon."
It has. According to the Hagerty Valuation Tool, a 1989 Discovery Series 1 in 'Excellent' condition is worth £9,900, rising to £15,000 for a 'Concours' example. A pre-auction estimate of £10,000 to £12,000 suggests there's a little wiggle room to add value to this highly sought after car.
Registration and bidding opens on Saturday 11 February. If you're thinking of placing a bid, don't forget to check out our buying guide, which tells you what a Discovery 1 is like to drive, what goes wrong and what you should look for.
Read more
Invest in British beef with this Land Rover Discovery V8
Angle grinders and spray guns at the ready! Richard Hammond's Workshop TV show hits screens on 18 October
Buying Guide: Land Rover Discovery Series 1 (1989–1998)