Doing anything interesting this weekend? How about raising the pulse rate a little and bidding on a classic Ford? A host of models to wear the blue oval badge are going under the hammer this weekend, through Anglia Car Auctions. And with so many Fords to choose from, there's something to suit most tastes, with everything from modern-classic Capris and Cosworths to basket-case Anglias and even early commercial Transits. Here are ten that took our fancy. See if any of them tempt you…
Ford Anglia 105 E
Year: 1964
Mileage: 76,002
Estimate: No reserve
In around 1990 the Ford Anglia was my first car, and an ideal one at that. It was cheap – £600, the same sum of money I sold my 100cc go-kart and trailer for – and as good as indestructible. I drove that thing as any enthusiastic 17-year old would drive their first car, namely with the tyres peeling from the rims and the engine crying out for forgiveness. Rarely did I show it any mercy but in the couple of years of ownership it only ever needed a new distributor. We partied hard and it proved the perfect companion, and then went to a good home – a school friend.
So I'm as interested as any Anglia fan to see this 1964 105E offered as a restoration case. There's no reserve on the 997cc Anglia, and it's said to have covered 76,000 miles. The engine is said to be running and the car's owner reportedly bought it in 2007 as a – you guessed it – Harry Potter project for his son. The gearbox needs a rebuild, but in theory you could run it as a rat rod or choose to put it through a restoration. The Hagerty Price Guide shows that a concours condition car is worth on average nearly £11,000. Whatever you do, be reassured they're tough little cars.
How much is your car to insure? Find out in four easy steps.
Get a quote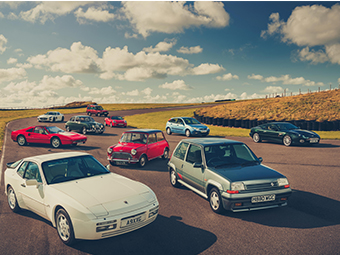 Ford Transit Dropside Mk1
Year: 1973
Mileage: 99,373
Estimate: £14,500 – £16,500
The Transit traded on a reputation of being the backbone of Britain, a reputation founded in hard-grafting models like this first-generation Dropside. Whether you'd be minded to put it to work again is a foregone conclusion – this 1973 model has spent the past handful of years undergoing a complete restoration so throwing garden waste, scrap iron or building materials into the load bed won't be on the cards. Given how so many Transits led hard-working lives and were driven into the ground, this is a rare opportunity to own one of Ford's rarest and most significant commercial vehicles.
Ford Escort RS Turbo Mk1
Year: 1986
Mileage: 36,978
Estimate: No reserve
In 2015, an Escort RS Turbo Mk1, like this one, sold through Silverstone Auctions for more than £60,000. Yes, you read that right – sixty big ones for an aged hot hatch. Admittedly, that car had covered just 5000 miles, whereas this example has clocked up nearly 37,000 miles and is said to be in need of some 'light recommissioning work' having been lightly used since 2018. There is no reserve so it will be interesting to see if the market still has the fever for these cars.
Needless to say, it's an old-school hot hatch, where the turbo delivers lag as well as power and torque is served up in equal measure with torque steer – despite the fitment of a limited-slip differential. The 132bhp, 1.6-litre CVH engine was uncouth but fun with it and brought a look that was as 80s as white-socks, stone-washed denim and a Now That's What I Call Music cassette. If you ever watched the likes of Mike Smith race an Escort RS Turbo in production saloons and even win the 1986 Willhire 24 hour race, you'll have a soft spot for this RS.
Ford Fiesta XR2
Year: 1989
Mileage: 58,083
Estimate: £8000 – £10,000
If the merest mention of 'XR2' takes you back to happy days then looking at pictures of this original, unrestored survivor will probably have you registering to bid at the Anglia Car Auctions sale this weekend. The mileage is, for the age, low, the car presents beautifully and there is an ongoing demand for fast Fiestas, so your money should be going into a safe investment. With accompanying paperwork and matching dealer plates, window sticker and boot badge, this XR2 is something of a time-warp find.
Ford Granada Mk1 3000 automatic
Year: 1974
Mileage: 78,966
Estimate: £8000 – £10,000
Vinyl roof? Check. Chromed hubcaps? Check. Original radio/cassette player? Check. This unmodified Granada could transport a successful bidder back to the 1970s and simpler times. And we can thank the vendor's family for that; the Granada has been in the same hands since it was six months old, and is accompanied by the original service book and handbook as well as its set of spare keys. The mileage is about to clock over to 79,000 and if looked after in the same way we wouldn't be surprised to see it on the road in another 47 years time. With approximately no more than 20 surviving on Britain's roads, this one would be welcome at the Hagerty Festival of the Unexceptional any time.
Ford Focus ST170
Year: 2003
Mileage: 38,112
Estimate: £4500 – £6500
Flip the saying 'all the gear, no idea' on its head and you get to the heart of the Focus ST170. This car was the right idea at the right time but unfortunately it literally had ridiculously long gearing that failed to get the most from the high-revving Zetec engine and sweet-handling chassis. As if that weren't bad enough, the car has lived in the shadow of its later big brother, the Focus RS.
But give it a chance and you'll discover there's a great driver's car here, and one that could be had for a half the price of a Honda Civic Type-R from the same era. This example is offered with a reserve of between £4500 and £6500, which at the lower end would be sensible when you consider the ST170's only covered 38,000 miles. The only Civic (EP3) Type-R we found at the time of writing with comparable mileage was up for £10,000.
Ford Sierra XR 4x4i
Year: 1989
Mileage: 50,632
Estimate: £5000 – £7000
Having covered just 500 miles in the past 15 years, we'd anticipate there being a few jobs to do on this rare Ford Sierra XR 4x4i. The car was intended to replace the XR4i and its job was to bring all-weather traction to the family car market. In that respect it delivered the goods. Remember, when it made its debut at the Geneva motor show in 1985, Land Rover was still four years away from launching the first Discovery. What's more, it attracted praise from critics and customers alike, who were won over with the combination of a gutsy 2.8-litre V6 (later uprated to 2.9) and an all-wheel drive chassis with twin viscous differentials and a bias that saw more power go to the rear wheels than the fronts, given the Sierra platform's inherent RWD configuration. As a cut-price Sierra Sapphire Cosworth, this is an interesting alternative but be mindful that the Hagerty Price Guide values a condition #2 example at £8000, so don't get carried away.
Ford Capri 2.8i
Year: 1986
Mileage: Not available
Estimate: £1750 – £2750
I'm not terribly good at maths, and am neither handy enough to attempt the restoration of a car myself or had to shell out for a specialist to restore a car, so take the following advice with a large pinch of salt. If you were able to pick up this Capri 2.8i at the estimate price and return it to its former glory, there's a slim chance you'd cover your costs – a concours 1986 2.8i is valued at around £25,000 in the Hagerty Price Guide. That said, you'd need to do as much of the mechanical work yourself as possible to make the project economical.
The 160bhp, 2.8-litre Cologne V6 was paired with a five-speed manual gearbox and limited slip differential, and Ford's Special Vehicle Engineering team did their best to perk up the car's roadholding. However, this example needs a gearbox – for whatever reason it's not included in the sale – and that's not the only area that will need plenty of attention. The car has seen better days. But fix it up and you could feel like Bodie and Doyle.
Ford Sierra Saphire Cosworth 4×4
Year: 1991
Mileage: 70,150
Estimate: £19,000 – £23,000
No list of desirable Fords would be complete without a Cosworth, so it's good to see that a Sapphire 'Cossie' 4×4 will cross the block at the Anglia Car Auctions sale. This 1991 model is said to have recorded a modest 70,150 miles and is in need of an inspection, service and MOT before it can be put through its paces – the car hasn't been driven since 2005.
Any buyer will want to get that out of the way as soon as possible, because this is a great driver's car. The 220bhp engine with its Cosworth developed hardware gives the Sapphire a great turn of speed to this day and the four-wheel drive chassis has a natural poise and balance – not to mention feedback – that is so sorely missed in modern cars. A stealthy fast Ford that deserves to be cherished.
Ford Cougar 2.5 V6
Year: 1999
Mileage: 82,200
Estimate: No reserve
After hits like the Capri and Puma, the Probe and later Cougar failed to capture the hearts of Ford fans. The fizz had gone flat and the crowd went, well, mild.
However, the Cougar wasn't half bad to drive. It was based on the second-generation Mondeo, and with the 170bhp, 2.5-litre V6 engine it made a half-decent noise, too. The designers did their best to work in the 'New Edge' styling that was the company's theme of the time, while engineers – overseen by the likes of Richard Parry-Jones and Ulrich Eichhorn – did their best to make the big four-seat coupe feel, if not light on its feet, then at least planted and reassuring to hustle. This example presents well, has history and there is no reserve on the auction. If you could pick it up for somewhere between £1000 and £2000, you'd have a lot of car for not a lot of money.
Read more
Little red devil: MST Mk2 review
We are family: meet the fans united by a love of Ford
Buyer's Guide: Ford Mustang (1964-1973)