It's hard for us here in 21st century England to appreciate the sheer impact that the Ford Mustang had when it was launched to the American public in late 1964. In 1950s America, choice and freedom of expression were in short supply. But as the children of the post war baby boom began to come of age, it became clear that new thinking would be needed to cater for a generation raised on rock n' roll, a generation which wasn't content to make do and be grateful, a generation that wanted more.
The Ford Mustang was the result. The project had been led by Lee Iacocca, a former engineer turned marketing man who knew how to sizzle and sell. It was based on the drivetrain of the conventional Ford Falcon, meaning reliable and proven parts – but clothed in a new and desirable body. One which came with a wide choice of colours and options, one where, in theory, no two Mustangs need be quite the same. And that's before the engine and transmission choices. You could have a humble 170ci (2.8-litre) six pot with an automatic transmission, or a 289ci (4.7 litre) V8 with four on the floor. Three bodystyles – coupé, fastback and convertible – added to the potential to create a car which afforded owners the choice they craved.
How much is your car to insure? Find out in four easy steps.
Get a quote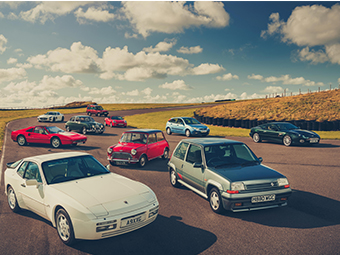 And as the Mustang was the latest thing, it's not surprising that it came replete with media and film attention. The Mustang has made thousands of film and television appearances going back to Goldfinger and Bullitt, appearances that gave the Mustang a life of its own. What a shame, then, that it took until 2015 for Ford to make the world's favourite muscle car available in Britain's Blue Oval showrooms. Imports were the only route, and one that plenty of Brits followed.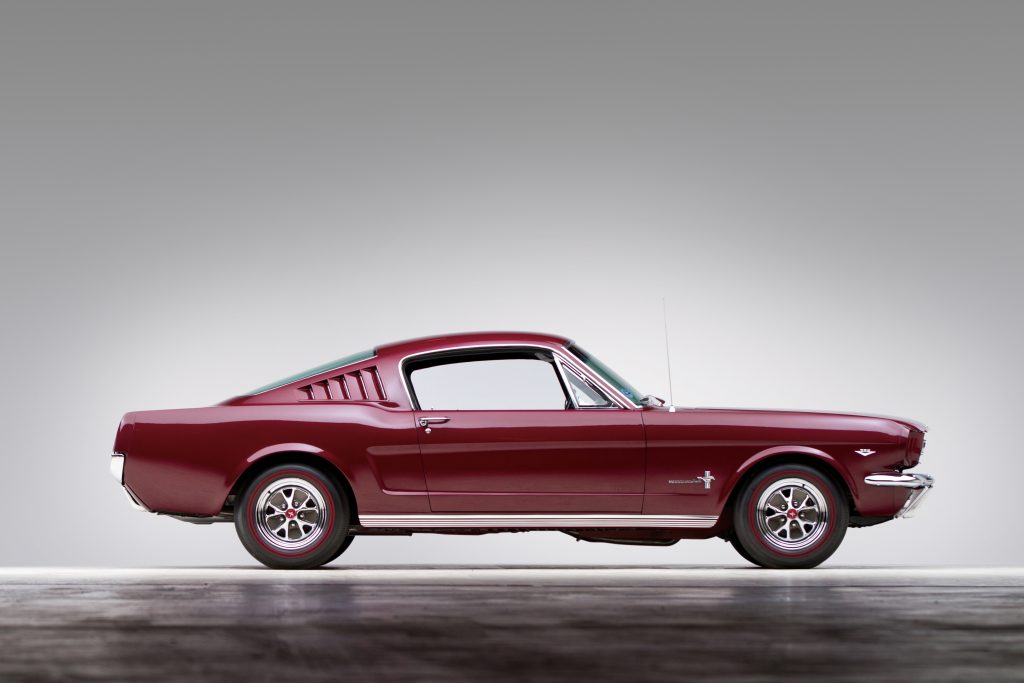 As time passes interest is rising, and as those early cars fast approach their 60th birthdays values show growth. They're dependable and parts are freely available, while it's simple enough that you could do much of the maintenance yourself, so it's just the job for someone taking their first steps into classic car ownership. The only practical hurdle is that the steering wheel is on the left side of the car.
If you're under the spell of this cruiser from Detroit, here's what you need to know to buy the best classic Mustang.
What's it like to drive?
Inside the cabin, the trim feels like it was built to a price – with good reason, America had already embraced "model year" culture and cars had to be cheap to ensure repeat business. But it all looks the part, and is easily replaced these days if damaged. It's also vaguely practical, with four seats, so friends can come along for the ride.
However, expect it to be a true sports car and you might be disappointed. The Mustang – in stock form – is more of a cruiser. That's not to denigrate it though, and with today's lumpy, bumpy road surfaces the Mustang is actually a far more pleasant place to be than some sporting rivals.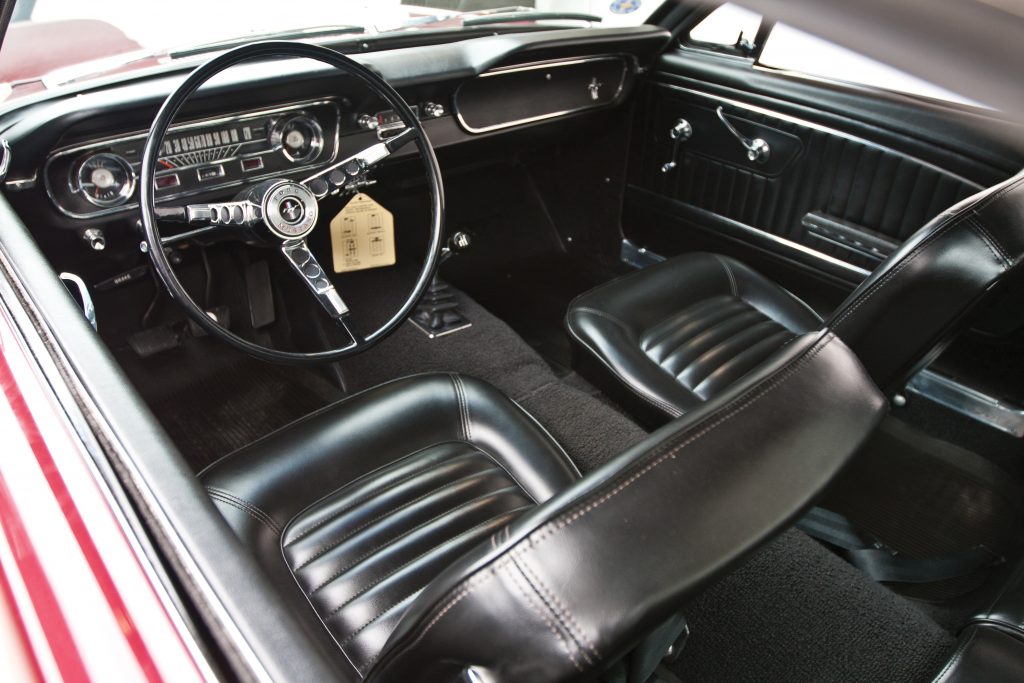 The steering is adequate, with or without power steering, and the brakes do an acceptable job. Enthusiasts might want the four-speed manual with a 289 up front, but in all truth the Mustang feels more at home as an automatic – ideally a convertible, soaking up sun and admiring glances.
The six cylinder cars are more sedate, but a 260ci (4.3-litre) V8 will be more than ample unless you really want to drive your pony hard. Pre 1967 manuals didnt' have servoed brakes owing to the need to fit a clutch linkage, but kits now exist to fit a remote servo.
How much does a classic Ford Mustang cost?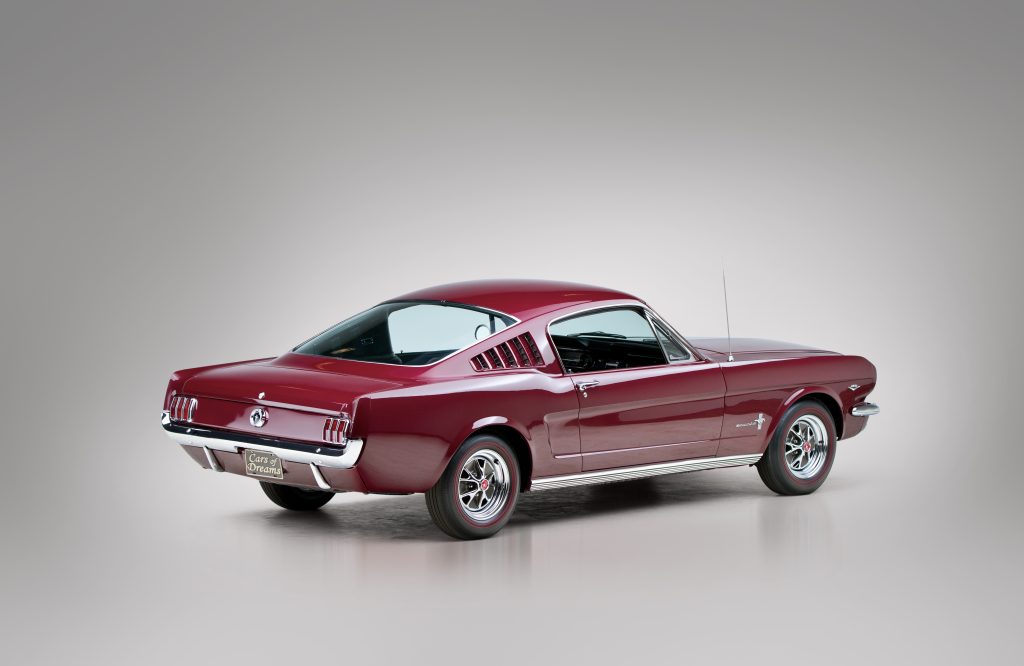 Oh how we could all kick ourselves. Once upon a time, old Mustangs were nickel-and-dime cars, available for relatively little money. Now, according to the Hagerty Price Guide, you'll need £33,600 to afford a concours, condition 1 1965 coupé, but that jumps to £55,400 for an equivalent convertible and £52,000 for a fastback. These values assume the 289ci engine – lose about 10 per cent for a 260ci V8, and 25 per cent for the six-cylinder cars. Two thirds of a condition 1 value should be enough to secure a good condition 2 car, which will still be tidy enough for most enthusiasts. Condition three cars are worth around £10,000 less – meaning a Condition 3 convertible 289 could be yours for around £29,200.
But here's the good news. You shouldn't need more than £20,000 for any Mustang you'd consider using on a daily basis.
Later cars are worth less – a top condition 1969 convertible would fetch under £40,000 today. The Hagerty online valuation tool will be able to encompass far more detail than we've space for here, so follow the links in this feature for more information.
The personal nature of the Mustang makes it a natural choice for those looking to modify their classics, and you'll find as many 'enhanced' Mustangs as standard cars. If a modification is from the standard parts bin – for example, a 170ci car fitted with a 289ci V8 – it won't adversely affect value and can sometimes increase it. However, it should be noted that the top money for each type can only be expected if the car is in concours, unmodified condition. Restorations vary, but a good restoration shouldn't be worth less than an original example.
How much does it cost to service?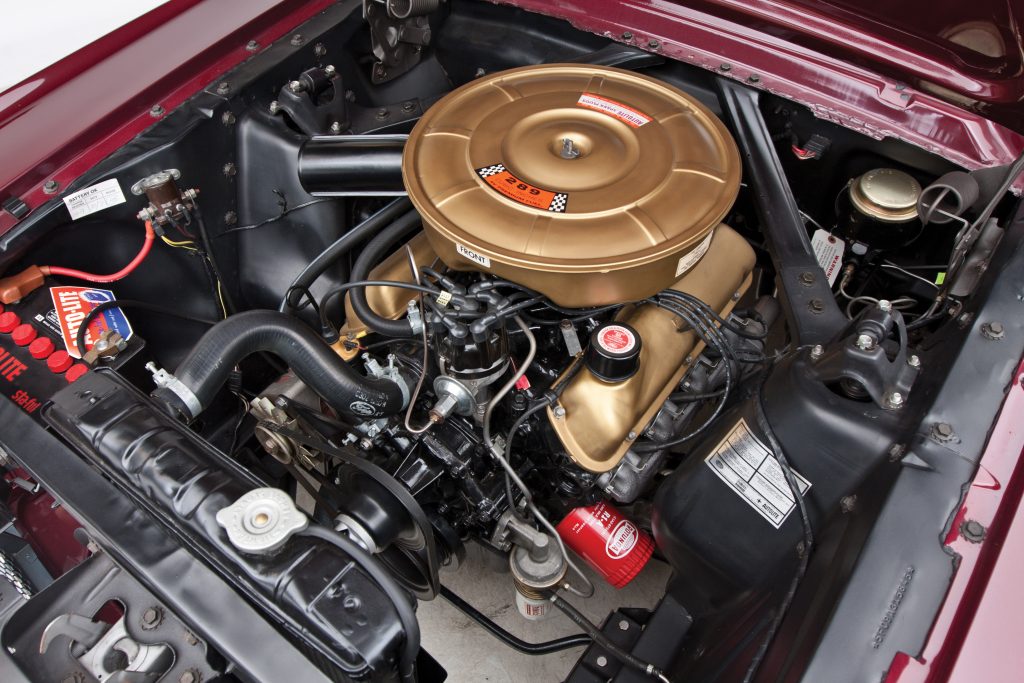 A specialist such as Essex Mustang Centre sells air cleaner elements for between £26 and £40 dependent on engine – the 289 air filter is £35. The rest can be had as a kit for £45.50 – points, condenser and spark plugs. An oil filter is £15. We'd advise an in-line fuel filter, but these are inexpensive to source and fit. We'd also recommend the use of an ethanol inhibitor and lead replacement additive, unless your car has already been upgraded to suit unleaded, E10 fuel.
Essex Mustang Centre would charge in the region of £395+VAT for a full service (recommended at 30000 miles)and £195 for an interim (12000 miles/annual), while the labour rate is £60+VAT.
What goes wrong and what should you look for?
Keith Barclay of the Essex Mustang Centre says that you'll be unlikely to have any trouble mechanically. "The engines are so understressed nothing ever really breaks, and even if it does all the parts are available. The same goes for the six cylinders, and for the transmission." Even differentials are good enough to handle more power – the nine inch diff' from later cars like the Mach 1 can comfortably handle 500 ponies.
An easy way to tell if a V8 is a converted six cylinder is to look at the wheels. V8s had five-stud fixings, sixes four-stud, and to change it involves changing vast swathes of the suspension setup. A V8 on four stud wheels won't be original – though there may be some former sixes on five stud wheels too, if done well.
Rust, Keith advises, is the biggest issue. "The rear chassis rails will rot away, as do the drop-off panels where the boot floor meets the rear quarters. Rust from there then gets into the rear quarters. You'll not need sills, as these are the only part Ford galvanised. We do sell the odd sill, but it's usually to race teams to repair accident damage – we've never sold one for a rotten car."
Beyond that, check the floorpans. Clogged scuttle drains mean the water finds its way into the footwells and rots the floor from the inside out – mainly on the nearside. The seam between the floor and firewall can be repaired with a new section that has been made available, rather than an original seam sealed joint. Cowls rot out, but repairs exist – most cars will have rot here however nice they look. Check by pouring a kettle of water into the venting at the back of the bonnet. It should come out of the drain below the front wing. If it comes out into the footwells, there's rust that will cost four figures to do properly – though you can buy plastic repair sections to glue in. You can buy aftermarket covers to fit to these vents in inclement weather too – made of Perspex, they'll cost around £60.
Front chassis rails can rot out by the radiator support, and battery trays rot out taking the inner wings with them. Door bottoms and front wing bottoms rot as with most cars. Convertibles have their own trick – the sill bracing sections will rot.
"We don't advise rack and pinion steering conversions," says Keith, "Because you lose steering lock, it won't feel like a Mustang, and the quality isn't always great." You can however fit upgraded power steering boxes, replacing the original hydraulic arm.
You can't buy 1964.5MY carpets any more – but you can adapt later carpets if originality is key. Coupé roof gutters aren't available either – but you can buy the fastback gutter.
Tom Cotter and the crushed Mustang Shelby GT500 | Barn Find Hunter