Singer is taking a leaf out of Porsche's book and going off-road. The Los Angeles-based Porsche restoration specialist, renowned for its exquisite reimaginings of the 964-generation 911, has revealed an outrageous rally-ready project dubbed the All-terrain Competition Study (ACS). Looking like a modern-day take on the Paris-Dakar Porsche 911 SC/RS and 959 competition cars, the high-riding, high-powered, twin-turbocharged creation was developed and built by Singer in partnership with Britain's rally specialist Tuthill.
The Safari-style ACS was made at the request of a long-term client who wanted to honour Porsche's 1980s rallying heritage. Like those machines, it should be eligible for competition. Targeting desert races like the Dakar Rally and the Baja 1000, the white ACS is fully prepped for the gruelling demands of endurance rallies with a full FIA-spec rollcage and FIA-certified competition seats. Other upgrades include a long-range fuel tank, two full-size spare wheels and tyres, a rehydration system for driver and navigator, and a GPS navigation system.
How much is your car to insure? Find out in four easy steps.
Get a quote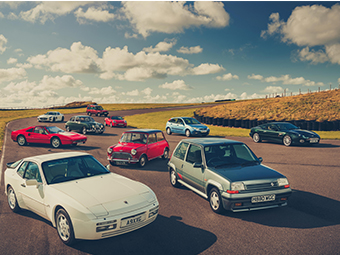 The owner of the Parallax White ACS also commissioned a second car, painted in Corsica Red, that will instead focus on "high-speed, high-grip tarmac events and disciplines." For such events, Singer would adjust gear ratios, ride height, and damper settings, along with appropriate wheels and tyres for the surface. Somebody is going to be enjoying themselves…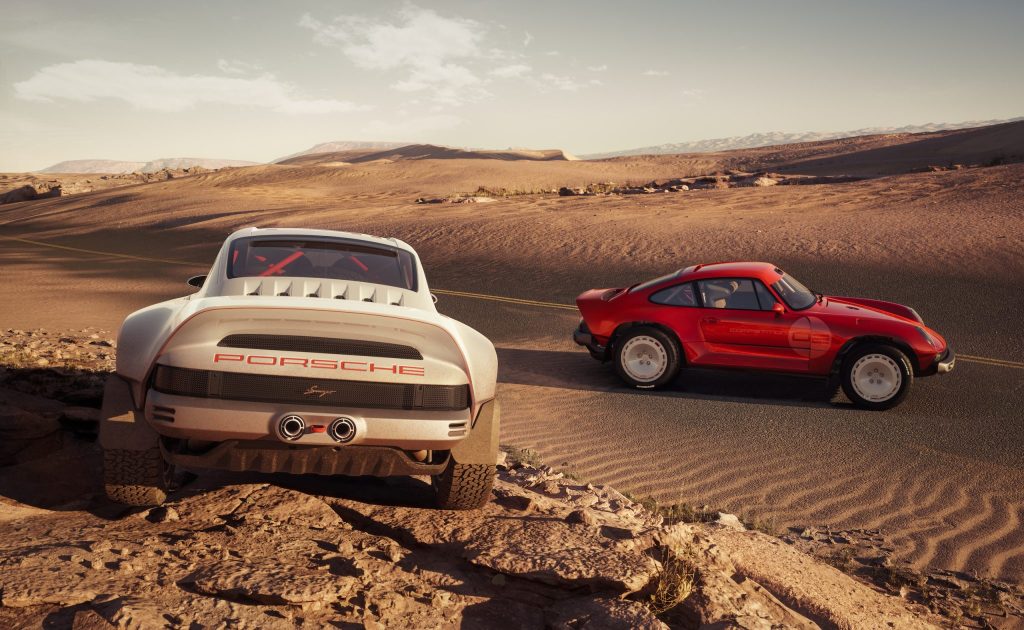 While the desert-destined ACS, like all of Singer's restorations, started as a 1990 Porsche 911, it's fair to say that this is a completely overhauled vehicle whose modifications promise to fundamentally change it. (The ACS used a C4 coupe as its starting point, Singer says that C2 cars are equally suitable.) Engineered collaboratively between Los Angeles and Oxfordshire, but assembled at Tuthill's facilities – which you can tour in Hagerty's exclusive video – the ACS is an all-out effort to tackle the desert.
Singer says it strengthened the ACS's monocoque for heavy-duty off-road use, and the body panels are all made of carbon fibre for weight reduction and easy replacement. The car rides quite a bit higher than stock (12 inches of ground clearance) and rides on a bespoke suspension with 12 inches travel. A pair of five-way adjustable dampers sit at each corner, along with the 16-inch forged aluminium wheels wearing BFGoodrich All-Terrain tyres. The brakes are four-piston monobloc steel discs, and the stopping system comes with a hydraulic handbrake.
Naturally, the ACS features a permanent all-wheel drive system, along with a sequential five-speed transmission and front, centre, and rear mechanical limited-slip differentials. The dog-box will allow for flat-shifting, allowing drivers to either shift gears via either the shift paddles or the manual gear lever. Out back is a twin-turbo 3.6-litre flat-six that churns out nearly 450bhp and 420lb-ft of torque.
Impressive as everything is underneath that carbon-fibre skin, the look of the car itself is perhaps most striking. While Singer's design work has always melded the Porsche ethos with the SoCal tradition of modifying 911s, the ACS is a major step in a new direction. Its large duck-bill spoiler, prominent tow hook, chunky fenders, two-tone contrast between the body and the bumpers/sills, various ducts and vents, and slotted engine cover resemble a wild rally concept crossed with a 911 RSR and brought to life in a laboratory. The company's vision for a Porsche-inspired off-roader blends Singer's passion for motorsports with the holistic approach it takes to every project.
"We at Singer are motorsport nerds in our hearts and demonstrating our understanding of the discipline required our off-road vision to display deeply legitimate competition credentials from the structural engineering, to the bodywork ethos, to the mechanical package," said Singer founder and executive chairman Rob Dickinson "We've taken particular inspiration from the iconic Rothmans-sponsored 911 SC/RSs and 959s that conquered events like the Qatar International Rally and Paris-Dakar in the mid-'80s and, at the request of our client, have reimagined these all-terrain 911s in their honour while utilising fresh perspectives and state of the art know-how."
Via Hagerty US