Land Rovers and Range Rovers are widely enjoyed throughout both the modern and classic car scenes, their respected badge, off-road ability and classless styling engendering them to all manner of enthusiasts.
Some will always want more, which is why there's also a healthy market for upgrading the iconic off-roaders, and few take the Land Rover concept further than Bowler, which builds mighty all-terrain racers out of the familiar Land Rover shapes.
How much is your car to insure? Find out in four easy steps.
Get a quote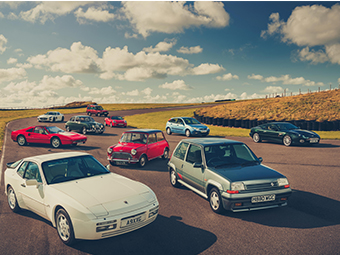 And with the freedom of the virtual realm, Khyzyl Saleem, also known as Kyza, has taken things even further with the new Range Rover in the latest episode of Rendered with Kyza – turning the luxury off-roader into a desert-racing "prerunner".
You might have seen various American pickups turned into prerunners before. These vehicles are literally designed to "pre-run" a testing off-road race course, learning the layout and challenges before the purpose-built racers pass through. They've become a class of vehicle in their own right, with production models like the Ford Raptor making the concept available from the showroom floor.
For Kyza it means stepping outside of his comfort zone somewhat. As in going up, rather than down – lifting the Rangie on raised suspension and tyres, rather than dropping it to the ground and fitting a widebody kit.
Combining a digital model of the new Range Rover with a tube-frame prerunner chassis, Kyza tweaks and tunes the bodywork and the chassis to fit each other, eventually coming up with two different models to choose from: a more traditional open-backed pickup style prerunner, and one that retains the Range Rover's original roofline.
To keep the proper Range Rover look, Kyza moves forwards with the full-roof version. And after more bodywork, a serious set of wheels and tyres, and a good dusting of… well, dust, the prerunner is complete.
You can catch previous episodes of Rendered with Kyza here, or head to the Hagerty YouTube channel for even more automotive videos.
Read more
The 190E EVO that Mercedes never made | Rendered with Kyza
Who is Kyza? We chat to the designer behind Hagerty's Rendered
The Handbook of Sloane Ranger Cars: Range Rover