You probably appreciate the MO of the original Range Rover from a thousand articles and mentions across car media. You know; it could plough and crash its way across farmland from dawn until about tea-time, and then serenely cruise its way along the M4, past Heathrow, crest the Hammersmith Flyover and then pull up somewhere behind Harrods at dusk. A final gurgle from the V8 and its charges were safely delivered to Knightsbridge.
In other words, the ideal car for town and country, and because it was so expensive and hard to get hold of throughout the whole of the 1970s – and all-British too – a thing of longing for all Sloane Rangers.
How much is your car to insure? Find out in four easy steps.
Get a quote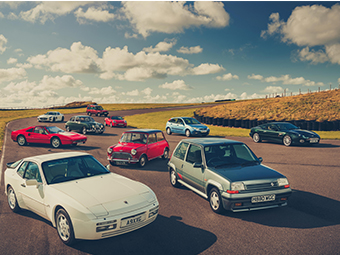 Well, you'd think so, wouldn't you.
If you care to consult the 'bible', however, The Official Sloane Ranger Handbook by Ann Barr and Peter York, you might be in for a shock: "The Range Rover," declare the writers, "is a bit too millionaire and countryesque for most Sloanes."
This must surely allude to the fact that Old Money, in order to maintain its status, has never much rushed to fritter cash on showy baubles. The country house costs enough as it is to maintain, repair and heat, so other purchases had to be workmanlike and last a very long time.
In 1970, when the Range Rover took its bow, country-based Sloane parentals might have had an old Land Rover if there was a farm, woodlands or horses involved, and a succession of grubby yet dependable Ford Granada estates for the road. They'd be unlikely to sweep away these faithful old bangers for a shiny new Rangie, especially when the Aga was threatening to give up the ghost at any time.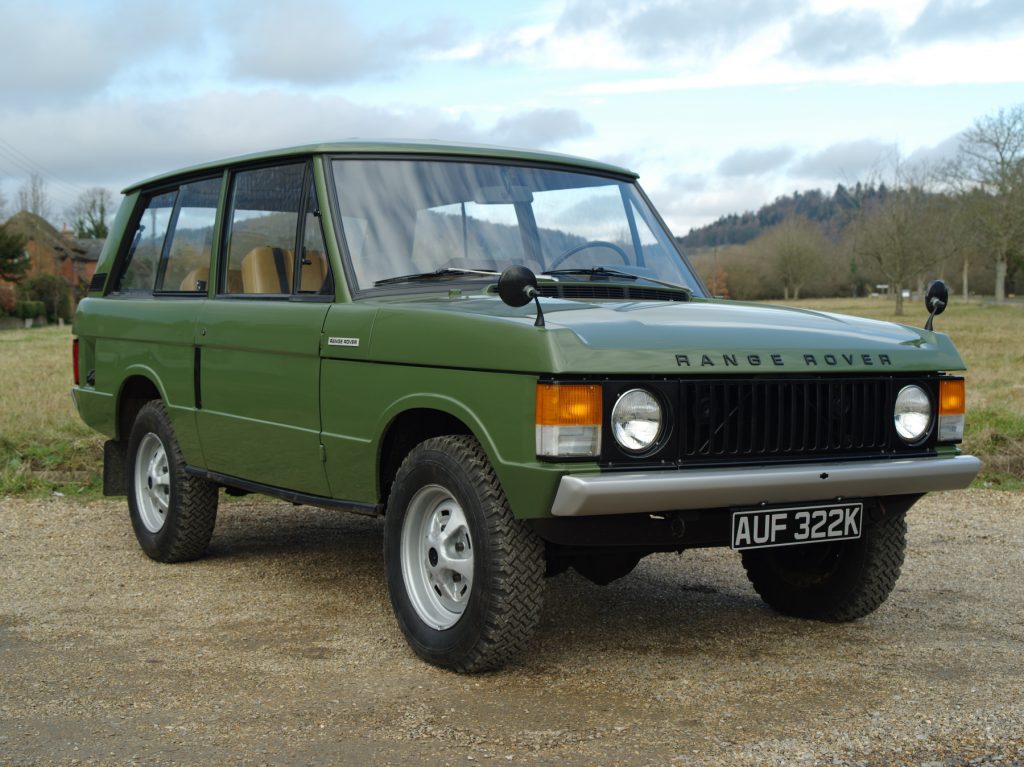 "But mud is good and a tow hitch (horse-box) too," added those waggish authors back in 1982. So who knows what they were getting at? Perhaps a Range Rover truly was the dream car but only the nouveaus could actually afford it, and that naturally led to a little disdain.
What's very easy to forget is how the Range Rover had the market in Britain for a civilised SUV almost entirely to itself for its first 10 years. A Jeep Wagoneer might have been a viable alternative if the steering wheel hadn't been on the wrong side but no meaningful attempt was made to sell it here. From 1978 there were a small number of Daihatsu Fourtraks and Suzuki LJ80s around but it wasn't until 1982 that you could have a Mitsubishi Shogun or an Isuzu Trooper that offered the Range Rover's capabilities for considerably less money. So if it was a Land Rover-type thing that was more comfortable and much less bouncy and rattling, then it was Range Rover or nothing. At £1998 in 1970, assuming you could get on to the waiting list, it was a lot of dough – two quid more even than a Triumph Stag.
The Range Rover of the 1970s and early 80s was a Spartan vehicle. It was Gordonstoun in automotive form with rubber floor mats, vinyl upholstery, and a call for rugby-honed muscles to turn the wheel and wind the windows down. Dogs loved it the back because they could sit up high, and their drool and hair could be hosed off the seats and windows afterwards. With the rear seat folded, your school trunk could be carried with ease and the family Range Rover would power you effortlessly but relentlessly back for the Michaelmas Term.
Rover simply could not turn out Range Rovers fast enough. The world's most stylish station wagon was in strong demand from overseas markets, and there never seemed to be enough of them to go round. It was also one of the rare bright spots in the British Leyland debacle, but unlike many of the company's other products the Range Rover seemed to get almost everything right first time. As a consequence, year by year it continued unchanged and so became a pillar of the British motoring establishment that all patriots could be proud of.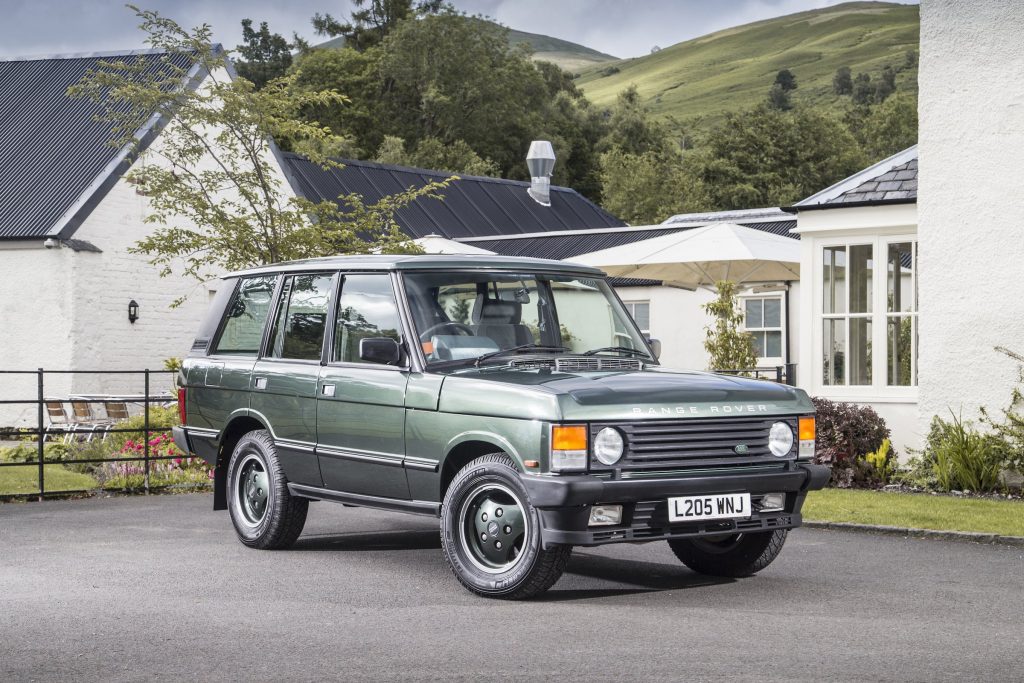 Things got a bit more cushy in the early 1980s. By then, belatedly, there was a four-door option, along with power steering and even an automatic gearbox. And then the Sloane peepers could be made to widen enviously with editions aimed at him, created with Daks on Piccadilly, and her, thanks to a tie-up with Vogue magazine.
The new-decade Range Rover lifestyle, with its air-conditioning, leather upholstery, massive carphones and alloy wheels arrived at precisely the right moment for the 1980s boom in the City of London. That greed-is-good explosion saw bonus-boosted ripples out through Belgravia, Kensington and Fulham, and even over the river to Battersea and Wandsworth.
Range Rovers proliferated like never before, their subtle rural nuances quickly forgotten. The car's new era as a high-riding, high-rolling kerb-vanquisher had arrived. This original Chelsea Tractor became a gleaming, everyday fixture around town, a worn-out Barbour jacket no longer de rigeur draped over the passenger's seat.
Probably the best-loved part of it was not its epic four-wheel drive manoeuvrability any longer but its two-piece tailgate, the lower, drop-down section of which now became the picnic table of choice at social events like polo matches and race meetings.
If, as I suspect, all Sloanes secretly desired the original Range Rover, an awful lot of them would have been diverted by the Land Rover Discovery of 1989. It was loads cheaper, did all the same things, had a Conran interior, and overall was a lot less precious. And after that, of course, the SUV market exploded and the Range Rover lost its exalted position as a unique top people's car. Any number of subsequent vehicles will have suited Sloane Ranger offspring very well without any sort of stigma bothering them. We live, after all, in an era when even Hunter wellies are now made in China. What is the world coming to?
Read more
Handbook Of Sloane Ranger Cars: Ford Escort MkIII
Driving the Kingsley KR Series, a restomod Range Rover
Future Classic: Range Rover Evoque