If there's one constant in this world, it's that hindsight makes fools of us all. Not a year goes past without some big cosmic "I told you so" rendering previous predictions null and void, and the classic car hobby is particularly adept at challenging our assumptions.
Take Hagerty's Festival of the Unexceptional: A show dedicated to cars that, a decade or two ago, you'd have sworn would never attract an enthusiast following. Cars like the Austin Allegro were (often quite rightly) maligned from new, yet today seem genuinely interesting and offer a driving experience just as intriguing as any number of more conventional classics.
How much is your car to insure? Find out in four easy steps.
Get a quote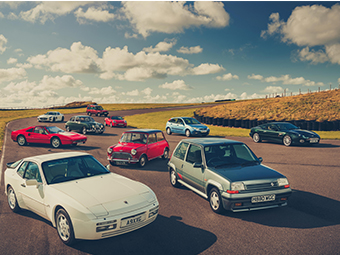 So when received wisdom tells us that the current crop of SUV-style family cars (crossovers, soft-roaders, faux-by-fours, whatever you wish to call them) will never be appreciated as classics, there should ideally be a nagging voice in the back of your head reminding you that you probably heard exactly the same about the Allegro a decade or two ago.
Still, while we've little doubt you'll see a Nissan Juke or two at the Festival of the Unexceptional in the 2040s despite the malaise it causes today, some crossovers have a helping hand, through their badge, prestige, their style, and their popularity: enter the Range Rover Evoque.
The cachet of its badge has never been in doubt. A Land Rover emblem speaks of adventure and utility and forging through the wilderness, while Range Rover is recognised for its luxury. This most fashionable of Land Rover products will still venture further off the beaten track than most conventional cars (even though, like a supercar's 200mph top speed, you're unlikely to take it there), while on the road it has enough in common with the full-size Rangie to justify its billing.
Even in convertible form. Your author was fortunate/unlucky enough (delete as appropriate) to attend the launch of the Evoque Convertible back in the day. The setting was amazing, deep in the Alps at some beautiful ski resort or other, where hotel room heating massively overcompensates for the outside weather. (I've always been curious why they do this. Like your mother used to say of putting on a coat before you leave the house, you won't feel the benefit.)
The car was bright orange, presumably to help identify us when stuck in a drift, and its roof spent most of the time firmly down. Despite looking like we'd tumbled down to the Alps via rabbit hole from Islington, the Evoque had absolutely no problem dispatching Land Rover's special snowy assault course, and while teetering on opposing wheels, the chassis remained stiff enough to easily open and close the doors.
The three-door has to be the shoo-in for classic status though. It's closest to the original LRX concept that previewed the Evoque back in 2008, is less busy visually than the more practical five-door, and not as polarising as a bright orange metallic convertible. It's also relatively rare, since family buyers tended to opt for the more-door version, and since the original Range Rover also only had one door on each side, you can play the heritage angle too.
For better or worse, the Evoque has also been the car with perhaps the greatest influence over the direction of the Range Rover brand over the past decade. Most current Rangies now feature styling cues first seen on the Evoque, such as the slim light units, swept-back grille, and rising window line.
The Evoque was instrumental in broadening the brand's appeal. Remember how the original Audi TT turned what was quite a geeky, engineering-led brand into a fashionable one overnight? The Evoque, with its boutique styling and tie-ins with the likes of Victoria Beckham did similar for Range Rover; in 2021 you're less likely to find its owner shooting at a grouse in the countryside, than dipping one in celeriac purée at a trendy celebrity-owned restaurant.
There are really only two factors to the Evoque that make us pause in declaring it a future classic. The first is that, while perfectly competent, it's a bit… well, celeriac purée to drive. Step into a 2011 Evoque and it'll feel little different to a new one, or indeed any other crossover of the past decade. All are powered by four-cylinder engines (a brisk but dull petrol and some grumbly diesels in various states of tune), feature light and easy controls, and sit you relatively, but not commandingly high. The right trim options can enliven the pillbox-like cabin, but don't expect a knockout drive.
The other is more philosophical, and that's how raised vehicles like this might be seen by future generations of enthusiasts turned off the idea of excessive and conspicuous consumption. A classic buyer in ten or twenty years might be inclined to go for a weekend blast in a sprightly Smart Roadster, engaging Ford Puma or even a comfy Austin Allegro, but will style and prestige alone be enough for people to covet the Evoque?
The only real answer is to wait a decade or two and see whether hindsight proves us all wrong…
Read more
Future Classic: Fiat Panda 4×4 MkIII
Driving the Kingsley KR Series, a restomod Range Rover
Invest in British beef with this Land Rover Discovery V8