When it comes to collecting imported cars from Japan, few car enthusiasts in the US can challenge Gary Duncan. His collection includes oddities like a Mitsuoka, many Nissan Figaros and S-Cargo vans, hot cars like the Skyline GT-R, RX-7 and Prelude, a Honda Accord Aerodeck, an MG RV8, Renault Alpine GTA, and soooo many other Japanese Domestic Market vehicles that Duncan's warehouse could pass for a used car supermarket. Down the road a piece, there are Volkswagen Vanagons – that's T25 to the Brits – as far as the eye can see. Just another day in the life of Barn Find Hunter's Tom Cotter.
Cotter begins his Virginia adventure at Duncan Imports and Classic Cars in Christiansburg, where he gets reacquainted with Gary Duncan, who has imported 4000 right-hand-drive JDM cars to America, since 2016. The two met at the SEMA car show (Specialty Equipment Market Association) five or six years ago, and Cotter kept Duncan's contact information in case the Barn Find Hunter team was in the area. Today is the day.
How much is your car to insure? Find out in four easy steps.
Get a quote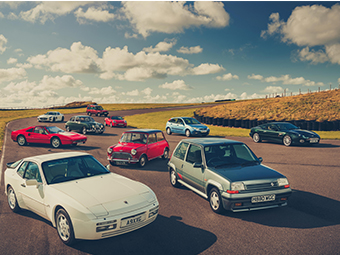 Duncan says he's been a lifelong car guy. He jokes, "I've got a PHD—Papa Had a Dealership."
Among the JDMs that catch Tom's eye is an MGB RV8. Say what? Isn't that British? And isn't that a four-cylinder car? Not this one. Built using heritage bodyshells, between 1992 and 1995, the RV8 is powered by a 3.9-litre Rover V8 with Buick origins and was available only in the UK and Japan.
There's also a 1971 Toyota Crown that was released when Japanese automakers were trying to break into the US market. "The front end is about half-ugly," Duncan says, "but it's unique."
After checking out a pair of elaborate – and we mean elaborate – Japanese hearses, Gary shows Tom a 1996 Mitsuoka Galue, built on Nissan running gear but made to look like a Rolls-Royce. There's also an all-original 1970 Datsun 240Z, a '72 Honda N600 (purchased new for $1648 – about $11,335 today), and a rare Honda Accord Aeroback, which Tom describes as a "mini sport wagon."
And it gets better …
Duncan welcomes us into the "Figaro Room," which is filled with dozens of 1989 Nissan Figaro compact cars, a one-year-only JDM that Gary saw at the Tokyo Motor Show when they were new. "We knew it was a winner," he says, "but we couldn't bring 'em in for 25 years."
He never forgot the attractive little cars, so as soon as the 25-year embargo was lifted, Duncan immediately went to work. Only 20,000 Figaros were built – "in four colours for four seasons," Gary says – all powered by a 987cc turbo diesel engine that generate 75 horsepower. Potential buyers can purchase one from Duncan Imports for $9000–$25,000.
Oh, there's more. The Nissan S-Cargo – which, if you hadn't figured out yet, looks like a snail – was also rolled out in 1989, and Duncan has some of those too.
The oldest JDM on the property is a 1937 Datsun, plus there are some that appear older than they are – Cotter says the 1983 Mitsubishi Jeeps available at Duncan Imports look like Willys Jeeps from the 1950s. Nearby is one of the most popular JDMs, is a 1996 Nissan Skyline GT-R.
If you love Japanese cars, this is the place. "I think I need treatment," Duncan jokes.
The same could be said for "Kevin," a Volkswagen Vanagon (T25) collector from Polaski, just 25 miles away.
"(That) was a different kind of Barn Find Hunter stop, but it's worthwhile …," Cotter says as he leaves Duncan Imports. "Now it's on to a dirtier, grittier location that you're familiar with."
That would be a couple of huge lots filled with 1980s–90s Vanagons. Tom is met by the owner's representative, Adam, who explains how the collection came to be. "Kevin started grabbing them when steel prices went through the roof and people started scrapping cars like crazy. His goal was to save 'em." And save 'em he did – traveling from Maine to Florida and buying up as many Vanagons as he could find.
He now owns more than 300, and you'll find everything from fully stock models to custom "shorties."
It's been a Tom Cotter kind of day. "I've been Volkswagen conscious my whole life," he says, "(and) this is one of the most amazing Volkswagen collections I've seen."
Happy hunting.
Watch more
5 Rolls-Royces found in the mountains | Barn Find Hunter
Volkswagen T25 video: "You'd make memories in it" | Hagerty UK Bull Market List
The Lotus Elise is unlike any other car ever made | Revelations with Jason Cammisa