Price: £3495
Mileage: 66,000
Condition: Turismo Unexcepzionale
Seller: eBay
Some of you will cry foul on us picking an Alfa Romeo for this week's unexceptional classified. Particularly one wearing the coveted Turismo internazionale badge, second only to the Quadrifoglio verde in Alfa folklore.
How much is your car to insure? Find out in four easy steps.
Get a quote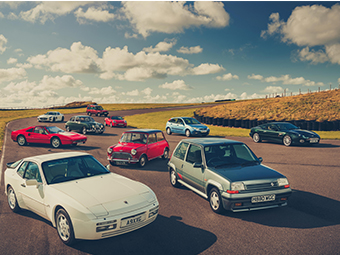 And it's true that even the humblest Alfa usually has something about it. The Alfa Romeo 33 Ti you see here, for instance, still has an interesting flat-four engine and that wedgy, 75-like styling (with a spoiler!), and you'd still be welcomed with open arms into Alfa Romeo Owners Club events alongside SZs and Montreals.
Take away the badge though, and the mystique that comes with it, and we reckon that Arna aside few Alfas are better qualified for the cause. Look at it rationally and this 33 is a turn-of-the-90s hatchback in light metallic gold, with unpainted bumpers, grey cloth trim and (despite the Ti badges), a set of wheel trims rather than alloy wheels. Close your eyes and we could be talking about an Austin Maestro.
It's also a rare survivor, always a draw with cars like this, having come from the collection of a gentleman who has since passed away. With around 66,000 miles on the clock it's in that sweet spot of having been used, but not been driven into the ground – backed up by both a few dents here and there, and the presence of, according to the seller, a fully documented service history.
Given the 33's final facelift arrived in 1990, this car distinguishes itself as a very late series 2 variant despite its 1990 registration date. The 1.5-litre engine found here wasn't the most potent in the range (Ti badge or not), its 103bhp falling short of a 117bhp 1.7-litre also offered, but while performance was never a 33 strong suit, the sound, smoothness and character of the boxer four was always a draw.
Contemporary reviews of the 33 were mixed. It had the misfortune of attempting to replace the much-loved Alfasud, but without any significant technological advancements. The 33 was better built, marginally less likely to rust and undoubtedly safer and better-equipped than the Sud, but also heavier, losing some of its predecessor's legendary agility in the process.
What the 33 did do was sell. Again, not quite to the same extent as the million-selling Sud, but you'll find the 33 in second place ahead of the pretty 156 (and you can have that answer in our most recent quiz for free). No entry-level Alfa sold since has quite hit the same heights, making it even more of a shame how few 33s have survived.
Buy this one though, and you can at least be part of the small band of enthusiasts keeping 33s alive. Better still, you'll be one of very few Alfa Romeo owners indeed as welcome at the Festival of the Unexceptional as you would be at AROC meetings.
Read more
Every day is the Mille Miglia with this Alfa Romeo roadster
2021 Festival of the Unexceptional mega gallery – with videos!
Your Classics: Matthew Lange and his Ferrari Daytona