Price: £6695
Year: 1981
Mileage: 14000
Condition: Unrepeatable
Seller: eBay (Now sold)
The Morris Marina is 50 years old in April 2021. Yet many struggle to see the Marina as a classic car, even after the destruction of nine examples by Clarkson and his cronies in the name of entertainment and the outrage generated by this in the classic car scene.
How much is your car to insure? Find out in four easy steps.
Get a quote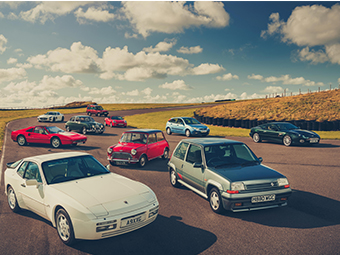 The Festival of the Unexceptional wouldn't be the Festival without at least one Marina. And we'd rather like to see this Marina in particular in attendance because it has an interesting tale to tell. Beneath its Vermilion paint and trinketry, it's a 1300L MK3, one of the last Marinas before the final facelift into the Ital.
Allegedly it was one of a batch built in left hand drive for Iran, which were cancelled before they left the UK – and this was one of the final batches of Morris Marina production, making this an incredibly late example. The majority were converted to RHD and sold, this one escaped that fate by chance as part of a handful. The fact it was left hand drive made it unusual, and its subsequent owners have cherished and cosseted it.
At the age of forty, it's done just 14,000 miles. It's been known to the Marina club for over a decade, and sources within the club have described its condition as "stunning".
There's work to do if you wished to return it to factory condition – it's on period Weller wheels, has a MK1 grille, the wrong carbs, non standard exhaust, upgraded HL style instrumentation and a few other features personalising it to the previous keeper's taste. But they're all reversible, and at the end of it you'd have a charming, perfect, late survivor of a much maligned model.
Early Morris Marinas are all the rage but a well preserved late car like this is even more appropriate as a Festival of the Unexceptional attendee. According to the listing on eBay the car has already sold – and we'd love to see it there with its next owner.
Read more
Unexceptional Classifieds: Renault 15 GTL
Unexceptional classics: Executive car edition
Unexceptional Classifieds: Mercedes-Benz C180