Price: £1995
Mileage: 39,000
Condition: A testament to Japanese reliability
Seller: eBay
If your automotive sphere is limited largely to the UK market it might have escaped your notice that Daihatsu is very much alive and well. While the brand withdrew from the UK in 2011, sales of the Toyota subsidiary remain strong in its native Japan.
How much is your car to insure? Find out in four easy steps.
Get a quote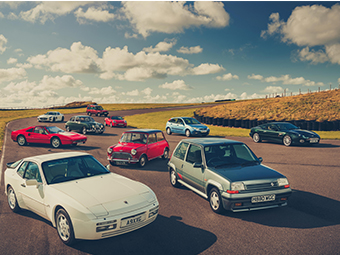 The maker's contemporary range is gloriously whimsical, full of upright kei-classic city cars with names like Tanto, Taft and Mira Tocot, plus a few larger Toyota-based vehicles and the obligatory commercial models. If you ever get a moment and have a browser capable of translation, looking around its website is a fun way to while away a few minutes.
We only ever got brief flashes of this kind of silliness in the UK. The Copen sports car, for instance with its shrunken-TT styling and folding hard top, or the Terios 4×4, which looked like a Land Cruiser accidentally put through a hot wash. Most of the Daihatsus that reached our shores though were more like the 1994 Daihatsu Charade you see here: distinctly unexceptional.
The Charade was Daihatu's entry into the competitive supermini market, and it's not difficult to see why it wasn't a common sight even new. You could have used it to illustrate "supermini" in the dictionary, so generic was its styling, lacking even the Countach-style bevelled wheel arches of its predecessor.
Perhaps a genuinely hot one might have given it an image boost. The Japanese market got close, with the 122bhp Charade De Tomaso – there are actually a couple of those on eBay at the moment, too – but the UK's GTi offered only 104bhp. A competent chassis couldn't quite distinguish it in a class with rivals like the Peugeot 106 Rallye, Saxo VTR or the turbocharged Punto GT, among others.
But none of those would see you slip through the gates at this year's Festival of the Unexceptional, which is where our 1994 find comes in. If you were to choose an appropriately unexceptional spec, this would be it: standard-fit 1.3-litre four, an automatic transmission, a five-door body in refrigerator-white paintwork everywhere but the bumpers, and an interior devoid of colour.
As an early car (the fourth-generation Charade debuted in 1993) it lacks even the 1996 facelift's grinning grille. But it does have only 39,000 miles on the clock, and an MOT ticket that runs until November. That followed a bit of a gap since its last pass in 2018 (which had a fairly long list of advisories), but the latest pass is clean, and we've no doubt the car would benefit from some use.
And Festival attendees love an absent brand. Last year's winner, a Proton, was just such a car, and BL's numerous now-defunct offshoots are consistent favourites. When you bring along a car like this Daihatsu Charade, you're saving memories of the brand itself, as well as just an unexceptional car. And we rather like that.
Read more
Unexceptional Classifieds: Honda Civic coupé
My unexceptional story
Can you master our Japanese car quiz?