They say you should never do it, but I often have – buy a car from a friend or neighbour, that is. If anything goes wrong then the resulting blame-game means your relationship could be shattered, or you and the couple next door-but-one end up blanking each other forever more.
Far more likely, however, is that the set of keys you exchange opens up a car whose provenance is spotlessly honest. That's rarely the feeling you get when you enter the fuggy Portakabin of a second-hand car lot. Plus, whenever I've bought cars from pals or contacts, I'm usually doing them a favour because they want to get shot with minimum hassle. A mate's rate is usually guaranteed, and absolutely no days are spent traipsing around dealers.
How much is your car to insure? Find out in four easy steps.
Get a quote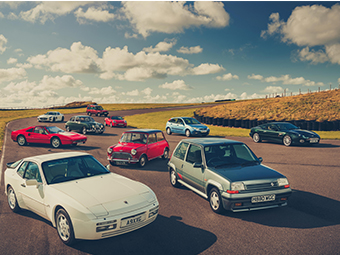 In the summer of 2002 I found myself sipping cold wine in a neighbour's garden, a cricketball's throw from The Oval, when the talk turned to selling her Mercedes A-Class. Almost on impulse I think I perked up and said I'd be interested. Apart from a few wavy keyings in the paintwork from south London's premier vandals, it looked as good as the day it arrived brand new.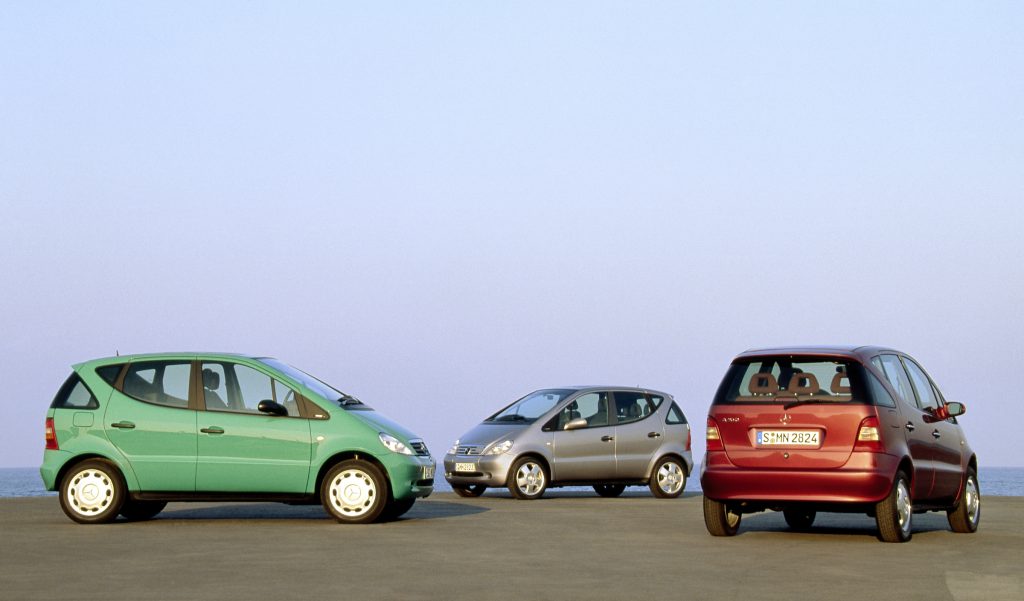 Nancy topped my glass up generously, and grinned. There was absolutely no way, she said, that she'd even consider selling it to me, such was its dog status. She and the dealer were no longer on speaking terms because every time the car went in to have a mystery malady fixed, it came back with another one. Threats of legal action on official notepaper were now the way the car remained roadworthy. What were the issues, I asked. "I don't want to discuss it but you're not having it," she almost shouted.
Of course you'd expect the arrival of a brand new Merc to be a joyous occasion, but it seems the original A-Class, introduced in 1997, was a bitter betrayal of that prospect. A nadir with a big, three-pointed star on its scrunched-up frontage. I never did lumber myself with one, thank goodness, and since then I've talked to several garage owners who dislike the first A-Class with a vehemence totally at odds with its premium status.
The iceberg of woes was tipped with keyfobs and alarm systems that didn't work. Moving down to terrible wipers (and no repositioning for right-hand drive) that required a total recall in 2005, and electronic malfunctions including sunroofs. Suspension, anti-roll bars, steering and fuel pipes all have reported issues. And right down at the frozen fundamentals level are infamous problems with diesel ignition and faulty transmissions that frequently resulted in a rebuild/replacement bill larger than the value of the rest of the car.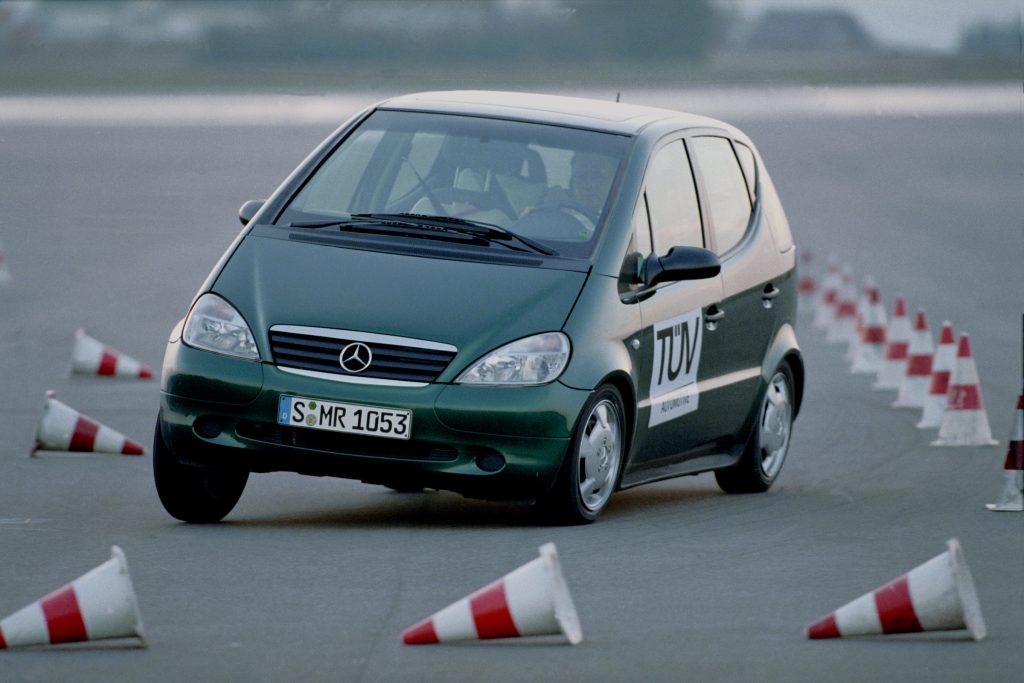 Poor A-Class. It didn't turn out at all well, really. It certainly transformed Mercedes' fortunes. But not in a good way, because the company is said to have lost 2.5bn Euros on the project despite selling 1.1m of them, making it probably the best-selling bad car of all time. And yet with a delicious irony, its litany of misbehaviours did not include safety. Assuming it could be worked over enough in the service bay so the engine could actually maintain acceleration, the brakes work properly, and the car's vim not be extinguished by driving through a deep puddle (thereby waterboarding the low-hanging power steering pump), the original A-Class would look after you.
Soon after the car was launched, Swedish motoring journalist Robert Collin subjected a box-fresh A-Class to his infamous 'elk test', a swerving avoidance technique on a snowy road, of the sort that reassures a Nordic motorist. The little Mercedes with a wheel at each corner, somersaulted and ended up on its roof. It was a public relations disaster, and with a mere 2500 cars made so far, the A-Class was hastily withdrawn and re-launched three months later with reworked suspension and an electronic stability control package expensively installed. The steering and ride quality would forever thereafter be criticised as well below par, but it would take a Hollywood stunt driver to then unseat its Stonehenge-like plantedness, and there weren't many of those among the wealthy retirees likely to shell out excessively for a downsized Mercedes to suit their downsized lifestyles.
The whole affair was a major embarrassment for Mercedes-Benz – which, remember, had hoped to bring the sparkle of the three-pointed star to a wider audience in the quest for global expansion – but people assumed its remedial action had put its little car back on track. Project W168 was, after all, a revolutionary design, the company's first front-wheel drive offering, its first transversely-mounted engine, its first family supermini. To keep it compact – and it really was tiny, even shorter than the diminutive Ford Ka despite being a tall, five-door hatchback – the four-cylinder power units were mounted low down, almost under the floor, with occupants sitting aloft.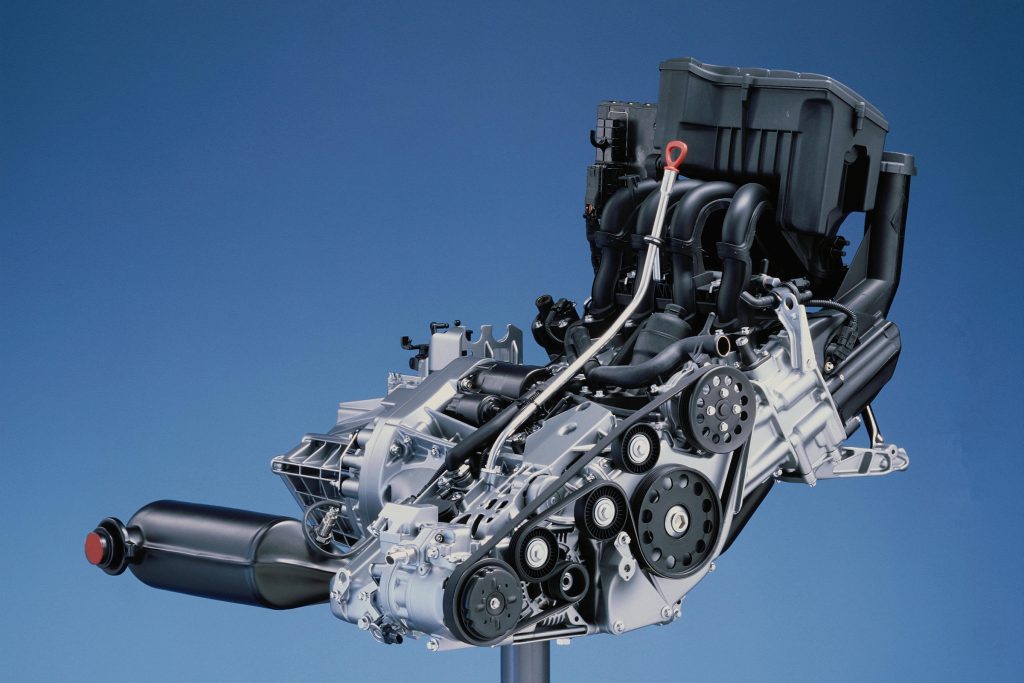 To safeguard the legendary Merc reputation for safety innovation, the A-Class platform design was in the form of a 'sandwich' so that, in the event of a severe front-end shunt, the engine and transmission would be pushed under the car, rather than intrude into the cabin and crush the driver's legs.
In 2001, the company also offered a long-wheelbase model with a stretch of 5.7in to provide more rear passenger space.
Overall, the A-Class scored highly for its interior and fuel economy, less well for driving pleasure. In isolation, the brand new 1.6-litre, four-cylinder engine was, according to Autocar '…a triumph, combining refinement, performance and economy'. And well it should have been because the A-Class was very expensive, a basic A160 costing a hefty £15,490 in June 1998. When a 2.1-litre A210 was added in 2002, it commanded £18,990, even if it did twin 127mph with 35mpg.
By then, though, it was that lovely summer day I recalled earlier, and the A-Class's guilty secret was being cruelly exposed: it was riddled with problems. And it does seem that they were the direct result of a sort of corporate hubris that erupted in the early 1990s. Suddenly dissatisfied with building expensive, high-quality cars like the S-Class that their owners loved and raking in steady but unspectacular profits, the bullish executives in charge decided they wanted to massacre the Volkswagen Golf in order to boost the bottom line. Some say this trashed a gentleman's agreement between Mercedes and VW not to tread on each other's toes. Hearsay or not, it now seems evident that in order to design a new car from scratch, the painstaking evolution that underpinned Mercedes saloons was too expensive. The cheapened, fast-track development only showed up later in all the exasperating, unexpected faults.
This is all more than a quarter of a century ago now. Successive A-Class generations have redeemed themselves, and any of the first versions still on British roads speak volumes about longevity, or else they've had tens of thousands of pounds lavished on them in a kind of illogical devotion.
The A-Class's baby buggy proportions, container-ship driving position, and super-versatile interior make it a car likely to engender curiosity in it as a bizarre period piece. Perhaps it's still too unusual to qualify for Festival Of The Unexceptional entry, although I'm sure the eligibility panel would consider one.
You might be interested to know that, a week after I lucked-out by not buying Nancy's A-Class, I bought a different car from a different neighbour, Eirlys; her Golf MkIII 1.4, boring but absolutely brilliant. And we still exchange Christmas cards.
Read more
W116: Driving the Mercedes S-class that defined the luxury car
Vision Thing: The apples that fall far from the tree
Freeze Frame: Smart start as Mercedes shows city car duo