Plenty of barn finds claim spectacular significance, but few boast provenance like this Porsche 901 – officially the final 901 built before naming switched to 911. It has been transformed from basket case to museum piece by Porsche itself and, as well as laying claim to being the last 901, it's also the earliest factory-owned example of a… well, let's call it a Porsche 2+2, rear-engined, flat-six sports car.
As the Porsche 911 turns 60, we're getting the inside story on this early example's creation and restoration before jumping behind the wheel.
901, then. When Porsche replaced the 356 with what would become the 911, the new sports car was initially called 901. It appeared at the Frankfurt motor show in September 1963 marketed as such, and 901 badging is clearly visible in period brochures.
But shortly after the 901's appearance at the Paris Salon in October 1964, Peugeot objected on the grounds it had been inserting a zero between two other numbers since the 201 of 1929. Series production of the new sports car had already begun, but Porsche acquiesced and the cars that were built as 901s were officially delivered as 911s.
"On October 22, 1964, Ferry Porsche said 'call it 911' and this car was the last of three cars built that day, of 55 cars built in total to that point," explains Alexander Klein, manager of the Porsche Museum's classic car collection.
How much is your car to insure? Find out in four easy steps.
Get a quote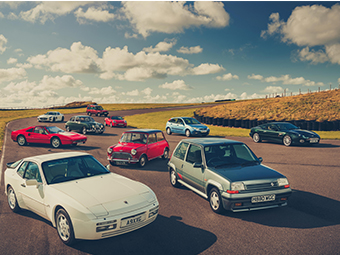 There are no differences between a 901 and a 911 produced on 23rd October, but 901s have numerous detail differences that were quickly phased out as production ramped up – think more fuzzy boundary than hard cut-off.
After being delivered on 27 November 1964, this final 901 was lost to Porsche for half a century, until researchers from German reality TV series Tröedeltrupp – literally Junk Troop – contacted Klein. A man named Bernd Ibold had been in touch with the show, asking if it might help him offload two old 911s, one red, the other gold. He was in his 70s, still lived in his native East Germany, and had owned both cars for years.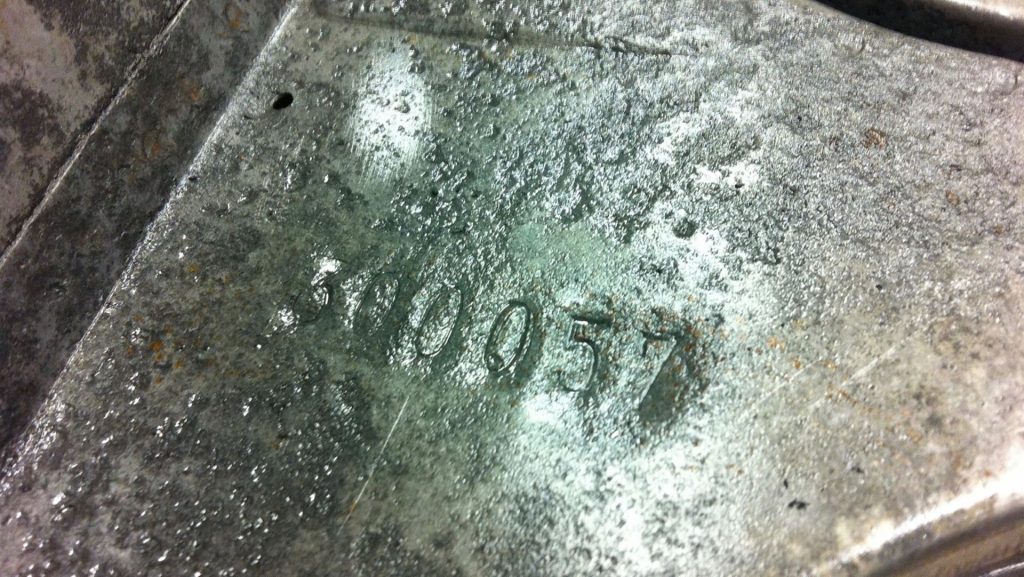 "I asked the researchers for the VINs, and when they said '300057' for the red car, I knew this was a very, very early car," beams Klein. "I asked them if they were sure, and they read it again – '300057' – so two of my team went to view both cars in a barn in Brandenburg, near Berlin."
Why is the 55th car's VIN suffixed with a 57? Because, explains Klein, cars weren't built sequentially, but rather in batches according to colour. Perhaps more perplexingly, even some of Porsche's official online content still lists total 901 production at 82 units, though Klein assures me this is an error carried over from an older book, where a record was misinterpreted and early 911 builds added to total 901 production.
The VIN, plus numbers on the dashboard and even notes in chalk hidden inside door panels, helped confirm the 901 really was an early model. The gold car, meanwhile, was identified as a 1967 L.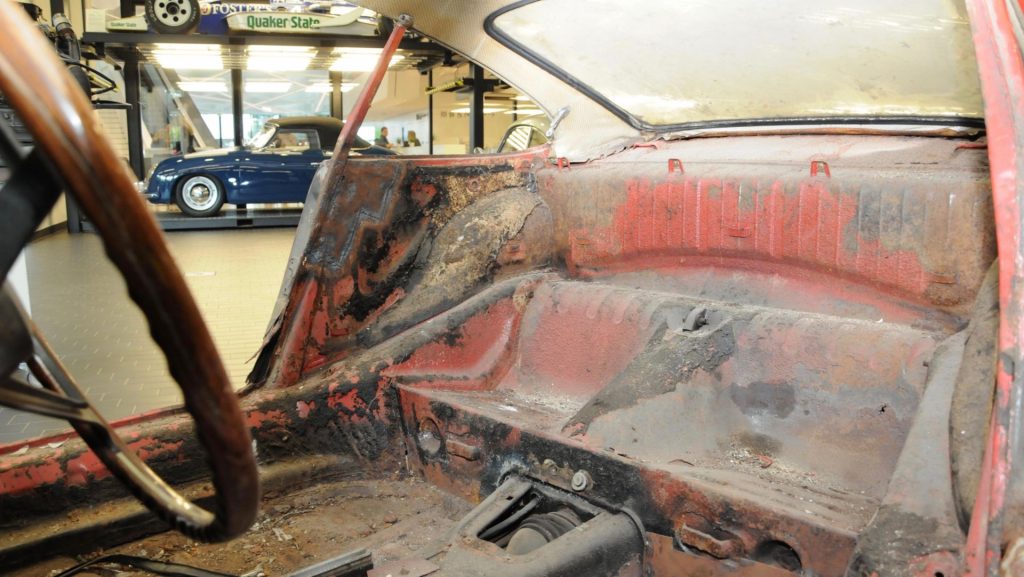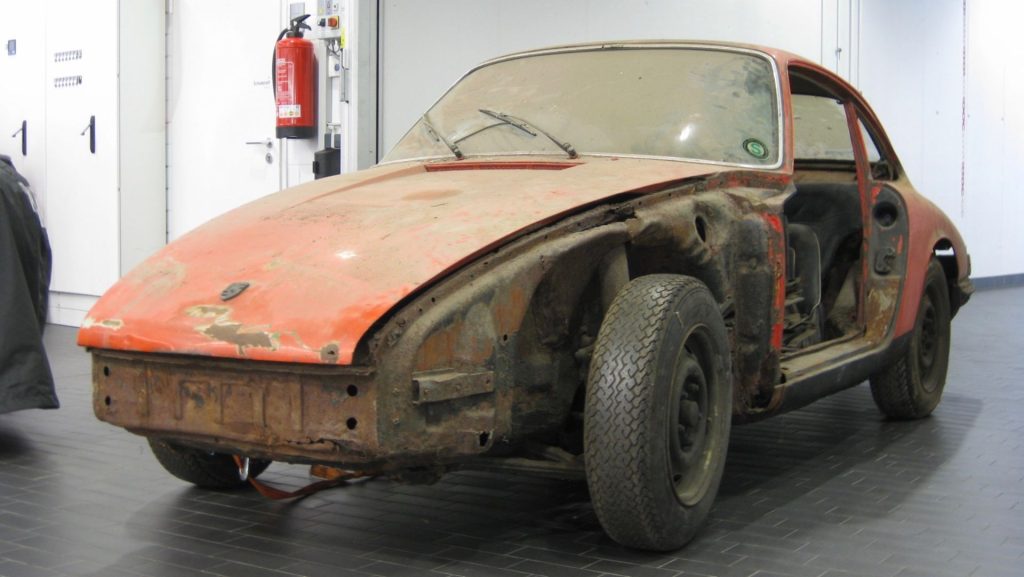 Both cars were in terrible condition, and both were transported back to Stuttgart together with two large crates of spare parts, but the 901 naturally became Porsche's focus. Along with its general neglect and extensive corrosion, missing parts included both front wings, the front bumper, and a vast majority of the interior.
Produced for the German market, this 901 had two former keepers before garage owner Ibold acquired it as a service car for customers. He worked on it himself and improvised repairs when he was unable to source parts in East Germany, until family life saw both the 901 and the 911 (bought as a restoration project, never completed) relegated to the back of the garage.
"We wanted this to be an empathetic restoration to reflect Bernd's time with the car and maintain the unique 901 details," explains Klein. "But in those days, Porsche used to improve car-by-car, they were basically hand-built. There is no period documentation of that, and we had a lot of missing parts, including the engine grille, so we looked at earlier cars and later cars and asked other experts for input because we realise we are not the only ones who know."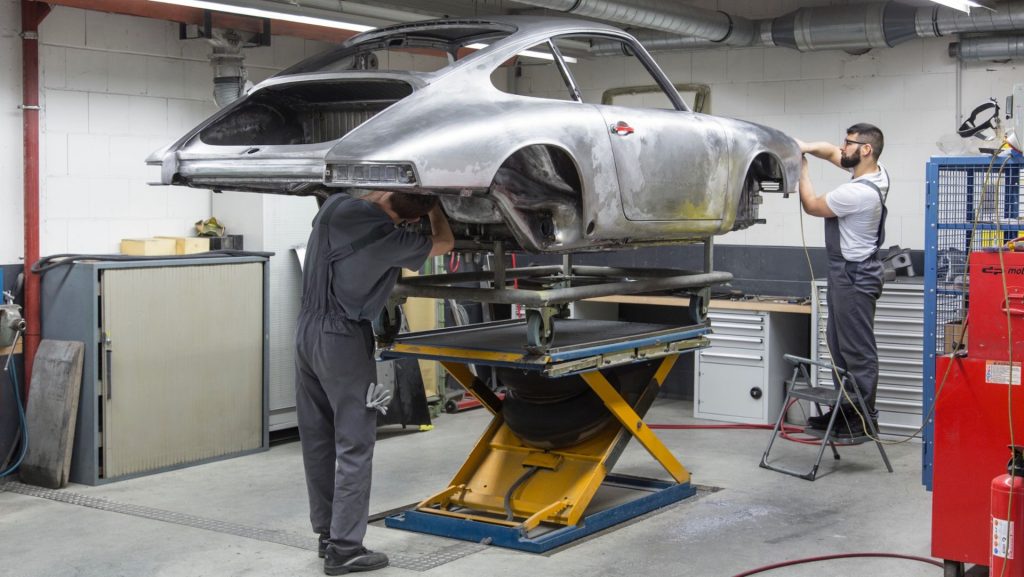 Restoring the 901 without writing over its past was crucial, and this delicate process was managed by Porsche master technician Kuno Werner. The body was stripped and dipped in a chemical bath (gentler than blasting), new metal was let in where required (Werner feared more than half the body was beyond repair, but his initial estimate happily turned out to be pessimistic), and a 1965 donor 911 provided replacement front wings and front bumper, along with additional spare metal.
Finally, the body shell was painted in the original Signal Red with a cathodic dip coating and modern water-based (rather than solvent-based) paint, just like modern 911s. In many ways the 901 is unrecognisable, but telltale clues live on, and even some of Ibold's welding remains visible. The bodywork alone consumed 12 months.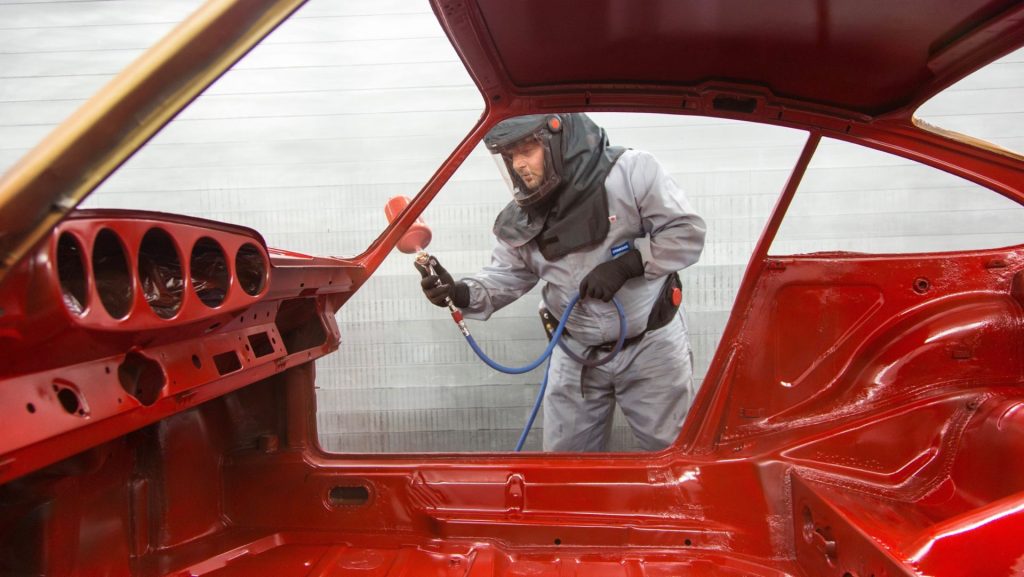 Exterior details versus later 911s are a spotter's dream and include different door handles and release pop-ups, slimmer bumper over-riders, and wheel hub mountings from a 904 race car. Porsche even stuck with the leatherette attached between the body and front wing for authenticity – later cars used more durable rubber, helping to prevent rust. They also tracked down an early engine cover to replace the missing part.
"The cover sat higher than later versions, which were flush with the bodywork and you would hurt your hand washing it, which is maybe why they changed it," explains Klein. "Eventually we found one advertised privately online. We asked the guy to measure it and then we knew it was correct."
Meanwhile, Porsche Classic refreshed the seized engine, which – like the gearbox – was found to be a period-correct replacement, while work progressed on the interior.
The 901's steering wheel, dials, and glass were original, but the otherwise barren interior initially caused much head-scratching, until someone realised the seats in the gold 911 had actually been lifted from the 901 – the giveaway being houndstooth trim comprising six longitudinal strips to later cars' five.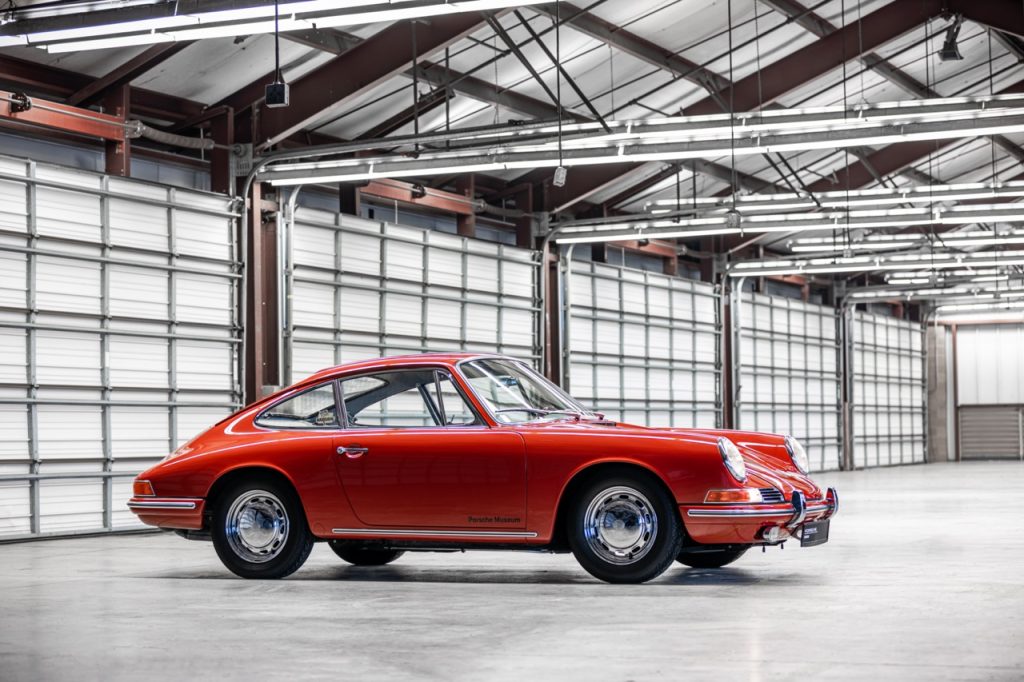 Inside, there are other '901' details too, including an ashtray with a wider central hole for cigars, not cigarettes, and headlining stamped with square perforations, not the diamond pattern adopted soon after (Porsche tracked down the original spiked roller tool to make a replacement headlining).
All in, Porsche quotes a total cost of $250,000 (about £200,000) over three years, which rather focusses the mind before our drive in these less than perfect conditions.
The driver's seat is high-set for a sports car. The aged bolsters easily collapse under my weight, and the steering wheel is large in diameter, with four spokes stretching to the thin wooden rim around the quarter-to-three position. It's easy to overlook the rear-engined layout in a modern 911, because the centre console is so large, but the 901 is strikingly spare ahead of the gear lever, a visual reminder that there's no powertrain up there at all, just like the Beetle.
I twist the key and the flat-six settles to that familiar breathy chatter, before I ease in the friendly clutch, slot first gear (down and left on a dog-leg) and we're away.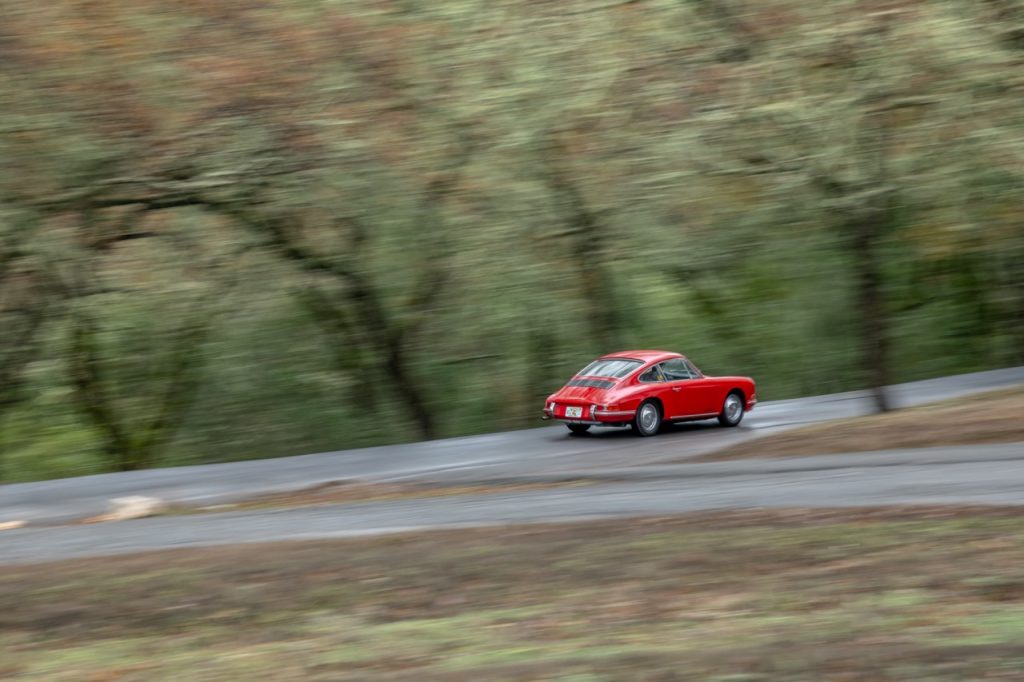 There's just 130bhp and 128lb ft from this early 2.0-litre mill, and although a '60s 911 weighs barely more than a tonne, it doesn't feel particularly peppy on first acquaintance – in fact the 911 switched to shorter ratios from the four-cylinder 912 from July 1965, perking up performance considerably.
Even on this damp day, where a glossy sheen covers the snaking road, it feels improbable I'd unstick the rear tyres simply by flattening the throttle, and I'm rather more likely to find trouble by carrying too much entry-speed. So it's reassuring just how much feedback bubbles through the steering as it gently bobs in my hands, constantly communicating grip. The transparency encourages me to work the 901 harder, to use the revs, and soon the flat-six that felt a little flat soars and rasps towards its 6,200rpm peak of performance. That's more like it.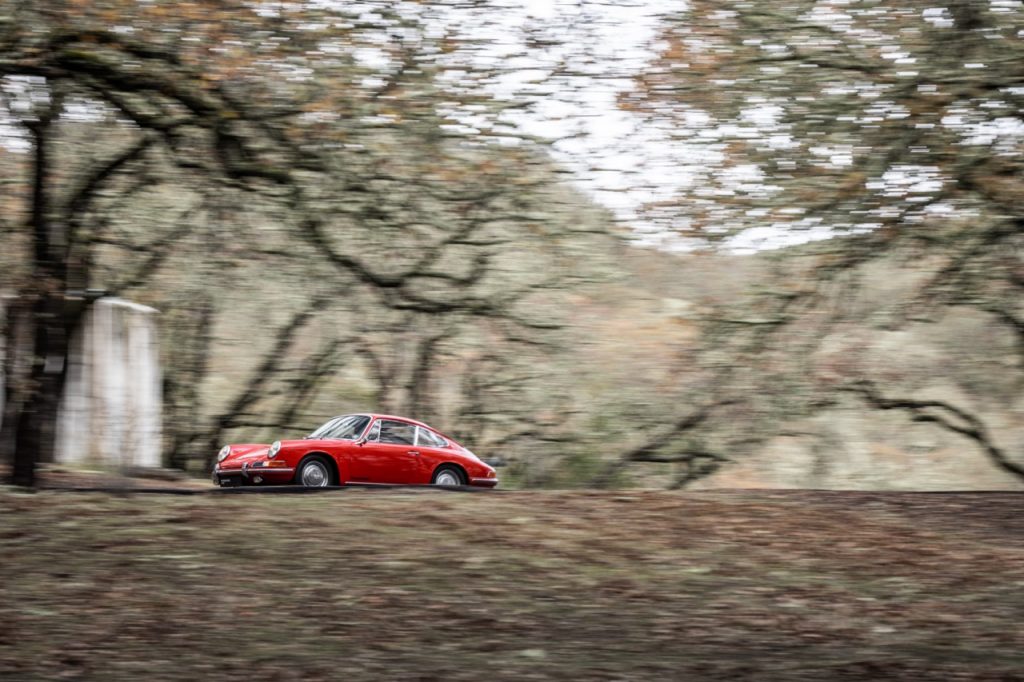 Build more speed and the front feels strikingly light and glides effortlessly for the apex. The sweetness of the turn-in is partly because there's so little mechanical baggage over the front end, but these early 911s also had a wheelbase 57mm shorter than a 1968-on 911, and 165-section 15-inch tyres all-round rather than the staggered tyres that debuted on the '73 RS.
It's a gorgeous thing to flow down a twisty road like this, but as I park up, I wonder if previous owner Bernd Ibold wasn't just a little bittersweet when the car that had languished unloved at the back of his garage for years was not only transformed, but rediscovered as one of the most important Porsche 901/911s of all.
"We invited him to lift the sheet off the finished car in our workshop," reveals Klein. "We were nervous and asked 'do you remember this car?' but Bernd remembered all the details. He was close to tears." He also got to enjoy it again, too, when he co-drove with Tröedeltrupp's presenter, Otto Schulte, on the Hamburg-Berlin Classic rally.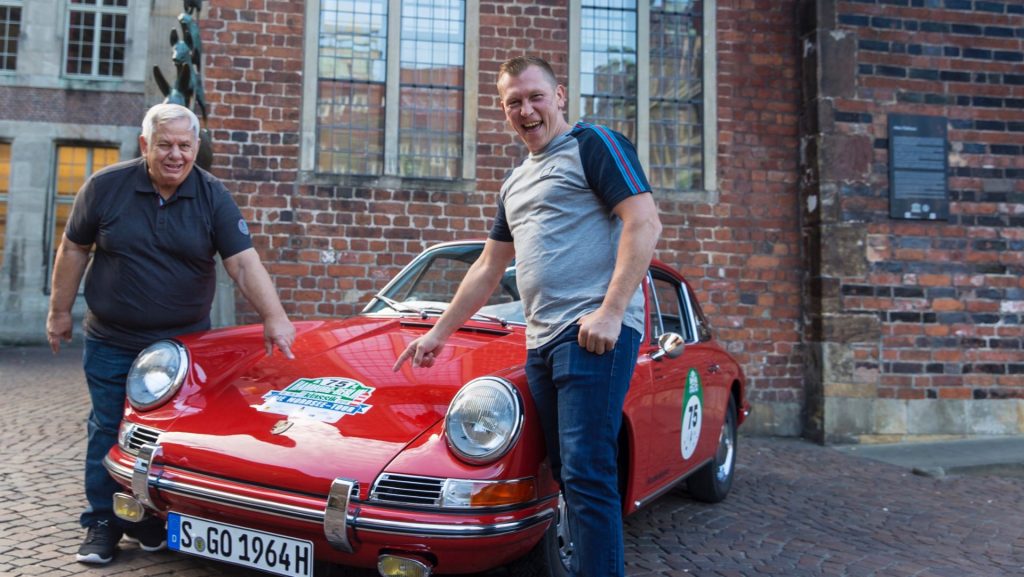 Turns out Bernd did pretty well out of the sale, too, with Porsche seeking the counsel of two independent experts to agree a fair price. "We paid €107,000 for the 901, and €14,500 for the L," explains Klein. "We knew the significance, especially of the 901, so we couldn't rip him off. It was a record for anything sold on the television show."
Old 911s have changed hands for more, but few have provenance like this last 901. As for the gold 911 L, Porsche plans to keep it in bard-find condition forever more.