I have a tendency to form shapes with my mouth but words aren't always forthcoming. I have noticed this happening more and more amid the chaos of what now constitutes modern life, and it is usually triggered by a shock. The latest one occurred about five minutes ago, roughly around the time I learned there was to be yet another marque revival. There have been so many over the past thirty years or so, I thought there couldn't possibly be any left to reheat.
It turns out I was wrong. Now Excalibur – the American brand that helped popularise 'neo-classic' replicas of models like the Mercedes SSK – is to be reanimated. Not only that, it will be reborn in Scotland. Of course. Naturally. I wish those behind the reboot all the luck in the world. I don't wish to be a naysayer, but I will admit to being sceptical because few revivals succeed. I doubt any have ever returned a profit. As for revivals adding further lustre to a brand, I cannot think of many that did – save for perhaps the second coming of Bugatti, Alpine and Lister.
How much is your car to insure? Find out in four easy steps.
Get a quote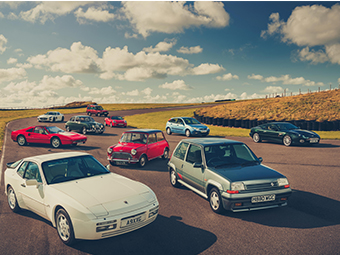 We tend to think of marque revivals as being a relatively recent phenomenon, but they have been around for more than half-century. Legendary designer Virgil Exner, an American who worked with GM and Chrysler amongst others, popularised the movement, if more by happenstance than planning. In 1963, Esquire magazine tasked him with producing a series of renderings outlining how once great but now defunct marques may have evolved stylistically had fate been kinder. This led directly to a commission to turn his ideas for a revived Mercer into something three-dimensional, and in 1965 the Mercer Cobra, often called the 'copper Cobra', was born.
And thus the template was established. In the UK, there have been countless reboots, with marques as diverse as Invicta and Fairthorpe, Allard and Lea-Francis being brought back from the dead, not forgetting Berkeley, Marcos and, more recently, TVR. What's more, a few have escaped the embalming table more that once. Many reboots are driven by an enthusiast's desire to see a marque they love return to prominence. The problem is, such enterprises are usually underfunded and don't factor in trifling details such as a business plan.
Others are a bit more cynical. You want to enter the new car market but you're starting from scratch. There is no brand awareness so an expedient way of obtaining some is to acquire a once well-known but defunct name from yesteryear and 'borrow' its history.
Even then, it helps if you purchase or license the rights to a name that has some resonance in the here and now. Just because a marque such as, say, Borgward was big once doesn't mean its name will carry weight decades down the line. Then there are those that don't even make it past the prospectus stage. Remember the Tyrrell supercar? There's no reason why you should.
So there you have it, a well-reasoned overview of marque revivals and why they invariably fail. Returning to where I came in, I wish those behind the new Excalibur all the luck in the world. I just hope they don't dial down the marque's famed levels of excess and make something sophisticated. Good taste is to be admired, perhaps even envied. Revelling in the bad, however, is much more fun.
Read more
A family affair: Driving the Allard JR continuation car
Opinion: Home or classic car? The housing crisis will affect classics, too
Opinion: What the government doesn't tell you about E10 fuel