This week's Car That Time Forgot isn't about a specific classic, it's about an entire marque that came and went with very few people noticing, at least in the UK. Excalibur was founded by maverick designer Brooks Stevens, who unveiled his first car in 1953. That was the Excalibur J, but it's the Excalibur SS of 1963 for which he is best known; a car that led to a succession of sequels which took the company right into the 21st century. Just about.
Stevens was a designer for Studebaker, and company president Sherwood Egbert asked Stevens to come up with an eye-catching car that the company could put on its motor show stand to get people talking. Stevens came up with the idea of creating a new car with modern running gear, but with the style of a pre-war exotic; specifically the Mercedes-Benz SSK. With a fibreglass body draped over a Studebaker Lark Daytona chassis, the two-seater Studebaker SS roadster made its debut at the 1964 New York Auto Show, where it proved a big hit, with a dozen orders placed.
How much is your car to insure? Find out in four easy steps.
Get a quote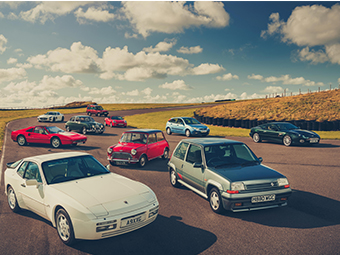 Unfortunately Studebaker's fortunes took a turn for the worse and the company had gone bust by the end of the year. Determined to bring his car to market, Stevens set up his own company in conjunction with his sons William and David. Called SS Automobiles, their sole product was a neo-classic luxury car, called the Excalibur.
Production of the Excalibur started in 1965, initially using a Studebaker Lark chassis and with power (all 300bhp of it) supplied by a 327ci small-block Chevrolet V8, as seen in the contemporary Corvette. With a kerb weight of just a tonne or so, the Excalibur was an impressive performer with its 0-60mph time of around six seconds and a top speed of more than 130mph.
Despite a list price of around $7000 (over $60,000, or £43,000 today), there were enough people wanting to buy an Excalibur for it to be commercially viable. By 1966 Stevens had introduced a four-seat Phaeton alongside the two-seat Roadster, then in 1970 the Excalibur Series II made its debut, with a 350ci Chevrolet V8, disc brakes all round and the wheelbase stretched by a couple of inches (now 111″) to provide more interior space.
Luxury cars didn't have an easy time of it in the seventies, but the Excalibur soldiered on, with a Series III arriving in 1975. This brought an even bigger V8 (now 454ci), and a slightly longer wheelbase (now 112 inches), but essentially the Excalibur looked much like before, which was the biggest part of its appeal to buyers.
Despite Stevens' ambitious pricing, the anachronisms went a little too far in some ways – until 1980, for instance, the Excalibur offered only sidescreens rather than wind-up windows. As the new decade arrived though it brought the Series IV with it, for good and for bad. It featured roll-down windows and a 125-inch wheelbase, but also a 305ci GM V8 rated at just 155bhp. Saddled with a three-speed automatic transmission and a two-tonne kerb weight, the Excalibur was no longer a performance car.
This was the beginning of the end for the Excalibur, which by now was nudging $50,000 without options – an astonishing $165,000, or £119,000 in today's money. Buyers just weren't interested and in 1986 Stevens filed for bankruptcy.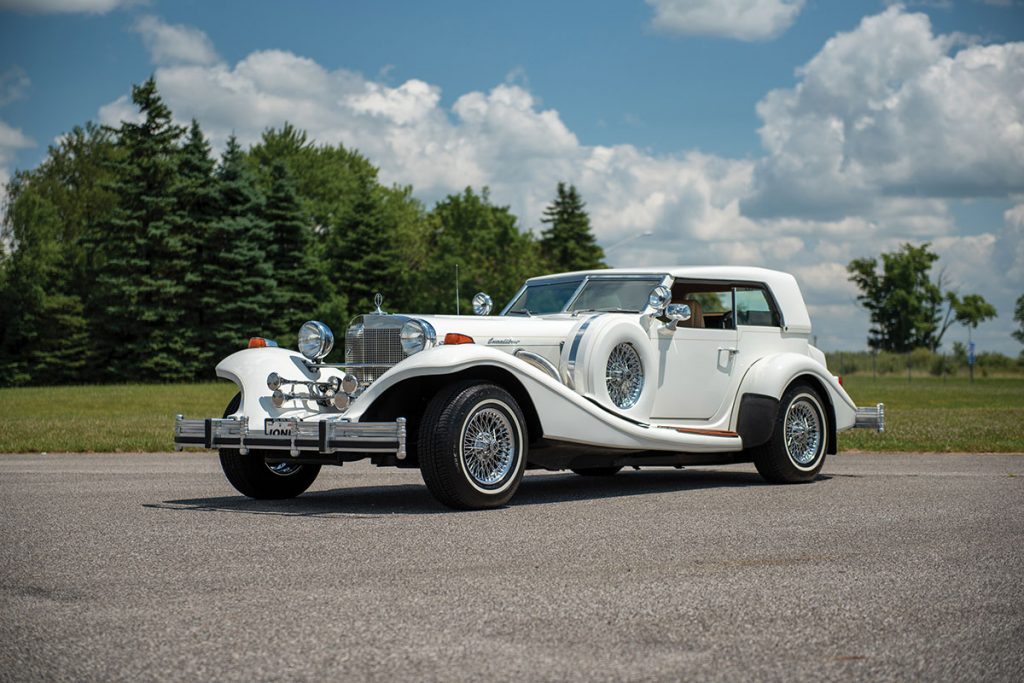 But that wasn't the end as Henry Warner then stepped in. He was president of the Acquisition Company of Wisconsin and in 1987 he created the Excalibur Marketing Corporation to sell the Excalibur Series V. Power once again came from a Chevrolet 350ci V8, but with a list price of $65,650 ($158,000/£114,000 in 2021) sales were hard to come by and by 1990 Warner had thrown in the towel.
The next person to attempt to revive the Excalibur project was Michael Timmer who bought the rights in 1991, but then went bust before he'd made any cars at all. It still wasn't over though, as Udo Geitlinger and his son Jen acquired the rights to build Excaliburs in 1991, and they relaunched the brand three years later, as the Series VI. But by the end of the decade the Geitlingers had also decided to call it a day after around two dozen further cars had been built.
By 2003 the rights for everything Excalibur had passed to Alice Preston, who continues to run the Excalibur Automotive Corporation as part of Wisconsin-based Camelot Classic Cars. It's a small operation that exists to keep as many as possible of the 3500 Excaliburs built on the road. But there are no new Excaliburs on the horizon, and whether or not that's a good thing only you can decide…
Read more
Cars That Time Forgot: Jankel Tempest
The story of Harold Radford, coachbuilder to the rich and famous
Sand storm: The women of speed tackling Pendine Sands in hot rods