Earlier this year, Silverstone Auctions sold a viper green 1972 Porsche 911 2.4S coupe for £144,000. Nothing unusual in that, you may be thinking, but actually it was unusual, as the price achieved was nearly £25,000 more than the Hagerty Price Guide 'Excellent' value of £129,200, the condition our observer had allocated the car. It was in exceptional condition, seemingly benefitting from a comprehensive restoration, and clearly caught the attention of buyers.
A few months previously, Silverstone had auctioned a very similar car. This 2.4S coupe had also appeared to have undergone a seemingly exacting restoration and presented in superb condition in silver paintwork. This time, it only just reached its low estimate, selling for £131,625.
How much is your car to insure? Find out in four easy steps.
Get a quote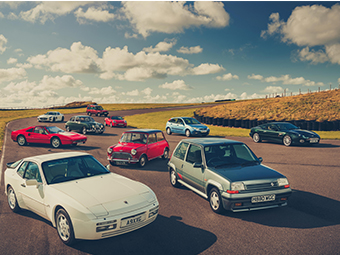 Both cars were outwardly extremely similar. Both were the same generation of 911, both in very similar condition, and both left-hand-drive European models. They sold through the same auction house within a few months of each other, when the market was in a very similar place. So, what made one worth more than £12,000 – 9.4 per cent – over the other?
You could suggest that the colour had a part to play, but as we found out when we analysed the value differences of 911s based on their paintwork, silver is one of the safest resale colours and Viper Green actually put off more people than it attracted, causing an average of -9.6% loss of value. The team at Silverstone appeared to agree, estimating the first to be worth £30,000 less than the second (top estimates £120,000 vs £150,000).
So what made the seemingly less appealing car sell for more? Two words: matching numbers.
Comparing the detail differences between the vehicles' descriptions, the silver car's literature made no mention of matching numbers.
'Matching numbers' is often perceived to be one of those phrases in a car's description that is always a positive thing, but I'm not so sure. It's great if you just want to buy a car, leave it in a garage for a few years then sell it for a profit, but for those of us who want to drive their cars, the fact that your engine is original can cause you unnecessary stress.
Take my lowly Porsche 912 project car that I've written about here. It was only after I bought it and completed some research that I discovered the engine and gearbox were the same ones that were fitted in the factory back in late 1966. As a UK-registered, right-hand drive example it is really quite a rare car, and more than one person has suggested that I should put the original engine on the shelf and buy a replacement to run in it, just in case the original somehow gets wrecked. I'm not doing that, mainly because although rare it's never going to worth a fortune, and also because in my eyes that kind of defeats the object of having an old car: they're supposed to be driven. All of it. Maybe if my car was a 1960s Ferrari that was still raced, I'd have a different opinion, but if I had that sort of money I would still probably take the chance.
The other element to this is that matching numbers encourages you to maintain originality. For me, some of the fun of running an old car has always been to carry out a little of my own maintenance and sometimes add period upgrades. If my 912 engine hadn't been original, I know I would have considered fitting bigger bores and pistons. This isn't a bad thing, but it just adds another constraint on using a car the way you want to.
There's another aspect to this whole matching numbers debate, too: do they match? Take Alfa Romeo for example. Whenever I see an advert for a 1950s to 1970s Alfa stating that its numbers match, I think, 'Really?' Alfa Romeo's own records were notoriously bad, so Luigi Fusi wrote a whole book trying to decipher which chassis numbers were allocated to which cars. Even he didn't bother trying to allocate specific engine numbers, instead providing a range that the engine number fell into. Probably. The best you can say is that it's the correct type of engine.
Then there are pre-war cars. Some of these, like the early MG Midgets, had their engine number stamped on a plate that was riveted on to the engine block. You can see that this isn't exactly hard to replicate, should you wish to. Anything that was raced in that era that still has its original engine probably wasn't trying hard enough.
So, if you're buying a classic car to drive, my advice is to forget the matching numbers, spend the 10% of the purchase price you've saved on something else you love, keep your garage shelves clear of random original engines and go out and drive your car. If it breaks, hey: it's an old car. Fix it. And drive it, again.
Read more
Opinion: Don't let emotions ruin your next car-buying adventure
Opinion: Come on Boris, help the classic car community tear up GDPR red tape
Opinion: Super SUV? Give me a fast estate car any day