If you've ever wanted your car immortalised as a diecast toy, then you might never have a better chance than this October, as Hot Wheels is bringing its Legends Tour to the UK – and searching for one lucky vehicle to reproduce in miniature.
Hot Wheels is on the search for cool custom classics – be it pre-war British hot rods, '70s or '80s restomods, or other suitably eye-catching custom builds, which could be turned into the toy maker's next diecast offering.
How much is your car to insure? Find out in four easy steps.
Get a quote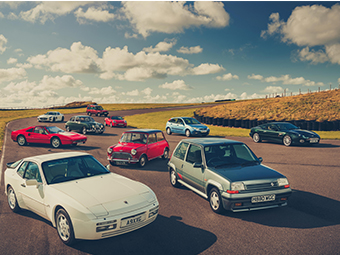 For many of us, magazines, videogames or parents owning something interesting might have been the catalyst for our love of cars, but we'd wager just as many first experienced the thrill of car culture pushing a small diecast car along the carpet as a kid.
The diecast of choice was typically something by Matchbox if you lived in the UK, but in the US it was Hot Wheels, founded in 1968 by Mattel founder Elliot Handler (trivia fans will be aware that Elliot's wife, Ruth, had invented that other midcentury toy icon, Barbie, nine years earlier).
The first batch of vehicles was known as the "Sweet 16" – 16 vehicles that represented car culture at the time, from the brand new 1967 Chevrolet Camaro to several custom shapes, such as the bubble-roofed "Beatnik Bandit", to the sleek Deora, a surfboard-carrying pickup.
Today's range has grown wider than ever before, with Hot Wheels reproducing everything from supercars, through Japanese legends, vehicles from film and TV. Each and every designer is a petrolhead themselves, infusing some of that passion into every diecast – be it a real-world vehicle or a wild custom project.
Some have even customised their real-world cars to look more like the toys, and that's about where this latest endeavour comes in, because if you've got an interesting custom classic – be it pre-war British hot rod, a '70s or '80s restomod, or other suitably eye-catching custom build, then it could be turned into Hot Wheels' next diecast offering.
Hot Wheels is looking for "authenticity, creativity, and garage spirit" – in their words, a car that already looks like a Hot Wheels toy, but also something unlike anything they've done before, and something that show's off the owner's skills as a builder. Otherwise, go nuts – the images on this page will give you some idea of the diversity previous competitions have attracted.
To enter, you can submit a video of your car via the Hot Wheels Legends Tour website, before October 1. A panel of judges including former Jaguar and Aston Martin designer Ian Callum has been drafted in to assess the entries, while the final draw on October 14 will be broadcast live on the Car Throttle YouTube channel.
Read more
It's no wind-up: These 1920s clockwork toys could sell for real-car money
Matchbox launches carbon neutral toy cars
Meteor V12 tank-engined special is just a few tweaks from perfection