Back in the 1960s a pair of enterprising individuals named Paul Jameson and John Dodd created "The Beast", a dramatic custom-made shooting brake powered by a Rolls-Royce Meteor tank engine, and until Rolls-Royce took Dodd to court, it wore a Rolls-Royce grille as well.
It's not the first time we've seen the engine from a tank dropped into a car. Jay Leno's "Blastolene Special" is one such creation, and we've even seen a Meteor-powered Rover SD1, while in March we interviewed Edd Marriott about his 27-litre Minerva Liberty Special. At the same time, they don't come around often – which is why a Meteor-engined special coming up for sale with Bonhams is worthy of our attention.
How much is your car to insure? Find out in four easy steps.
Get a quote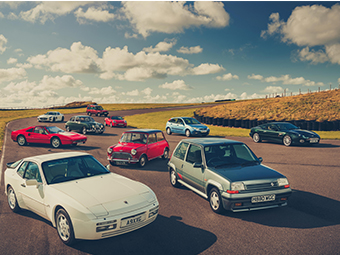 The Meteor, if you're unaware, is effectively an adapted version of the Rolls-Royce Merlin that powered numerous aircraft during the Second World War, the famous Spitfire and Hurricane included.
The 27-litre V12 Meteor was in part an opportunistic creation, making use of still-healthy motors from otherwise damaged aircraft, but it's far from identical, being simpler (without the Merlin's supercharger) and even featuring a crank rotating in the opposite direction to that of the aero engine.
The last were built in 1964, under the Rover brand, but with so many of these long-lived engines still dotted around the country, it's only natural a few might eventually find their way into other applications.
The special you see here dates from 2001. Work first began in Cape Town, South Africa, its Meteor plucked from a Centurion tank in Johannesburg and using a custom-created ladder chassis. A Jaguar XJ12 donated its suspension, brakes and steering, as well as its gearbox, albeit with drag racing internals. The engine mechanicals were rebuilt by Flight Engineers in Leeds in 2016, after the vendor moved back to the UK.
While it was there, they extracted a few figures from the engine, resulting in a useful 631bhp and 1449lb ft of torque. It's perhaps not a long-distance machine, an estimated 5-10mpg on a 25-gallon tank resulting in just 125-250 miles between fills. It's geared for 205mph, though the tyres will only allow 135mph, and your face in the airstream probably less than that.
The bodywork is formed from custom aluminium panels, though there's actually room for a pair of passengers on a bench seat behind the centrally-placed driver. Accessories with the car include a trailer, several spare parts, and even a tool to align the Meteor with its gearbox.
However, it is said to require some further fine tuning to run at its best, though it's already in a driving state. No doubt this will be more involved than say, tweaking the carb on an MGB, but if you're considering a tank-engined car then presumably you're not going into the deal with your eyes closed.
An estimate of £150,000-£200,000 should dissuade any stragglers too, but such a figure will undoubtedly place the buyer on a fairly exclusive list. Perhaps they can swap notes with Jay Leno.
Read more
The five best British machines of all time
This £20m custom Rolls-Royce is perfect for a billionaire's picnic – with Beyoncé and Jay-Z
Cars That Time Forgot: Gaylord Gladiator