There has been a resurgence in popularity recently for beautifully-built and engineered toy cars, from those you can push around a carpet to ones your child can drive around an expansive garden.
A pair of clockwork toys from the 1920s may soon corroborate this interest, as the tinplate Alfa Romeo P2s, each around 50cm long, both wear estimates that would put a pretty nice 1990s Alfa Romeo on the driveway.
How much is your car to insure? Find out in four easy steps.
Get a quote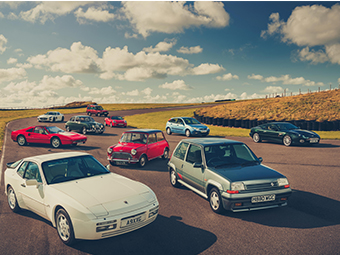 Being sold through Charterhouse on 10 September, the red restored P2 has an estimate of £2000–£4000, while its green unrestored counterpart could fetch £4000–£6000. For some perspective, the former is enough cash to find a concours condition 145 Cloverleaf according to the Hagerty Price Guide, while the latter would get you an excellent example of Alfa's touring car star from the '90s, the 155.
The vanishing rarity of tinplate cars like this pair of Alfas goes some way to explaining their estimated values, and the fact the unrestored model (which is also missing a few parts and has some surface rust and cracked paint) is expected to attain a higher price shows the toy market isn't that dissimilar from 1:1 classics – originality, apparently, is key.
Interestingly, a collection of seven tinplate Alfa Romeo P2 toys sold through Bonhams in 2020 for a remarkable £30,062 including the buyer's premium. Built by the same French company, CIJ Companie, the toys were in various states of repair, so may prove a good indication as to what people might pay for these latest toys.
As for the real racing car, the P2 was one of Alfa's golden-age racers, achieving 15 victories in period between its first appearance in 1924 and its last in 1930. Powered by a two-litre, twin-supercharged straight eight, the P2 made as much as 155bhp and took the 1925 Automobile World Championship title, as well as the 1930 Targa Florion at the hands of Archille Varzi.
No doubt the children who originally owned these clockwork toys in the 1920s and 1930s saw Varzi as something of a hero. And while a modern-classic Alfa Romeo might set you back similar money, it can't quite offer a history like that.
Read more
Every day is the Mille Miglia with this Alfa Romeo roadster
Meet the baby Bugatti tuned to perfection by a Le Mans winner
Matchbox launches carbon neutral toy cars