A new British sports car has been revealed at the Goodwood Festival of Speed, and it might be just the trick for those who thought the all-new Lotus Emira launched the other day was just a touch too luxurious and heavy.
At an estimated 815kg at the kerb, the Wells Vertige is far from being a heffalump, closer to the outgoing Elise than the new Emira, while its technical specification too veers slightly more towards the old-school with a mid-mounted and naturally-aspirated four-cylinder.
How much is your car to insure? Find out in four easy steps.
Get a quote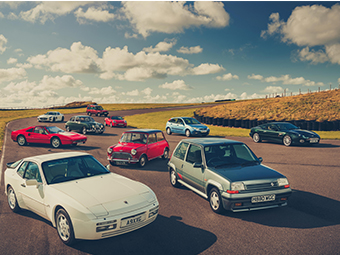 Unlike so many blink-and-you'll-miss-them British sports cars, there are no claims of unseen proprietary technology here – underneath there's a steel central tub, with aluminium floor sections and "composite" body panels – the latter, we're assuming, something a little less flash than carbonfibre.
It comes in at 795kg dry or the aforementioned 815kg kerbweight, but at anything less than a ton it'll be among the lightest sports cars on sale this side of a Seven or Atom. Suspension is double-wishbone all-round and the steering – given the car is so light – is unassisted.
It's also pleasingly small, for those more used to squeezing supercar-sized sports cars between B-road hedges. Wells claims a shoulder-to-shoulder of just 1752mm, which is similar to that of an MX-5, and with the butterfly doors popped that only expands to 1832mm, so garages and car parks should be little bother.
A 3944mm length makes the Vertige a touch longer than the aforementioned Mazda, while a height of 1142mm is a whisker taller than a Caterham with the roof up. So it's a wee thing, despite squeezing a four-cylinder engine and six-speed manual transversely behind the passenger compartment.
It's a 2-litre Duratec unit, equipped with a quartet of Jenvey 45mm throttle bodies. At 208bhp at 7300rpm that's more than 100bhp/litre, and plenty in such a light frame – zero to 60 takes a claimed 4.8sec and there's potential for 140mph flat out.
There's a mix of styles to the car's smooth, 1960s curves. It has that slightly generic look you expect from a small-volume car required to use standardised components like lights, mirrors and wheels, but we're seeing a hint of Wheeler-era TVR to the flanks and the overall look is reminiscent of a few old Ginettas. Stick it on some smaller, less modern wheels with chunkier tyres and you could probably sneak it into an HSCC paddock without too many suspicious glances.
Wells has kept the cabin simple but in images at least it appears nicely-tailored – and the company offers plenty of opportunities to pick your own colours and materials. You'll spot familiar switchgear here and there, but the company says it's got the driving position right, and the basics are there – including an infotainment screen.
The price for all this, at least before you get creative with your own personal Wells Vertige, is £45,000. Close enough to some big-name cars to think twice, but Wells will be banking on the car's simple driver appeal and low production volumes to attract customers – and with big manufacturers shying away from sports cars in ever greater numbers, any new offering is something to celebrate.
Also read
Lotus Emira: Last combustion Lotus takes aim at Cayman
Nine £5000 summer roadsters you can buy today
Still want that supercar? Up close with the new RML Short Wheelbase – the GT inspired by the Ferrari 250 SWB