What do you think of when someone mentions Ray Mallock Limited, today known as the RML Group?
Having grown up through the 1990s, that's an easy one for me: touring cars. RML was behind the preparation of cars as significant as the Vauxhall Cavalier that took John Cleland to his 1995 driver's title and the Nissan Primera that did likewise for Laurent Aiello in 1999. The Vauxhall Astra F2 car campaigned by Mark Higgins and Neil Wearden in the British Rally Championship was something rather special too.
How much is your car to insure? Find out in four easy steps.
Get a quote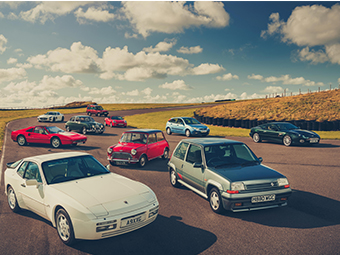 There are numerous other highlights on the CV of RML, including the later SEAT Toledo or Chevrolet Lacetti BTCC cars, the WTCC-winning Lacetti, a spectacular array of endurance racing machines or road cars like the barmy Nissan Juke-R or road-converted Aston Martin Vulcan.
A few of these race and road cars are dotted around RML Group's base in Northamptonshire. The Nio EP9, a Chinese electric supercar, isn't present, but is represented in a photograph above company boss Michael Mallock's desk, and demonstrates the breadth of RML's abilities. As do a few projects we're not allowed to talk about, but they all seem to indicate that a day at RML is nothing if not varied.
The most obvious example of that though is the company's latest project, the RML Short Wheelbase. Not the most evocative of names admittedly, but it only takes a glance of the company's clay styling buck to glean the inspiration: Ferrari's glorious 250 GT short wheelbase from the 1960s.
This isn't the first attempt to recapture the allure of the classic Ferrari in a modern package, but it doesn't take long to realise RML's offering is different from the car being offered by GTO Engineering. Comparison, as well as being the thief of joy, is pointless anyway; it's not difficult to imagine someone in the market for such a thing owning products from both companies, and probably even having an original 250 squirrelled away somewhere too.
Before we delve into the project itself though, there's the premise. This is not a recreation, restomod or continuation car, says Mallock. It's not supposed to be identical to an original 250 GT SWB, rather inspired by it, and inspired by the romance of travel that such cars afforded.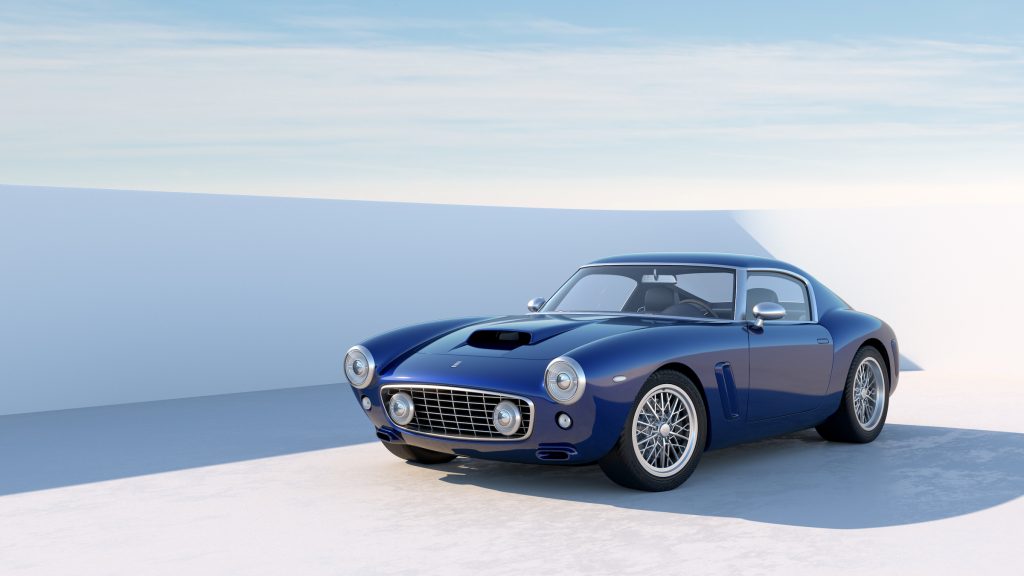 That, and the ability to enjoy the car at sensible, road-going speeds. That's not to say the SWB will be underpowered, but RML spent time deciding on characteristics that would make the car enjoyable and offer strong performance, as well as making it richly interactive. A naturally-aspirated V12 engine, for instance. An open-gate manual gearshift. Modest size and weight, and sensibly-sized wheels and tyres. But also good visibility and long-distance comfort.
It would be possible to create such a thing entirely from scratch, particularly given RML's engineering abilities, but when the ideal platform is already available – and using it cuts through a few layers of red tape – then even better.
That platform is that of the Ferrari 550 Maranello, and the genius in using it should be clear from the outset. It has all the characteristics RML was looking for, and is itself a deeply talented and relatively uncompromised car out of the box.
Not a perfect one, but then that's why Mallock tells us he spent several months driving around in a 550 (it's a tough job, but somebody has to do it) in order to identify both its good qualities, and any bad ones the team wanted to erase.
"We looked at various different donors – from a 456 up to an 812 Superfast, but the 550 had the best mix of characteristics we were looking for. For something like this it needs a very strong engine and gearbox, and having historic links with the brand has some benefits for our customer base.
"We could have developed an engine from the ground up but it didn't make sense from a commercial perspective. Having a proven, well-loved product at the heart of it, you can't really go too far wrong – it's got the right engine, the right gearbox, and the right level of interaction… and it's serviceable by trained Ferrari technicians, too.'
Similarities to the 550 aside, it's still miles away from being a simple rebodying exercise. For a start, every donor car will be stripped down basically to its component parts and rebuilt, both to ensure its quality and longevity, and also to ensure the finished product feels like a fresh new car. Even the fundamental structure will have significant differences (if you'd not gathered already given the shape of it), with an integrated carbon safety structure from the centre of the platform and up.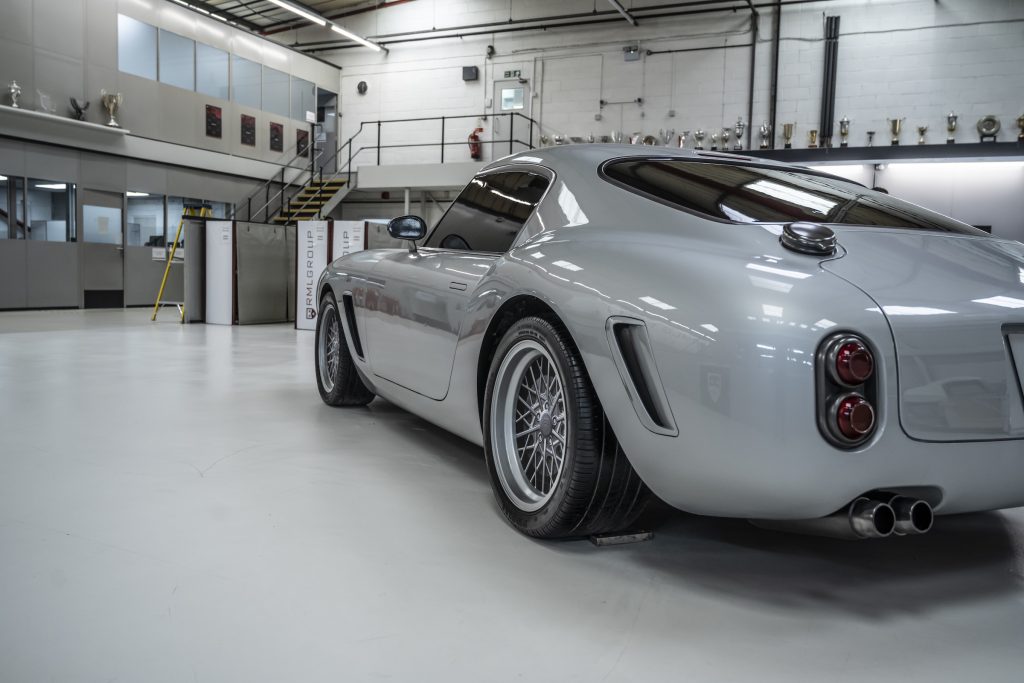 Walking around the styling buck with Mallock and the car's designer, Jonathan Bowen, is an interesting exercise in proportion, detail and the minutiae of redesigning an iconic shape.
My first thought is that it's difficult to place the car's size in an open workshop, with the nearest car – a 550 – about twenty feet away. Broadly, it's a similar width to the 550, but shorter thanks to reduced overhangs, and a little taller both to keep the SWB's round-roof proportions correct and also to accommodate 6ft 5in tall Mallock.
"In a lot of cars we'd try and get the roofline as low as possible," explains Bowen, "but we wanted to be able to package Michael with a helmet on, as well as one of our other members of staff, who is 5'1", so it suits a whole range of people."
Bowen shows us numerous previous iterations of the shape on his laptop, but there's no doubt that RML has landed on the right one. And while a 550 is a handsome car these days in its own right, the SWB's 60s-inspired shape is more obviously beautiful. Detailing is subtle, too – the largest flourish is left for the design of the headlights, but even these shy away from daytime-running-light illumination.
Alongside the clay model is a buck used to establish the ergonomics, and this is as close today as we're going to get to experiencing any physical aspect of the car. First observation? A large door aperture, so you're not clambering over some enormous sill and dropping a foot down into an inappropriately racy seat. In fact, RML has decided to use the basic structure of the 550's Recaro-designed pews since they're excellent over long distances, but will reprofile the bolsters and retrim the seats in an appropriate style for the car.
Owners will sit behind a simple three-spoke steering wheel. One without an airbag; in the numbers RML is producing, it isn't a legal requirement, and its absence should enhance the classic feel. As does a more upright windscreen than the 550 or any equivalent modern GT. The dashboard is shallow and the screen pillars relatively slim – forward visibility promises to be excellent.
Dials and switchgear will all be custom-designed, while Bowen notes the layout is more logical than that of most classics. Infotainment will be bought in, but the unit is well-hidden. When required – for functions like Apple CarPlay, or a reversing camera screen – it emerges from a slot in the centre console, below the heating and ventilation controls. In terms of technology, it'll be right up there with modern cars. "To give you one example of the niggles of driving the 550 around, I kept getting in and realising I still had the key in my pocket! Most of us are used to keyless cars now, so when you get into the SWB, it'll have a start-stop button. Little things will bring it up to date, but in a more aesthetically-pleasing package."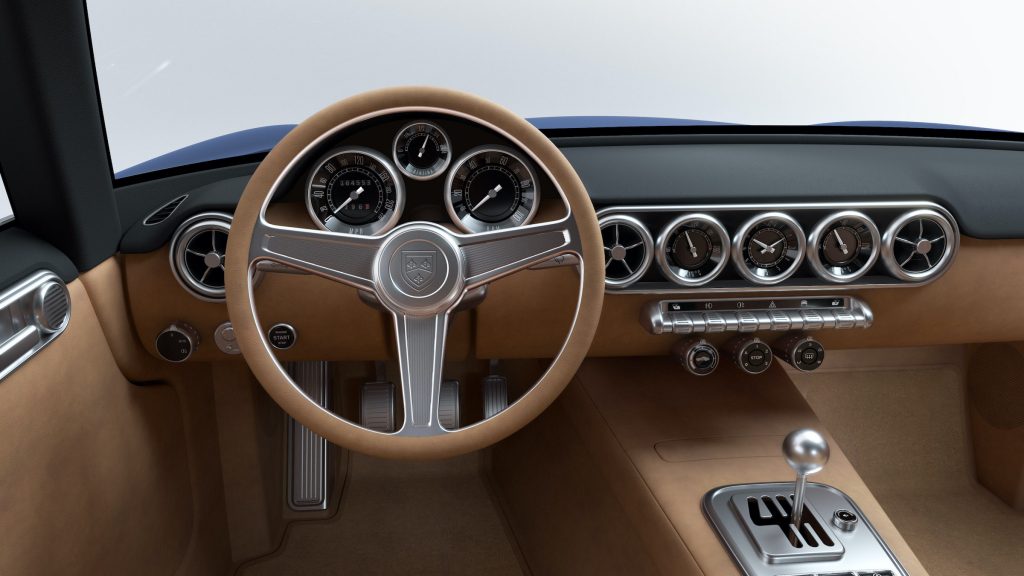 Surrounded by wood and clay it's difficult to imagine the final ambience, but the prospect of such an elegant cabin design built to modern standards with quality materials is enticing. There's a large luggage area behind the seats (and over the fuel tank), and apparently a good-sized boot too.
RML has gone as far as custom-designing door seals and numerous other detail elements. It's a lot of effort, but essential to create a rounded product. "It's an area you can spend hundreds of thousands of pounds on to get right" says Mallock. "Classics are rarely perfect for this. But this will sit in a climatic wind tunnel, it'll have a monsoon test, to ensure that when you're sitting at 70mph you're not getting water in your face…"
And so to performance. You can almost forget the numbers, though at around 1500kg dry (about 200kg lighter than a 550, in part thanks to the SWB's use of carbon) and with the same powertrain, it's not going to be slow. Mallock says their computers suggest a top speed of around 185mph.
Remember, we're talking a naturally-aspirated 5.5-litre V12, with modest but not excessive power (one that RML will have entirely stripped down and rebuilt), a manual gearbox, and rear-wheel drive. And a chassis borrowed (albeit comprehensively re-engineered to RML's tastes) from one of the best-handling cars of its era.
The cooling is bespoke, the intake on the bonnet feeds air through a carbonfibre path to the engine, the vents in the sides draw warm air away from the engine bay, and there is cooling for the brakes too. Damping, like the 550, is passive – set up a car fundamentally well and it won't need adaptive damping regardless of where you're driving.
RML hasn't put a price on the SWB as yet, but plans to build no more than thirty cars. What RML does reveal is that the first working prototype, known as Car Zero, will be ready by September or October, with customer deliveries beginning in the first quarter of 2022.
Mallock says the plan will be to deliver one car per month. We'll reserve judgement for the final product, but after a day spent at RML, the mix of retro styling and modern engineering seems appealing. And if the driving experience can deliver where it really counts – on the road, rather than the race track – it could tempt car enthusiasts from their modern supercars.
Also read
Touring car champions RML reveal new Ferrari 250 GT SWB recreation
What do you do when your Ferrari 250 GT SWB is too valuable to drive? Buy this recreation and enjoy the drive of a lifetime
GTO Engineering teases retro-inspired 'Moderna'