Find someone who looks at you the way Michael Mallock looks at the RML Short Wheelbase, moments after its Ferrari V12 has been mounted to its subframe.
It's been a long two and a half years up to this point. For all of us generally, but particularly for a company like RML, birthing a brand new and very serious product. Now, with the red cam covers of the Ferrari 5.5-litre, 'F133' V12 just visible past the Short Wheelbase's raised front wings, it looks like an actual car.
How much is your car to insure? Find out in four easy steps.
Get a quote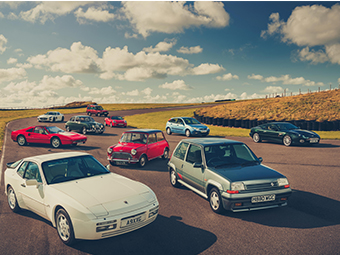 The Short Wheelbase is RML's attempt to recapture some of the driving experience of classic grand touring sports cars in a package that can be used as long and as often as any modern car. Set up as Ray Mallock Ltd. in 1984, RML better known for its multiple sports car and touring car championships, as well as special projects like the Nissan Juke-R, and engineering for OEMs like Chinese electric sports car maker Nio.
It's also the company's first in-house production road car. Each SWB is based loosely on a Ferrari 550 Maranello donor car – though as we'll see, extensively reengineered. And it's something of a name-building exercise in this field, though with a CV like RML's, the company's expertise isn't in doubt.
There are still wheels and lights and glass and numerous other parts to bolt on to the prototype, Car Zero, of course. Many, like the artfully laid-up carbon underbody panels that few will ever see, are propped up on dollies or carefully arranged on benches. Others are being meticulously milled, and others still are yet to arrive at RML from suppliers.
Once they're all attached, some time early in the New Year, serious testing can begin. But for now, elevated a few feet above the ground on a two-post lift, the RML Short Wheelbase looks, figuratively, almost ready to go.
Six months of progress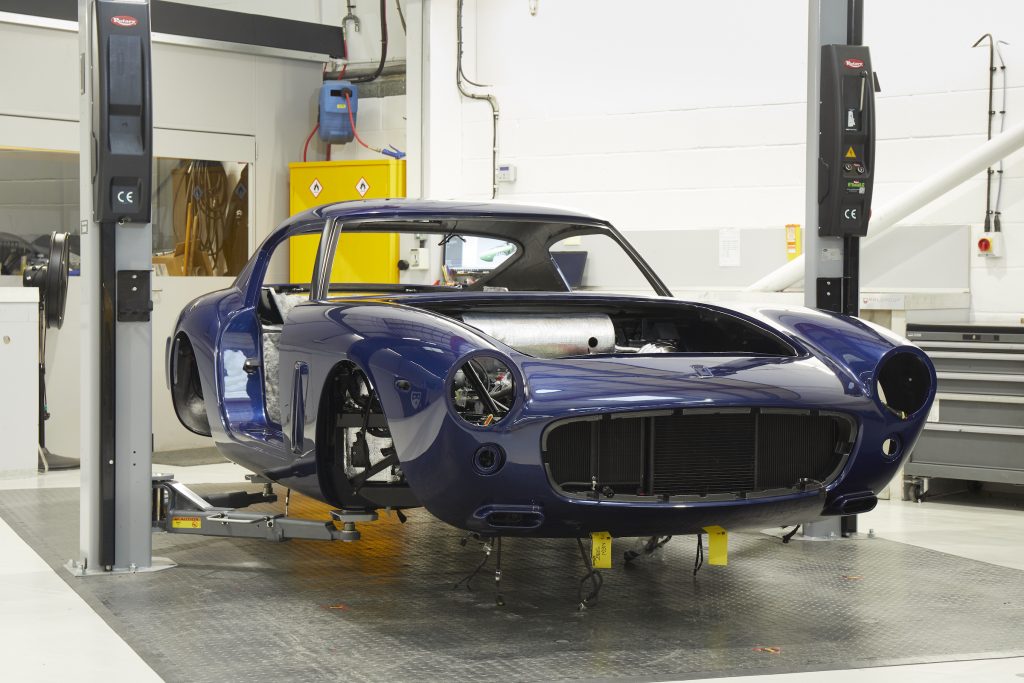 As Mallock explains, the fruits of the last few years amount to far more than the parts on display. "It's been busy. Very busy. We've had parts constantly coming in and they're dropping into the car as they should, but now we're in final assembly. Early next year we'll have Car Zero that we can drive down the road – which is massively exciting."
Testing of donor cars for customer builds is already underway too – a process that ensures each 550 is a suitable base for conversion into a SWB, and that issues don't come up in the finished product that could have been dealt with while it was still a 550 Maranello.
RML's durability programme for the finished products is impressive too, compressing climatic tests, shake and rattle programmes, load testing and more, to the equivalent of 50,000 road miles. It's all to ensure the finished product, from its paintwork and its carbonfibre structure to the smallest trim components, is on par with any major manufacturer. Hopefully, these cars will be used as regularly as the 550 some of its components were drawn from, and perform even better.
From expertise to testing rigs, RML already had much of what it needed to undertake a project like the SWB. "We're working with partners," says Mallock, "but the team on the Short Wheelbase project have been there from the start. There's a mixture of both a mainstream automotive and a motorsport background. Then the testing rigs for individual components – we do that here too."
Docking procedure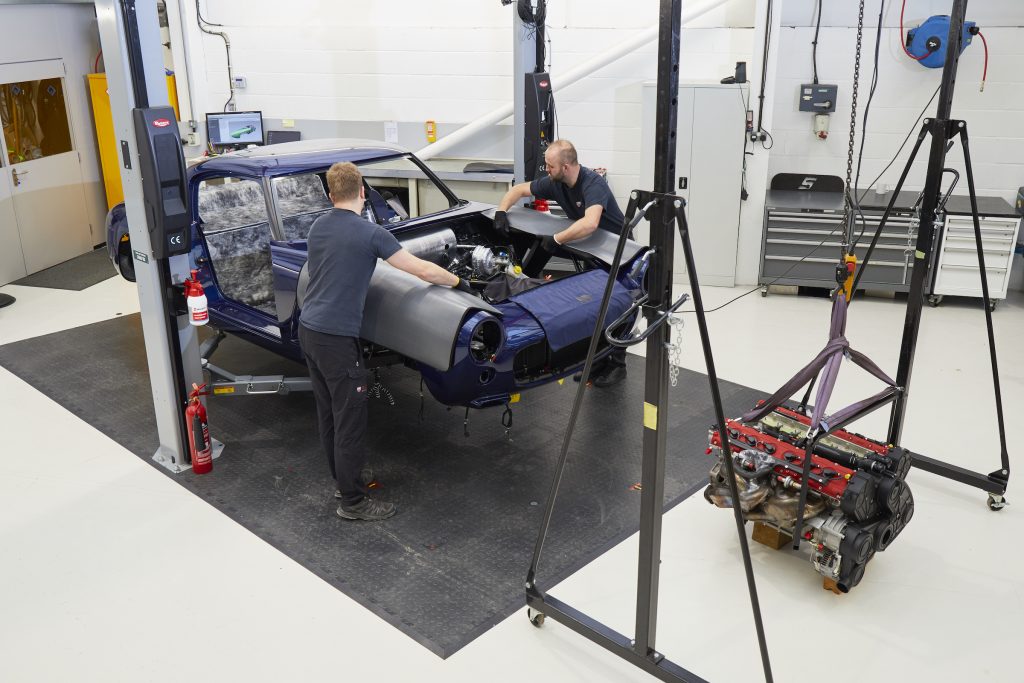 Brand new mats are laid carefully across the SWB's front wings and nose section as the V12 is wheeled slowly overhead. Mallock says that the paint they're protecting hasn't yet been finished to production standards, since the car has plenty of work ahead of it, but you'd be hard-pressed to tell from more than a few paces away.
It looks like Tour de France Blue – always a good shade for front-engined Ferraris – but it's actually a custom hue, and they've gone through dozens of samples to find a blue that suits the car's curves. Under artificial light it really pops. "Having that parked outside at Goodwood or on the lawn at Pebble Beach," says the boss, "is going to look mega."
Last time we caught up with the project, there was a well-used Ferrari 550 Maranello (in that traditional shade of blue) sitting between the posts on the lift. The team's full-scale model, silver when I saw it, is now wearing a rather more vivid shade of yellow paint. Yellow suits it, but Mallock reasoned it may not be the ideal shade for promotional purposes when the car is finally ready. The prototype's interior, incidentally, will be trimmed in tan leather – Bridge of Weir supplies the hides.
Walking around the car, Mallock talks me through some of the other details, but it's hard not to gaze back at the engine as it's carefully lowered into place.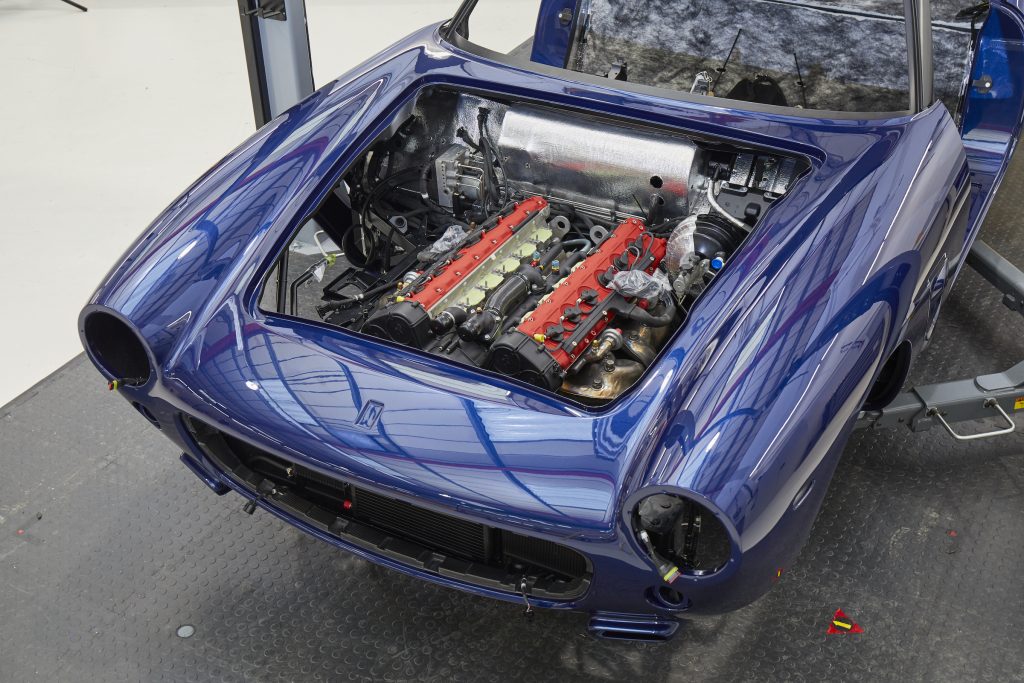 "With every car we get in, the engine comes out and goes straight on the dyno for a full sign-off process," Mallock explains. "That gives us a baseline. Then the whole thing is stripped down, and gets blueprinted [a process where the engine is rebuilt and adjusted to the tightest manufacturer tolerances] – even if it's had a rebuild 500 miles before we bought the car."
Any parts that need changing are changed, those that need cleaning are cleaned, and minor parts are tested, making sure each and every component is perfect. Engines come into RML in different states (as you might expect for cars that are now as much as 25 years old) but it gives RML some interesting facts and figures to sift through.
"The engine in this car was about 15-18 per cent off the book figures," says Mallock. After the rebuild, "It's now within one per cent, which is probably the closest any of these engines gets to the claimed figures."
RML doesn't quote an output just yet, but given the work to each unit we'd guess it's equivalent to a very healthy 550; something in region of 480bhp to 500bhp, against a dry weight target of 1500kg.
Smallest details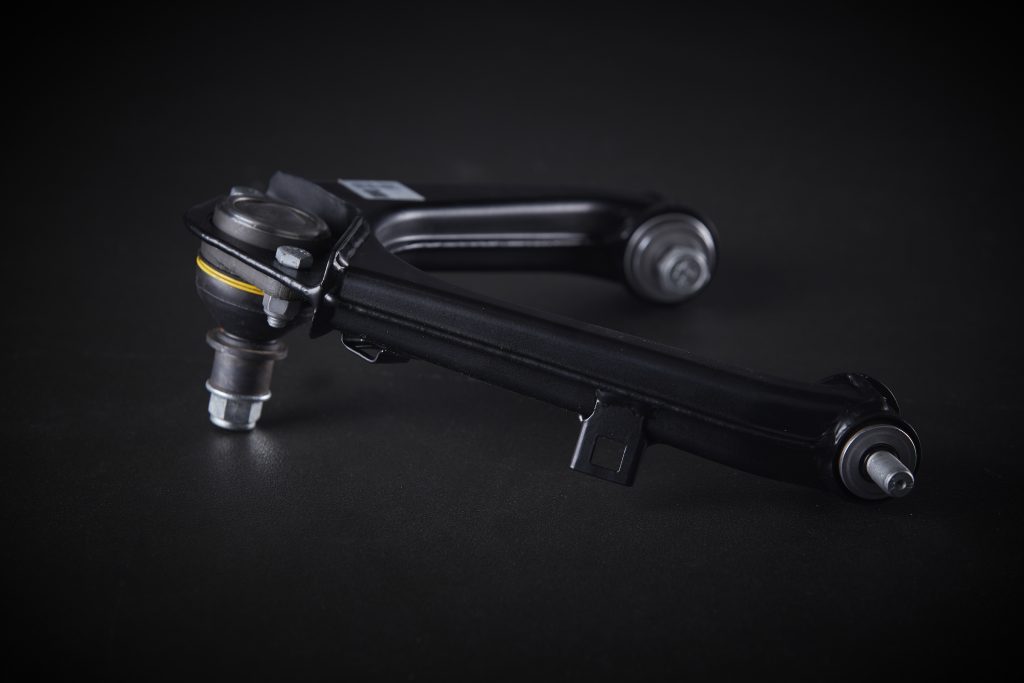 Engineers move under, around, and over the engine bay, slotting in the V12 in an efficient but somewhat drawn-out process that reminds you engine installations aren't as easy as YouTube makes them look. Within around thirty minutes though, it's sitting there, red crackle-finish cam covers glowing inside the spotless engine bay.
Nearby is the car's gearbox, also restored and rebuilt in-house by RML, and beside that is the 550's propshaft tube. Doors, bonnet, boot lid and underbody panels sit nearby, as does a table containing the car's intake manifold, and a steering column subassembly that Mallock is particularly proud of.
"The column shroud on the 550 is quite a big unit, and doesn't fit with our aesthetic, so we've designed and engineered this little beauty. It's one of my favourite bits on the car, actually. Early on we talked a lot about taking inspiration from jewellery and watchmaking, and this has a lot of those elements in it."
A massive shame then that so few will ever see it – unless they happen to check out these photos before buying their Short Wheelbase. But as with so many examples of engineering obsession, from the work of art that is a McLaren F1's throttle pedal to the oft-painted-over, bookmatched carbon weave on a Pagani, what goes on under the skin is a microcosm of the quality buyers expect from the entire car.
And of course, the action of the indicator and wiper stalks on this skeletal, soon-to-be-shrouded functional item, has been matched to the weights of the rest of the car's controls. Because even if you can't see it, you're still going to feel it.
The plan for 2022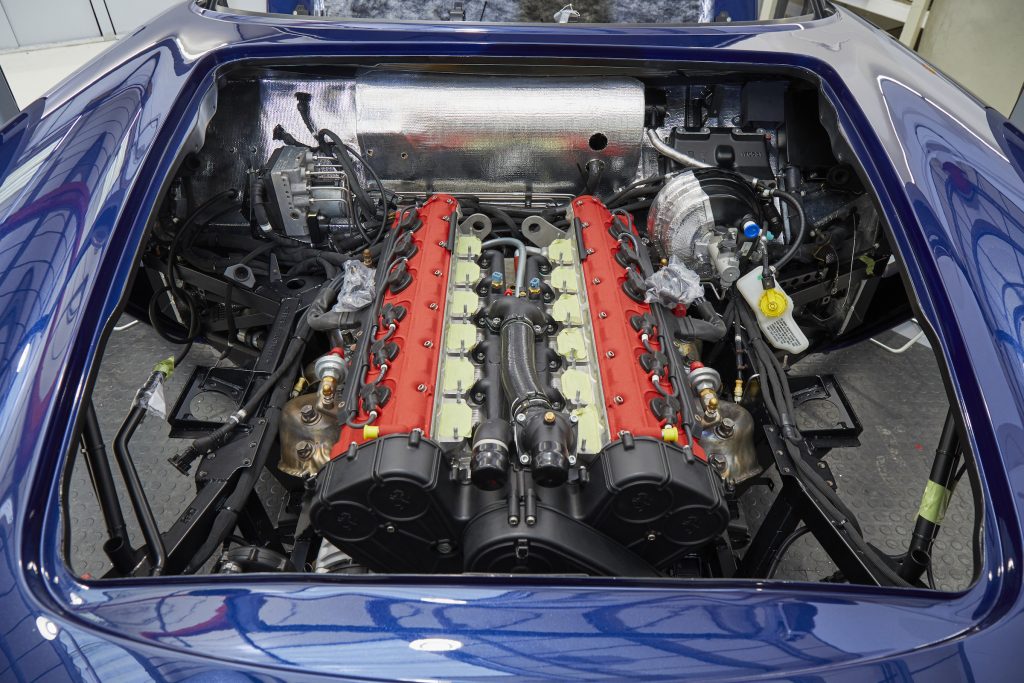 Then, how about the exhaust system? It's fully legal of course, both in terms of emissions and noise levels, but still custom designed to produce a glorious V12 note to out-howl the standard Maranello.
The process of designing this, as Mallock explains, goes far deeper than just welding together a few stainless tubes, with engineers simulating the path the gases take all the way from the combustion chamber to the moment it leaves the finishing pipes. The intake, meanwhile, is the standard Ferrari unit, but fed via the functional scoop on the carbonfibre bonnet. Each throttle blip may feel like sitting on the grid at Goodwood. We can't wait to find out…
There are numerous finishes for the exterior brightwork (Mallock shows me yet another beautiful sculpture – the car's flush-fitting doorhandle), interior components, while the reverse of the bonnet, bootlid and doors has been left in bare carbon to show off the material. And of course, there's that aforementioned, three-piece undertray, slatted for cooling down its entire length.
There's a palpable buzz from the engineers to get it all attached to the car and see it on its wheels, which should all happen early in 2022.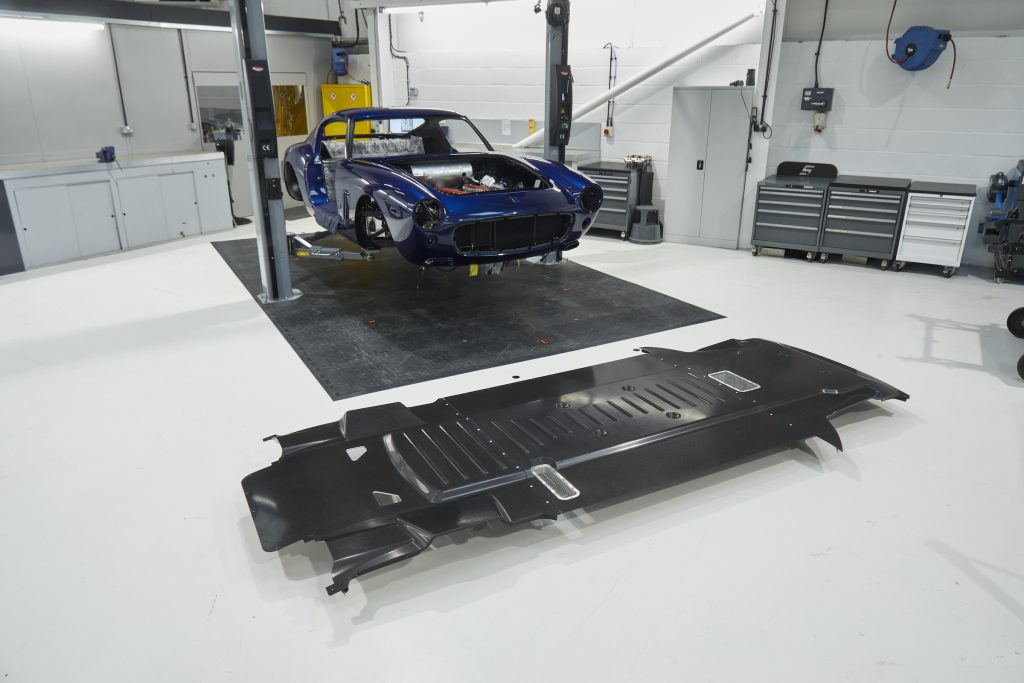 Then there's road testing, and after that – most excitingly for us, and for the customers who already have their orders in (eventually, 30 of them) – those outside RML will finally get to drive it. 2022's really looking up.
Read more
Review: The £80,000 Ferrari Testarossa Junior is definitely no toy
What do you do when your Ferrari 250 GT SWB is too valuable to drive? Buy this recreation and enjoy the drive of a lifetime
Lamborghini's first V12 lived large for 48 years