Having just built its final S&S motorcycle-motored 3 Wheeler, Morgan has confirmed that its next generation trike will be powered by Ford.
Most details of the new model – including its scheduled launch date – are still secret, but Morgan says the next 3 Wheeler will have a three-cylinder, naturally-aspirated Ford engine.
How much is your car to insure? Find out in four easy steps.
Get a quote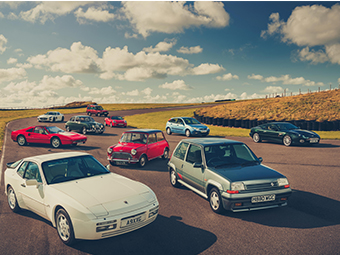 Ford makes three triples: a 1-litre Ecoboost, a 1.1-litre, and a 1.5-litre Ecoboost, with power outputs of between 74bhp in the most basic Fiesta to 197bhp in the rapid Fiesta ST hot hatchback.
There's a clue to which engine Morgan is likely to use though, and it's in how each draws in its air for combustion. The two Ecoboost units are turbocharged, and since Morgan says its version won't be boosted, that makes the 1.1-litre most likely. The car's light weight should make up for any power or torque deficit (the old car weighed only 525kg), but we'd be surprised if Morgan isn't able to extract a few more ponies from the 74bhp unit either.
It'll be fascinating to see exactly how Morgan packages the new inline three-pot unit in the 3 Wheeler's nose, given the old V-twin formed such an iconic shape at the front of the car – though even in prototype form, it seems Morgan has created a distinctive, "V-three" signature between the headlights, so perhaps the new power unit has allowed for more creative freedom than before. Morgan says its new styling will be inspired by "the early jet age".
Steve Morris, Morgan Chairman and CEO says, "We are thrilled to confirm plans for an all-new three-wheeled Morgan, a model that continues an incredible story dating back to 1909. The outgoing 3 Wheeler was adored by customers and enthusiasts alike, and will inspire this next generation.
"The upcoming model is an all-new ground-up design and Morgan's team of engineers and designers have considered everything that the company has learnt from the decade of building and selling the previous model. We look forward to sharing more about this exciting new vehicle in due course."
We won't lie. Tears may have been shed when we heard that the last 3 Wheeler had been produced. The news that a next generation is coming, and that it is powered – at least initially – by internal combustion is exciting indeed. The Ford triple might not look quite as cool as the S&S motor that was hung out ahead of the front axle, but it will likely perform better, and probably won't singe anyone who gets a little too close, like the old one…
Read more
When Morgan had the last laugh at the 1962 Le Mans
Send it in style with the rally-prepped Morgan Plus Four CX-T
Morgan Plus Four racer readies for the track