The Morgan racing story continues with the announcement of a new motorsport-developed version of the firm's recently updated Plus Four road car.
Engineered in conjunction with the University of Wolverhampton's School of Engineering and the university's racing team (UWR), the first two cars have been designed to compete in club-level sprint and endurance championships, and Morgan says they will be used to collect data aimed at improving future models. The cars are the first Morgan race cars to use the company's latest bonded aluminium platform, also seen in the Plus Six.
How much is your car to insure? Find out in four easy steps.
Get a quote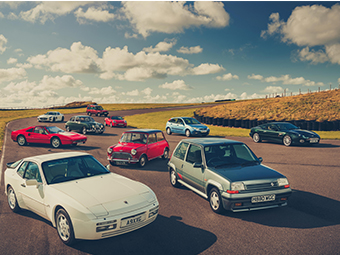 At a company like Morgan, that idea of racing improving the breed seems more plausible than most these days. There's not a lot that Mercedes-AMG can do in F1 to alter a road-going diesel A-class, but at Morgan's much smaller scale there's a realistic chance that the racers will highlight areas the road-going Plus Four (and other models) can be improved, from suspension tuning to engine cooling and beyond.
The race cars remain road-legal too, giving them that appealing club racer ethos of days gone, when competitors would drive to an event, compete, and if all went well, drive home again at the end.
Of the two cars, one is equipped with a manual gearbox and the other with an automatic – both, of course, attached to the BMW-sourced turbocharged four-cylinder now used by the Plus Four.
Professional racing drivers will be employed to compete in the cars, as part of ensuring consistent feedback, though lucky guest racers will also get a chance to try them out here and there.
The benefit though is as much for the students as it is Morgan, as several graduates have gone on to full-time roles at Morgan during the firm's five-year partnership with the University. Several students from the School of Engineering and UWR will have the opportunity to support the vehicles during testing and racing – contributing real-world skills in motorsport and automotive engineering to their academic studies.
Order books are now open too, should you wish to put your name down for a racing version of the Plus Four. Mr Toad-style goggles entirely optional.
Also read
Electric Triumph Stag and Morgan 4/4 ready for the road
11 sports cars powered by the Rover V8
Your Classics: Jim Sword and his Jasag homebuilt racing car