Electric classic car conversions: Are you pro, anti, or somewhere in between? We're keen to know how you feel, because it's a trend that is growing and the breadth of vehicles receiving new electric powertrains is increasing too, with the latest conversions tackling the popular Triumph Stag and Morgan 4/4.
The two British classics have been switched to EV status by Electrogenic, an Oxford-based company which has dabbled in cars as diverse as the Beetle to a Hudson Commodore.
How much is your car to insure? Find out in four easy steps.
Get a quote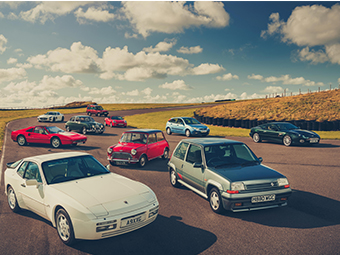 Electrogenic claims a world first for the duo – a 1957 Morgan 4/4, and a 1976 Triumph Stag. Where the former would normally be motivated by a 1.2-litre side-valve Ford engine and the latter a 3-litre Triumph V8, each now makes an identical 80 kilowatts of power – that's around 107bhp – with 173lb ft of torque.
Curiously for an EV conversion, that leaves the Stag with less horsepower than it left the factory (originally 145bhp), though it more than doubles the Morgan's original figure and gives both a torque boost. The Triumph only just, but as anyone discussing EVs is obligated to point out, all that twist now arrives more or less the moment you squeeze the accelerator pedal.
Both cars retain their manual gearboxes though (the Morgan's a later Ford five-speed provided with the donor car), a popular option for converted classics. If you've already got a fully-functioning gearbox, differential and driveshafts, why not use them? In practice you can usually leave it in third or fourth and enjoy a wide band of usable power, but the lower gears tend to be good for a touch of tyre-roasting acceleration too. Electrogenic hasn't performance tested either car, but its electric Beetle is apparently good for 0-60 in only 6.5 seconds.
Each conversion also gets a 37kWh battery pack, which in the Triumph lives where the engine originally did, as well as in the old fuel tank and spare wheel locations. A range of around 150 miles is promised of each and the type 2 charging cable should allow for charging in the same kind of places you'd use for a modern EV, even if turning up in a Stag might attract a few funny looks.
Electrogenic co-founder Steve Drummond says the conversions are designed to bring out the best characteristics in the cars, while not over-doing it on the batteries to avoid piling on unnecessary weight. Electrogenic tells us the Morgan weighs in at around 880kg now (so approximately 180kg more than the original), and while it hasn't put the Stag on the scales there's likely less of a discrepancy there thanks to removal of the iron-block V8.
The other goal is long-term usability in a society that looks to be heading towards various combustion bans or emissions taxes, particularly in cities. The loss of that combustion character will no doubt be a sticking point for many, but given the choice of a city full of beautiful converted classics or modern two-ton electric SUVs, we know which we'd prefer.
Also read
Is it right or wrong to convert a classic into an electric car?
Voltswagens: 10 electric classic car conversions
70 years in the making: Driving the new Morgan Plus Four