Oh yeah? Just try to stop him – and hold on to your flying hat
It's a fighter … no, it's a biplane … no, it's a three-wheeler!
It's also hilarious: peer past the aero-style instruments over the high cockpit sides and it's as much as you can do not to thumb the 'fire' button on the joystick (er, actually it's the flap-covered starter button central on the dash, but your imagination runs away with you) before zapping off in search of more victims, leaving a thunderous Vee-engine blast in your wake.
How much is your car to insure? Find out in four easy steps.
Get a quote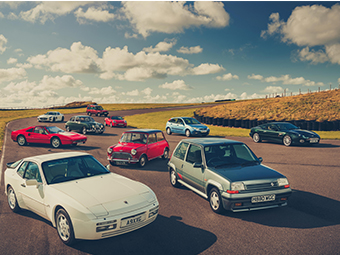 The new Morgan Three-Wheeler brings out the inner Spitfire pilot in you, (that's Biggles if you're in the UK, see http://en.wikipedia.org/wiki/Biggles) and it's perfectly timed to launch the tiny Malvern company back into America.
Peter Morgan, current company boss Charles' late father, always resisted pleas to put back into production the three-wheeler the company founder, his father HFS (Henry Frederick Stanley — always known by his initials) devised in 1909. It was made in various forms until 1952, mostly V-twin powered up until 1939. In historic racing, these still give 4 1/2-litre Bentleys a run for their money.
The new trike is a masterful blend of retro looks with modern touches, and it drives sufficiently like an old one to make you feel like a pioneer, but not so much that you'd be horrified. In addition to a steel tubular chassis, some ash framework and an aluminium body with leather trim, there's a new 1983cc V-twin made by Harley-Davidson tuners S&S up front, backed up (via cushion drive) to a Mazda MX-5 gearbox which has one of the slickest changes in the business. Power is transmitted by a bevel box and rubber belt to a sturdy cast rear wheel and there are disc brakes all round. The traditional sliding-pillar front suspension has been supplanted by wishbones and coils.
You can't get more intimate with a car; as well as being able to see the narrow front wheels turning in and dancing up and down just five feet away, there are plenty of messages coming through the high-set steering wheel, and feedback from the chassis is terrific. But it still vibrates like a demented thing and there's so much torque from the 80bhp pushrod twin you can hear every firing pulse as the 103lb-ft (at just 3250 rpm) punches you down the road.
Top speed is allegedly 115 mph, but who needs to clean that many bugs out of their teeth? Zero to 60 feels quite fast enough in 8 seconds, with the three-wheeler weighing just 550kg (1,212 lbs), a figure Caterham can only dream of.
So there's not much of it. Storage space? Technically, for a pair of gloves tucked under the rear hump, and the seat belts work in reverse to normal, otherwise they'd never fit.
UK dealers are selling them as fast as they can get them, at around £30k on the road and, incredibly, it's going to the U.S., where Morgans sold 85 percent of production in the '50s and '60s, but has not been able to import there since 2008, being unable to comply with rear-impact requirements, along with the end of airbag exemption. This time, to get around the regs it's going to be homologated as a motorcycle and will retail in the region of $50,000, plus dealer add-ons, no doubt, and a long waiting list.
In April 2012, the Three-Wheeler appeared at the New York International Auto Show, where G4TV voted it one of the Hottest Cars Of The Show. In May 2012. Manhattan Motorsports took delivery of Charles Morgan's Superdry edition and he and his wife drove it from New York to Los Angeles in the Gumball 3000 Rally, receiving the Spirit of Gumball prize at the end of the seven-day run.
In a word? Gratifying. Make sure you try one. www.morgan3wheeler.co.uk.