Turn up in the desert in a Land Rover or Landcruiser and nobody will bat an eyelid. Turn up in a Morgan, and whether you make it to the other side or not, people will notice.
Turn up in this particular Morgan Plus Four CX-T and you'll have a better chance of forging through the wilderness than most though, as the latest car from Malvern is specifically designed for adventures of the loose-surface kind.
How much is your car to insure? Find out in four easy steps.
Get a quote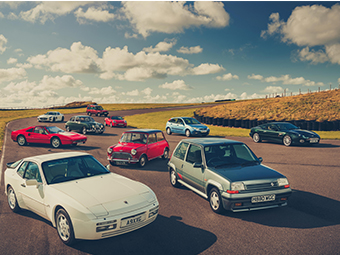 Morgan cars are no stranger to unmetalled roads, with a long history of durability trials, long-distance rallies, and muddier stuff closer to home like off-road trials. This is though the first time the Morgan factory has brought a fully-prepared car to market with the express purpose of overland adventure – and perhaps a gentle spot of sparring with the Ariel Nomad.
The Plus Four CX-T has been developed in conjunction with Rally Raid UK, specialists in creating off-road vehicles for events like the Dakar. While giving a Plus Four appropriate abilities seems like no mean feat, the latest generation is at least better-prepared than ever for such endeavours, using the new CX-generation aluminium architecture (hence the name) much like the conventional Plus Four and Plus Six road cars.
Following some highly scientific poking and prodding of the basic architecture, Rally Raid UK settled upon the various upgrades you see before you. Mechanically, the biggest alteration is to the suspension, which comprises modified wishbones from the Plus Six for a wider track and greater articulation, plus reprofiled inner wheel arches for greater clearance and EXE-TC competition-derived coilover suspension to handle rough ground.
There are tougher bushes too, while the underbody has been beefed up with five guard plates protecting the Plus Four's vitals. Even the exhaust has been reprofiled to put it out of harm's way – Morgan notes 230mm of ground clearance, which is comfortably more than most crossovers and far from shabby for a sports car.
As a Plus Four the new CX-T uses the same 2-litre turbocharged four-cylinder BMW petrol engine as the regular model, but given the vehicle's new remit there's a BMW X-Drive electronic differential to go with it, with switchable modes varying the lock-up of the diff depending on conditions. A shorter final drive accounts for the fact the CX-T rides on a much larger diameter wheel and tyre combination than standard.
Which brings us on to aesthetics. Chunky tyres? Check. External roll cage? Check. Spare wheels, saddle bags, waterproof Pelican luggage cases and recovery equipment? Yep, all of those too, plus paint finishes that wouldn't look out of place in some of our planet's harsher climes. The interior too has a few unique features, including an insulated cool bag and custom first-aid kit.
All this will set you back £170,000 plus taxes. Which is a lot, particularly for a car with no actual race series or similar in which to compete – you're not going to be invited on the Peking-Paris in a brand new car, for instance.
But then, what price can you put on what will be, for some Morgan fans in particular, probably the most appealing vehicle the company has ever built? The rally raid, Baja look is certainly in right now, and Morgan might just have created the best take on it yet.
Read more
Morgan Plus Four racer readies for the track
Look who's all grown up: The Wild One is a Tamiya model you can drive
Little red devil: MST Mk2 review