If you can tear your eyes away from these wonderful images of Morgan's all-new Super 3, then I'd be happy to explain the inside story, and how I was involved in playing a small part in a big launch of one the nation's most unusual cars.
The Morgan Motor Company was founded on three wheels. HFS Morgan's Runabout of 1909 was 50 per cent more practical than a motorcycle, and 25 per cent more exciting than a motorcar. The Super 3 promises more of that mischievous sense of adventure.
How much is your car to insure? Find out in four easy steps.
Get a quote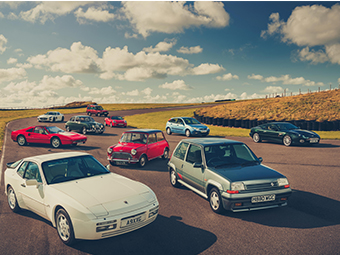 I was chuffed to be asked to help make the first in-depth film about Morgan's latest iteration of a classic formula. The original three-wheeled Mog lasted for four decades, and it was reintroduced in 2011 as the much-loved 3 Wheeler. That car eventually fell foul of emissions regulations, starting with 82bhp and ending up with 60-something depending on how you measure it. The electric EV3 was, at the time, an evolutionary dead end, despite lots of speculative orders being placed. So, just as Morgan went back to the drawing board with its Plus Four reviewed in depth here, so it had to reinvent the 3 Wheeler. The Super 3 is the end result.
The Super name points to the superformed monocoque platform. Think aluminium, bonding, rivets… Colin Chapman would be into this.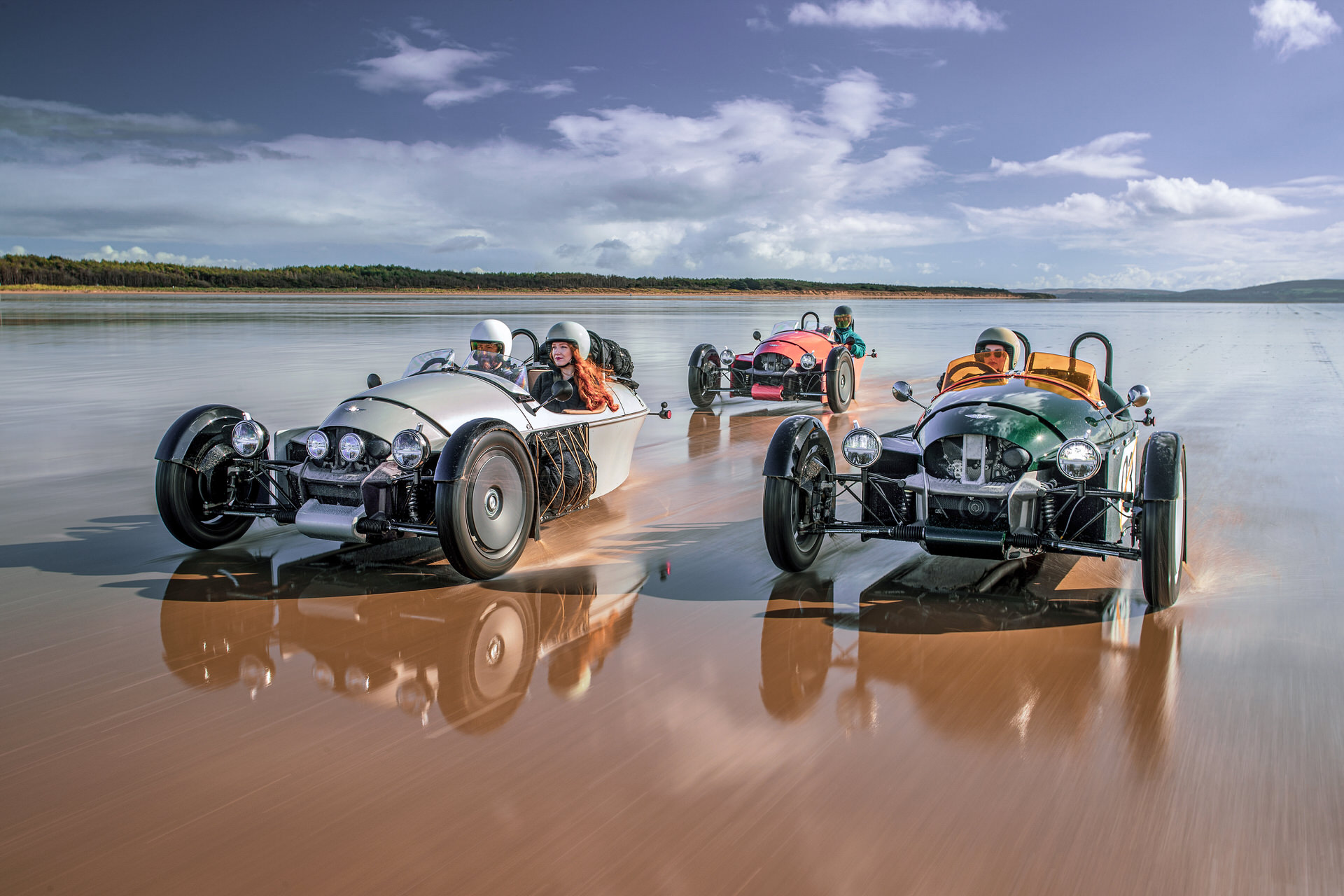 A visit to Morgan's skunkworks (called "M Deck") is always interesting. The factory is open to the public and I've been fortunate enough to spend time admiring skills on the English wheel, leatherworking, and bashing life into raw materials to create those iconic Morgan shapes. But the Super 3 is a totally new formula and the cars you see here at launch were built in M Deck, a separate building far from public gaze.
Emissions legislation killed the previous model. Morgan has addressed that with the Super 3 by employing Ford's cracking little three cylinder engine, that is Motorcycle Euro 5a compliant, equivalent to cars, and Euro 5b which includes OBD functions. That gives the Super 3 a lifespan to at least 2030, in theory.
You get the feeling that Morgan employs people like us, making cars for people like us, and it's fun to be part of it. This is the second Morgan to be built on a superformed monocoque platform and the company's first clean-sheet design since the Aero 8 of 2000. (The recent Plus Four is said to be 'only' 97 per cent new, but only because items like the bonnet catches are carried over.)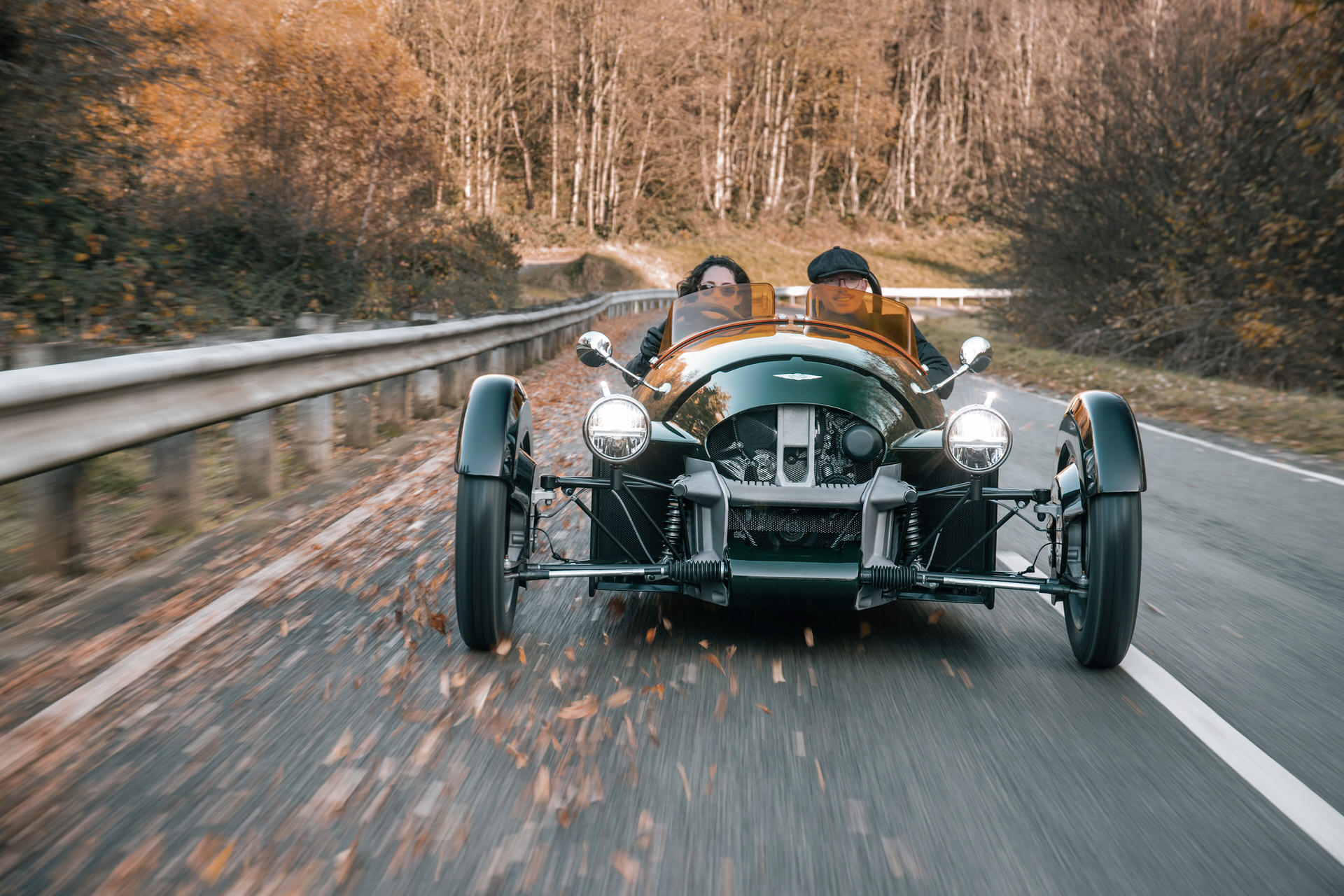 The three-cylinder engine is mated to the usual Mazda-sourced five-speed gearbox and the quirks of the previous model's drivetrain have been discarded or re-engineered. There's no compensator, this time, and the bevel box has a custom tooth profile that you now won't hear over the distinctive note of that three-pot engine.
There's a slight weight penalty that comes with the evolution of Morgan's 3 Wheeler if it's to continue to be allowed on the road. It carries 85kg more than the previous model, but to be fair the water-cooled Super 3 carries two radiators, and is 38cm longer. It's a totally new car.
Chris Arthur, Chief Engineer for the Morgan Motor Company, believes the Superform tech has liberated the company. "The Morgan Super 3 represents a new level of engineering integrity for Morgan," explains Arthur. "Superform techniques have allowed us to achieve something that is typically out of reach for niche manufacturers. The monocoque platform is light, stiff, strong and resilient and looks good."
The aluminium platform will eventually carry an electric version. For now, Super 3 is petrol powered, and one of the interesting engineering challenges was reviving an engaging sound and vibration characteristic that Ford had done its best to eliminate.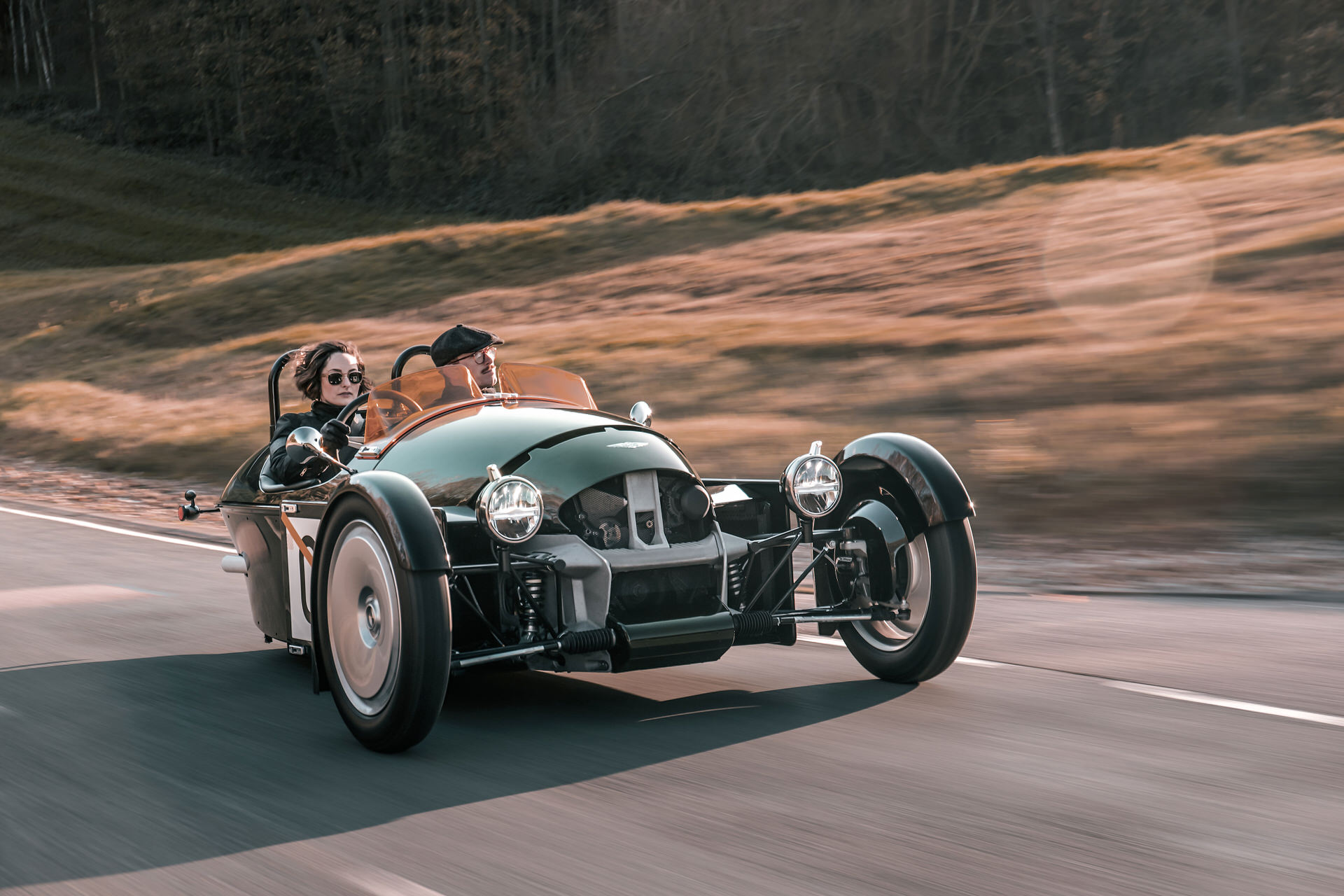 Ask about the possibility of forced induction, as used with this block in cars like the Fiesta ST, and the engineers shake their heads. This has 118bhp already at a revvy 6500rpm, it'll crack 62mph in seven seconds and will max out at 130 exhilarating miles per hour. Having done 90 in the last model, I really don't see the need to go quicker.
The design is supposed to conjure thoughts of the early jet age and the joy of international travel. To that end, Morgan was inspired to add potential for modifications based on what it had seen owners of the last model do to their cars. If you've ever overtaken an old Morgan saddled with luggage on a Route nationale, as I have, you can't have helped but think that a better solution than bungee cords is required.
Jonathan Wells, Head of Design, Morgan Motor Company, describes the typical owner as 'adventurous'. "Morgan 3 Wheeler owners are individual, relish doing things in their own way, and actively seek adventure," says Wells. "With Super 3, we aimed to exaggerate these qualities through design. Super 3 stands out as something different."
There are now options galore. You can specify aeroscreens in a yellow tint, there's a Pittards water-resistant leather option for the seats, and the interior is IP-rated even down to twin USB sockets. The striking coral paint might not be my first choice, but I'm inspired to create my own take on design with the configurator which is live right now! I like how the body has the appearance of being towed by those front wheels, the upturned profile of the trunk (which opens, you'll get a squashy bag in there), and the LED headlamps which combine retro looks and modern, reliable tech.
Options include a cupholder, [Surely a hipflask, for the passenger at least, would be more appropriate? Ed] phone holder, and other cool fittings which slot onto patented rails inside and outside the cabin. The Super 3 is designed to be the most configurable Mog yet, with Malle London panniers, saddle leather, and a feeling of quality in everything you touch. All these options are homologated and it's clear that there's internal appeal here.
The 20-inch wheels are a Morgan design, inspired by belly tank racers, and have aerodynamic benefits of reducing buffeting in the cabin and directing cooling to the radiators behind. All of this is new ground for Morgan. The front suspension wishbones are as long as possible, and the brakes set far apart, giving greater ride quality and handling than before.
The Speedmaster tyres are bespoke, developed in conjunction with Avon, and there are other firsts. This is the first Morgan to be constructed without the use of wood. The Super 3 was designed using CAE and underwent far more rigorous testing than any previous model. The engine now sits deep beneath a ducted cowl.
I gently levered myself into the priceless prototype. There's a satnav from Beeline, a lovely halfway house between a conventional, and, let's face it, ugly screen, and the hassle of a flapping paper map. It's a kind of compass which sits on the steering column cowl, pointing the way. Speaking of plastic, that cowl is the only piece of the stuff I find anywhere in the cabin.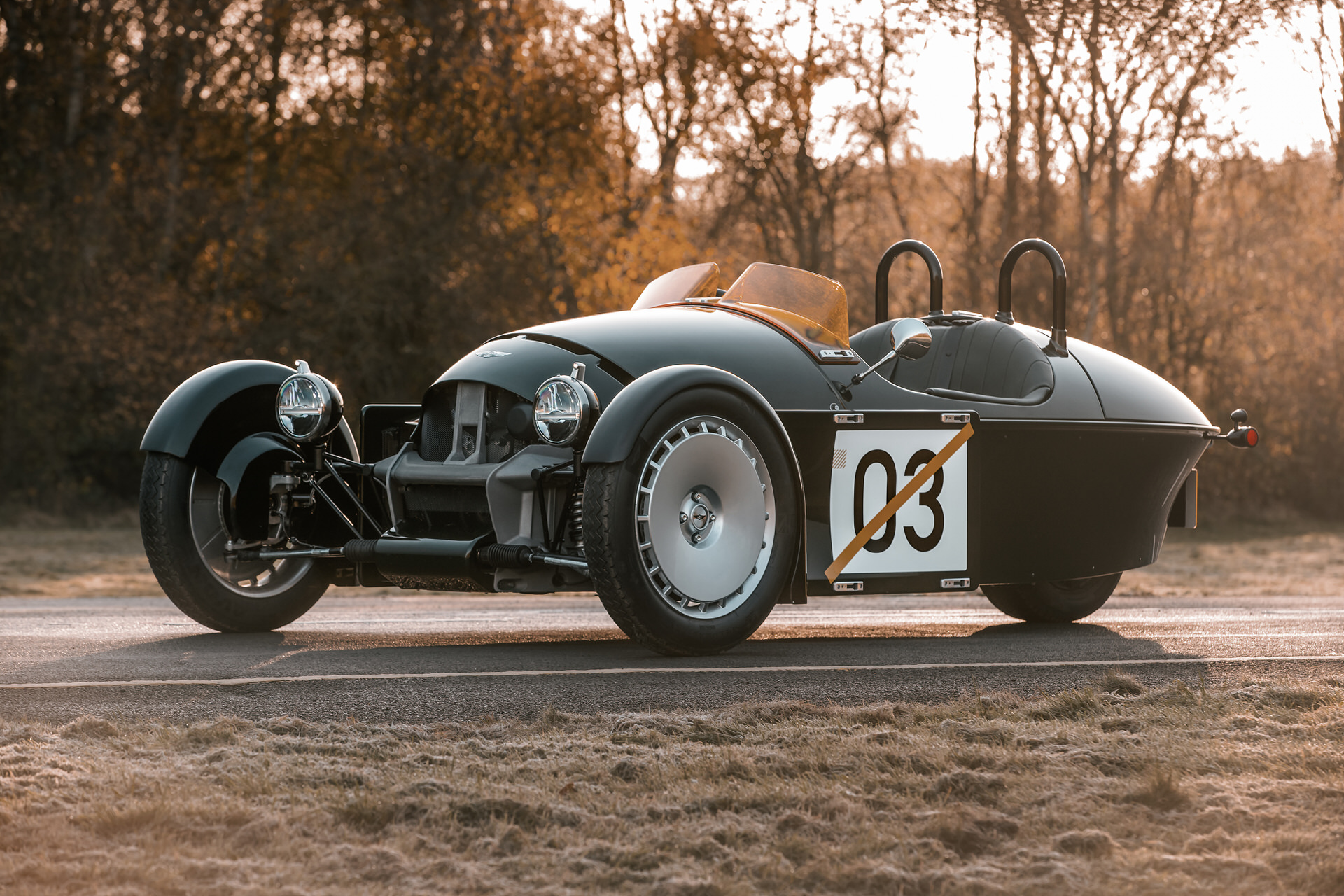 The gauges are now digital, set in metal housings, and the rev counter has a cool retro appeal. The sideblades, hanging off those rails, can be adorned with race roundels (c'mon, who doesn't love a roundel set against British Racing Green?), hard cases and 18oz wax canvas panniers for the road-trippers among us.
One option buyers won't get is the owl sticker you may see in some pictures. This is a mascot adopted by Morgan's engineers, designed to be wise and all-seeing, inspired by a stuffed owl they used to keep in the factory to keep pigeons at bay.
Morgan has made a thoroughly modern machine built on a brilliant heritage, with pricing – starting at £41,995, and deliveries from June – that seems just about right for the market it's aimed at.
Like any fan of the 3 Wheeler, I am looking forward to getting my hands on the keys to a Super 3.
Read more
Could this Japanese gearbox transform your old British sports car?
Morgan Plus Four LM62: Your Classic Le Mans chariot awaits
When Morgan had the last laugh at the 1962 Le Mans