Witness Morgan's recent output and you'd be forgiven for thinking the company had gone a bit… modern. Aluminium structures, for pity's sake. Turbochargers! Then there's that off-road thing, and have you seen how the next 3-Wheeler is shaping up?…
We jest, of course; the latest Morgans are all rather exciting. But the latest Morgan Plus Four, the LM62, takes a few steps back towards the model's retro roots, as it celebrates 60 years since Morgan won the 2-litre class in the 1962 Le Mans 24 Hours – a story recounted in detail here by Richard Heseltine.
How much is your car to insure? Find out in four easy steps.
Get a quote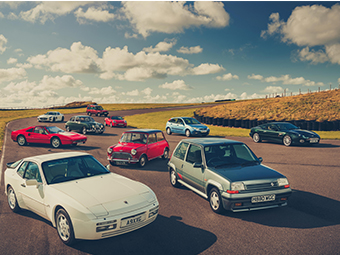 Appropriate to the year it references, Morgan will build just 62 LM62s with prices starting at £78,995. Against the £64,995 of a regular Plus Four that's a healthy jump, but as you might hope there's plenty to separate the LM62 from more conventional Plus Fours.
The engine though is not one of those things, so under the long, central-hinged bonnet you'll find the same BMW-sourced 2-litre turbocharged inline four, good for 255bhp and 258lb ft.
If not the most vintage-sounding unit it's certainly no hardship, since it comes standard with a six-speed manual gearbox (as well as an optional auto) and delivers a thoroughly impressive level of performance. Morgan claims a 0-62mph time in a dash over five seconds, a shade under 150mph flat out, and fuel economy in the high 30s, provided you're not at full chat on the way down to Mulsanne corner.
The LM62's changes are largely visual, paying homage to TOK 258, the registration of the car that won its class in the 1962 race. Buyers can opt for Jet Green paintwork to most closely resemble TOK 258, but 'Tertre Rouge' is also available, a shade of red similar to that popular on other racing Morgans at the time. Whichever finish you opt for, a Heritage White hardtop comes as standard.
There's a graphics pack, including roundels daubed with the number 29 – like the race car, natch – and an LM62 rear badge. Silver-painted wire wheels are standard, which instantly give the car a vintage look compared to the alloys on most recent Morgans, as well as a Le Mans-style fuel filler cap, spot lights, a set of mohair doors/sidescreens, and a subtle black finish for the active sports exhaust pipes.
The look continues inside with more LM62-badged touches (a plaque, leather door pulls, headrests) some practical but no doubt nicely-trimmed rubber mats, and heated Comfort Plus seats (what 'Comfort Plus' implies of Morgan's other seat options, we're not sure) among other touches.
Capping it all, buyers can opt for a soft top roof, a photographic build record of their car, and an LM62 accessory pack with a Moto-Lita steering wheel, headlight tape, a chrome rear-view mirror and two-eared wheel spinners for those wires. If nothing else, it'd be a wholly appropriate way to turn up at the next Le Mans Classic.
Read more
When Morgan had the last laugh at the 1962 Le Mans
Perfect on paper: Morgan teases 2022 3-Wheeler
Morgan Plus Four racer readies for the track